What to Look for When Buying a Used Ford Escape [Explained!]
Not sure what to look for in a used Ford? Or maybe you're wondering if the Ford Escape is for you? Buying a used car can be confusing, especially when lots of people want to offer their own models with varying levels of quality.
Other than taking it for a test drive, two of the most important things you can do when buying a used Ford Escape are finding the car's history report and gauging the car's year range. When buying used, knowing the model and background of your prospective Ford can save you.
Assessing what you want in your new, used car and how to get it is another major key. Not sure how or where to begin? Here's a good place to start!
What's so Good About a Ford Escape?
So, let's talk about Ford Escapes. What are they and why do you want one?
Ever since 2000 (when Ford combined with Mazda to make the first Escape), Ford has been coming out with crossover SUVs, comparable to popular mid-sizes and trucks in the same bracket.
Some impressive stats:
Known for its reliability
Smooth rides
No major repairs/ repair costs
4WD, "slippery mode"
Off-roading is a go
Reliability: Ford Escapes have an average of lasting somewhere between 130,000 and 250,000 miles. They also get about 30 miles per gallon (highway).
Repair Costs: The repair costs are on par with the medium for cars of that size, coming out to $600 when the normal is between $521-$652.
4WD: Having a 4 wheel drive is great in this car, and the "slippery mode" is known to have excellent traction and driver control on more icy/rainy roads. There's also a specific mode for snow/sand that will adjust the transmission shift to create a stronger grip on uneven surfaces.
Off-roading: Though the off-roading capability is available on each Ford Escape variant, the best-reviewed among owners is the Ford Escape 2020. It surprised most buyers with its exceptional resistance.
Used vs. New
A previous Ford Escape owner shared his experiences about buying a used one. He said that he was looking for a car that could be used to haul a lot of equipment back and forth to soccer matches (he was a soccer coach). The Ford Escape was the car that he chose, and he enjoyed the spacious seating arrangement and large trunk space. Overall, he judged that this car was a good investment to make. He didn't mind buying it used because it was still reliable and was cheaper than a new model.
As long as you know what issues the car may have (engine stumbling, ignition misfire, and transmission failure) then you can choose which specific model features you like best when it comes to choosing between a new and used Ford Escape. It is a good tip to take any car that you buy to the mechanic, just to double-check that everything is working properly.
The new Ford Escapes offer features like:
Hybrid powertrain
Cruise control
Traffic sign recognition
More room within the vehicle
Sync infotainment interface – touchscreen
Although keep in mind that you will be spending a good buck when purchasing a brand new ford escape.
Budget + Wish List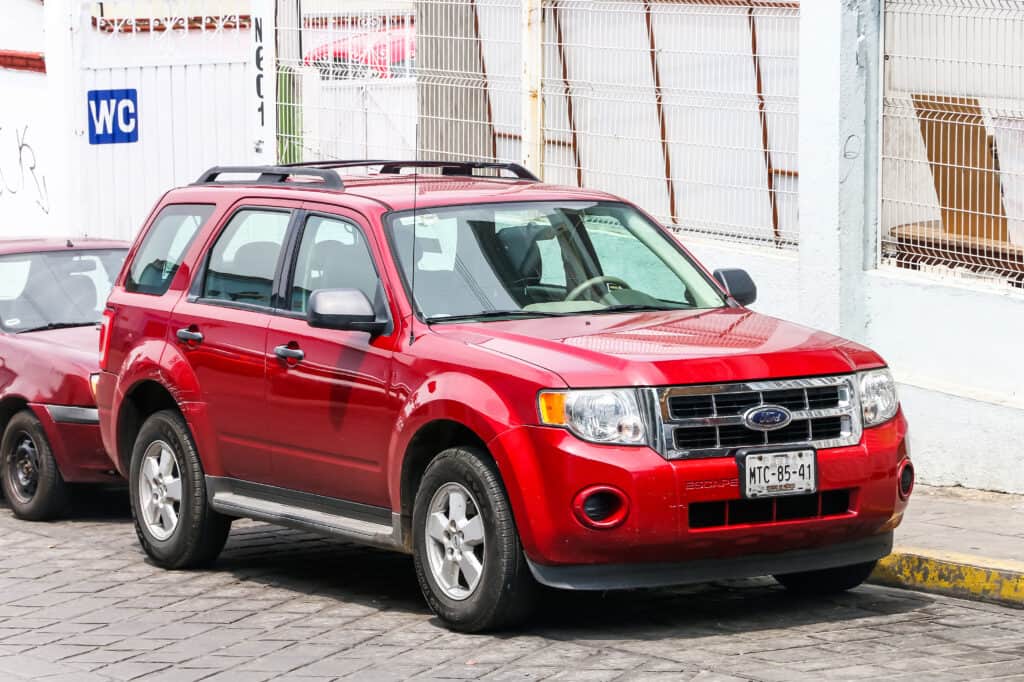 Buying a new 2021 Ford Escape can range anywhere between $24,885 – $36,155.
Buying a used Ford Escape is usually around $6,000-$12,000 (depending on the model and quality).
You will want to make a list of things that you are looking for in your Ford Escape, this will help you narrow down what year to look at buying because they all offer different features.
Once you have a wish list written down, you will want to do some online research to see which used car dealerships or other offers have the most items checked off on your list that fit within your price range.
Car Shopping
Make sure to look at what engine the Ford Escape is using that you are interested in. If you plan on doing any towing, this is crucial.
You also want to check what type of drive system it has. No matter what conditions you are driving in, it is best to get the 4-wheel drive.
Check out the wheels, there are some 17 in, 18 in, and 19 in wheels. It will affect your driving. It is best recommended to have the 18 in. Check the trailer hitch. Make sure that it is in good condition. Verify if the car will be able to pull the weight that you are planning on.
Another thing that may seem of no importance is to check that the trunk shade works! Check that the cameras work, when backing up it should show you a view from behind you.
Lastly, it is crucial to do a test drive! Ask the owner if you can take it for a little cruise. Everyone wants to get a feel for the car that might be theirs. By driving in the car you will get a feel for the cabin and see how the engine sounds, observe the alignment and brakes. This will also allow you to test the car's suspension.
Drive and Ride made an awesome video for people who may be thinking about purchasing a used Ford Escape. If you want some more in-depth details about what to know and look for with a used Ford Escape, give this video a watch!
History Reports + Testing
Ford Escape owners have shared that it is best to avoid the 2005, 2008, and 2013 models. These car models have received the most reports on reliability problems.
The Ford Escape is known for having transmission problems. Typically these types of issues can only be discovered when the car is in motion, this is why it is especially crucial to do a test drive when looking at buying a used Ford Escape.
The Motor Trend wrote an article about the Ford Escape through the years. They share different photos showing the progression of the car's development over time.
Engines have also become more powerful, fuel economy standards have risen, and technology has become more important than ever.

motortrend.com
Ford Escapes are an awesome cross SUV. Make sure to do your research before purchasing one and enjoy the ride!