What Types Of Ford Broncos Are There?
In 2021 Ford unveiled a new line of Broncos to critical acclaim.
Now it is 2022, and the line from the previous year has not changed much, but the same quality that dethroned the Jeep Wrangler is still present.
Ford also continued the Bronco Sport line, which offers a choice of four different models to compete against smaller SUVs.
What Ford Broncos Are Available?
The 2022 models do not differ greatly from the 2021 models. They keep the successful trend going, meaning Ford listens to customers and delivers. The available models are the Base Model, Big Bend, Black Diamond, Outer Banks, Badlands, and Wildtrak.
The Bronco Sport line is similar to the main Bronco line and omits the Black Diamond and Wildtrak.
If you are in the market for a new Ford Bronco, look no further.
Ford has tastefully crafted two different product lines with models to fit every outdoor enthusiast's needs in a range of prices and a vast array of customizable options.
2022 Models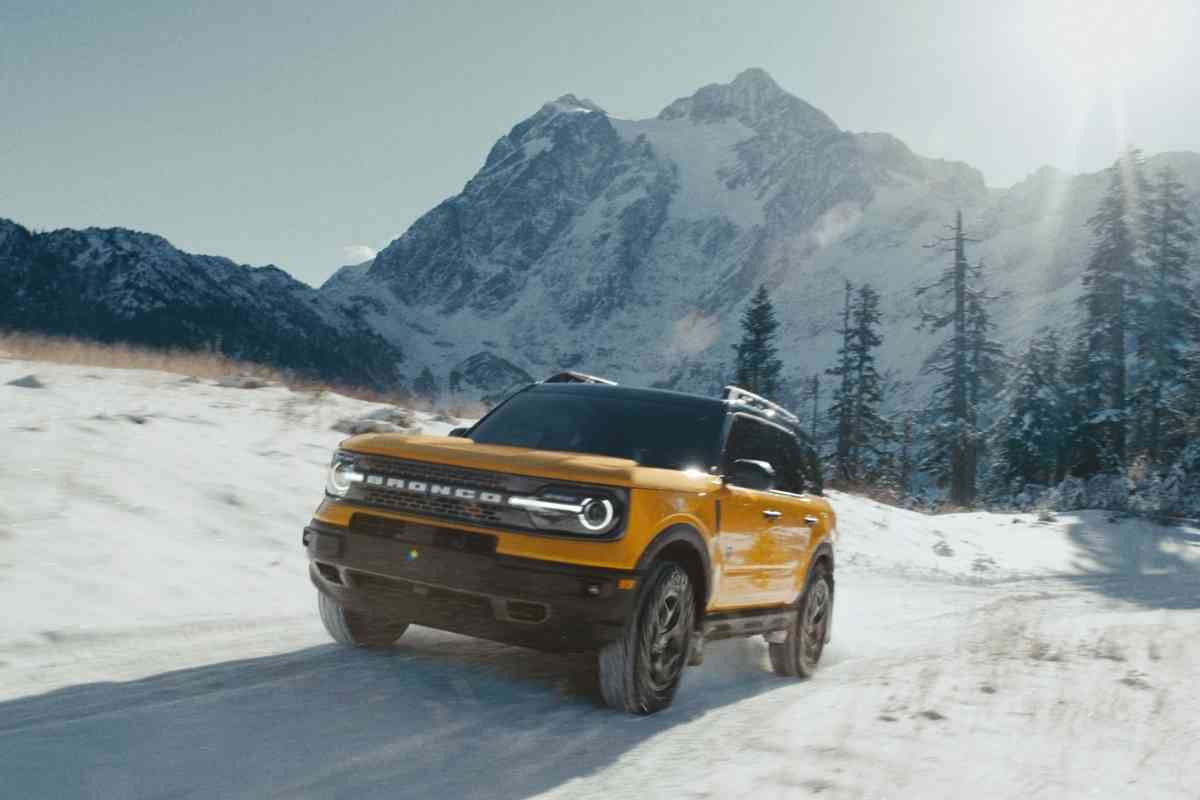 Split into two groups, the primary Bronco line, and the Bronco Sport line, Ford offers something for everybody, even the urbanite who likes to explore the countryside on weekends.
2021 Bronco (2022 Build)
Ford currently offers six models for 2022.
All come with both two and four-door options.
Base Model
Touted as "just the bare essentials," the base model still has loads of options available and is the best model for people who like to add personal customizations.
The base model still comes with 4×4 with part-time selectable management, easy-to-remove doors and top, the Terrain Management System (TMS) with five selectable G.O.A.T. (Goes Over Any Type of Terrain) modes, 7-speed manual transmission (2-door), and optional 35-inch tires.
Big Bend
This model resembles the base model in many regards but provides more comfort and class, such as a leather-wrapped steering wheel, heated seats, and remote start.
The TMS, with six selectable G.O.A.T. modes, differs from the base model and includes privacy glass and a swing gate.
The Big Bend has an AC power outlet on the backside of the center floor console.
Black Diamond
This model kicks the quality up a notch from the previous two models.
Stand-out features include:
Standard rear-locking differential
Steel front and rear bumpers
Rock rails
Heavy-duty skid plates
TMS with seven G.O.A.T. modes
Rubberized flooring—washout capable with a drain
Bash Plates for the whole underbody
Outer Banks
One more level-up in comfort, this model has leather-trimmed seating, SYNC 4 12-inch LCD Capacitive Touchscreen, body-color painted fender flares, 10-speed automatic transmission, and the Blind-Spot Information System (BLIS) with Cross-Traffic Alert.
Badlands
This model uses the Black Diamond as a template and adds more quality and comfort for city, country, and off-road driving.
Bilstein sensitive monotube shocks
Stabilizer bar disconnect
Front and rear locking differentials (best driving Bronco)
Interior has a vinyl and full-leather option
Upgraded bash plates and rock rails
Washout capable rubberized flooring
TMS with seven G.O.A.T. modes
Advanced 4×4 with automatic on-demand engagement
Wildtrak
The Wildtrak comes with a standard Sasquatch package, an option found on other models.
The Sasquatch package includes heavier thirty-five-inch tires and more protection and power for off-road use.
The Wildtrak offers front and rear locking differentials and Bilstein sensitive monotube shocks.
A standard 2.7L twin-turbocharged V6 engine and a 10-speed automatic transmission also come standard.
Like other models, the Wildtrak also comes with 4×4 Automatic On-Demand Engagement, auxiliary switches with pre-run accessory wires, and a high-clearance suspension.
Ford has developed the Wildtrak for rugged outdoor use from a design perspective, including outdoor tests in racing locations like Johnson Valley, California.
2022 Bronco Sport
The Bronco Sport line does not compete with the main Bronco line.
The purpose of these models is to compete with smaller SUVs that Jeep offers, along with overseas competitors.
The Sport is a smaller lineup of only four models—the Base, Big Bend, Outer Banks, and Badlands.
When comparing Bronco Sports to regular Broncos, a few noticeable differences jump out immediately.
The designs are similar but not the same, especially obvious around the headlights and tail.
The Sport line has smaller engines than all comparable 2021 Bronco lines.
The Sport line does not have a 2-door and 4-door option.
All models come standard with 4-doors, even though the bodies are smaller than regular Broncos.
The prices of the Bronco Sport line are cheaper than their counterparts in the Bronco 2022 line.
Base Model
As seen before with the previous base model, the Sport version gets the ball rolling and leaves plenty of room for people who like customization.
The features are still robust for a base model—4×4, Ford Co-Pilot360, 1.5L EcoBoost engine with Start-Stop Technology, TMS with five G.O.A.T. modes, SYNC 3 voice-activated technology with an 8-inch capacitive touchscreen with swipe capability, and dual USB ports Type C and Std A.
Big Bend
The next step up from the base model, the Big Bend makes getting outdoors easier and more convenient, while maintaining a similar price to the base model.
Features include:
Easy to clean cloth seats
Rubberized cargo floor
Intelligent Access with push-button start
MOLLE Straps system
Heated side-view mirrors
1.5L EcoBoost engine
TMS five G.O.A.T. modes
Outer Banks
The Outer Banks builds on the Big Bend by adding extra refinements and luxuries.
This model includes leather-trimmed bucket seats and a heated, leather-wrapped steering wheel with cruise and audio controls.
The FordPass app allows for remote start, and once inside a 110V/150W power outlet allows for keeping electronics powered up.
The 1.5L EcoBoost engine with auto start-stop technology offers all the power needed to explore the outdoors in style.
The engine works in conjunction with the TMS that has five G.O.A.T. modes.
Badlands
The Badlands is the final model in the Bronco Sport lineup and sits atop the list with every bit of luxury and offroad power Ford could think to add for a compact SUV.
Some key features are:
Metal bash plates
Advanced 4×4 with twin-clutch rear-drive unit
Ford Trail Control for offroad
TMS with seven G.O.A.T. modes
2L EcoBoost engine including auto start-stop technology
Off-road suspension
Front 180-degree camera
Optional 235/65/R17 all-terrain off-road tires
Front tow hooks
2022 Ford Bronco Features
The design team took SUV offroaders into account when they made body-on-frame construction and removable doors, a retractable soft-top option, hardtop option, removable panels, two-engine drivetrain, transmission choices, and optional 35-inch tires.
Ford is head-hunting on-the-fence Jeep Wrangler fans.
Just like the competition, Ford offers as many personalization options as possible.
The last count is over 200 options altogether.
During the research phase, Ford learned from potential customers in the active lifestyle segment that open-air driving is a highly sought-after feature.
The 4-door features a standard retractable or removable soft-top, granting easy access to the interior.
The 2-door comes standard with a hardtop, and the 4-door includes an optional hardtop.
2022 Ford Bronco Sport Features
The Bronco Sport line borrows essential features from the regular Bronco and blends compact SUV traits to form an innovative crossover automobile style.
The most obvious difference is the lack of open-air options.
Every vehicle comes in hardtop to provide an enclosed cab driving experience which may work better for city dwellers who enjoy rural excursions on weekends.
The only problem is the price.
Starting at just under $30,000, the base model quickly exceeds that pricepoint with options.
The Sport line approaches Jeep Wrangler prices but delivers a substantially underpowered vehicle by comparison.