Chevy Traverse vs GMC Acadia, What's The Difference?
As far as mid-sized SUVs go, there aren't very many good budget options. SUVs are sports vehicles after all, and there is always a price associated with the high quality. That's why comparing shop is so important when deciding between two similar SUVs like the Chevy Traverse and GMC Acadia. So…what's the difference between the Chevy Traverse and the GMC Acadia?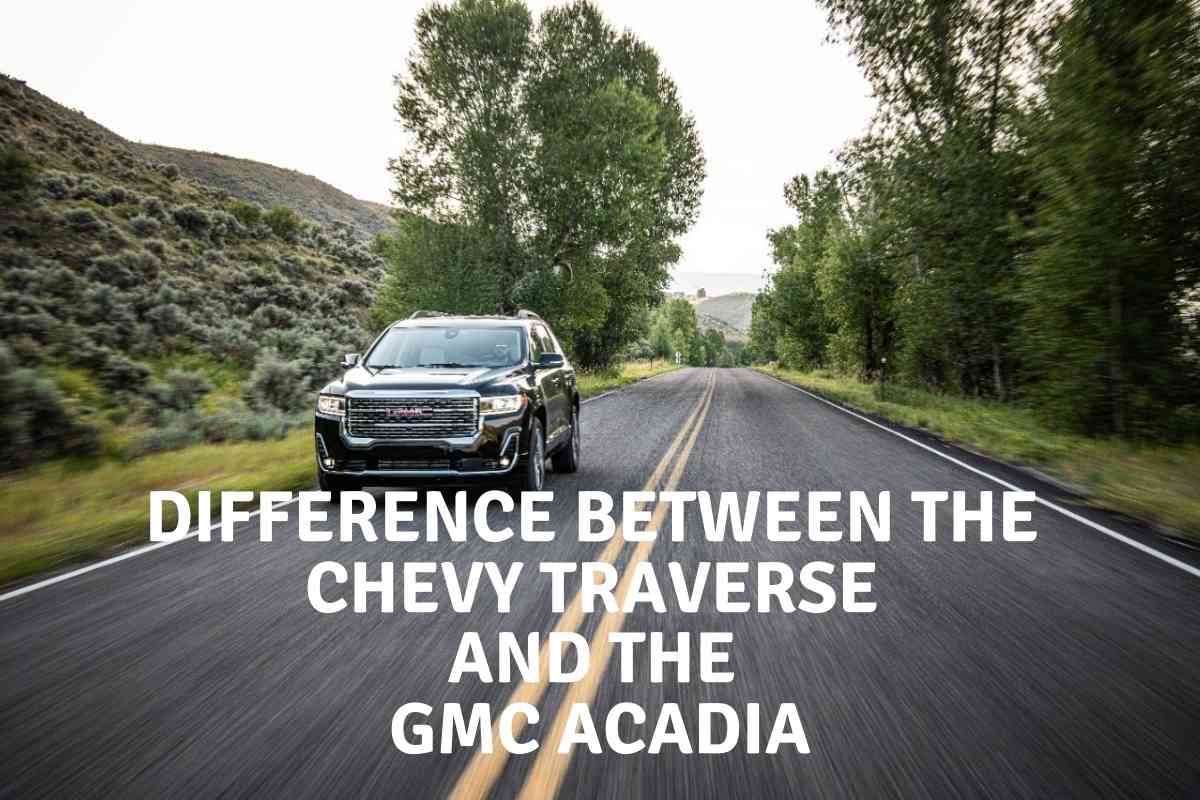 While you are researching the Traverse vs Acadia, be sure to bookmark these related posts: GMC Acadia Years to Avoid, The Chevy Traverse Years You Should Avoid, and What Are the Best Years for The Chevy Traverse?
The difference between the Chevy Traverse and the GMC Acadia is the Traverse is larger, while the Acadia is safer. The Traverse has the advantage of increased back-row legroom, making it easier to carry passengers. The Acadia offers a variety of safety features, including a parking camera.
There are actually a great many more differences between the two vehicles than just the size and the safety features.
Let's take a look at the most common comparison points and see what they might mean for prospective owners.
Price
The most obvious comparison between these two vehicles is probably their price tag.
The Traverse costs around $33,700, while the Acadia comes in at $34,800. 
Their prices certainly are similar, even if the Acadia costs a little over $1,000 more.
As for whether the Acadia is worth the increased price, there really isn't a definitive answer for that.
When it comes to this kind of car, $1,000 isn't actually that big of a price difference, so evaluating whether the extra money is worth it ends up being a fairly subjective matter.
Generally speaking, if you value the features the Acadia has that the Traverse doesn't, the extra $1,000 will usually be worth it.
If you don't care about the features, then the Traverse will usually be the better option.
Regardless, it's your opinion that determines where the value lies.
A Must Read Before Buying: Chevy Traverse Years to Avoid (Expert Weight In)
Miles Per Gallon
Cars exist to get you places, and having a more expensive car with more miles per gallon can pay itself off pretty quickly by saving you money on gas, especially if you're trying to drive all the way across the country.
The Acadia has the better miles per gallon ratio between the two, getting 22 mpg in the city and 29 on the highway.
The Traverse doesn't really compare very well in this regard.
It offers 18 mpg in the city and 27 on the highway.
That lower mpg on the highway will add up fast and make the car more expensive to use as time goes on.
It can also be nice to have better fuel efficiency when off-roading, since it means you'll be more likely to avoid situations where you'll be stranded without gas.
Seating Capacity/Cargo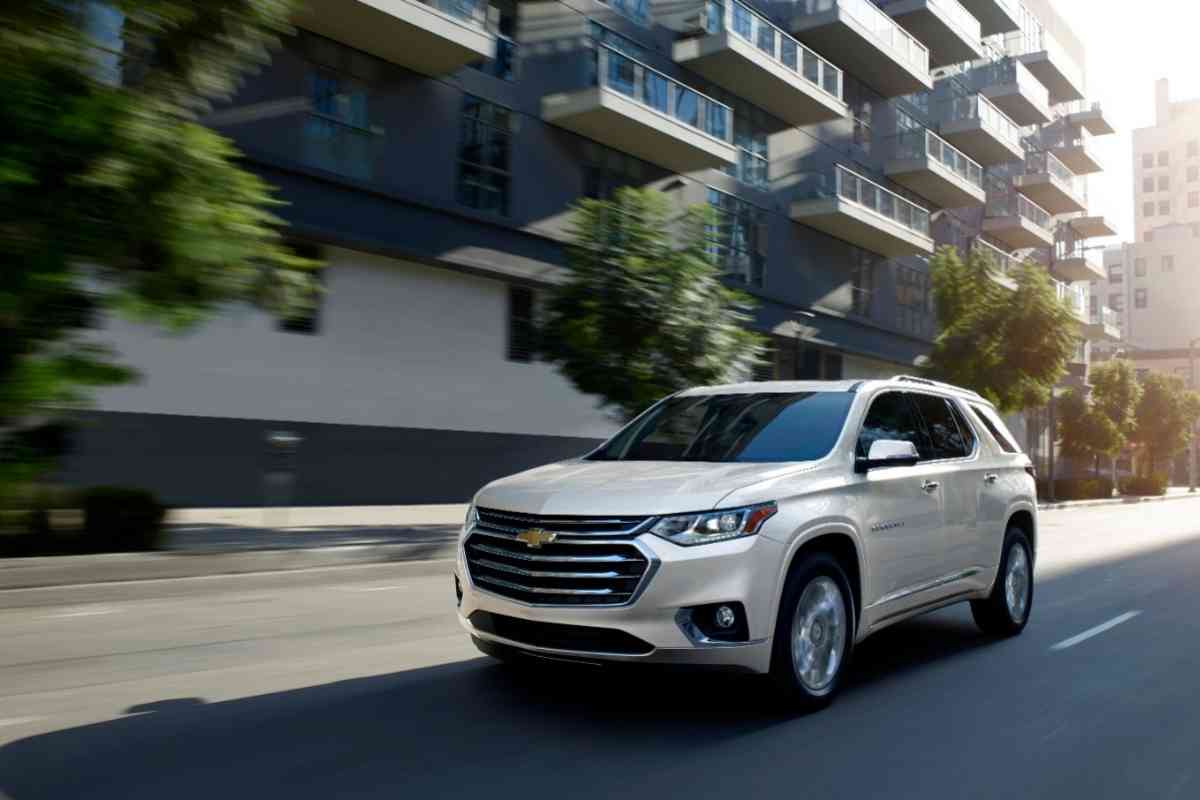 As mentioned earlier, the Traverse is just a bigger vehicle than the Acadia.
It fits seven or eight people easily with plenty of legroom, while the Acadia can have trouble seating six adults.
Plus, the Acadia backseat can get a little bit cramped.
As for cargo space, the Traverse holds that point as well.
With 32 cubic feet and a nice little compartment under the floor, the Traverse can carry a lot of luggage.
The Acadia has much less space for cargo, making it inconvenient for family road trips or camping trips, or even just hauling your groceries home.
Towing Capacity
Towing capacity is either incredibly important for you or it means absolutely nothing.
If it's important, you'll be disappointed to hear that the better of these two SUVs in terms of towing is the Acadia, and even it can only tow up to 3,500 lbs.
This is a reasonably large number, but not fantastic.
It is certainly better than the Traverse, which can only tow about 1,500 lbs of weight.
Towing can be a big deal if you want to transport a trailer or rescue another vehicle that has drifted off the road.
If towing is important to you, these relatively low numbers may make you change your mind about these otherwise great vehicles.
On the other hand, 3,500 lbs of towing power is still actually high enough to accommodate most people's towing needs.
In fact, if you don't need to tow things often (or only tow very small things) the Traverse's 1,000 lbs will be just fine.
But for people who need a higher towing capacity, the Acadia will be the better choice.
Safety
In terms of reliability, both vehicles are fairly similar.
Major problems are not to be expected of the models of either variety, although used vehicles are always less certain.
Online reliability ratings give the edge to the Traverse, making it safer in some ways.
Being sure that you aren't going to break down on the highway is a safety concern as much as it is an economic one.
Looking at safety from a more direct point of view tells a slightly different story, however.
The Acadia comes with all sorts of advanced safety features.
It has a parking camera, a blind spot checker, and a lane-changing alert.
The Traverse, on the other hand, has no advanced safety features to speak of.
This is a disadvantage. Anything that increases your chances of surviving in a car crash is definitely something that's worth investing in.
Final Comparison
Which of these two vehicles is better? It really depends on what you want.
When it comes to power, neither of these vehicles is particularly special.
Focusing on what makes these vehicles stand out, the Chevy Traverse is very big, and that's really cool.
If you're looking for a big vehicle for a large family, then the Traverse is a fantastic choice.
Unfortunately, it doesn't have much else to offer aside from its size.
The Acadia on the other hand is safer, more powerful, and has a better fuel economy.
It may also have a slightly higher price, but this SUV will pay for itself pretty quickly due to decreased gas spending.
This doesn't necessarily mean that the Acadia will be better for all drivers, but for most people who aren't towing eight kids along, they'll prefer the quality of life improvements.
These vehicles are both similar enough that your own opinion on the vehicle is way more important than anything that you could ever read on the internet.
So pick whichever one seems to fit your situation the best and don't worry about the other one.
No matter which one you choose, you can't go wrong!