Are Toyota RAV4s Reliable?
Toyota has a little bit of a reputation for making reliable vehicles.
The RAV4 premiered in 1996. That first generation vehicle has evolved through four updates, and the fifth-generation RAV4 has been in production since 2019.
Their pickup trucks are famous for their exploits in some harsh and unforgiving environments.
But are Toyota RAV4s reliable?
Are Toyota RAV4s Reliable?
Toyota RAV4s are exceptionally reliable vehicles. Each generation has proven to be reliable, despite some issues that pop up from time to time. The RAV4 is a durable car, and with more than two decades of production, there is probably one for every budget.
Let's dig deeper and see what makes the RAV4 a reliable vehicle.
Toyota RAV4 History
There have been five generations of the RAV4. Each had its own quirks. But, overall, the RAV4 has proven to be reasonably dependable.
The RAV4 First Generation: (1996-2000)
The original RAV4 featured a 2.0-liter four-cylinder engine.
Coupled with either a manual or automatic transmission, the diminutive SUV was fairly peppy, despite its relatively paltry 127-horsepower.
That's because the RAV4 is pretty small.
It was actually one of the first vehicles to market as a compact SUV.
It was also pretty good at getting people from A to B, with an option for either front-wheel drive (FWD) or all-wheel drive (AWD) and an exemplary reliability record.
The National Highway Traffic Safety Administration (NHTSA) recorded only about 60 complaints from consumers in each model year of the first-generation RAV4.
If there was a knock on the original RAV4, it was its middling safety test results.
The RAV4 Second Generation (2001-2005)
This generation RAV4 was very similar to the original.
It sported the same engine with a small bump in horsepower and had similar features and options.
It was also slightly more efficient.
In its final two years, the RAV4 got a slightly bigger 2.4-liter engine with about 160 horsepower that could reach almost 27 miles to the gallon in highway driving.
As for reliability, this generation was also rarely in the shop for unplanned repairs.
The RAV4 Third Generation (2006-2012)
This model cycle saw Toyota remove the option for a manual transmission from the RAV4.
But, a six-cylinder V6 engine was added as an option, along with third-row seating.
The V6 gave an impressive power boost without sacrificing fuel economy or reliability.
The RAV4 Fourth Generation (2013-2018)
The 4th generation of the RAV4 did away with both the optional V6 and third-row seats.
Toyota seemed to pull back from the third generation's boost in power and cabin capacity, instead opting to keep the vehicle small and nimble.
This generation also saw the introduction of an optional hybrid electric motor.
Again, the car had above-average reliability.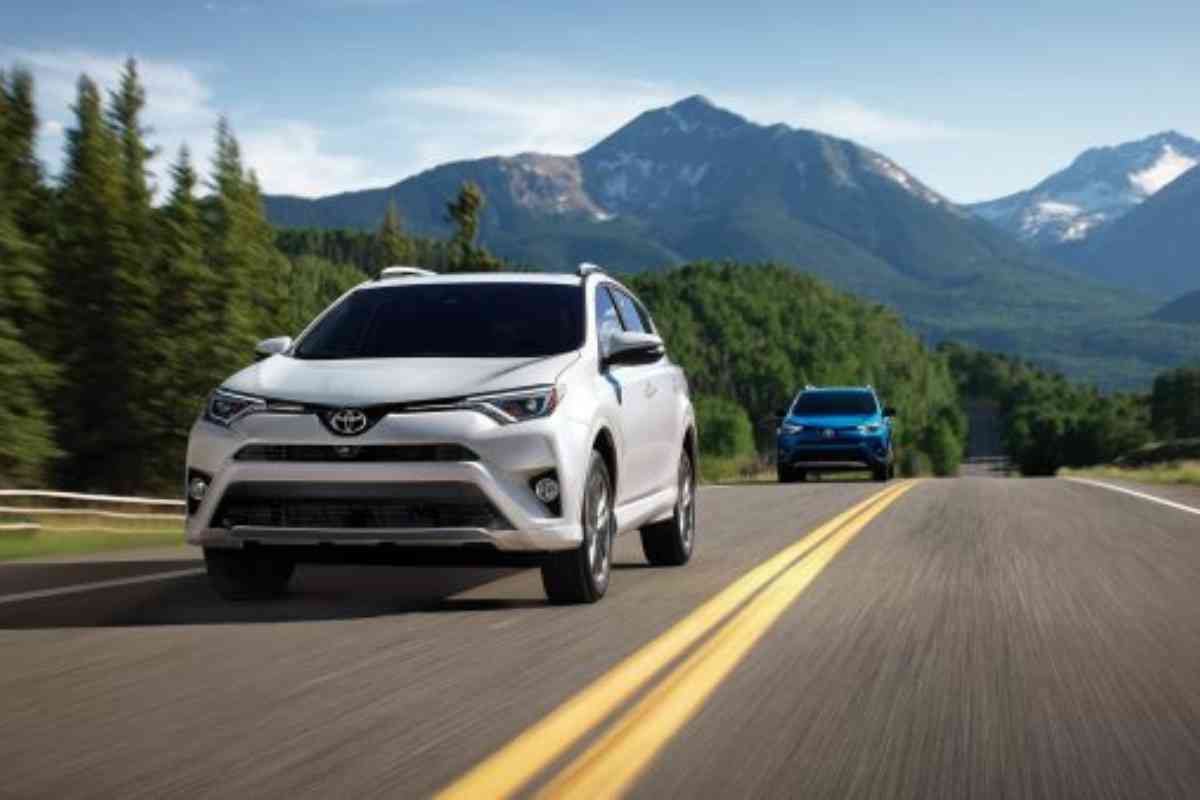 The RAV4 Fifth Generation (2019-Current)
The 2019 RAV4 is larger than any previous model of the RAV4.
A relatively powerful four-cylinder engine sits under the hood, or some models have a hybrid powertrain.
The 2021 RAV4 is available with a fully-rechargeable electric battery.
Even with the incorporation of electric battery technology on this model, the reliability remains better than average.
The Toyota RAV4: Reliable or Not?
The Toyota RAV4 has the capability of running well for hundreds of thousands of miles.
If you want your RAV4 to achieve a long life on the road, you should always perform routine maintenance at regular intervals.
That means doing oil changes, brake service, coolant flushes, proper tire rotation, and all the other recommended maintenance under Toyota's schedule.
If you stick to this service regimen, your RAV4 is likely to reward you with better than average reliability.
The current generation RAV4 is considered among the most reliable compact SUVs on the market.
RAV4 Service and Reliability
The RAV4 is near the top of the list for reliability in its class.
Many of the issues reported over the years with RAV4s are due to normal wear and tear, as well as lack of routine maintenance.
But, there are some issues with RAV4s you should be aware of.
Burning Oil
The RAV4 has a bit of a reputation for consuming oil.
In particular, the models made from 2005 until 2008 need their oil topped off routinely in between oil changes.
Some owners report adding almost a full quart of oil monthly.
As these vehicles age, the over-consumption of oil gets worse.
Toyota has offered an extended warranty program for this model's engine.
If you're the current owner of or in the market for one of the models affected by this issue, you should consider inspecting the vehicle for tiny oil leaks.
Steering Concerns
The 2017 RAV4 has had some pervasive issues with its steering.
Some consumers report that the vehicle starts to pull to one side even when the steering wheel should be aiming the car straight down the road.
Other drivers reported that the steering became heavy, locked up, or made knocking noises when turning the wheel.
Since it's directly related to keeping you safe when you're operating the car, any issue that affects the steering adversely is a major one that needs immediate repair.
This issue is sometimes due to damage to and wearing out of the steering system.
In other cases, it is due to a failure of the power steering system itself.
Paint
A vehicle's paint job isn't directly related to its reliability.
But, Toyota RAV4 owners have reported issues with the paint on their 2009-2015 model vehicles.
Some have said that there are spots where the paint has bubbled up, peeled away, or chipped off.
This doesn't seem to be a factor in the vehicle's roadworthiness, but it is something to be aware of.
The Cooling System
Some recent RAV4s have had issues with leaky cooling systems.
In 2020, Toyota announced a recall for some 2019 and 2020 RAV4s in reaction to the discovery of small cracks created in the engine casting process.
These cracks sometimes led to leaking coolant fluid.
This is a severe issue because coolant is flammable, and keeping it inside the cooling system is essential to prevent overheating of the vehicle.
Transmission Troubles
Owners of RAV4s, in particular the 2019 model, report that there have been problems with the vehicle's transmission.
The issues range from banging and clunking noises when changing gears, lurching while driving slowly, and irregular shifts.
RAV4 Reliability Bottom Line
The RAV4 from Toyota is a small SUV with a history of better than average reliability.
Certain model years have seen reports of specific issues, so you should consider checking them out thoroughly if you're going to purchase one.
If the previous owner had to perform major repairs, they should have a record of what was fixed and when.
You can also use the Vehicle Identification Number (VIN) to check the vehicle's history.
If you already own a RAV4, you can decrease the likelihood of breakdowns and significant mechanical issues by consistently performing the factory-recommended maintenance on time.
And, if you own a newer Toyota RAV4 like the 2021 model, you can take comfort in the Toyota Prime warranty that covers all basic items for three years or 36,000 miles (whichever comes first), and a powertrain warranty that lasts for five years, or up to 60,000 miles.