Best and Worst Chevy Suburbans To Buy [Revealed!]
Chevy Suburbans by General Motors are perpetually in high demand, whether they are new or used Chevrolet Suburban models. This is GM's premier SUV with third row seats, but which model years are the best ones to buy? Which ones should you absolutely steer clear of? Let's talk about which models are the best and worst and what factors to look for when deciding which Chevy Suburban to buy.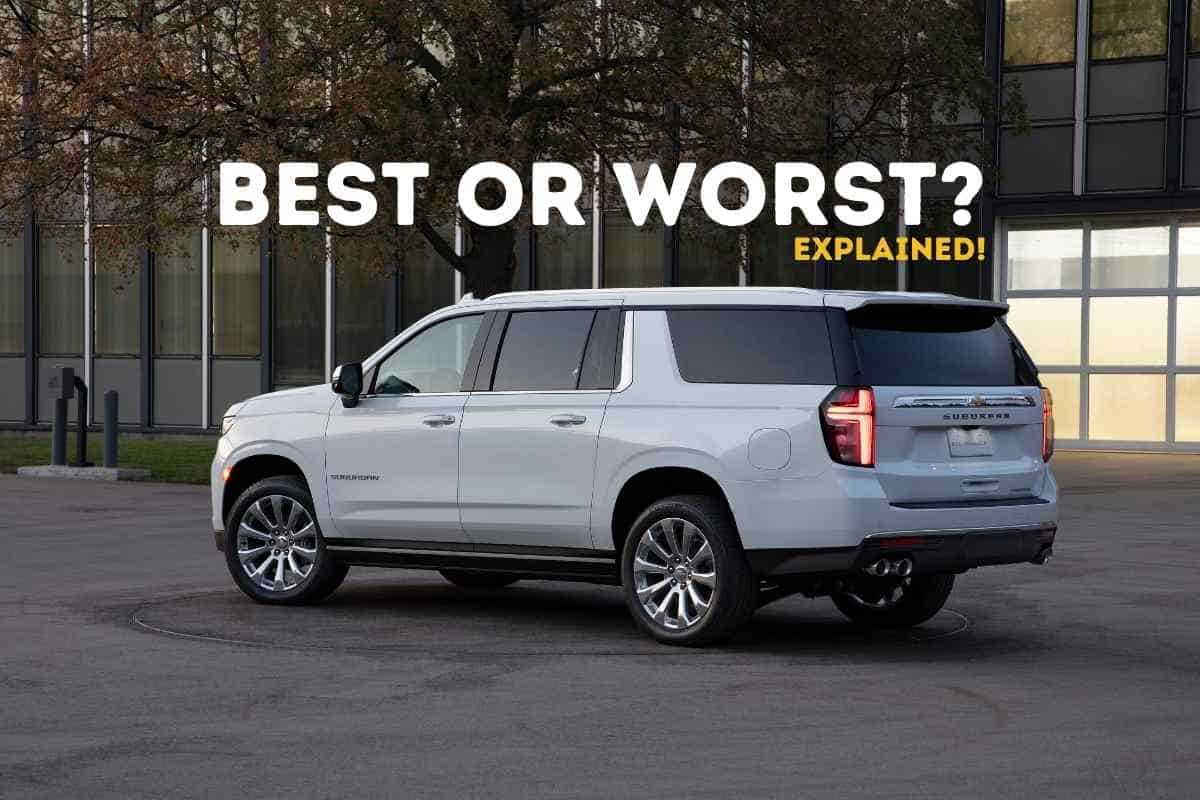 What is the best and Worst year Chevy Suburban to buy?
When it comes to the best Chevy Suburban to buy, the 2019 Suburban is one of your top options. It is holding onto some value but is reasonably priced. As far as the worst Chevy Suburban goes, we would stay away from the 1999, 2000-2005, 2007, 2008, 2009, and 2014-2016. Out of all of them, the 2007 is the absolute worst since it has the most complaints, many of which are very pricey. The 2009 model year is a close second since it can consume a lot of oil and tends to incur a lot of expensive repairs at the 50,000-mile mark. Um, yikes.
Just what makes the 2019 Chevy Suburban a much better choice than the 2007 or 2009 for you and your passengers? And what factors should be considered in your decision-making process? Read on to find out more.
The Best Chevy Suburban Years to Buy
The 2019 Chevy Suburban is the best model year to buy. The 2019 Suburban has all the great modern features you want, but it'll cost you close to half as much as a newer model year.
This mid-size third row SUV could still have somewhere around 83% of its usefulness lifespan (a measurement by which we determine how long a vehicle will be functional for its owner).
The 2019 model offers its buyers an upscale interior that puts comfort first with plenty of cargo space and seating for up to nine people. Introduced for the 2019 model year was an impressive 6.2-L V8 engine that produces a solid 420 horsepower and 460 lb-ft of torque, paired up with a 10-speed automatic transmission.
This is our main reason for picking the 2019 Suburban as the best model to buy. However, the base 5.3-L V8 engine (355 horsepower, 383 pound-feet of torque) is no laughing matter.
It comes with a 6-speed manual transmission or a 6-speed automatic transmission. Either way, it has been stated that the 2019 Suburban should be able to surpass 200,000 miles.
Whichever powertrain configuration you get, this vehicle has a lot of get-up-and-go power. For a vehicle that weighs roughly 5,900 pounds, the fact that it can get up to 60 miles per hour in roughly 7 seconds is rather impressive. Making a panic stop from 60 mph is also relatively easy, especially around town.
The Suburban offers a high degree of off-roading capabilities. It comes with a standard locking differential, all-terrain tires, a low-range transfer case, and skid plates. The large wheelbase does, however, limit off-roading to just some loose gravel, but on that, the Suburban is quite capable.
The one drawback to owning the one of hte 2019 Chevrolet Suburban models – or any new-ish Suburban, really – is its higher-than-average ownership costs. Expect to pay an annual average of about $6,900 to perform maintenance on this vehicle.
Keeping up with maintenance is key to prolonging a Suburban's life, so as long as you treat the 2019 Suburban with a moderate amount of care, it should lead a long life. Suburbans are of average reliability, but so far, consumers are reporting that their 2019 models are holding onto their value and are highly useful.
The Worst Chevy Suburban Years to Buy
Now that we have gone over the best Chevy Suburban to buy, we have to discuss the worst. That unfortunate title goes to the 2007 Chevy Suburban. This model is a lot more frustrating than the newer Suburbans that offer more power from their V8 engine options.
The 2007 Suburban 2500 came with a 6.0-liter V8 that puts out 366 hp and 380 lb-ft of torque, and the standard 5.3-liter V8 on the Suburban 1500 delivered 320 horsepower and 340 pound-feet of torque. Both engine options make for some quick acceleration, but the 5.3-L V8 does not feel that snappy when you load it up with people.
Since this vehicle weighs anywhere between 5,600 and 6,300 pounds, it is slowed down by its hefty curb weight. This leads to it feeling less than nimble around corners.
The 5.3-L V8 is a Vortec 5300 manufactured by GM, and it reflects a less-than-optimal shift in engine design. Upon entering the engine's fourth generation, the switch was made to an Active Fuel Management System from the previous system and piston wings.
The oil monitoring system appears to be the culprit behind excessive engine oil consumption issue, so this is something that you cannot change about the Suburban.
The worst part about this issue is that drivers will not be alerted to any low oil levels until it is too late to avoid doing any damage to the engine.
One of the other aspects of the 2007 Chevy Suburban that make it the worst model year to buy is its rampant engine oil consumption. When this happens, owners are faced with the decision of repairing or replacing the engine – that is, if they know what the problem actually is.
And, as you might reasonably surmise, engine repairs and replacements are far from being cheap. A lot of owners have heard from mechanics that there is nothing that can be done about some of the most common problems, and some dealerships have suggested that owners bring in their Suburbans for oil changes every 500 miles.
Although Chevy's LS engines can be solid, it is apparent that those on the 2007 are quite problematic.
Many owners have reported unsolved engine problems, including the engine breaking down while driving. In general, there are a lot of known and unknown engine problems with the 2007 Chevy Suburban, and it is hard to predict exactly when or even if an engine or engine oil consumption issue will arise. That makes planning for it somewhat difficult.
Closing Thoughts
Buying the right Chevy Suburban model year can be tricky. You will want to go through consumer reviews for various years and trim levels and learn about common complaints.
You will find a high number of similar complaints for the 2007 and 2009 Chevy Suburban models. A few other model years are known for being problematic as well. Some of them can be really hit-or-miss.
However, we happen to think that the 2019 Chevy Suburban is the model year to buy. So far, it has excellent reliability ratings, and is retaining some value, yet has depreciated to a more affordable price tag than what it was when the vehicle was new.
The 2019 has a ton of attractive interior cabin features and safety features, and the optional V8 engine is a fantastic upgrade over the base engine. For being such a massive vehicle with a hefty curb weight, efforts to make this vehicle accelerate quickly are obvious.