Best Replacement Vinyl Wood Grain Kit For Grand Wagoneer [With Photos]
This post may contain affiliate links. As an Amazon affiliate, I earn from qualifying purchases.
If you own a classic Jeep Grand Wagoneer, you probably know the struggle of having to replace faded vinyl woodgrain. For this reason, I have spent countless hours researching and evaluating the best replacement vinyl wood grain kits for the Jeep Grand Wagoneer.
So, What is the Best Replacement Vinyl Wood Grain Kit For Grand Wagoneer? Currently, the best vinyl wood grain kit is produced by Wagonmaster and sold by two Grand Wagoneer focused retailers: BJSOFFROAD and Team Grand Wagoneer.
My personal preference is to buy my products from Ryan Hart and the folks over at BJSOFFROAD. They are not currently a sponsor of this site, but their customer service is by far the best.
Not to mention Ryan is a fellow Full-Size Jeep guy.
View Woodgrain Kits from BJSOFFROAD
[Link to Their Jeep Woodgrain Kits]
Replacement Vinyl Wood Grain Photos
They say a photo is worth a thousand words, for this reason, let me show you a few pictures of the replacement vinyl wood grain samples that I evaluated.
Best Match Vinyl Wood Grain For Grand Wagoneer
The sample on the right is the marine teak vinyl wood grain which is the same wood grain that is on this 1987 Jeep Grand Wagoneer.
The sample on the right is Cherry Oak vinyl woodgrain that is on older Grand Wagoneers.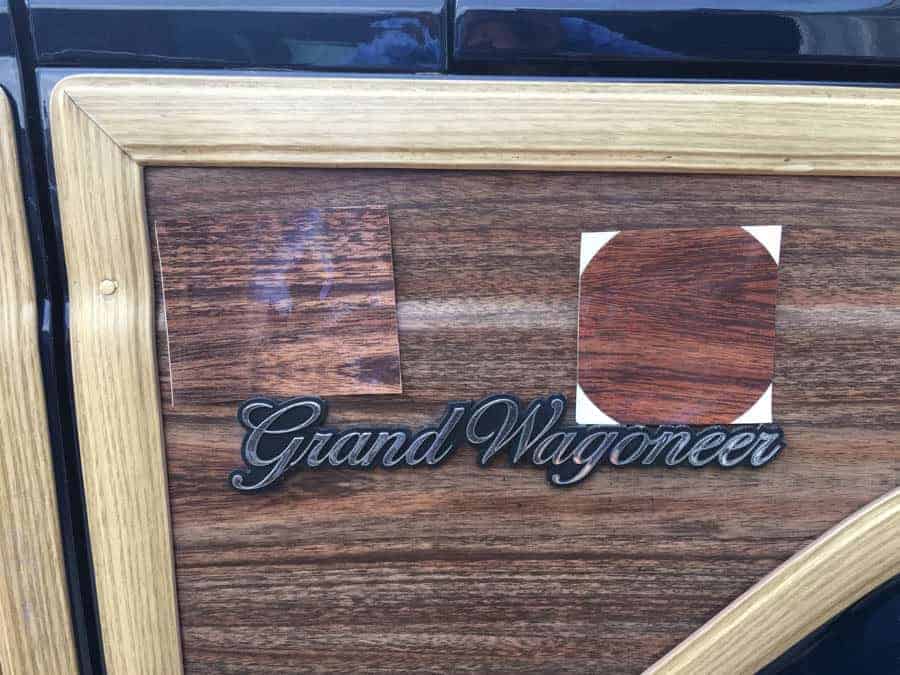 Grand Wagoneer Vinyl Wood Grain Trim Kit
It is possible to save a reuse your original woodgrain trim, but you have to be very careful not to let it warp.
Far too often, the trim is faded or not worth saving when you factor in 30 years of wear and tear plus the fading.
For this reason, many (if not most) people elect to replace the woodgrain trim too.
Here is a photo of the replacement Wagoneer trim kit.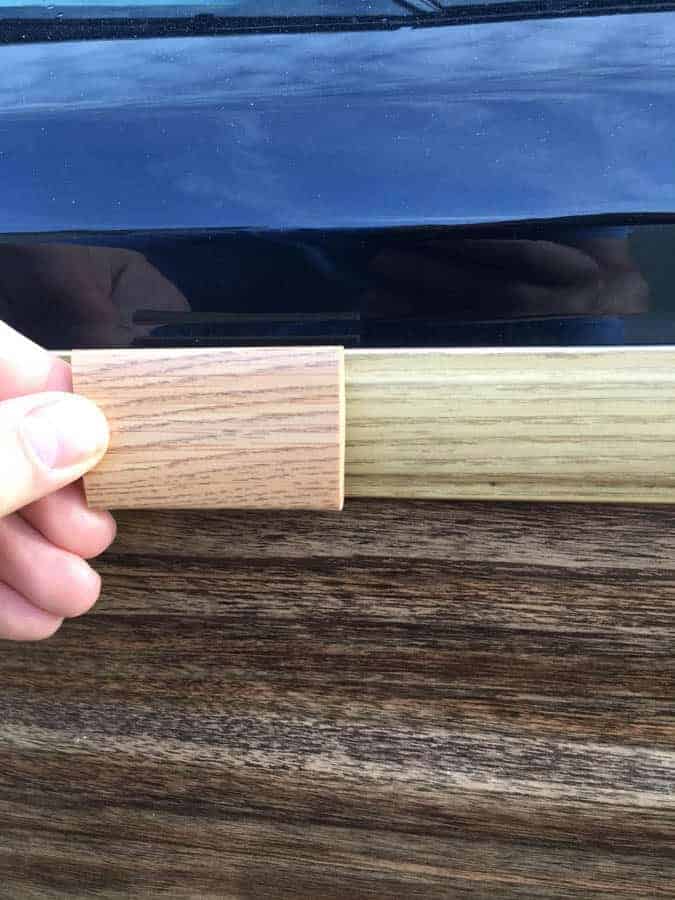 Jeep Grand Wagoneer Replacement Woodgrain For Tailgate
It used to be you had to buy the full woodgrain kit even if you only needed to fix your tailgate vinyl woodgrain.
Now I notice that BJSOFFROAD offers just the tailgate woodgrain.
Folks, this is a game changer!
Typically the tailgate is the main issue of faded Jeep Grand Wagoneer woodgrain.
Now you can just replace that panel.
Just know, it is not a flawless 100% reproduction woodgrain.
It will not be a perfect match for your 30-year-old woodgrain. It just isn't going to match exactly, but it will still be very good.
However, that's the beauty of just replacing the tailgate. The tailgate woodgrain does not sit side-by-side with the original woodgrain that you have on the sides of your Jeep.
For this reason, I would definitely use their tailgate woodgrain kit if I only needed to replace the tailgate woodgrain.
Want To Learn More?
I have written many articles reviewing other woodgrain kits from Auto Trim Designs, Stripeman, as well as a custom woodgrain option that I previously used (and hated).
To read more, check out these articles: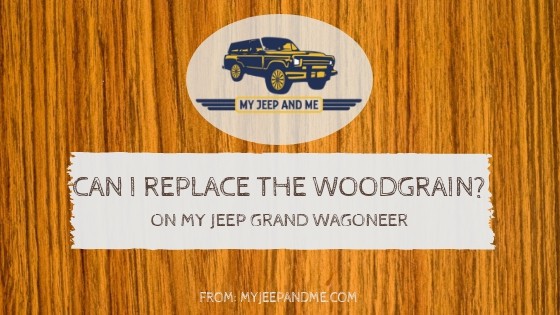 CAN I REPLACE JUST ONE SECTION OF WOODGRAIN ON MY JEEP GRAND WAGONEER?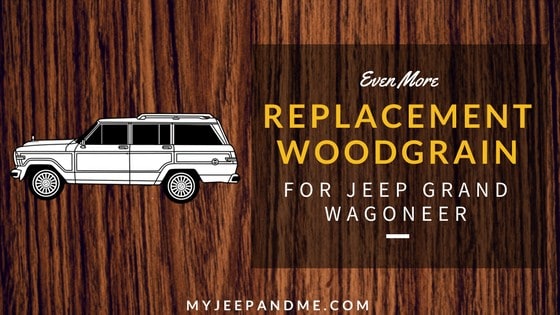 EVEN MORE WOODGRAIN FOR JEEP GRAND WAGONEERS
REPLACEMENT JEEP GRAND WAGONEER VINYL WOOD GRAIN [WITH PICTURES]