Can I Replace Just One Section Of Woodgrain On My Jeep Grand Wagoneer?
Can I Replace Just One Section Of Woodgrain On My Jeep Grand Wagoneer?
This morning I was chatting with a guy looking for a new to him Jeep Grand Wagoneer. He found an awesome 1988 Grand Wagoneer. It is a one owner Jeep that was owned by a little old lady its entire life. Sounds like a real gem. The issue he has is the tailgate woodgrain is completely faded away. I can relate because my 1987 Jeep Grand Wagoneer was exactly the same when I got it. His question to me was, can I replace just one section of woodgrain on my Jeep Grand Wagoneer?
So, can you replace just one section of woodgrain on a Grand Wagoneer? The Answer: It depends. There are plenty of replacement woodgrain choices out there, so yes, you could just slap on some new woodgrain and it would be done. The challenge comes if you care what it looks like. I have done tons of research searching for the perfect replacement woodgrain and the reality is, there is no perfect match for the factory wood grain. Even if you were to find the elusive New Original Stock (NOS) woodgrain, it probably still does not match due to thirty years worth of fading on your original wood grain.
If replacement woodgrain does not match the original woodgrain on my Jeep, what are my options?
If you are trying to make it look as close to factory as possible, I have two suggestions.
Full Replacement Woodgrain Kit
That's right, you can always strip the factory trim and woodgrain and start with all new material. The benefit to this is that everything will match. If you buy the right kit it will almost look factory. I would say it is a 90% match. It is not perfect, but it is really good. The downside to this option is the time it takes to remove the old woodgrain and install the new. Plus the cost. A full replacement woodgrain kit for your Jeep will cost approximately $1500 assuming you install yourself.
Hire A Local Vinyl Wrap Shop To Reproduce The Original Woodgrain
This is the option I took when redoing my 1987 Jeep Grand Wagoneer. I asked around trying to find recommendations on a quality shop that might be able to do what I wanted. I found a guy who does a ton of vehicle wraps and also printed his own vinyl. Printing his own was not critical, but it does help in terms of speed. Most shops send their designs to a printing company for production. They may send three or four sample designs to be printed and then do their best to color match by holding up the samples to the factory woodgrain.
This option looked near flawless in the guy's workshop. However, as soon as it got in the sunlight, the woodgrain took on a pale green hue. If you go this route, make certain the color match in sunlight and NOT under fluorescent shop lighting. It really makes an enormous difference. Also, this option is much less expensive. It cost me $250 including the installation to go this route. I had him put it on without removing the factory trim. It looked okay and to most casual observers they never even noticed. However, if I said something about it you would instantly hear them say in a slightly disappointing voice,  "oh you are right. It does have a greenish tint."
With this said, I never had it fixed. It was good enough and I just put a few magnets on it to help take your eye away from the woodgrain. Also, since it was on the tailgate it was not as important since you do not see it directly beside another woodgrain panel.
If you need to replace a side panel on your Jeep, I highly recommend you go with the full replacement woodgrain kits. Yes, it is more expensive, but nothing will look right if you just replace one woodgrain panel on the side of your Jeep.
If you simply need to replace the tailgate panel, then there are much more options since it will not be completely obvious that it is not the factory original woodgrain.
Can You Show Us Some Photos Of What You Are Talking About?
Do I have photos? lol — I have thousands of photos of my Jeep in all various phases of improvement. Just on my cell pho,ne I have over 4,000 photos of the Grand Wagoneer. I definitely need to clean that up, but I have yet to do it. It's really nice when someone is asking a question I can usually find a photo of it to share.
First, let's take a look a the faded out and crappy looking tailgate woodgrain on my Jeep when I first got it.
Before Photo: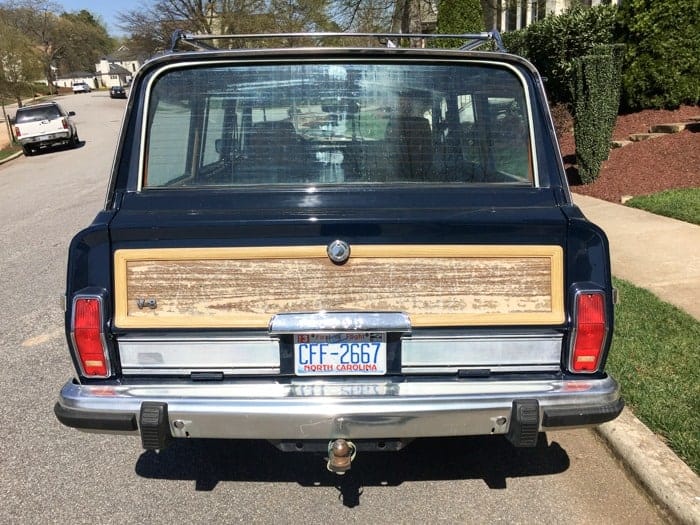 After Photo:
You can clearly see the difference. It made a meaningful improvement. Some of you will say it looks pretty good. As I stated before, it did looks okay when you factory in the reality it would cost $1500 plus labor if you do not want to tackle it your self. I paid just $250 and it did make a meaningful improvement.
Others will see exactly what I see. It is not the factory wood grain. For those who want it to look showroom ready, the only option I have found is a full Grand Wagoneer woodgrain replacement kit.
How Do I Install a Woodgrain Kit on a Jeep Grand Wagoneer?
To answer this question, I think it is best to show you since I personally chose not to go this route. For this, let's go to my friend and fellow Jeeper, Jim Moore over at Classic Grand Wagoneers. He put together this helpful YouTube Video and I think it does a good job of showing you the ins and outs of installing a woodgrain kit.
Jim also put together a video on removing the woodgrain from a Jeep Grand Wagoneer. In this next video, he used a heat gun to remove the woodgrain. I would suggest you look at a rubber wheel. Jim uses the wheel now too. You will probably go through about four of these wheels so buy plenty. Check Prices @ Amazon Link
https://youtu.be/aipnl7y6lCo
If you decide to go the DIY install route, I hope these videos give you some guidance. Since I have not yet done the woodgrain kit install myself, I am afraid I will not be much help. Maybe I will get to do it on the next Grand Wagoneer.
So what Is the Best Woodgrain Kit to Buy?
You have probably been asking this all along while reading this post. There are so many choices. I think I reviewed at least twenty different samples of woodgrain from numerous vendors. Like I said up above, there is no perfect replacement woodgrain kit unless you find a NOS woodgrain kit and if you have the Marine Teak woodgrain just go ahead and forget about it. I have searched for three years trying to find one. This said, if you do find a true NOS marine teak kit, buy it!
If you are like me, I search for NOS Jeep stuff anytime I am bored or curious if I can find something cool. I finally created a custom link to eBay that just searches for NOS Grand Wagoneer parts. Here's the link if you want to bookmark it and search for yourself. Wait, did I just create more competition for those hard to find NOS parts??? It's okay – lol. Go ahead and bookmark this now for future NOS Grand Wagoneer Searches
Okay, back to the best woodgrain kit for your Grand Wagoneer.
As of right now, I would say the Wagonmaster woodgrain kit offered by BJSOFFROAD or Team Grand Wagoneer is the best kit you can buy. There are others, but this one seems to have the best coloring.
If you would like to know more about all of the Jeep Grand Wagoneer woodgrain kits I have purchased and reviewed, here are two other blog posts I have written about the woodgrain kits.
I wrote my first article with lots of samples to review. These were the most popular samples out there and the ones that were worthy of review. Just know, there are some really terrible woodgrains out there! Then, I wrote a follow-up article once I knew that Ryan Hart and the guys over at BJSOFFROAD started carrying the Wagonmaster woodgrain kit.
Here are the two articles Reviewing Woodgrain Samples:
Replacement Jeep Grand Wagoneer Wood Grain Samples
Even More Woodgrain for Jeep Grand Wagoneers
Alright, this information should get you started on your way to the best replacement woodgrain for your Jeep Grand Wagoneer. I searched long and hard and these were the best options I could find. Hopefully, you found this information helpful, and feel free to share this post with others who are considering their options for replacement woodgrain kits.
So, can you replace just one panel of woodgrain on a Wagoneer? Sure, but it may not be the best option if you are going for that showroom look.