Nissan may not be the first company that comes to mind when thinking of the truck marketplace; however their new Nissan Titan is a refreshed model that sits right in between a full-size and a heavy duty truck.
The XD has a slightly new look, and most customers have had positive things to say about the design; however it is also notable that there is only one configuration for the Titan XD at this point. There are no more questions about what kind of packages to get or anything like that; what you see is what you get with the Nissan Titan XD and that can be great for customers who are looking to make a very specific purchasing decision.
For people who are looking to go on adventures and travel, they'll be most interested in the ability to tow a 5th wheel behind their truck, so let's ask the question:
Can the Nissan Titan XD Tow a 5th Wheel?
While many other Nissan vehicles cannot tow a 5th wheel, the Nissan Titan XD is one of the approved vehicles that can tow a 5th wheel trailer. You should still make sure that you meet certain requirements including your towing capacity, payload, and tongue weight limits. Trying to exceed those limits will result in a dangerous setup, however Nissan themselves have approved the Titan XD for hauling a 5th wheel trailer.
The towing capacity of a Nissan Titan maxes out right around 9,000 pounds; while the Nissan Titan XD can actually boost that number up to the range of about 11,000 pounds.
That number is a significant boost that is going to make it a lot easier to haul a 5th wheel trailer. While a difference of 2,000 pounds may not seem like much, you should consider that you'll need to factor in any cargo that you have aboard your fifth-wheel trailer as well as things like the tongue weight of your setup.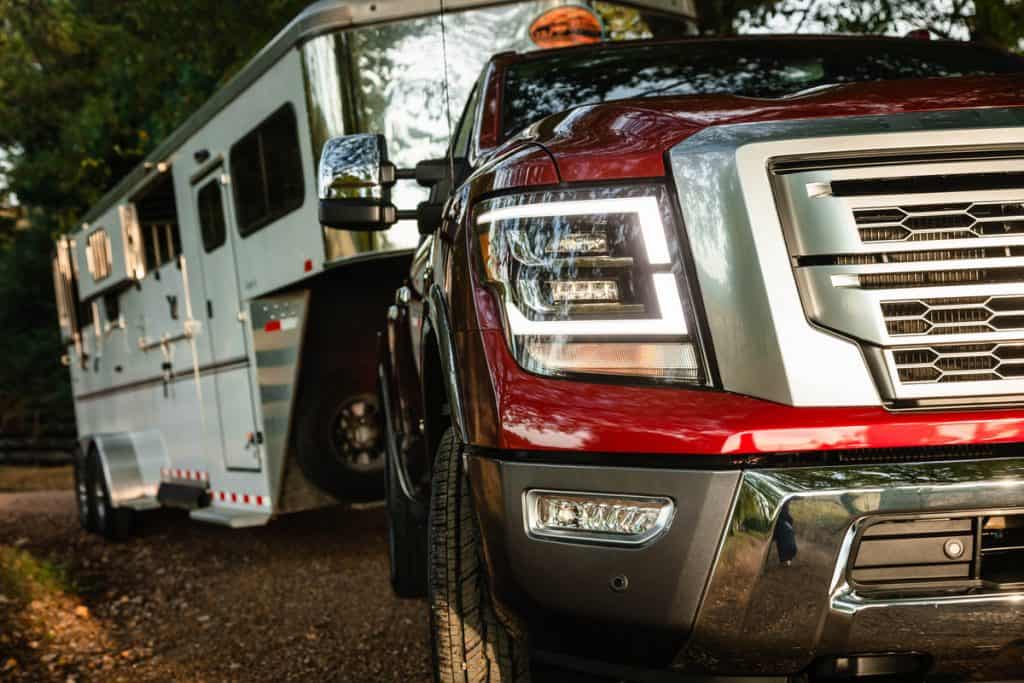 Staying Safe While Towing with a Nissan XD
Nissan is quick to provide safety guidelines for their trucks when it comes to towing any kind of 5th wheel trailer. That's important because, as Nissan puts it, "your first concern should be safety".
This is a good principle to follow and it really is the way you should think about things. If you are trying to tow a 5th wheel in an unsafe situation, you are only putting yourself at risk.
On top of the grave danger that can come with taking risks in a high weight situation like this; you are also potentially putting your vehicle into peril as well.
One rule that some people may not know about is that you really shouldn't do any towing during the first 500 miles of use. When you start hauling a 5th wheel trailer; you shouldn't do any serious speed with the first 500 miles of that usage.
These rules may seem unfair or like you don't need to listen to them; however they are definitely for your own benefit.
Nissan doesn't want to see any damage happen to your vehicle while you are first using it, so you'll just need to take it easy at first.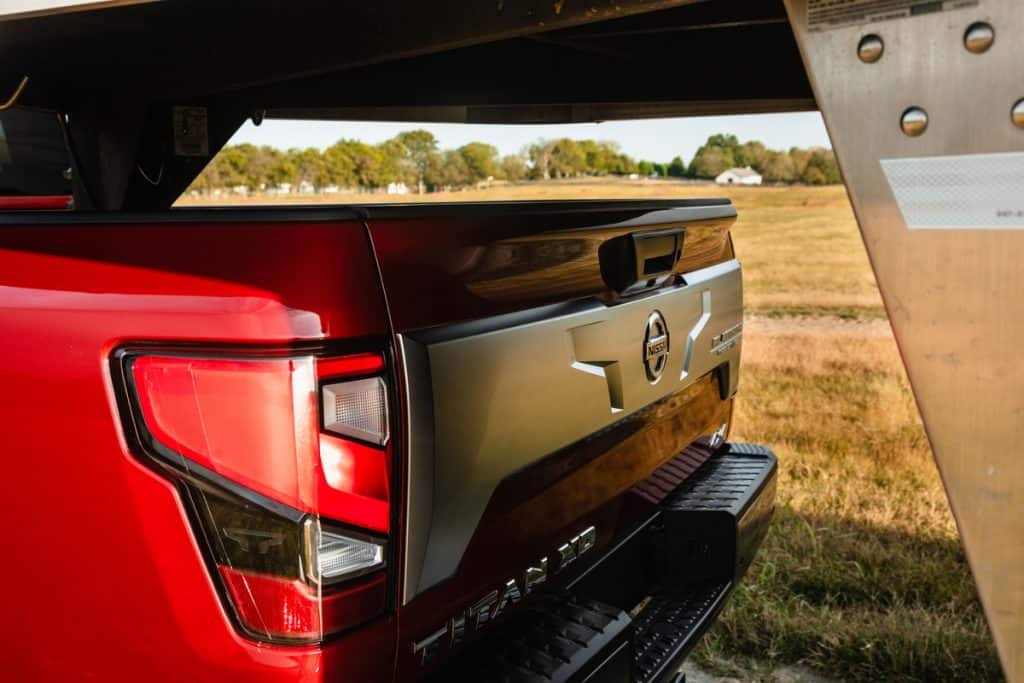 Attaching a 5th Wheel Hitch
The hitch for a 5th wheel trailer is a bit different than other setups that you may have used in the past. This hitch can sometimes be known as a gooseneck hitch if you have ran into that terminology as well.
You can actually get a gooseneck hitch from Nissan if you are interested in towing a 5th wheel trailer although there are aftermarket products available as well.
Your fifth wheel hitch should be optimized to haul your specific trailer because this is a serious weight that you are trying to pull so you want everything optimized to give you the best possible performance.
The hitch that you install should be at least 2 inches forward from the rear axle centerline.
This is to improve your weight distribution to help with the safety of your hauling setup.
In addition, it needs to be attached directly to your truck frame. Again, this is an instance that may differ from smaller setups that you may have had in the past, so you should take a lot of care when getting this gooseneck hitch installed.
If you do not have any experience with this hitch, you should probably hand over the job to a professional or at least get supervision from a professional because this is nothing to mess around with.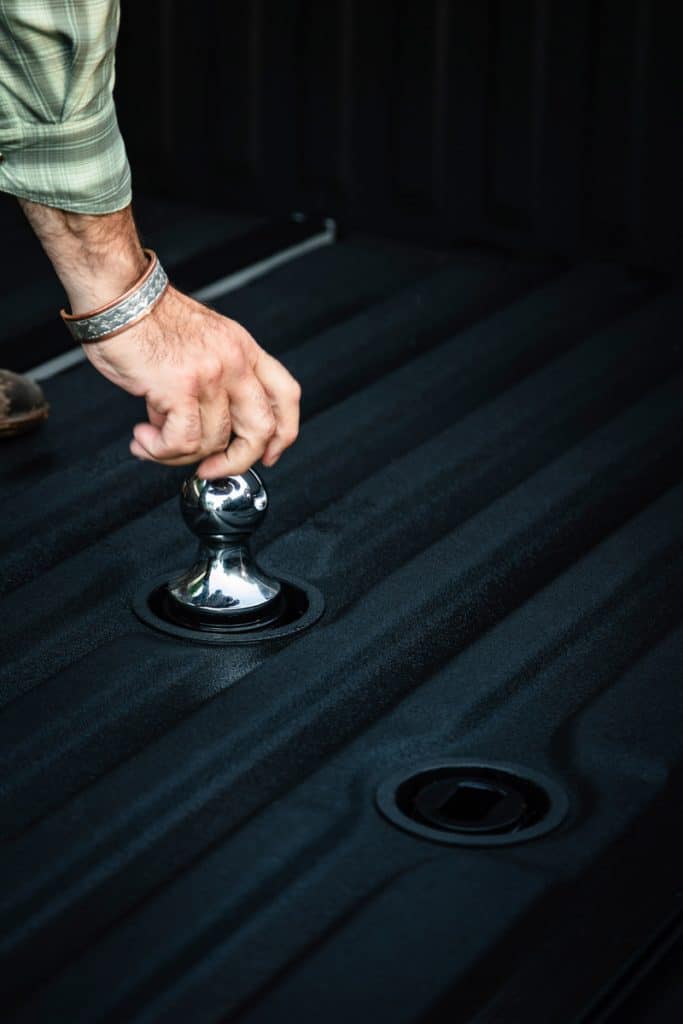 Your Trailer Tongue
The tongue can be thought of as the part of the trailer that extends to connect to the hitch on your vehicle.
Having a tongue weight that is higher than 10-15% is actually against Nissan recommendations and can give you a lot of problems when it comes to the stability of your setup. If your tongue weight is lower than 10-15%, you can also have problems which is something that not everyone knows.
If that is the case, you'll need to adjust some weight and move some things forward to compensate the correct balance of your towing setup.
The balance of weight is very important and although some people may be unaware of this, it does matter when you are driving down the road.
Improper weight balance can lead to a higher level of trailer sway when driving which is an extremely dangerous situation. There are reasons that many people are so careful about the installation of a trailer hitch and the math behind the weights of each part of your hauling setup.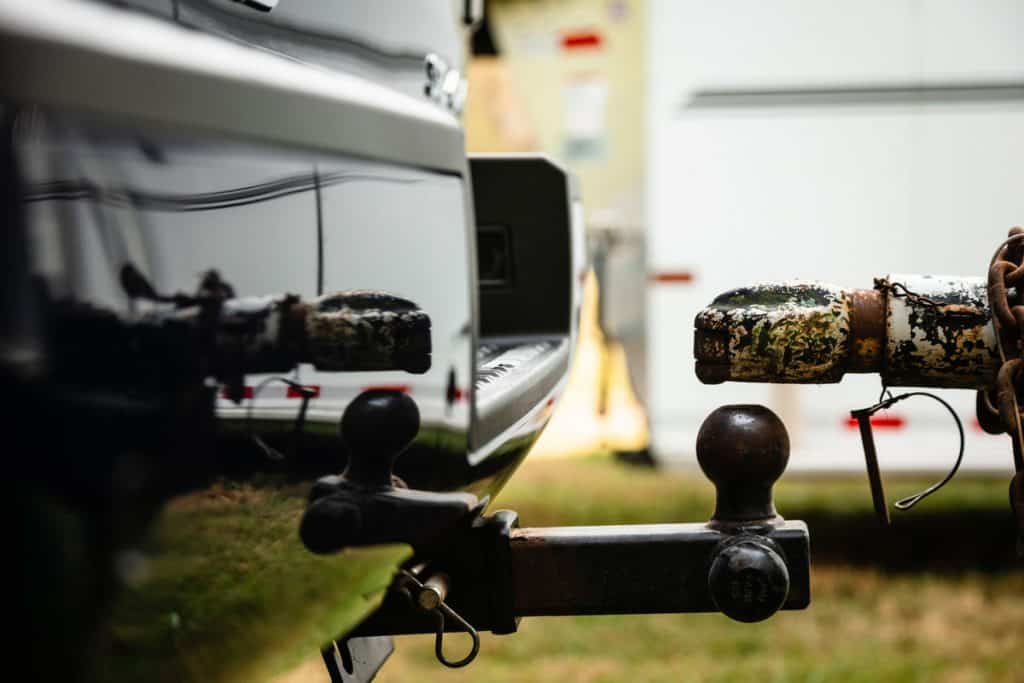 Proper Brake Setup
There are a lot of different kinds of braking systems that are available when trying to tow something that has a heavy weight to it.
While you should look into your local laws and make sure this is applicable, a lot of states require a unique braking system whenever your trailer has a loaded weight that is over 1,500 pounds. Obviously, if you are somewhere where this law does not apply, you should still pay attention if safety is your number one priority.
Surge brakes are one type of brake setup when looking at 5th wheel trailers. The actuator here gets attached to the trailer tongue which may add some weight to your setup in that area.
However, this runs a hydraulic line to each trailer wheel for added safety. Most rental trailers that you find will have this type of braking system so as to comply with laws in whatever jurisdiction you are in.
There are also electric brake systems that come from a trailer brake controller. Nissan actually makes the recommendation to find an aftermarket option if you don't have one to improve the safety of your setup.
Managing Your Trailer Weight
The key to most safety aspects as you can tell revolves around the weight of the different aspects of your vehicle.
Making sure that all of your different weights are below the capacity recommended for your setup is the best way to stay safe when hauling a 5th wheel in a Nissan Titan XD. If you stay below the Nissan Titan diesel towing capacity, you are going to stay safe.
However, you should also consider these 4 weights when towing:
Gross Vehicle Weight
Gross Axle Weight
Gross Combined Weight
Trailer Tongue Load
If you go over these limits, you are going to find significant drops in the handling and braking distance of your vehicle which could lead to some very bad scenarios.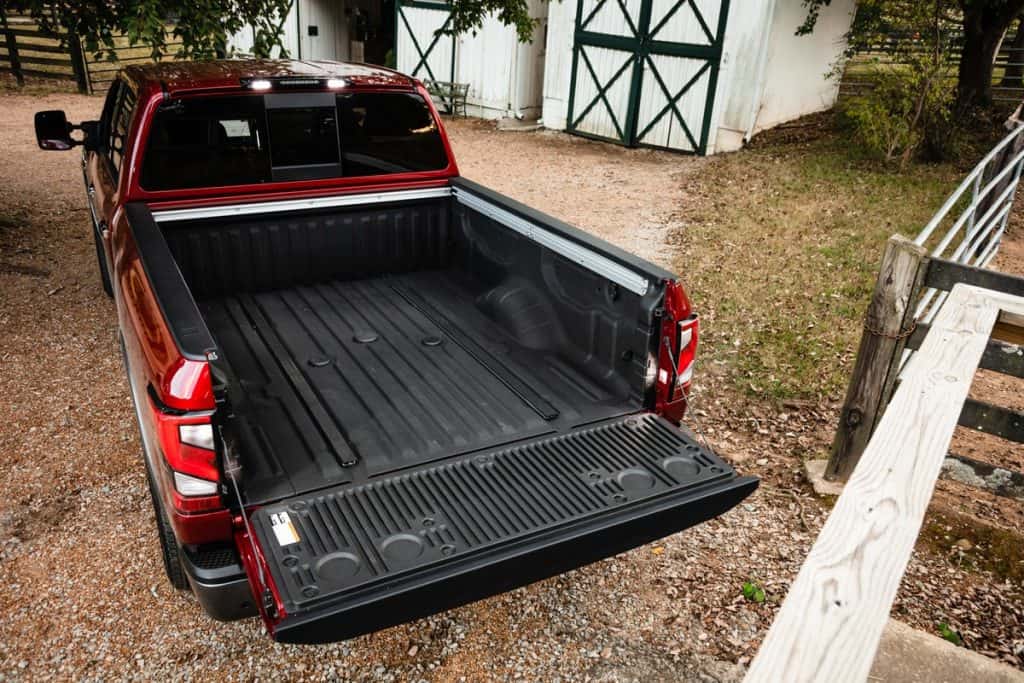 The first factor – Gross Vehicle Weight (or GVW) can apply to a vehicle or a trailer but usually speaks to the Titan XD in this situation. This is the number of pounds that you are going to be holding in the vehicle when everything is on board, including passengers, cargo, the trailer tongue, and any other applicable weights.
The Gross Axle Weight (or GAW) is the highest amount of weight that can be placed on a single axle safely. While it may seem like the rear axle may be bearing more weight due to the trailer tongue and the weight of the trailer being attached in the rear, it is the best practice to make sure that you are weighing both axles regularly to make sure that everything is appropriate. One of these numbers being off would be a sign of a poor setup.
Gross Combined Weight (or GCW) is fairly easy enough to understand as you need to weigh everything that is included in your setup; meaning the vehicle weight, the trailer weight, and everything that is additional that you have added on.
The Trailer Tongue Load is the amount of weight that is pressing down on to the tow vehicle through the hitch, or king pin load. You can weigh this when the trailer is detached from the vehicle; and it should not exceed 10-15% of the total trailer load. You should also not have a tongue weight too much lower than 10% as it can throw things out of balance.
Top Nissan Titan Truck Accessories
Bestseller No. 1
Tyger Auto T1 Soft Roll Up Truck Bed Tonneau Cover Compatible with 2017-2021 Nissan Titan Without Titan Box | Fleetside 5.5' Bed | TG-BC1N9048
US Design Patented
Cover is dual-coated and made out of heavy duty 24oz marine-grade vinyl with built-in horizontal crossbars that offer support when cover is lying flat and roll up with the tarp to provide full bed access when in need Also comes with aircraft-grade aluminum side rails and stainless steel clamps for mounting to the truck bed
Seals with Velcro strip on the sides and secures with latch lock system at the tailgate Tension system is available and can be adjusted on the end of the side rails to keep the cover tight and vinyl wrinkle-free in any weather conditions
Easy no drilling installation with instruction and mounting hardware provided | NOTE Small holes will need to be cut in the bedliner for vehicles equipped with over-the-bedrail bedliner to secure the clamps for proper cover installation cover will work with under-the-bedrail bedliner without modification
LIMITED LIFETIME ! | IMPORTANT Please measure your truck bed size before ordering We accept returns however customer will assume the return shipping cost if ordered wrong
Bestseller No. 2
Bestseller No. 3
TruXedo TruXport Soft Roll Up Truck Bed Tonneau Cover | 297401 | fits 16-21 Nissan Titan w/Track System 5' 7" Bed (67")
Fits 16-21 Nissan Titan w/Track System 5' 7" Bed (67")
UNBELIEVABLY FUNCTIONAL: TruXport is designed to be exceptionally easy to use: Simply unlock the tailgate latches & roll up your cover. TruXport is engineered with a heavy-duty 1.5" frame, and equipped with high quality leather-embossed vinyl
STAND GUARD AGAINST WEATHER: Keep your cargo dry and secure during all weather situations. Manually adjust the tarp tension to keep cover tight and water out. TruXport has support bows allowing it to handle several inches of snow when cover is closed
NO DRILL INSTALLATION: Fully install this roll-up truck bed cover in under 30 minutes! Easily clamp the rails onto your truck bed, attach the cover, roll and go. No drilling or special tools necessary
WE'VE GOT YOU COVERED: TruXport is backed by a 5-year, no hassle warranty. We are committed to providing you the best service at all times, if you need replacement parts simply call our team.
Bestseller No. 4
Undercover SwingCase Truck Bed Storage Box | SC500P | Fits 2004 - 2015 2004-Nissan Titan- Passenger Side
Fits 2004 - 2015 2004-Nissan Titan- Passenger Side
TRUCK BED COVER COMPATIBLE The UnderCover SwingCase maintains a 3-inch clearance from the truck bed & works with virtually all tonneau covers: soft, hard, folding, and rolling.
ULTIMATE ACCESSIBILITY This toolbox swings out nearly 180° towards you for easy access from the tailgate & swings back into a locking position over the wheel well for maximum bed access.
SECURE STORAGE SOLUTION The SwingCase has a key-lockable lid & can hold up to 75 lbs. of cargo. It features an organizational tray, as well as a moisture seal to help keep contents dry & protected against the elements.
QUICK INSTALLATION This toolbox is simple to install, requiring no special tools. Made in the USA, the SwingCase is backed by a 1-year guarantee & by UnderCover's US-based customer support team, making it the ultimate storage solution.
Bestseller No. 5
Pedal Commander - PC79 for Nissan Titan Trucks (2016 and newer) (2nd Gen) Fits: S, SV, PRO-4X, SL, Platinum Reserve, XD (5.0L 5.6L) Gas & Diesel | Throttle Response Controller
FASTER ACCELERATION: The Pedal Commander system eliminates the delay from your electronic gas pedal, allowing your 2016 and newer Nissan Titan to accelerate faster, giving your vehicle a night/day difference in performance.
36 ADJUSTABLE SETTINGS: Equipped with 4 different modes: Eco, City, Sport, and Sport +. Each mode has an additional 9 adjustable settings to fine-tune to your liking, making this the best Nissan Titan accessory.
GAS SAVINGS: The Pedal Commander's significantly slow response can increase your Nissan Titan MPG and save you up to 20% in fuel economy.
QUICK & EASY INSTALLATION: Pedal Commander is a simple plug-and-play device that takes only about 5 minutes to install. Now Bluetooth compatible so you can control the unit using our free Pedal Commander app.
WILL NOT VOID YOUR WARRANTY: Pedal Commander will not void the warranty on your Nissan Titan or leave any trace behind on your ECU.