Can a Toyota Tundra Haul a Gooseneck Trailer?
It might seem like a no brainer to buy a pickup truck if you need to frequently haul lots of large, bulky items or heavy loads that would need a trailer.
If you happen to be one of those people and after some shopping around decide that a Toyota Tundra is right for you then you would not be going wrong!
The Toyota Tundra is a full-size pickup that comes with a large truck bed and can haul or tow about anything you might need which leads us to what probably brought you here in the first place: can a Toyota Tundra haul a gooseneck trailer?
Can a Toyota Tundra Haul a Gooseneck Trailer?
The Toyota Tundra is capable of hauling a gooseneck trailer as long as your trailer is under the towing weight limits of the Tundra. Some larger gooseneck trailers will not work with the Tundra.
Beyond this general answer, there are a lot of different factors you must consider when pulling a gooseneck trailer with a Toyota Tundra. The main point is to ensure you buy a Tundra made for towing and get the right kind of trailer.
Here are some of the things you should consider before buying this truck if you need to haul this particular kind of trailer:
Picking out the right gooseneck trailer
Towing packages available
How it compares to other trucks
Gooseneck Trailers
As you probably already know, not everyone owns a gooseneck trailer and these are more for advanced trailer pullers.
A gooseneck trailer is often confused with a fifth-wheel trailer since the two hitches to pull them are pretty similar in design.
The main difference is that the gooseneck trailer is connected to a ball hitch inside the truck while a fifth-wheel trailer uses a hinged plate that is used on tractor-trailers.
The main consideration for if your Tundra can pull a gooseneck trailer is the enhanced stability it provides. This is because the weight of the tongue is over the truck's rear axle vice on top of the back of the frame, which makes the whole rig sway less.
The higher stability also means gooseneck trailers can accommodate more weight than most other trailers. Here is where you got to be careful and really look at the specs your particular Tundra since the maximum towing capacity of a Toyota Tundra is about 10,000 pounds so even if your trailer can accommodate more it is advisable not to go over the factory specs. 
Another factor you might not have considered is the size of a gooseneck trailer. There are several goosenecks trailers out there, which are heavy enough to be classified as commercial trailers and can weigh it at around 10,000 pounds which would already be at the max towing capacity for your Tundra.
Not only that but gooseneck trailers also need a new hitching system that would have to be put inside your truck. 
Toyota Tundra Stock Features
To be clear, all Toyota Tundras are designed with towing in mind in some way. When designing the Tundra, the engineers there made the truck as sturdy as possible to enhance towing and hauling.
This is why every Tundra comes stock with features like a  heavy-duty TripleTech frame, an integrated towing hitch receiver, 12 high-strength bolts in the trailer hitch, and outboard-mounted shocks staggered throughout.
Every Toyota Tundra also has a feature known as the TOW/HAUL mode. Using this model allows you to hold the lower gears longer so your vehicle does not get damaged looking for the next lower gear while towing.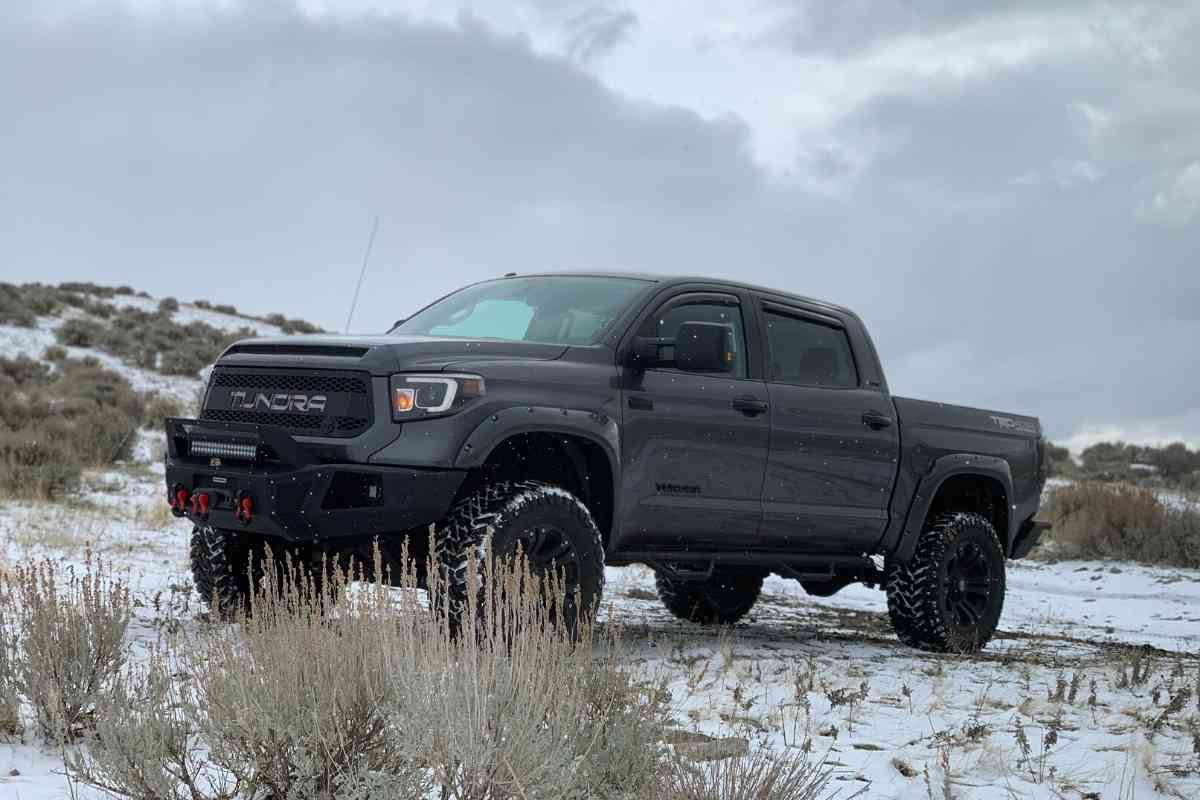 By doing this, the system inside your truck has increased braking ability, power, and throttle response to make your tow go smoother.
Tundras also come off the shelf with Integrated Brake Control and Trailer Sway Control that all make sure your ride goes as smoothly as possible and that the trailer stops on time every time. 
All of these stock features are great and will surely help if you are trying to tow a heavier load with something like a gooseneck trailer, but the stock features are not the most important thing.
Now that you picked out the right trailer for your truck, what really matters is if your truck came with a towing package or not.
The transmission comes in several kinds of drive drains that enable different levels of towing. Each of these engines has its own specific ratings and depending on how large your trailer is will decide which one you need to choose.
The 4.6-liter V8 is the standard engine Tundras come with that can haul up to 6,800 pounds but this would not be enough to even haul your trailer since they average in about 7,000 pounds.
The one that you want is the more powerful 5.7-liter V8 engine which can tow as much as 10,500 pounds.
Be careful if you only bought a Regular Cab Tundra. These trucks can only haul as much as 2,080 pounds which is not nearly enough capacity for what you need it for.
An important thing to keep in mind is that the towing capacities vary greatly depending on the length of the bed, the style of the cabin, and the engine so you need to consider all of these before buying your truck.
Weight/Performance Concerns
By pulling a gooseneck trailer, you are pretty close to or at the capacity of the truck. However, if the truck has electric brakes on the trailer and the brake controller is set properly you should be fine.
Gooseneck trailers also put the trailer weight more central to the vehicle compared to other common types of trailers like bumper trailers. Because of this, the motor and transmission of a Toyota Tundra with these features can easily handle the load.
What owners need to be cognizant of is to follow the severe service schedule of their owner's manual to keep the truck in top condition. This might include the need to change differential and transmission fluids more often than normal since these fluids are what carry the majority of the load as you drive.
You can help mitigate this by driving at lower speeds. Most drivers go slower anyways with a fully loaded trailer but it is still not advisable to exceed more than 50-55 miles per hour. Driving this slow will help reduce the stress of the rig on your truck and keep it going for miles to come.
The miles per gallon will suffer a lot with the heavier loads making you slow down regardless, but overall this should not affect the performance of you Toyota Tundra since even the extra weight of the rig is offset by the more powerful engine of the towing package.
How Toyota Tundras Compare to Other Vehicles
Compared to other vehicles Toyota Tundras also come standard with larger brakes and a stronger frame than most American made trucks. The Popular Mechanics test also shows that the towing ratings are near the ratings of the diesel offerings of both Ford and GMC.
In fact, the test also shows that a Tundra beats all other trucks at the test except for Ford! The test also shows that their trucks have better engine performance when compared to other trucks both loaded and unloaded and have a better fuel economy.
Even though Tundras beat a lot of other vehicles for performance while towing, they do fall behind in some areas like handling or ride compared to others.
However, these are really speculative and pretty dependent on each individual driver since  there is no definitive metric for measuring "how it rides." The reports that come out are more than likely people not familiar with driving such vehicles but to each their own!
Also, for those that think a Toyota is just a tiny foreign car are sadly mistaken. Toyota Tundras is a solid truck in their class and beat out most of the competition. The only truck that could even come close to beating it for its weight to tow ratio would be a supercharged diesel truck with dual rear tires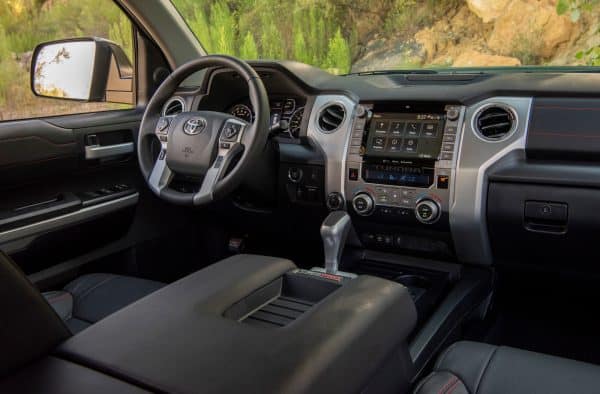 Some other negative factors that would affect towing performance would be the fact that even though there is a lot of power under the hood the reinforced frame is usually not particularly ridged well by American truck standards.
The Tundra's four-wheel-drive system is also notoriously fickle. However, most users do not report this kind of problem.
Conclusion
All and all a Toyota Tundra should be just fine for hauling a gooseneck trailer. One of the main concerns would first be making sure that you have the right kind of trailer since you do not want to get one that is too heavy.
The Tundra also comes stock with a lot of features that will help tow your load with no issues.
The most important consideration is getting a truck with heavy towing in mind to buy the highest rated capacity possible. That way you can be sure your truck will perform.
Compare to other trucks in its class the Toyota Tundra is second to none and its rated capacity compared to its size is one of the best trucks out there for this purpose.