What Vehicles Can Tow an Airstream Basecamp?
This post may contain affiliate links. As an Amazon affiliate, I earn from qualifying purchases.
An Airstream Basecamp rv is a convenient and stylish compact travel trailer. It is a good choice for couples and is more cost-effective than its fellow Airstream models. It features several benefits and amenities, making it a great fit for couple traveling. Since this trailer is lighter than its counterparts, vehicles rated for light or heavy towing can work just fine. In this article, we have listed some of the best towing vehicles that can tow an Airstream Basecamp.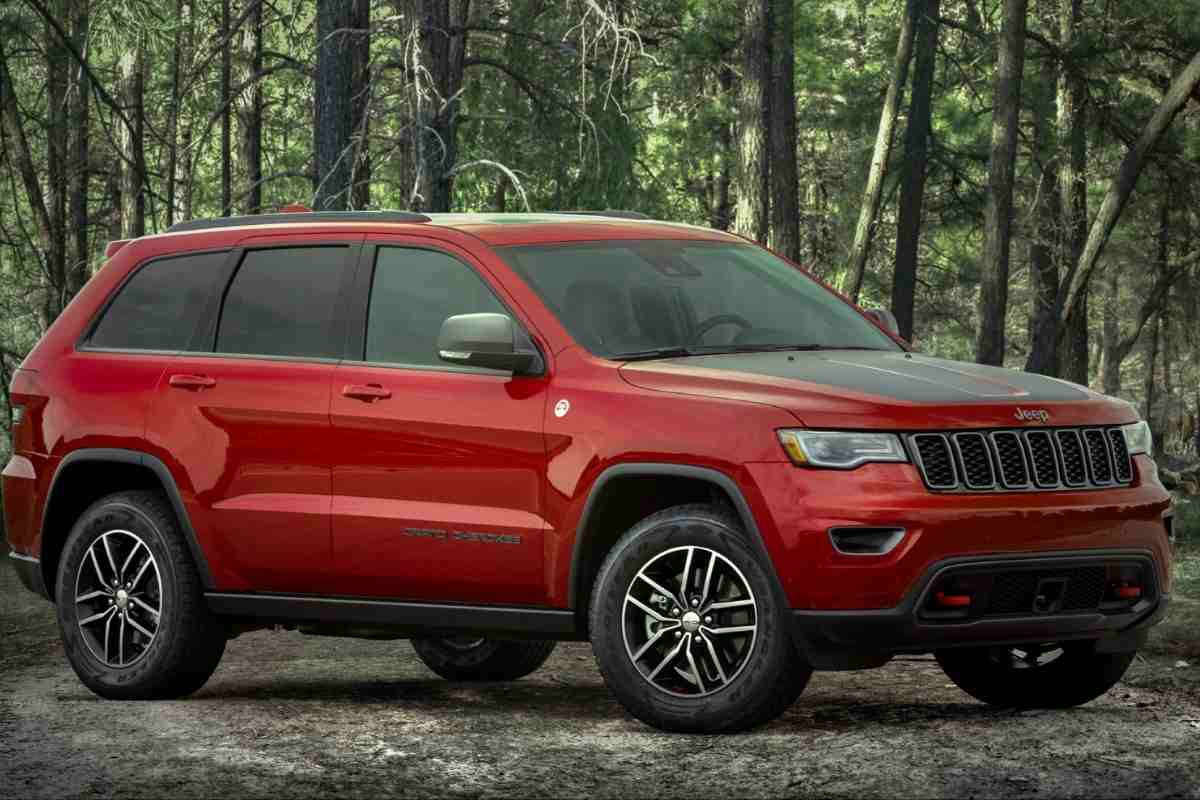 What Vehicles Can Tow an Airstream Basecamp?
The three basic vehicles that can tow an Airstream Basecamp are trucks, SUVs, and vans. Examples include Ford F-150, Nissan Titan, Dodge Durango, Toyota Highlander, Mercedes-Benz Sprinter, and Nissan NV among others.
Airstream Basecamp Basics
The Airstream Basecamp was introduced back in 2016. This lightweight trailer has a base weight of 2,585 pounds. When loaded with gear, the total capacity is 3,500 pounds. Most small pickups, crossovers, and SUVs can tow this trailer with this pound range.
Although it is the lightest Airstream trailer, it features an aggressive departure angle, aggressive side flares, large wheels, and tires. This makes it easy to tow the trailer on uneven terrain.
It sleeps four people comfortably, thanks to the two long benches and one short bench that convert into a full-size bed.
Other awesome features include panoramic windows, a spacious cargo hatch, bathroom with shower and toilet, kitchen, a solar pre-wire kit, A/C, heat, and hot water, wireless Bose Bluetooth speaker, and optional additions such as a rear tent.
Best Pickup Trucks For Towing An Airstream
The best pickup trucks for Airstream towing are the Ford F-150, the Chevy Colorado, the Nissan Titan XD, and the Ford Ranger.
Ford F-150
The Ford F-150 is a half-ton pickup that has one of the best towing capabilities. It offers exceptional stability as well as an optional backup assistance that helps to steer the trailer in reverse.
This model features various engines such as the 2.7 liter EcoBoost V6, which delivers 325 horsepower and 400 lb-ft of torque.
Depending on the trim level, this model offers towing capacity range of 4900 lbs to 12,200 lbs. With this towing capacity, it can easily tow the Airstream Basecamp.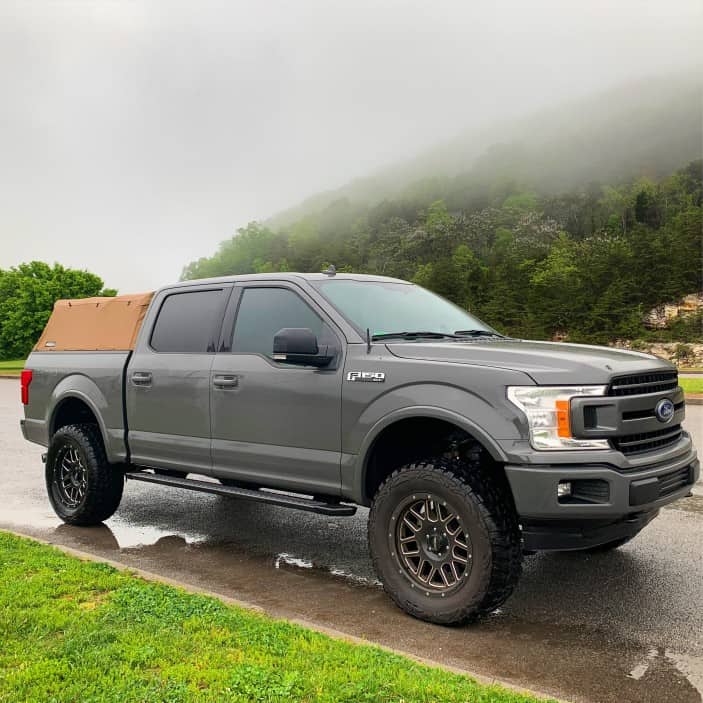 Chevrolet Colorado
The Chevrolet Colorado is a mid-size pickup truck that has exceptional towing capabilities.
Colorados powered by four-cylinder gas engines can tow 3,500 lbs, which is enough to tow the Airstream Basecamp.
The V-6 engine can tow up to 7,000 lbs while the diesel powered engine tows up to 7,700 lbs.
The Crew-cab long-bed Chevrolet Colorados have long wheelbases similar to full-size pickups while their stability is similar to half-ton trucks.
As for performance, these models are considered better than mid-size pickups.
The GMC Canyon is essentially a Colorado with upscale interior and tows just as well.
Nissan Titan XD
The Nissan Titan XD is a pickup truck that is neither a half-ton nor a three-quarter-ton model as it lands in between these two models.
For this reason, it is usually referred to as a heavy half-ton.
It has a maximum tow rating of between 11,000 lbs and 12,500 lbs, which can haul gooseneck trailers and tow even large travel trailers.
The Titan XD is available in V-8 diesel engine, which delivers powerful horsepower and lot of torque, thus pulling an Airstream Basecamp will be a breeze.
Ford Ranger
The Ford Ranger is a mid-size truck that is driven by a powerful turbocharged engine.
It has a maximum towing payload capacity of 7500 lbs, which can smoothly tow the Airstream Basecamp. It also features modern safety features to assist the driver.
The 2021 Ford Ranger is available in three trim levels, including the XL, XLT, and Lariat all which are packed with a 2.3 liter four-cylinder engine.
The engine delivers 270 horsepower and 310 lb-ft of torque, allowing the Ranger to tow cargo easily.
Apart from the engine, the Ford Ranger is paired with a 10-speed automatic transmission that the rear or all four wheels can drive.
In terms of interior, the Ranger has a roomy cabin and spacious front seats that allow plenty of room for passengers to move in and out easily. The front seats are well-shaped and are padded to enhance comfort.
The Best SUVs For Towing An Airstream
The best SUVs for towing an Airstream camper are the Dodge Durango, the Jeep Grand Cherokee, the Toyota Sequoia, the Ford Explorer, and the Toyota Highlander.
Dodge Durango
The Dodge Durango may not be the most modern SUV, but it can tow at least 5000 lbs. It features powerful engines and four-wheel drive to back its towing capabilities.
The top level trim has a 6.4 liter V-8 engine delivering 475 horsepower and 470 lb-ft of torque. Thanks to this, the Dodge Durango's maximum towing capacity is 8700 lbs.
The 5.7 liter V-8 produces 360 horsepower, supporting its 7,400 lbs towing capacity (rear-drive form) and 7,200 lbs (four-wheel drive mode).
The four-wheel drive models may have a lower towing capacity, but they offer a low-range transfer case that allows the SUV to maneuver easily while towing a trailer.
For the Dodge Durango, the integrated trailer brake has been incorporated in the trailer tow package.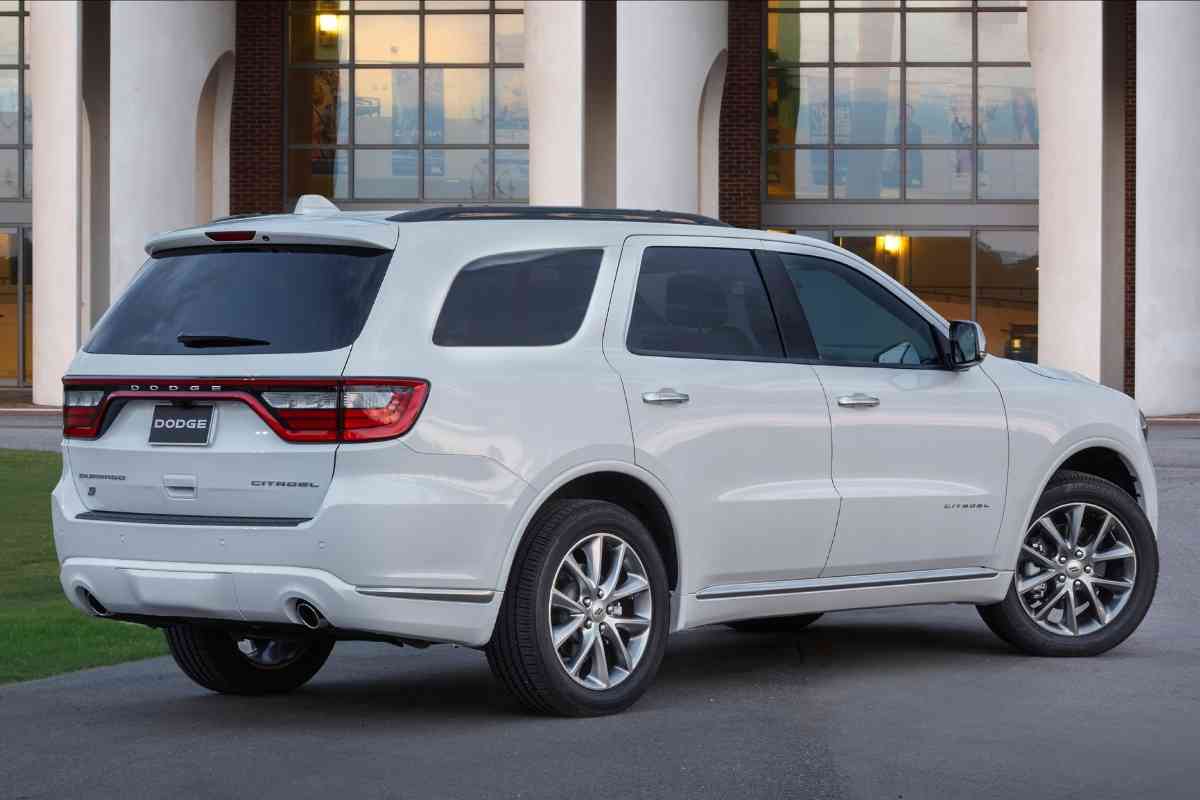 Jeep Grand Cherokee
Drivers looking for outstanding off-road capabilities know that no car beats a Jeep.
The 2019 Jeep Grand Cherokee is a mid-size SUV that seats five passengers and boasts of superb off-roading capabilities.
The base 3.6 liter V-6 engine powers 295 horsepower and 260 lb-ft of torque, which supports a maximum towing capacity of 6,200 pounds.
The 5.7 liter V-8 engine offers more power at 360 horsepower and 390 lb-ft of torque.
It also tows a total capacity of 7200 pounds in top trims, five drive modes, including the tow, which regulates suspension settings. These modes control the four wheel drive system, stability control, transmission, and steering.
Toyota Sequoia
The Toyota Sequoia is an old model full-size SUV that is still popularly used as a tow vehicle.
It is available in five trim levels; SR5, TRD Sport, Limited, Platinum, and TRD Pro. The Platinum, Limited, TRD, and SR5 trim levels come in two and four-wheel drive.
The 5.7 liter V-8 engine delivers 381 horsepower and 401 lb-ft of torque. It also features a six-speed automatic transmission, which is electronically controlled.
With these powerful features, the Toyota Sequoia can tow up to 7400 lbs. To reinforce the power of its towing capabilities, this vehicle features a standard hitch, rearview camera, and trailer sway control to counter trailer wobble.
Ford Explorer
The Ford Explorer is a mid-size crossover that employs innovative technology to up its towing duties. It features the standard trailer sway control to reinforce trailer tracking.
Powered by a 3.5 liter EcoBoost V-6 engine, it delivers 365 horsepower and 350 lb-ft of torque.
An optional class III trailer tow package for the 3.5 liter V-6 engine is available. However, the trailer tow package comes standard for the models with the turbocharged EcoBoost engine. For 2.3 liter EcoBoost engine, a class II tow package is available.
The Ford Explorer's maximum towing capacity is 5000 lbs.
Toyota Highlander
This midsize crossover SUV also fits in this list because of its 5000 lbs towing capability. It is a three-row vehicle and a favorite for lots of drivers.
It features a 3.5 liter V-6 (direct-injection) engine that delivers 295 horsepower as well as 263 lb-ft of torque.
To further reinforce its towing duties, the Toyota Highlander packs an eight-speed automatic transmission that ensures smooth cruising on the road.
The Highlander's fuel economy is something worth mentioning. With a fuel-saving start-stop system, this sport utility vehicle is able to keep you going in the wilderness.
When the Highlander stops, the engine also shuts off, but it automatically restarts when you lift your foot from the brake pedal.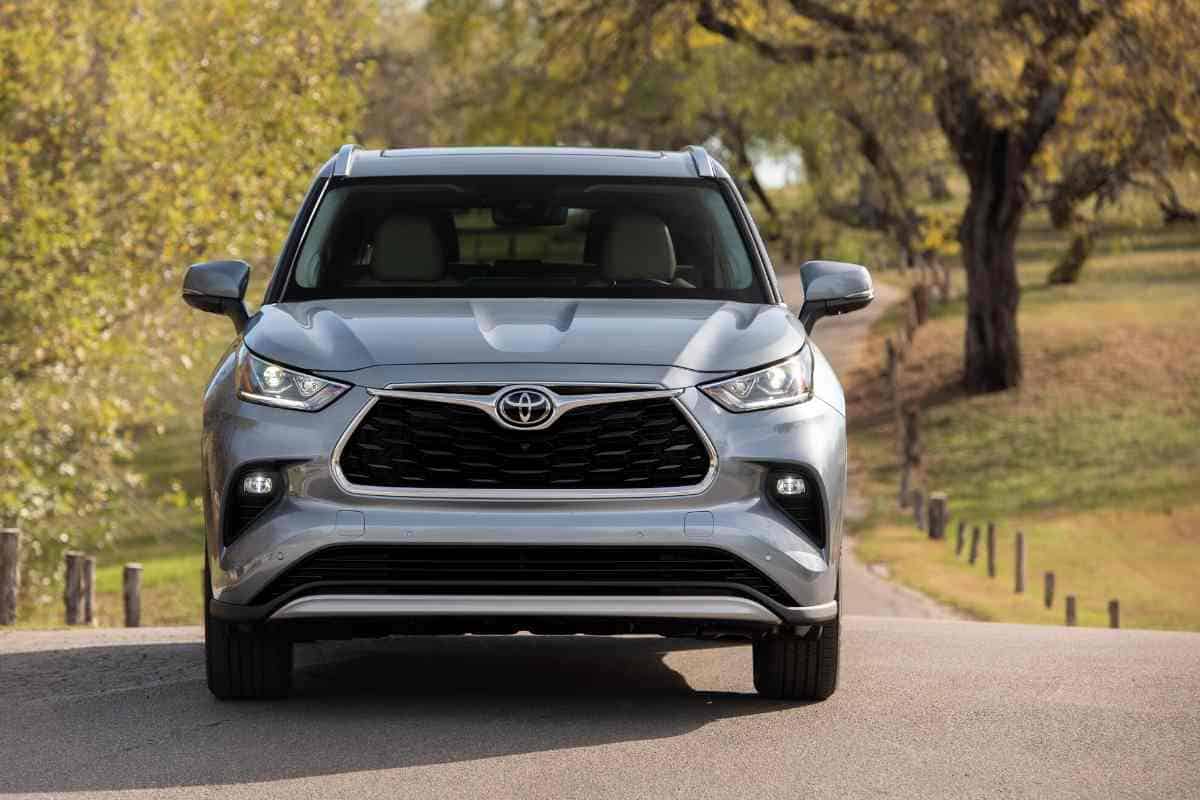 The Best Vans For Towing An Airstream
The best vans for towing an airstream are the Mercedes-Benz Sprinter and Metris, the Ford Transit, and the Nissan NV.
Mercedes-Benz Sprinter
The Mercedes-Benz Sprinter is a van that introduced the European style cargo van to America.
This luxury van goes the extra mile as it hauls immense cargo and stows gear. It offers a seating capacity of up to 12 passengers.
Its towing capacity across all the models is at least 5000 pounds.
The 3.0 liter V-6 engine and the 4×4 configuration come standard in these vans. These vans are further equipped with innovative safety features to keep you safe during your adventure.
Features such as the Active Brake Assist, Blind Spot Assist Mirror, and 360 Degree Camera are available to ease the driver's duties.
Mercedes-Benz Metris
The Mercedes-Benz Metris is another awesome van for towing. It is an eight seater with a 5000 lbs towing capacity, thus it can comfortably tow the Airstream Basecamp.
This model features the 2.0 liter four-cylinder engine that provides adequate horsepower, but may feel sluggish when towing.
To make the most out of the Metris, the Driver Comfort Package, the Premium Interior Package, and the Enhanced AC Package, and the trailer hitch are good add-ons.
You can find out more about Mercedes-Benz vans on its website.
The Ford Transit
The Ford Transit is a full-size unibody van that can tow up to 7,500 lbs.
The Cargo Van tows up to 7,500 lbs while the Passenger Wagon can tow a maximum towing capacity of 3,800 and 5,100 lbs. It seats up to 15 passengers.
This 2017 model is packed with a 3.5 liter turbocharged V-6 engine while the 2021 version features a 2.0 liter I-4 engine. Apart from its towing prowess, this van also has considerable cargo capacity.
The Nissan NV
The Nissan NV is another exceptional choice for towing a trailer. It is a body-on-frame van that supports long haul. It features the flat-front design and has a seating capacity of up to 12 passengers.
The NV's maximum towing capacity is 8690 lbs, which is more than enough to tow the lightweight Airstream Basecamp. It features a 5.6 liter V-8 engine that makes it ideal to travel to various destinations with your family.
The class IV weight distributing hitch is an excellent choice for towing duties along with the trailer tow harness and the trailer tow brake jumper.
Towing An Airstream Basecamp
When considering which vehicle you need to tow an Airstream Basecamp, Bambi, or Airstream classic, safety and maximum towing capacity and towing rating should take the center stage.
Essentially, you need a tow vehicle that will beat the 3500 lbs of the Basecamp, which is the Gross Vehicle Weight Rating (GVWR), which is the maximum weight of the trailer plus the cargo you load in it to come to the gross weight.
This includes your water tanks, cargo, and passengers.
While the vehicles we have listed are towing vehicles, you should ensure to check for its towing packages before purchasing any vehicle.
The towing package entails the hitch receiver, brake controller, and add-ons such as special gearing. After making a detailed research on this, you can rest assured that your camping adventure will go as smoothly as it should.