Is 5000 lb Towing Capacity Good?
The highest weight size that your vehicle can tow is its maximum towing capacity. The vehicle manufacturer predetermines it. For most trucks, the max towing capacity is 5000 pounds. This means they can handle a small-sized trailer safely, but not the bigger ones.
Your trailer should be very easy to tow. Exceeding the maximum towing capacity has catastrophic effects ranging from engine transmission strain to accelerated brakes and tire wear. You can also end up with a warped chassis.
The towing capacity of 5000lb is the main reason many people have remained to be very choosey and full of complaints. Sure, you deserve a vehicle that does what you need to be done right and satisfactorily. Vehicles with 5000lb towing capacity might be reliable but only to haul a small load.
Towing With 5000lbs
2020 Honda Ridgeline
With a towing capacity of 5000lbs, this truck is a wonderful choice when you have a medium-sized trailer. Few people are comfortable with the towing capacity of this truck. However, it has a comfy and spacious cabin loaded with ingenious features. Unfortunately, it cannot tow a load exceeding 5000lbs. If you plan to have an enormous load for your vocational needs, you might have to look for a more powerful truck than this.
Vehicle Alternatives That Have A Towing Capacity Of More Than 5000lbs
2019 Nissan Frontier
The 2019 Nissan Frontier is a compact pickup that has been used over the decades now. This truck has not been redesigned since its 2005 model year. Still, the 2019 Nissan Frontier is of a great bargain. Currently, it's presented as the least expensive truck on the market. This machine will give you full 6,720-pound potential. However, it has a weak 152 horsepower base on a four-cylinder.
2020 Toyota Tacoma
Tacoma is recognized as the off-road driving champion. The 2020 Toyota Tacoma is available with plenty of on-road and off-road features that overcome the rocky terrain and even the rutted roads. It is not bad at towing. When adequately equipped, it has a towing capacity of 6,800 pounds. Its towing capacity is not far from 5000 lbs but offers more substantial energy than tracks towing less than 5000 lbs.
2020 Ford Ranger
After years of absence, Ranger pickups have been brought back to the Ford lineup. The 2020 Ford Ranger is a potent powertrain with a 7,700lbs towing capacity. The Ranger's turbocharged 2 to 3 L 4-cylinder houses the low-end torque with a smooth fit on the 10-speed automatic transmission.
The 2020 Ford Ranger has quality car making materials used all-round to enhance its towing. Therefore, its towing capacity shies off the segment of other newer competitive models. Tow –friendly hardwares of 2020 Ford Ranger are the sway control system, 4-pin wiring, and the responsive haul mode transmission.
2020 Chevrolet Colorado
The 2020 Chevrolet Colorado is truck recognized because of its full-size towing capacity; it has a max towing capacity of 7,700lbs. The added Chevy's technology, safety features, and comfortable interior elevate this vehicle's ride and the towing experience.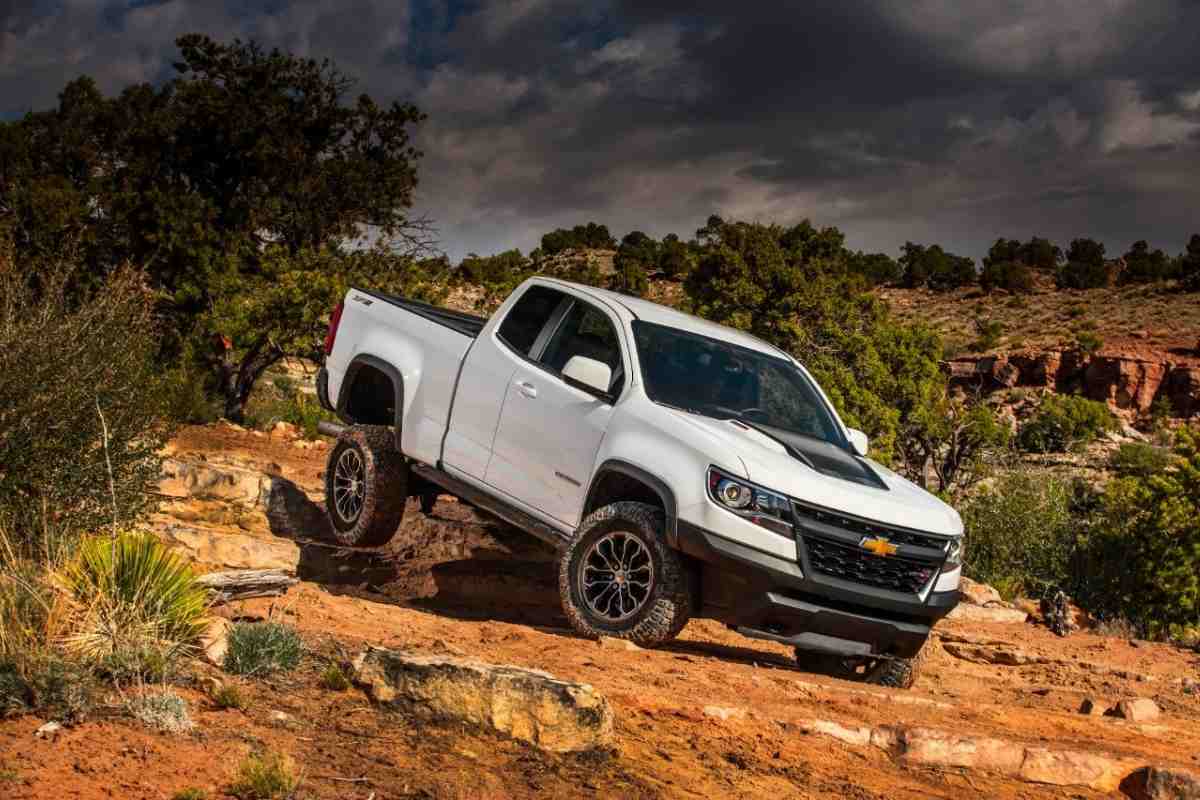 The 7,700lbs towing capacity indicates that the 2020 Chevrolet Colorado is ready to work and keep up with the play. Colorado ZR2 is up for the adventure. Thanks to its exclusive features like Multimatic shocks, front, and rear electronic locking differentials, and purpose-built off-road suspensions.
2020 Nissan Titan
The 2020 Nissan Titan comes with a maximum towing capacity of 9,370 pounds. That is a significant tow step up compared to other models such as the Toyota Tacoma and Colorado. That is why the 2020 Nissan Titan carries plenty of power and improved acceleration that people appreciate for its quicker getaway.
Models
S
Its base starts with 18-Inch wheels. Other Towing support features include heated side mirrors, two USB ports, an 8-inch touch display, apple car play, an Android auto smartphone system, and a six-speaker stereo with satellite radio. The trailer sways control help in stabilizing the trailer while driving.
It has the Nissan's Safety Shield 360 suite to improve drivers' aid. Its features include automatic emergency braking, lane departure warning, high beam assist, blind-spot monitoring, and rear cross-traffic alert.
SV
The SV is similar to S but has front tow hooks with 4WD, adaptive cruise control. It also comes with other packages.
Pro -4X
It's an off-road-focused pro. The Pro-4x features many upgrades: hill descent control, radiator skid plate, standard four-wheel drive, led lights highlights, and spray-in bed liner.
2020 Toyota Tundra
The Toyota Tundra comes with an aided loaded advantage. Its comfort and safety feature somehow contribute to its improved towing strengths. After several redesigns since 2014, the 2020 Toyota Tundra now comes with immense towing capacity.
Generally, the interior quality, hauling prowess, and ride comfort are some features that elevate the entire towing experience of the 2020 Toyota Tundra to something great. The 2020 Toyota Tundra machine has a remarkable towing reputation and the long term off-roading reliability.
Like some of the trucks listed above, favourable towing capacity depends on the car model and more specifically, the trim level that you choose. In this case, the Toyota Tundra SR5 Double Cab that has a rear-wheel-drive and the standardized cargo bed improves your right towing choice. The extendable towing aid mirrors have integrated heating systems that involve the blind-spot monitors to elevate road safety.
2020 Jeep Gladiator
If you are an adventure lover, the Jeep Gladiator is the choice you need to consider. Besides 2020 Jeep Gladiator has the brand's iconic square-edge design that everyone loves to see. This towing package has a 3.6 L V6 engine which produces horsepower and has either manual and automatic transmissions. Every aspect of 2020 Jeep Gladiator is structured to complement its total towing capacity of 7,650lbs.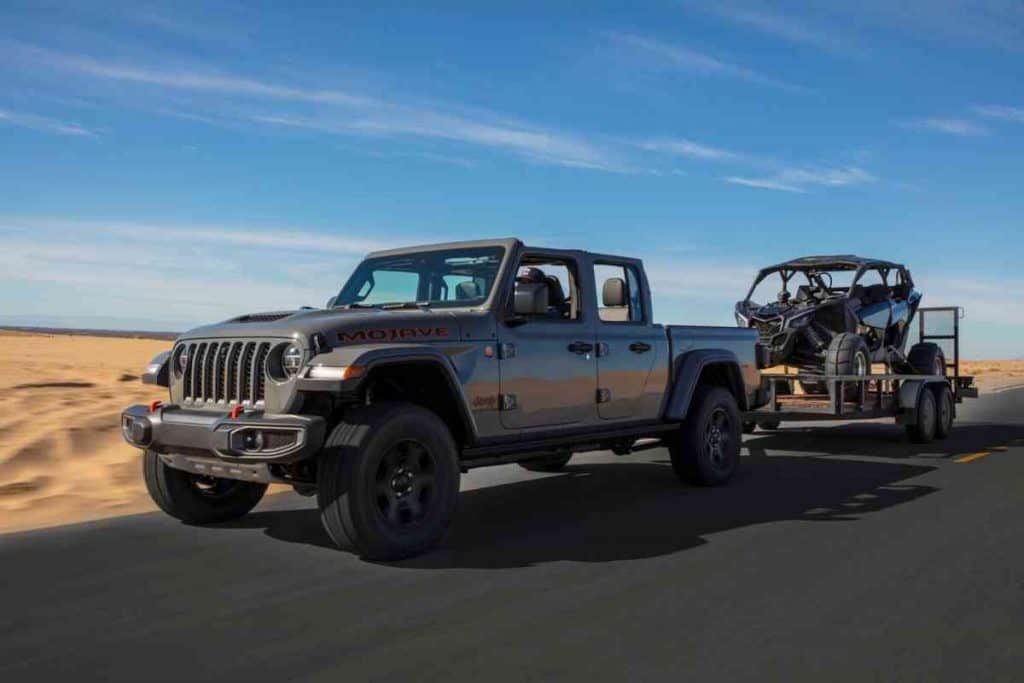 2020 GMC Sierra
The 2020 GMC Sierra is a capable vehicle with robust strength to deliver all you need with towing. Additionally, spacious seating, intelligent features like GMC's Multiport tailgate, and long-distance comfort and actions of 2020 GMCSierra.
The towing support functions found in the 2020 GMC Sierra include the driver-assistance technology, forward collision warning, automated emergency braking, lane-departure warning, lane-keeping assistance, the blind-spot monitoring system, and rear cross-traffic alert.
2020 Ford F-150
The 2020 Ford F-150 is the among bestselling vehicles in the United States. Fords has been the famous vehicles on the road for over 40 years because many reasons. Fords' towing capacityis one of the major aspects that have placed this reputable company higher rankings many years. The F-150's 13,200lbs towing capacity is not an exemption. It's the fantastic strength you need to simplify almost everything about trailering and towing.
We cannot forget the endless ways of configuring an F-150 when adequately equipped with a 375-horsepower 3.5-liter V6 engine on the rear-wheel-drive format. All is to make sure that the truck has the maximum tow rating.
The 2020 Ford F-150 has additional towing features which include the Pro Trailer Backup Assist; It synchronizes the truck and the trailer when reversing. The trailer dynamic hitch assist, blind-spot monitors and brake control system books a calm towing experience with 2020 Ford F-150.
2020 RAM 1500
This vehicle offers you a relaxed ride and a quality cabin. The 2020 RAM 1500 stands out amiong the various similar design trucks because of its strong hauling capacity. It has proper perfomace that gets things done faster.
With a towing capacity of 12,750lbs, no doubt this truck unlocks the best tow rating. 2020 RAM 1500 comes with an Trailer Tow Package which comprises of trailer brake control, class IV hitch, and two extendable mirrors.
The 2020 RAM 1500 driving aids and premium towing capacity earn it plenty of truck points. It holds the edge-cutting towing might in the world market today.
2020 GMC Canyon
The 2020 GMC Canyon shares the same engine and chassis as Colorado. This vehicle is mechanically identical to Colorado and serves up the same towing capacity. You have the option to either use the diesel fuel on the 2020 GMC Canyon or not. However, you need to also know it's an automatic haul mode transmission and the trailering Package is similar to that of the Chevy's Colorado.
According to the trailer weight, the automatic haul mode of 2020 GMC Canyon raises or lowers the shift points. Besides.It also uses the engine compression feature to aid more comfortable braking. Get ready for more versatile towing parts of the 2020 GMC Canyon.
Knowing the towing capacity of a vehicle is critical when choosing which model or trim level will work best for your hauling needs. To avoid other additional costs after realizing the emerging needs of other new accessories to raise your truck's towing capacity, it's better to go for a higher towing capacity that will always work to meet your objectives. You better have more than have less. You need a vehicle that gets work done, no fuss. 5000lb towing capacity is adequate, but a higher one is better.