Ford Escape 4WD | How Do You Tell If a Ford Escape is 4WD?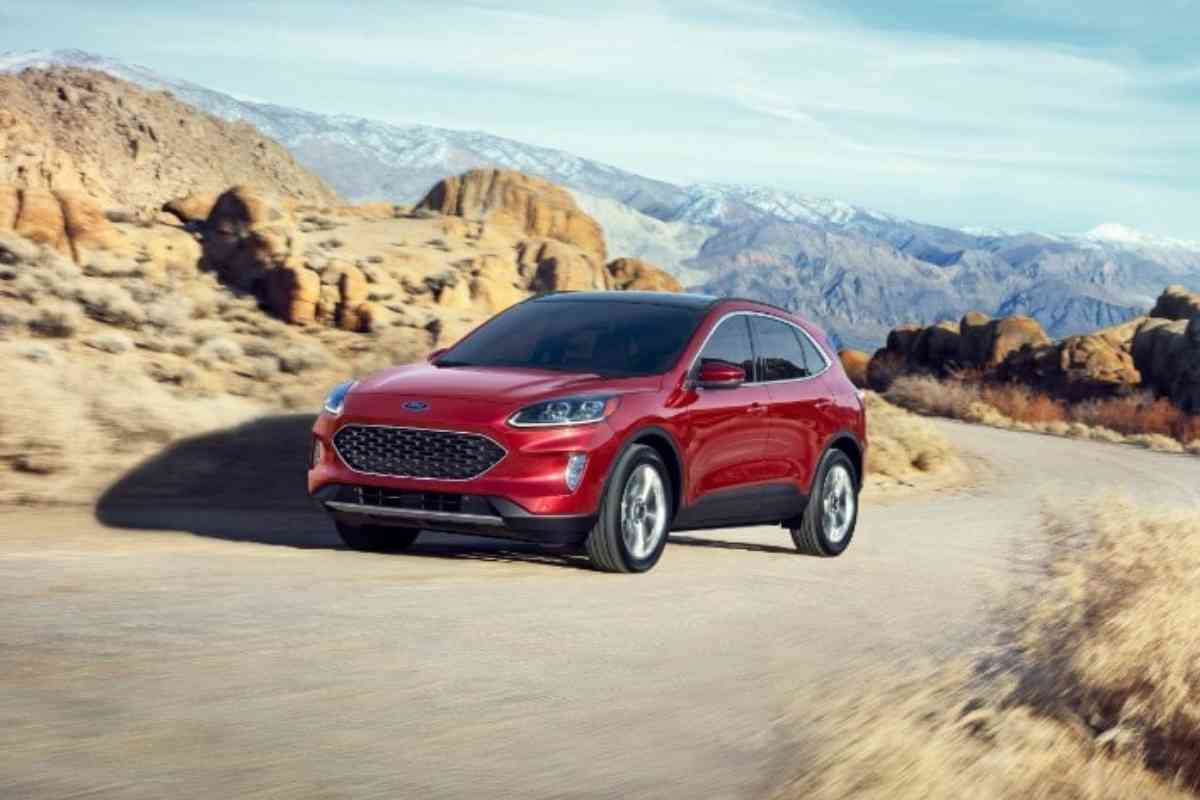 There are times when you need more power than two-wheel drives can offer you. Ford offers so many vehicles with either four-wheel drive or all-wheel drive. Four-wheel drive is a system that allows you to drive the vehicle off the road without getting stuck. So, how do you tell if your Ford Escape is 4WD?
How do you tell if a Ford Escape is 4WD?
In an Escape, there is a knob in the cabin that allows you to switch from 2WD to 4WD. In most cases, if the knob is missing, then you have a 2WD vehicle. The knob might also be there, but it allows you to switch from two-wheel drive to all-wheel drive and not four-wheel drive.
You can also check under the Ford Escape's rear and see if there is a transfer case.
If you see a driveshaft going into the gear set between the vehicle's wheels somewhere in the center, then your vehicle has a 4WD system.
The transfer case is in the front of the vehicle just behind the vehicle's transmission system and it also has a driveshaft sending power to the rear.
If there is no knob and you can tell by looking at the underside of your Ford Escape, check the user manual.
You can also call your car dealer and give them the VIN on the insurance slip.
The dealer should be able to tell you the capabilities of the car you have.
Which Ford Escape has 4WD?
Most Ford Escape models have a standard front-wheel-drive system with an optional all-wheel-drive system.
Check the optional four-wheel drive on higher trims if you want to drive off the road.
Ford Escape is a midsize SUV designed to offer improved fuel economy for families that want to venture off the road.
It offers clean lines, impressive colors, and an upscale interior.
Besides the appealing looks, the SUV performs relatively well with a choice of three engines.
It is a good SUV to drive on and off the road.
Whether you are driving in inclement weather or along a dirt road, the small SUV will handle it well.
But does it offer 4WD?
Ford Escape offers standard front-wheel drive on most of the models.
However, an optional 4WD on the SEL and Titanium trims Ford models will be available.
Models from 2013 have had the Intelligent 4WD system, while earlier models had the older version of the 4WD system.
What is Ford's Intelligent 4WD System?
Escape offers Ford's most advanced 4WD system, the Intelligent 4WD System.
This advanced automatic 4WD system ensures your Escape drives better on and off the road.
The system constantly monitors the condition of the road and makes the necessary adjustments.
This system will detect any slight changes in the traction of the car and road condition as it scans these conditions every 16 milliseconds.
Depending on the condition of the road and the traction of the vehicle, the system can transfer torque from the rear wheels to the front wheels as needed.
With Intelligent 4WD, the driver has control of the car at all times.
The system will monitor variables, such as the angle of the steering wheel, the position of the accelerator pedal, and the turning rate to tell the condition of the road and traction of your vehicle on the road.
If there are adjustments necessary, the system will do it autonomously for you.
You can easily drive on snow, ice, and mud roads better when your vehicle has an Intelligent 4WD System.
Ford also offers Intelligent AWD systems, which also ensure there is power in the wheels that need it for better traction.
With it, your vehicle will not slide and power is transferred to the wheels on the ground for Intelligent AWD and to the rear wheels for Intelligent 4WD.
The system will only activate when needed.
If you are driving in normal road conditions, your car will stay on FWD since it is more fuel-efficient.
During normal driving, power goes to the front wheels, allowing your Escape to offer better fuel efficiency.
When needed, the Intelligent 4WD System activates in split seconds.
For instance, if you need more power when going up a hill, the system sends power to the rear wheels and this makes your vehicle have more traction to drive up a hill.
When you get to the top, the FWD system comes back.
If you are lucky, you will have a version of Ford's Intelligent 4WD System that also offers Ford's Terrain Management System.
With terrain management, you can optimize the performance of your Escape to drive better on different road conditions.
This system lets you customize your driving to normal, mud, sand, snow, grass, gravel, and down a hill.
Hill Descent Control helps you drive better down the hill.
The system pulses the brakes on all four wheels to drive slower down a hill for safety and traction.
What Does a Ford Escape Offer?
Ford Escape is a midsize SUV bigger than the EcoSport.
The SUV can do almost anything, including towing up to 3,500 pounds, going off the road, and driving fast on the highway.
It is in competition with models, such as Chevy Equinox, Toyota RAV4, and Honda CR-V.
In 2020, Ford redesigned the small SUV to add more advanced features and make the interior more stylish and more comfortable.
Its rear seat now offers sufficient legroom even for tall passengers.
It also offers great handling – it drives like a car – and has an easy-to-use infotainment system.
There is a new hybrid engine that offers 40 mpg combined fuel efficiency.
Other engine offerings are also fuel-efficient.
The small SUV is available in five trims:
S
SE
SE Sport
SEL
Titanium
There are three engine options, depending on the trim you pick.
The S trim has a 181-hp turbocharged engine with three cylinders.
This engine mates to an eight-speed automatic transmission.
It offers standard front-wheel drive with an available all-wheel drive.
Ford doesn't offer 4WD on this model.
The SE Sport trim offers a hybrid engine.
It is a four-cylinder engine that makes up to 200 ponies.
This engine mates to a continuously variable automatic transmission.
The third engine is a 2.0L turbocharged four-cylinder engine that generates 250 horsepower.
This engine comes with a standard all-wheel-drive system or optional 4WD.
It is only available on the Titanium trim.
Even the base trim still offers a host of impressive features for comfort. You will have features, such as:
Onboard Wi-Fi hotspot
4.2-inch central display screen
Six-speaker sound system
Two USB ports
Blind spot monitoring
Forward collision mitigation
Lane keeping assist
The SE trim offers even better features, such as 17-inch alloy wheels, power-adjustable driver's seat, keyless ignition, keyless entry, heated front seats, eight-inch touchscreen, Apple CarPlay, Android Auto, and single-zone climate control system.
The hybrid SE Sport adds a few comfort features on top of what SE offers.
These include a leather-wrapped steering wheel and a digital gauge cluster screen.
SEL has the same engine as the base S trim but can pair with a 4WD system.
Some of its features include a hands-free liftgate, remote start, rear parking sensors, heated steering wheel, 18-inch wheels, and driver-seat memory settings.
If you want all creature comforts in a Ford Escape, you will get those in the Titanium trim.
This trim offers more power and more comfort.
Here, you will have features, such as:
Leather upholstery
LED headlights
Premium sound system
Dual-zone climate control
Automatic parking system that drives the SUV to the parking lot autonomously
Power-adjustable front seats
19-inch wheels
Adaptive cruise control
Lane keeping assist
Ford Escape is a family SUV.
It offers plenty of room in the front and rear seats and even in the cargo space.
You can bring the SUV on an adventure on or off the road.
The model debuted in 2008 and has had several redesigns to make it the impressive SUV it is today.
The last redesign was in 2020, making the small SUV beat the competition.
Popular Articles About Ford Escape
If you're interested in purchasing a Ford Escape or are a current owner, it's highly recommended to read related links and do thorough research before making any decisions. By reading related links, you can gain valuable insight into the history of the model, common problems and issues to look out for, and the experiences of other owners. Additionally, by staying up-to-date on the latest news and information about the Ford Escape, you can make more informed decisions about maintenance and repairs, potentially saving yourself time and money in the long run. So, take the time to read some related links and become an informed Ford Escape owner or buyer.
Closing Thoughts
There are not many Ford Escape SUVs with 4WD.
Although this configuration is available, most models have either FWD or AWD.
If your Escape has 4WD, you will probably see it by the presence of a knob that allows you to switch the modes.
Your user manual will also tell you whether your vehicle is 4WD.
If your Ford Escape is AWD and not 4WD, Ford still offers an Intelligent AWD system, allowing you to drive better off the road.
The system sends power to the wheels that need it for better traction.
Ford Escape is versatile.
Its styling might look restrained, but it is appealing and competitive.
The SUV was designed for middle-class families looking for affordable and fuel-efficient small SUV models.
It has considerable cargo space behind the rear seats, which makes it an ideal hauling vehicle and is great for adventure and weekend getaways with family.