The Ford Escape is a compact SUV that has a powerful engine, and awesome handling that makes it feel like a smaller vehicle.
The new Escape models have a new exterior design and also has an improved suspension which is great for all different kinds of needs.
Most people think about SUV's and trucks as vehicles that pull an RV or a trailer that can help them spend the night in a comfortable way. However, others may be thinking about spending the night (or longer) inside of their Ford Escape.
So is this even possible? Is it a good idea? And is this a one night solution or can you spend more time inside the interior of a Ford Escape?
Find out the answers to all of this and more as you continue to read on!
Is a Ford Escape Big Enough to Sleep In?
The Ford Escape is big enough to sleep in for a night or two if you are looking to do a little stealth car camping. On top of that, there are multiple people who have rigged their Ford Escape to make sleeping arrangements for longer periods of time.
These people usually will put a wooden frame down after removing the seats and using some kind of mattress across the area that would be the back seats and the trunk space as well.
It should be noted that the Ford Escape is by no means the biggest vehicle on the marketplace being a compact SUV. There are other vehicles that probably would have more room if you were trying to find somewhere to go or simply wanted to rig this up for some kind of adventure vehicle.
At the end of the day though, it is something that you could make work. It just depends on whether the Ford Escape is the best option for you. Either way, it definitely can work if you want it to.
How Big is the Back of a Ford Escape With the Seats Down?
If you fold the seats in a Ford Escape, you will have 65 cubic feet of maximum cargo space. That's a big amount of space for a compact SUV. The Escape does a great job of offering a lot of space while keeping the overall vehicle size down pretty low.
Now, let's take a look at some of the different Ford Escape models that you may be interested in.
There are 5 trim levels when it comes to the Ford Escape. Starting with the baseline model, the S, you also have the SE, the SE Sport, the SEL, and the Titanium.
The S is the lowest level of Ford Escape and the Titanium is the highest trim package available. The S is not a bad vehicle by any means, it just may not have all of the comforts that some of the higher packages do, so you should try to find a trim package that fits with your needs as well as your budget.
The base S model has a turbocharged 1.5 liter engine that has just over 180 horsepower. The engine features an eight-speed automatic transmission.
Even though it is a baseline package, it's got a lot of nice features with it. The touchscreen doesn't have the size of some of the upper models and it can't quite compare to the other Escapes, however, if your budget seems to indicate an S, you shouldn't be too upset about it because the Ford Escape does a better job than some others do at the lowest level.
The next step up is an SE. The SE comes with a lot of awesome features including nicer wheels. One of the best things that we have seen with the SE is keyless ignition and keyless entry.
That's a big convenience that not a lot of SUV's can offer at a lower trim package. On top of that, you'll get a driver's seat that has power controls and an upgraded information touch-screen.
The SE Sport is similar to the SE, obviously, but it has a hybrid powertrain that improves the efficiency and power of your engine. It's somewhat noticeable when driving in most situations.
At the same time, you'll also get a leather-wrapped steering wheel which means that you have even more comfort and luxury when you're behind the weird.
The SEL is yet another step up, although the engine goes back to having three cylinders. That doesn't ruin the performance though, as you get a ton of other features as well.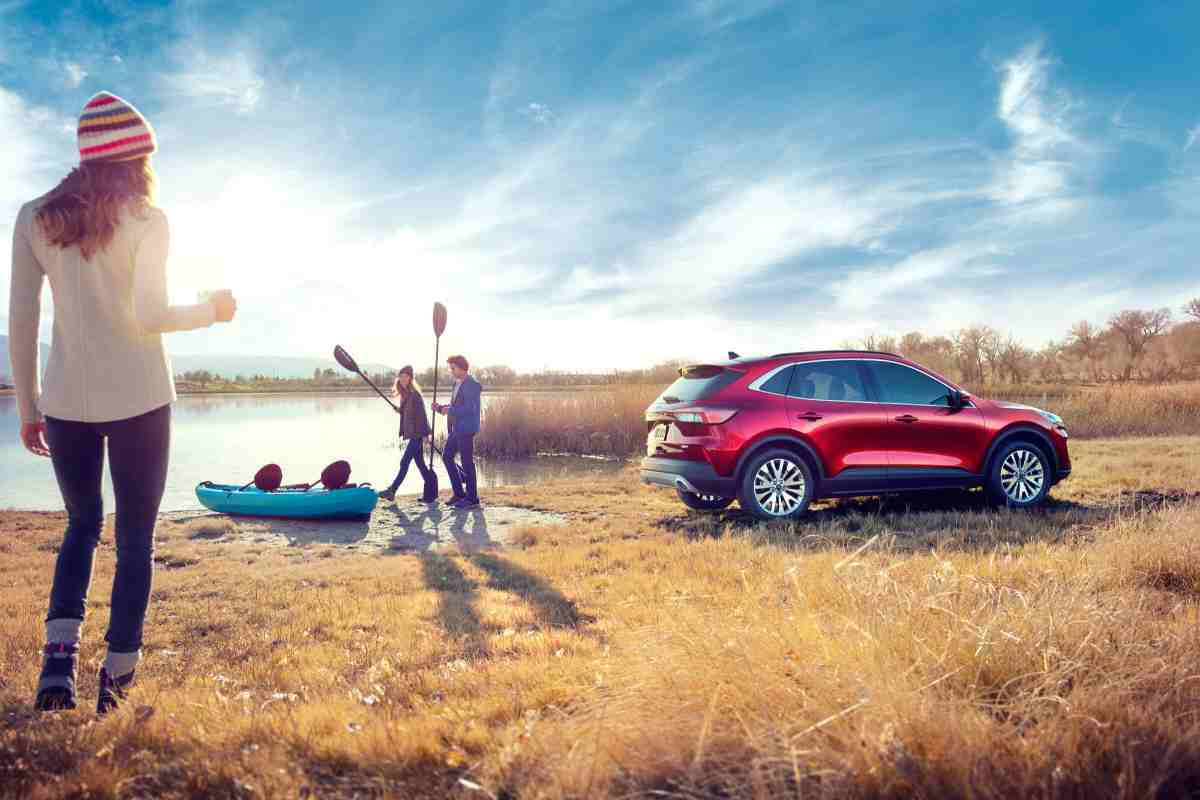 The SEL has remote start, a heated steering wheel, and sport seats. Some people may think that the SEL doesn't do enough to justify its place in the trim packages, and although it does offer a comfortable ride, you may feel the same. You would probably want to try this out as opposed to taking a recommendation on it.
At the top of the scale, we have the Titanium. The Titanium comes with a hybrid engine standard and an upgraded sound system among a lot of safety aids for the driver.
This really offers the entire experience when it comes to driving a Ford Escape because you have everything you would want as an individual or even for a family.
Safety aids can be great tools to keep your family safe, and whether you're with the family or not, you will probably want a nice sound system to listen to tunes with.
Building a Sleeping Platform for your SUV
Obviously, you'll want to start with your seats down and by removing everything from the back of your Ford Escape. You'll also want to take the storage compartment out of the back as well.
You're going to want to remove the back seats as well, so obviously this is going to become a 2-person vehicle if you are planning on building a sleeping platform.
After the seats are completely removed, you are going to want to deal with the seat belts and anything left over which should be able to be removed with an Allen wrench.
Anything that is still attached like brackets, seatbelts, or anything for the back seats can go completely. This includes nuts and bolts left over from the seats, although you will need to watch as there may be one or two that cannot be removed or may lead to holes in the car's exterior.
Make sure to tape over any holes with heavy-duty tape to keep a secure cabin.
Next, you'll want to build a frame for the sleeping platform. You could do this a hundred different ways, however we are going to walk you through one model today. The easiest way to build a sleeping platform is to use boards that are 8.5 in by 1.5 in.
You'll need 2 boards that are 31 inches in length, 2 that are 17 and a half inches, and one that is 46 inches in length. You'll lay these out in a bedframe fashion laying them down across the back of the vehicle to create a bedframe. You should also build some legs to keep this frame hoisted slightly.
Once your frame is done, you'll want to create some drawers that also sit underneath the frame.
From there, you're all set to find a mattress that works for your space. Most people who do these kind of projects or even those who live in an RV or camper will try to use memory foam mattresses, especially as they are easier to find these days.
Other Information About Sleeping In a Ford Escape
If you are thinking about sleeping in a Ford Escape in a pinch as opposed to making a big plan for a long road trip, you probably need some extra information that you may have not thought about yet.
Laying your seat backs flat is always going to be the best way to sleep in a vehicle. If you are planning far ahead, you'll be able to set up a system with a mattress that works surprisingly well.
One thing you really shouldn't try is laying across the back seats. Obviously, if you have no other options you will be kind of stuck… but this really isn't comfortable and can't be recommended in any way.
A useful tip that some people haven't thought about would be that you could bring a lightweight fabric to act as a curtain. This is mostly cosmetic, but you could put these in the back window for some coverage. It may not change much, but it could help you feel more secure.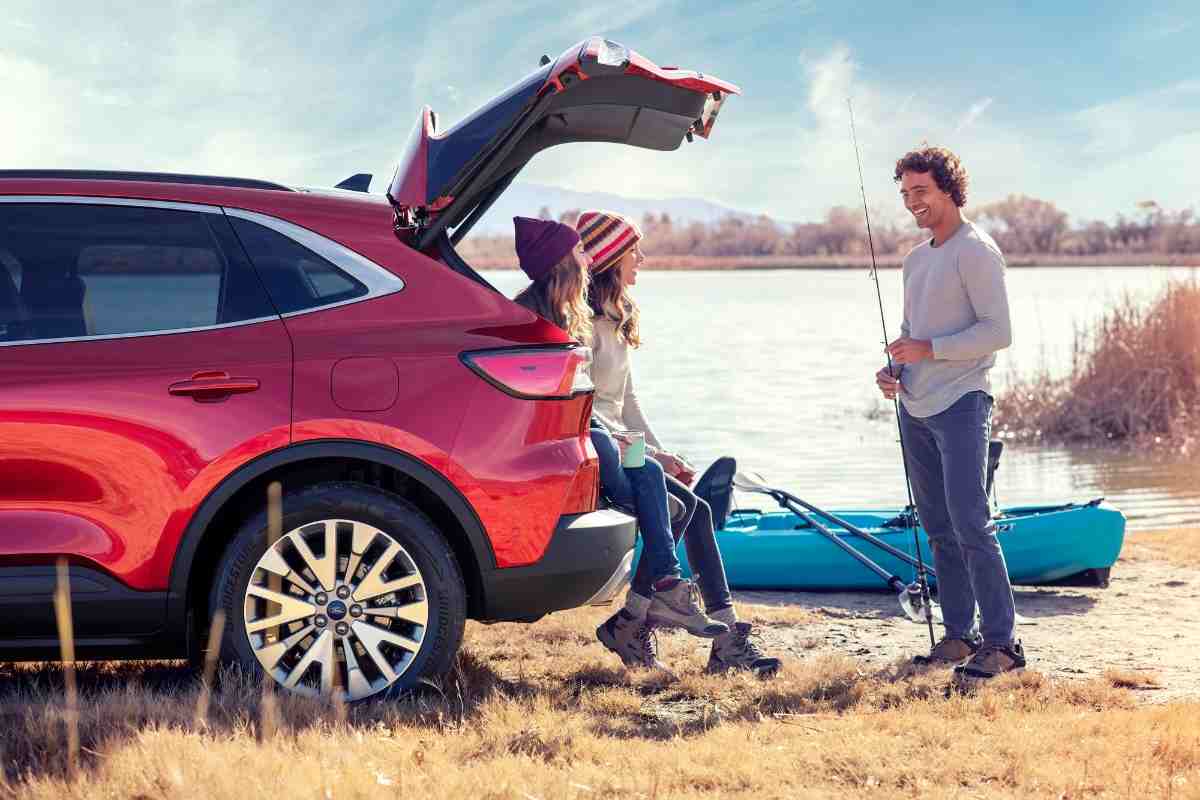 If you can crack a window, that will definitely help to make it easier to breathe and avoids the condensation build-up over those windows. There will be some environments where this isn't possible, but it is a useful tip if you're able to do it.
No matter what you do, you should definitely make layers. These layers provide you with an extra level of comfort and safety while keeping each of your surfaces clean. If you have tons of pillows and blankets, that should make your experience that much better.
Is a Ford Escape Big Enough to Sleep In?