Is The Jeep Gladiator a Good Daily Driver?
This post may contain affiliate links. As an Amazon affiliate, I earn from qualifying purchases.
The Jeep Gladiator is Jeep's newest pickup truck.
In an attempt to follow in the footsteps of Dodge, Ford, and Chevrolet, Jeep has created a pickup truck advertised as rugged and ready for adventure.
However, is the Gladiator good for more mundane travel? Does it work as a daily driver?
Is The Jeep Gladiator a Good Daily Driver?
Overall, the Jeep Gladiator does well as a daily driver. The only common complaints with highway driving in the Gladiator are louder wind noises and a little bit of loose steering. For a car created for off-roading, the Gladiator does surprisingly well as a daily driver.
For its large size, this truck is spacious, comfortable, and gets decent gas mileage.
Read on to learn about how the Jeep Gladiator performs on the highway, in town, and in traffic.
Is The Jeep Gladiator a Good Daily Driver?
Most people considering a Jeep Gladiator will use it as a daily driver.
While it was made for rugged weekend adventures, few of us have the extra capital to have a weekend car and a weekday car.
It's safe to assume that Gladiators need to be versatile to be worth the investment.
For this reason, Jeep put effort into the regular, everyday comfort of the Jeep Gladiator.
While it can go off-roading and has a tow package of up to 6,500 pounds, the Jeep Gladiator will also take you to the office and back with few issues.
Most owners of the Jeep Gladiator like it both as a weekend adventure vehicle and a commuter car.
Here are some of the pros and cons of the Jeep Gladiator as a daily driver:
Pros:
Comfortable on the highway and in the city
Drives smoothly
Great off-road capability
Possibility of endless modifications
Cons:
Average gas mileage is lower
Larger car
Some highway noise
Occasional highway drift
While the Jeep Gladiator is a decent daily driver, the bottom line is that it wasn't meant to only be on the roads.
Each of the pros works well on and off the streets.
The cons only exist because the Jeep should be off-roading.
The main issues with the Gladiator as a daily driver consist of the highway noise and drift.
Both of these are only problems at higher speeds on smooth highways.
Otherwise, the truck drives smoothly and is perfect for any city commute.
Gas mileage usually averages around 28 miles per gallon on the highway and 22 miles in the city.
For a more substantial truck, this average is pretty good.
It's not the best commuter vehicle out there, but I assume you're not buying a Jeep Gladiator to commute to work.
Essentially, if you buy a Jeep Gladiator for highway and city driving, you're missing the point of the truck.
The Gladiator was meant for high adventure, camping trips, and off-road wild times.
Using it as a daily driver is a bonus to an already great car.
How Does the Jeep Gladiator Do on Highways?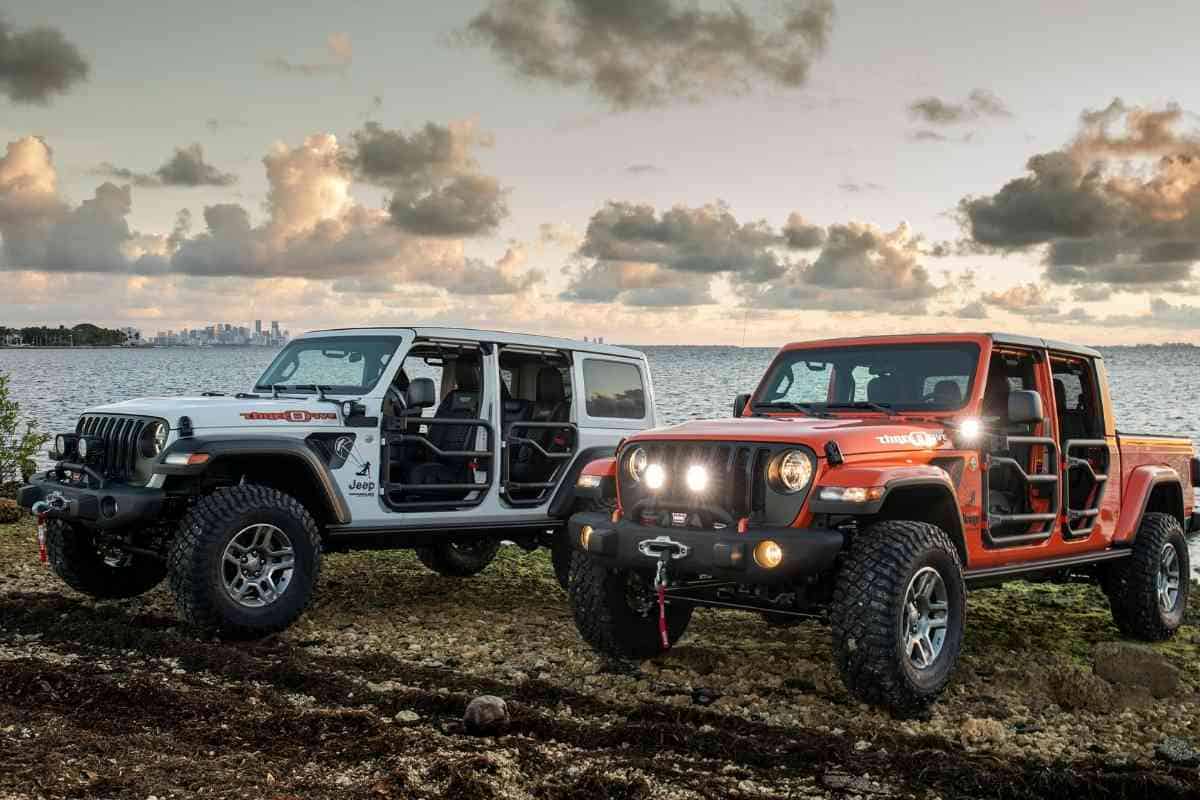 While the Jeep Gladiator does well as a daily driver in general, its weakest area is on the highways.
Highway driving can get loud in a Jeep Gladiator because of the sheer size of the truck.
The wind noise doesn't die down until you're under a certain speed.
This "con" might not be an issue for you unless you have a long highway commute.
Although the gas mileage is alright, the sound might be too much for you on your daily commute.
Some models don't have this issue, however.
The other highway issue is that the Gladiator doesn't always pull smoothly at high speeds.
It has increased control on rocky and rough terrain, which can overcorrect a bit on the highway.
If you are worried about controlling the truck, take a Gladiator out for a test drive before committing to the vehicle.
Every issue on the highway disappears when you leave the roads.
While the Gladiator does well on roads, it's a truck that shines off-road.
If you want to go mudding, trekking, or driving anywhere away from society, the Gladiator is the car for you.
The Gladiator is also great for weekend trips because it's perfect for sleeping.
You can bring tents and camp alongside, or just sleeping bags for the bed of the truck.
If your weekend dream is to sleep under the stars, a Jeep Gladiator might be the truck you need.
How Does the Jeep Gladiator Do in Town?
In town, the Gladiator handles like any other truck. Most of its city driving issues are present at high speeds, so slower driving is perfectly fine.
The Gladiator drives very smoothly at slower speeds. It feels like a luxury car, just much bigger.
The Jeep Gladiator is also great for more than just driving. Have a friend that's moving? That's part of the reason you got a truck, I'm sure.
The Gladiator is an excellent choice for helping someone move.
Because the Gladiator has a towing capacity of 6,500, it works well for more than just off-roading adventures.
You can pull up to a medium-sized trailer on your adventures (although I don't recommend pulling a trailer off-road with you).
Jeep owners quickly become fanatics because any Jeep comes with endless possibilities. You can upgrade whichever aspect of your truck you desire.
The Gladiator is no exception and you can personalize it to the type of lifestyle you want to live.
Once you've bought a Jeep, you'll likely buy into the entire lifestyle of a Jeep owner.
Whether it's Jeep clothing, another Jeep vehicle, or endless modifications on the car you own, you'll love life on the road with your Jeep.
Overall, the Jeep Gladiator is a great truck to own for any purpose, but if you buy it, you have to know what it was made for.
An off-road truck stuck in a daily commute won't be living up to its full potential.
Make sure you're getting out of town with your Jeep sometimes!
How Does the Jeep Gladiator Do in Traffic?
The Jeep Gladiator does pretty well in traffic.
Because it was built to handle any conditions, including off-road, the handling and stop-start action is pretty smooth. Jeep Gladiators can go zero to sixty in about seven seconds.
They brake and accelerate well.
Busy or not busy, the Gladiator does pretty well in traffic.
You will be able to pass others on the commute with ease, but don't expect to whip in and out of traffic with ease.
The size of the car will prevent you from doing that.
While the Gladiator handles well in pretty much any situation, it isn't small.
The mere size of a Jeep Gladiator can make it a little difficult to maneuver around a crowded city.
If you live in a tight area without access to the countryside, it might be difficult to handle the car in traffic.
Final Thoughts
Like all Jeeps, the Jeep Gladiator was made for adventure.
Off-roading, rough-roading, or mudding are some of the highlights of the Jeep Gladiator.
While it does well in the city and on highway commutes, the Gladiator was really meant to go on adventures.