Get that New Car Smell from a 30-Year-Old Jeep Grand Wagoneer! [Product Review]
For years, everyone has said, If only they could bottle that new car smell or I wish my car still smelled like leather.
Well, I think I have found a pretty good solution.
Let me explain…
I've tried plenty of things (some were kind of crazy) throughout the years trying to keep my vehicles smelling like new. This latest one happened somewhat by accident. I was ordering a new oil filler cap and some 3m exterior adhesive tape
for the Jeep.
As you know, Amazon likes to offer you special "add-on" discounts on related items and this time they caught me at a weak moment. I went for the impulse buy and picked up an air freshener combo pack.
I know, I know, this stuff never actually smells like it should — or so I thought.
Well, I have to admit. I was pleased with the smell of both products. It is not 100% perfect, only new leather will do that, but for a 30-year-old Jeep Grand Wagoneer like I have, this sure does give it a nice fresh smell when you open the door.
Don't take my word for it, here are two reviews that helped me make my decision: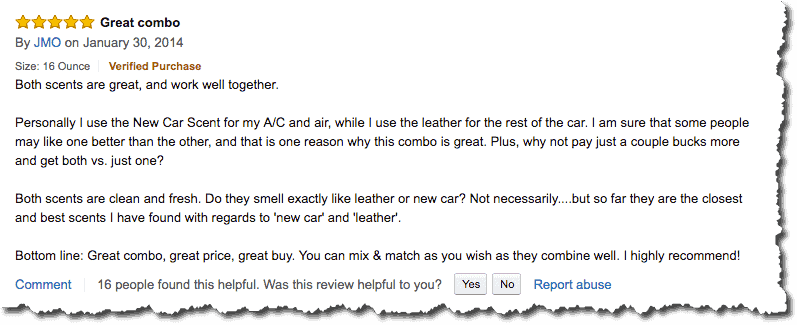 These reviews along with several of the others convinced me to give it a try. While not all of my impulse purchases have turned out so well, I am pleased this one did. Give it a try and let me know what you think.
Ps: Help Me Help You — If you do order these items, please do me a favor and use one of my links. It does not cost you any extra, but I do get credit from Amazon when you use one of my links. Thanks!
Keywords: New Car Smell, Leather Scent, Jeep Grand Wagoneer