Quiet Tires for Jeep Wrangler
Shopping for tires can be exhausting, especially when it comes to your Jeep. There are so many more options that Jeep owners have compared to other SUVs or standard cars and trucks. Each model will offer distinct advantages and noise levels during driving, including tread depth and tire sizes.
Often the tires your Jeep requires will depend on your driving purpose. For example, do you live in a harsh winter climate? Do you go off-roading with your Jeep, or are most of your travel miles within city limits? The size of rims you own will also gauge the type and style of tires your Jeep requires.
If you want to choose tires that will not give you a loud ride, there are several ways to achieve this result. Between choosing the right tire brand and following some proactive ownership guidelines, you can ensure that you will have a smooth, quiet ride with your Jeep Wrangler for thousands of miles.
How to Choose Quiet Tires for Your Jeep Wrangler
There is a science behind quiet tires. Designers have spent countless hours perfecting the ridge patterns and flow during rotation. Consequently, you can still have a loud ride even after selecting the best quiet tires.
Even with technological advances in vehicle products, there are some ways that Jeep owners can help to make a quieter tire for their vehicle.
Choose narrow tires
Select highway models
Use proper tire inflation
Follow regular tire care and maintenance
Monitor other areas of the vehicle for any noise
Choose Narrow Tires
The more rubber from the tire that makes contact with the road, the louder the noise will be when driving. If you select a more narrow model, like 33-inch tires, the noise will be less than tires that are wider across, such as 35-inch options.
Select Highway Models
Highway tire models are, by far, the quietest choice out of the four major styles of tires, which also cover all-terrain, mud-terrain, and winter tire models. All-terrain tires fall in between highway tires and mud-terrain tires models, which are the loudest of the three.
Highway tires have smaller spaces between the tread blocks and have semi-closed, smooth shoulders to reduce noise during operation. In addition, the circumferential channels and the various tread block sizes are also contributing elements to help minimize driving noise.
Use Proper Tire Inflation
If your tires are under-inflated, it can create excessive noise during driving. To help minimize and sound, follow the manufacturer's recommendations for optimal tire pressure.
While over-inflating may reduce the noise problem, it can create uneven wear on the tires, so be sure not to over-inflate your tires as a way to make them quieter.
Follow Regular Tire Care and Maintenance
Other factors contributing to louder tires include improper wheel alignment, missing a tire rotation cycle, or unbalanced tires. While these tasks are typically procedures that partner with new tire purchases, Jeep owners should follow a regular schedule throughout the tire's lifetime.
Regular proper care and maintenance will extend the life of your tires and help your fuel economy. It can also aid in preventing any additional vehicle damage, all while helping to reduce noise.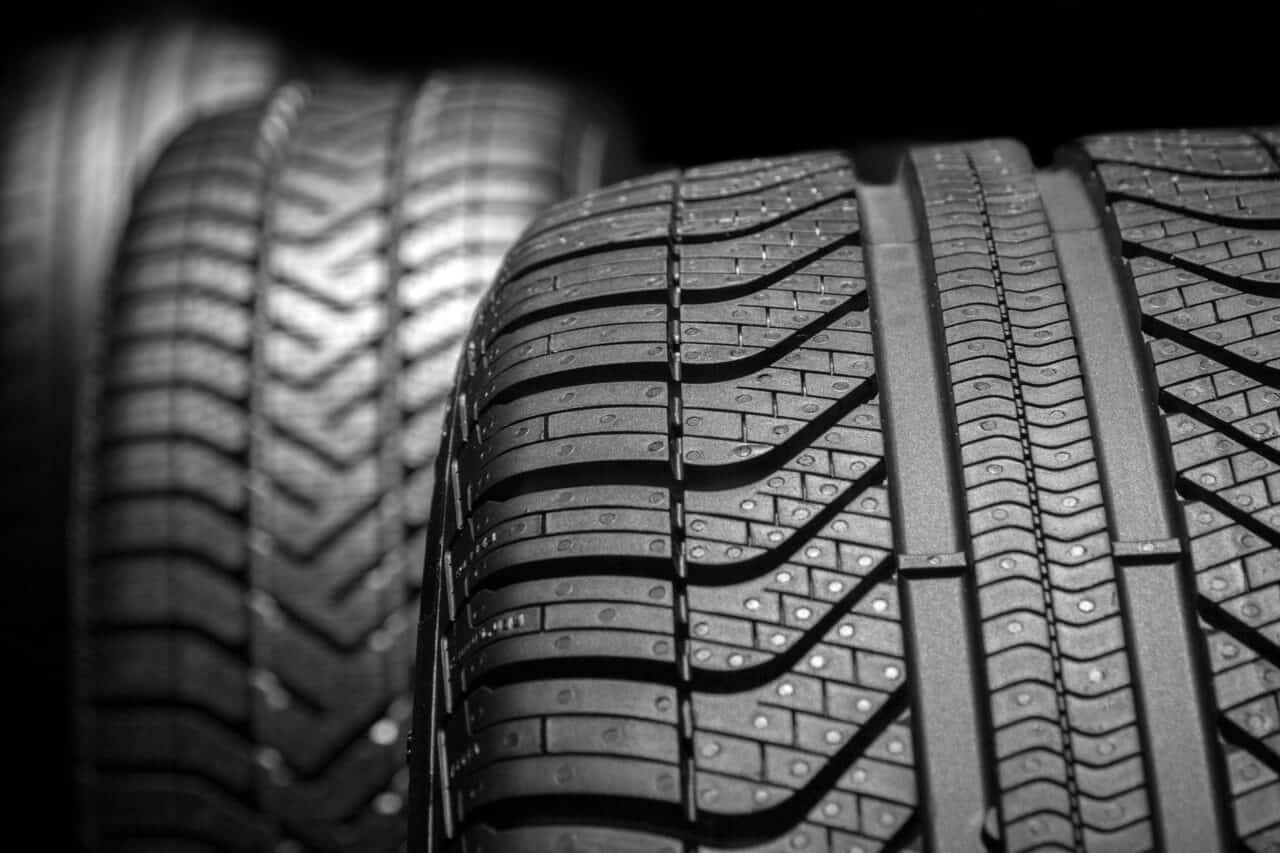 Monitor Other Areas ff the Vehicle for Noise
If even after all this, you still find that your Jeep tires are still running too loud, it could be from other vehicle problems, such as your CV joints or the wheel bearings. Struts, hubcap lugnuts, and the drive belt can also be significant sources of excessive noise while driving.
If you have a licensed mechanic check these other areas, you can ensure that something else is not creating noise during your drives.
Are There Quiet Tires for Jeep Wrangler Models?
If you are a new Jeep owner, you may not realize that it is possible to have a more quiet ride when you choose alternative tire brands for different terrains.
Different treads and alternative sizes can make a difference in how the tires sound during your rides. So, can you find quiet tires for a Jeep Wrangler? Absolutely. Just because you want to drive a Jeep does not mean that you will be off-roading all the time.
If you and your Jeep Wrangler remain on-road within the city or highways, selecting a quiet tire is possible.
So, here are five of the best choices in quiet tires for Jeep Wranglers.
Michelin Defender LTX M/S
Kumho Road Venture APT KL51
Goodyear Wrangler Silent Armor
Bridgestone Dueler A/T Revo 3
Continental ExtremeContact DWS06
Editors Pick: I put these tires on every on-road SUV I own. By far, these are my favorite on-road tire.
The Michelin Defender LTX M/S is the ideal highway tire that combines a smooth, quiet ride with longevity for all seasons. The four wide circumferential channels with lateral grooves and open shoulder slots are perfect for channeling water and enhancing gripping and stopping capabilities. 
Alternatively, this option from Michelin has exceptional towing and hauling capacity due to the internal twin steel belts for additional stability and tire strength.
Pros
Provides an exceptionally quiet ride
Handles wet conditions beautifully
Durable tire for towing capabilities up to 2,679 pounds
Cons
Not compliant as a winter tire
It is not ideal for extreme ice and snow driving conditions
Kumho combines an exceptionally quiet tire with superb handling in many different road conditions, even with light snow. This all-season solution is a safe and reliable choice for any Jeep Wrangler that stays within the city or on local highways.
The internal twin steel belts use spirally-wrapped nylon to help provide extra reinforcement while driving at highway speeds.
Pros
A more budget-friendly option than other tire brands
Come with a 60,000-mile treadwear warranty
Provides substantial strength and durability in a highway tire model
Cons
Not the best choice for Jeep owners who want to tow large, heavy loads
Tread may prematurely wear if pulling items often
If you are searching for an exceptionally quiet all-terrain tire brand for your Jeep, the Goodyear Wrangler Silent Armor is a great choice. This model is rugged enough to handle various off-road conditions while remaining smooth and quiet on the highway.
The extra DuPont and Kevlar layers on these tires help absorb road noise while providing durability and strength. This feature also helps protect the tire from punctures or curb damage.
Pros
Can handle wet and muddy conditions well
Extremely durable and stable
One of the quietest all-terrain tire choices
Cons
Tires are heavier than other models
Not an excellent choice for muddy driving conditions
This Bridgestone model is an outstanding choice in an all-season, all-terrain tire for your Jeep Wrangler. In addition, they include a more extended warranty period of 60,000 miles, giving you the confidence that they are durable enough to stand up to constant wear and tear.
The construction of the Bridgestone Dueler A/T Revo 3 model offers terrific road handling in a smoother ride. These tires include staggered shoulder lugs for soft or variable surfaces, while the open shoulder slots help channel water during driving.
Pros
Best tire model for dry road conditions
Provides exceptionally quiet ride
Offers longer wear warranty
Cons
Not ideal in extreme weather conditions with excessive snow or ice
Do not carry a snow rating
Continental offers an exceptional all-season ultra-performance tire with their ExtremeContact DWS06 model. This model provides a smooth, comfortable, and quiet ride for your Jeep Wrangler on various terrains.
This high-performance tire is a terrific option when looking for remarkable handling and braking capabilities in all weather conditions.
Pros
Terrific traction control
Long tread life
Smooth, comfortable ride
Cons
Drivers may still notice some noise when compared to other highway tire brands
Handling and traction decreases with extreme weather conditions
The Takeaway
Deciding on a quiet tire for your Jeep Wrangler can be confusing if you do not know what elements to look for. Tires that do not produce a loud road noise should be more narrow, have a variety of tread blocks, and offer less space between them. Semi-closed shoulder tires will run quieter than tires with more aggressive open shoulders.
To help keep your Jeep Wrangler running quieter, be sure to follow your manufacturer's guidelines regarding tire rotation, balancing, and alignment. In addition, regular auto care and maintenance will help keep your tires running smoothly and quietly even as you put on the miles.