What Is The Best Used 7-Passenger SUV To Buy?
SUVs are the vehicle of choice these days, and it's no secret that the more versatility, the better.
So, many people are looking for an SUV that can carry seven passengers and still have enough room for cargo and even a dog.
As a result, people flood the internet with the following question: what's the best used 7-passenger SUV to buy?
To answer this question, we must look at many variables.
First of all, there's the size. More and more manufacturers are introducing seven-seaters into their lineups, but some aren't as comfortable as you'd like.
Then, there are power and driving characteristics. Finally, there's the price.
So, with all these factors to consider, we wrote this article to provide you with eight of the best options for used 7-passenger SUVs.
What is the best used 7-passenger SUV to buy?
Various years of the Buick Enclave, Chevrolet Traverse and Tahoe, Ford Expedition, Mazda CX-9, Kia Sorento, Dodge Durango, and Toyota Highlander are the best used 7-passenger SUVs. These SUVs offer a wide variety of features at various price points while still seating 7. 
This article covers SUVs from all price ranges, so you're going to find something that fits your budget and needs. Plus, you will find some brands that might surprise you. So, let's start.
2014 Buick Enclave
The Buick Enclave is a seven-seat SUV that usually flies under the radar, as it's not the most popular brand in the US.
Still, that doesn't mean it's not a good SUV.
In fact, it's a more refined version of the Chevrolet Traverse and provides you with everything you need in a seven-seater SUV.
The V6 engine comes with more than 275 hp and, even if the Enclave is on the heavier side, moves it with ease.
Plus, in ideal conditions, you can get up to 22 mpg. The transmission shifts smoothly and is responsive.
The ride is quiet, and the cargo room is plenty, earning praise from the media.
Full-size adults could feel snug in the rear seats, but it's very comfortable.
The ideal year to buy is between 2014 and 2015. These years have shown superior reliability and a reasonable price point.
You can purchase either FWD or AWD, though we recommend opting for the AWD version.
2014 Chevrolet Traverse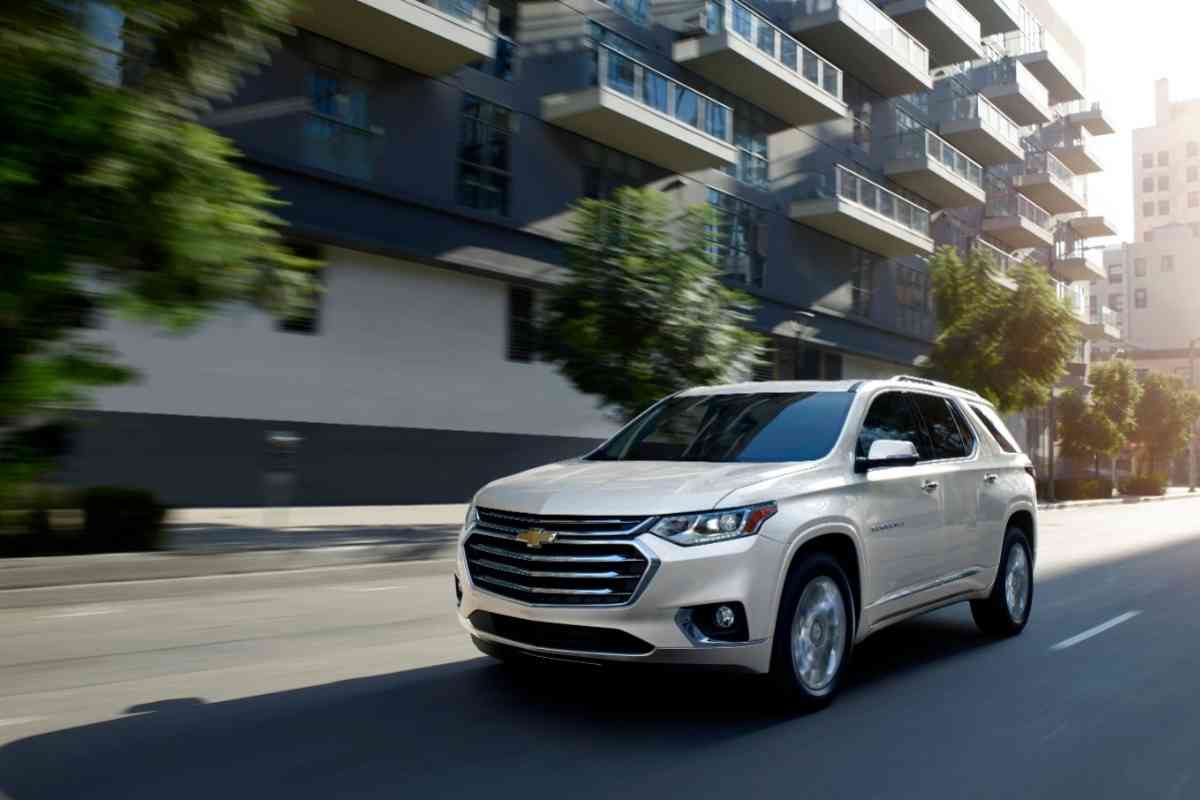 The Chevrolet Traverse is the Enclave's more accessible cousin.
Both SUVs share the same platform and come with similar features.
So, you know you're getting the same in cargo area and passenger comfort.
There are also no mechanical differences between both vehicles.
The reason why the Traverse is cheaper is due to trim levels and brand positioning.
Buick is GM's proposal for refined interiors and looks, so the Traverse is a more affordable alternative as you can get one for $1,500 to $2,000 less.
As with the Buick, the ideal year for a Traverse is either 2014 or 2015.
These models have shown good reliability, a spacious interior, and plenty of cargo.
Again, as with the Enclave, we recommend you look for an AWD version.
2012-2013 Chevrolet Tahoe
You're looking for a bigger SUV because you don't need just seven passengers, but as many as you can fit. That's where the Chevrolet Tahoe comes in.
This SUV provides you with one of the most comfortable interiors in the market, but it also gives you excellent power and towing capacity.
The Chevrolet Tahoe is tried and true. Its 5.3L V8 engine puts out 320 hp and 340 lb-ft., enough to give it 6,200 pounds of towing capacity.
Plus, if you want to increase the fuel economy, there's an option for a Hybrid.
Yet, some reviews highlighted a clunky shift between electric and gasoline power.
You can't go wrong with a Tahoe as far as the interior goes.
It's roomy and can fit eight full-size adults in comfort.
Plus, it's a smooth ride, especially at highway speeds, though some have found that braking can feel a bit soft.
Then, of course, there's the fuel economy. Though the hybrid has class-leading performance, the rest of the available engines can be thirsty.
2013-2015 Ford Expedition
The Ford Expedition is one of the most popular SUVs that can fulfill this role of carrying seven passengers.
It's not only roomy and comfortable, but the Expedition can also tow an impressive 9,200 pounds.
So, you know that those long trips have become much more enjoyable.
Ford ditched the V8 and, instead, opted for the 3.5L V6. However, don't think the smaller engine can't do its work.
On the contrary, the Ecoboost engine gives the Expedition excellent acceleration for a vehicle its size.
The only downside is that it won't give you the best fuel performance.
You can find a Ford Expedition with decent pricing and good conditions.
In fact, some of these haven't even towed heavy loads since they came out of the factory.
So if you're looking for one, check for rust and service history.
2017 Mazda CX-9
You can have a seven-seater that can handle like a sports car, the Mazda CX-9.
This SUV stands out from the competition with sporty looks and excellent performance.
It's not the typical boxy or massive SUV. Instead, it's quick, small, and still holds versatility.
Plus, thanks to its 2.5L inline-four, it gets you above-average fuel economy.
The Mazda CX-9 also has enough room inside to carry passengers and their cargo.
So while full-size adults might find the third-row seating a bit snug, smaller passengers can ride comfortably.
All the while, there's enough cargo room, but don't expect massive amounts of space.
One of the main differences the CX-9 has over other vehicles on this list is that it comes with either FWD or AWD.
While the FWD option provides better fuel economy, the ideal model should have AWD, allowing for more grip on surfaces such as snow or gravel.
2017 Kia Sorento
When it comes to practicality, Kia has made a name in the SUV market.
The Sorento is no exception.
While smaller than others on this list, the Kia Sorento can carry plenty of cargo and seven passengers.
Those in the back might feel snug, but the Sorento makes up with a low starting price and plenty of features as standard.
The Kia Sorento also shines bright in the reliability department.
These vehicles have shown to have outstanding reliability verdicts plus cheap spares.
Not only that, but Kia offers a more extensive warranty than most manufacturers.
Plus, this is your SUV if you want safety, as it has ranked highly in many tests.
All these positives make up that the 2017 Kia Sorento isn't that exciting.
Instead, it's a run-of-the-mill SUV that's practical and not much more.
Of course, if you want the more economical version, you can opt for the FWD option, but the AWD is also an enticing choice for comfort and handling.
2013-2015 Dodge Durango
You shouldn't limit yourself to boring options when it comes to SUVs.
Some vehicles can give a lot of bang for your buck, and the Dodge Durango is one of them, especially with the 5.7L V8.
This seven-seater has class-leading performance and has made a name for itself for its good towing capacity.
The interior has nothing to write home about, but you will get all the features you need.
Seating in the back is comfortable and doesn't feel as snug as other options.
The Durango does an excellent job with all seats deployed when it comes to storage and cargo.
The positive is that you might be towing all your stuff. It's that powerful.
You can opt for the 3.6L Pentastar V6, but the engine can be controversial.
If you get the famous Chrysler tick, you might find yourself with expensive repairs.
That's why we recommend the 5.7L V8, and if you want power, then the 6.2L V8 is the choice for you.
Keep in mind that the SRT option does come with stiffer suspension, which can affect ride and comfort.
2010-2012 Toyota Highlander
The Toyota Highlander is average. That's not to say that it's unreliable, because it's not.
It's actually excellent. The same goes for comfort, it's a comfortable SUV and will give you good fuel economy, but the Highlander is bland.
Toyota has made practicality at its finest with this car.
You get plenty of features inside, a spacious interior, and decent towing capacity for a vehicle its size
In addition, you get Toyota's outstanding reliability and trims for every price point.
With either FWD or AWD, there is a Highlander for everyone.
There's even a mild-hybrid option for those looking for even more miles per gallon.
Then, there are the looks.
The Toyota Highlander is bland, to say the least.
It won't turn any heads, and to a point, that's great, especially for those who want practicality over everything else.
Closing thoughts
Seven-seat SUVs are becoming ever more popular, so it makes sense that more people are looking to buy used models.
As a result, the internet is filled with people asking what's the best seven-seat SUV.
In this article, we gave you eight examples that fulfill the needs of most buyers.
Options such as the Toyota Highlander and Chevrolet Traverse aim for those who want practicality.
Meanwhile, the Expedition and Tahoe are for those who want a bigger vehicle with more comfort.
We even included sportier alternatives, such as the CX-9 and the Durango.
Nowadays, it seems that every manufacturer offers a seven-seat vehicle, so this list isn't the only one out there.
So, having said that, the examples that we list here are amongst the most reliable and practical.
So, hopefully, this article will help you find the best option for you.