What's The Best Used SUV For Towing? (Solved!)
Towing capacity is often a deciding factor when choosing a used SUV. The question, "What is the best used SUV for towing?" arises frequently, and this article seeks to provide a clear answer. Delve into our research and insights that spotlight the leading contenders in the used SUV market, emphasizing not just power but reliability and value. Whether you're hauling trailers, boats, or campers, understanding the top performers in towing can significantly influence your next purchase.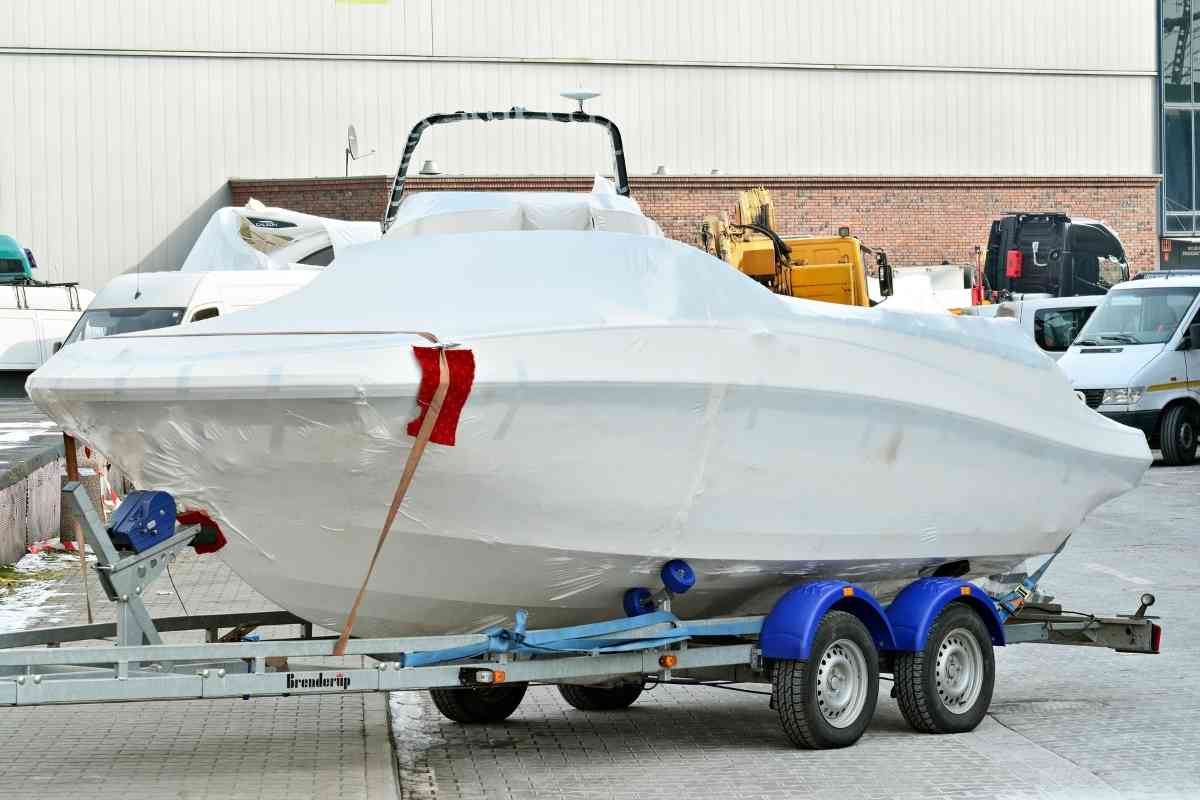 The best used SUV for towing is usually a full-sized option. You can think of vehicles such as the Chevy Tahoe, Ford Expedition, and the Chevy Suburban. Though towing capacity lowers as vehicles get smaller, other excellent SUVs for towing include the Dodge Durango and Ford Explorer.
What's The Best Used SUV For Towing?
The best used SUVs for towing are the Ford Expedition and Chevrolet Tahoe. There are other excellent options, as well.
If you're looking for a midsize option, the Ford Explorer and the Dodge Durango are both top candidates for the best used SUV for towing.
It's important to remember that towing capacity drops as the sizes shrink, but there are still some valuable options.
If you're looking for the best SUV for towing, you need to consider some critical factors. For example, boats, trailers, and other large cargo will need a full-size SUV. On the other hand, smaller loads can make do with midsize or even small vehicles.
In addition, 2WD vehicles tend to tow more than their 4WD alternatives, as the engine sends power to only two wheels. So, if you want the highest towing capacity, take this into consideration.
Then, there's the aspect of size. Full-size SUVs are massive, and they might not be as comfortable to drive in the city. But, on the other hand, if you mostly navigate an urban environment, this can become a nuisance.
So, it's ideal to also consider the size as you make your choice. Still, there are a lot of options out there. So, in the following sections, we'll cover the best option, according to towing capacity.
Looking For The Best Used SUV For Towing? Here They Are
Ford Expedition (2016-2017)
Towing capacity: 9,200 pounds
There's no question that the Ford Expedition is the best used SUV for towing. With class-leading pulling capacity, this SUV can handle 9,200 pounds with ease. All the while, it carries passengers in comfort.
Don't let the smaller engine fool you. Ford's 3.5L V6 comes with twin turbos and produces impressive amounts of horsepower and torque. Plus, it's lighter than other V8 counterparts, which provides more towing capacity.
If you need more interior cargo, you can opt for the EL (Extra-Large) Expedition. This model can carry more passengers, plus it still provides superior towing capacities.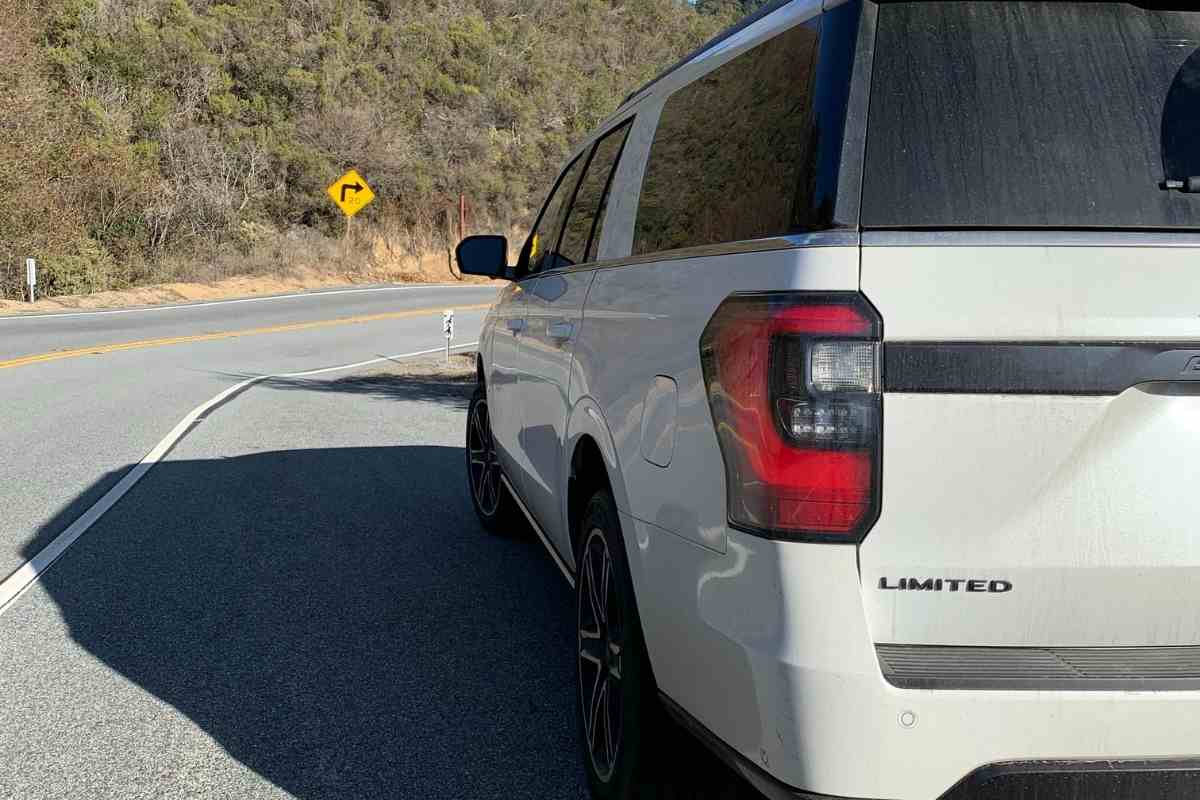 Chevrolet Tahoe (2015-2017)
Towing capacity: 8,600 pounds
The Chevrolet Tahoe fulfills the towing and hauling needs of any large family. You might see some lists mention the Suburban first. We included it, but later.
The difference between the Tahoe and Suburban lies in size. The Tahoe is smaller, which comes as an advantage, as you can expect around 300 pounds more of towing capacity.
With the 5.3L V8, the Tahoe can tow up 8,600 pounds in an RWD configuration.
There's less cargo room than the Suburban. But the interior is still comfortable and full of features. As a counterpoint, the Tahoe has less interior space. If this is a critical aspect for you, then you can consider the Suburban.
Nissan Armada (2015-2016)
Towing capacity: 8,500 pounds
While Nissan isn't the most popular brand in the US, the Nissan Armada is still a great used SUV for towing. The 5.6L V8 gives it 8,500 pounds of towing capacity. Also, Nissan upgraded the transmission to a 7-speed automatic. So, the Armada accelerates smoother than before.
Inside, you can expect a heap of creature comforts for eight passengers. The seating is comfortable, and the cargo area is more than adequate. So, this option is still attractive.
Plus, the Armada sees a more aggressive devaluation than other brands. So chances are it's easier to find a used Armada, with low mileage, for cheaper than other SUVs on this list.
If you're looking for an Armada, take into consideration that reliability can be average. So, be sure to perform a complete checkup before buying one.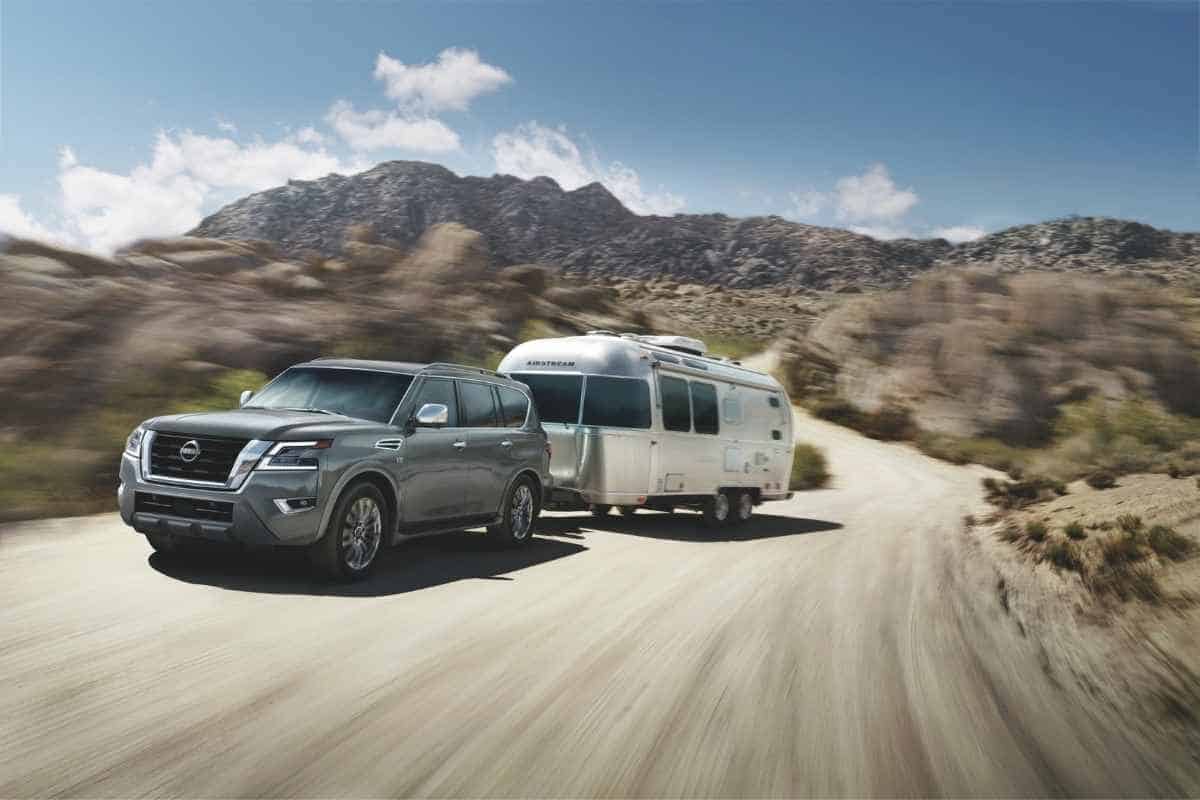 Chevrolet Suburban (2015-2017)
Towing capacity: 8,300 pounds
The Chevrolet Suburban is a large family hauler that can also pull some serious pounds. If you need to carry plenty of luggage, a handful of kids, and, also, tow a large boat, it's a great choice.
Given the reliability, price, and features, the eleventh generation Suburban is an ideal option. Still, the tenth generation can also give you excellent performance.
Chevrolet's trusty and robust 5.3L V8 means Suburban can tow up to 8,300 pounds in an RWD configuration. As a result, this SUV is spacious and comfortable.
However, given its size, we have to point out that it doesn't have the best handling at highway speeds.
As a counterpoint, there's handling. Turning can feel more sluggish than other vehicles on this list. Still, it's an excellent option for towing heavy loads.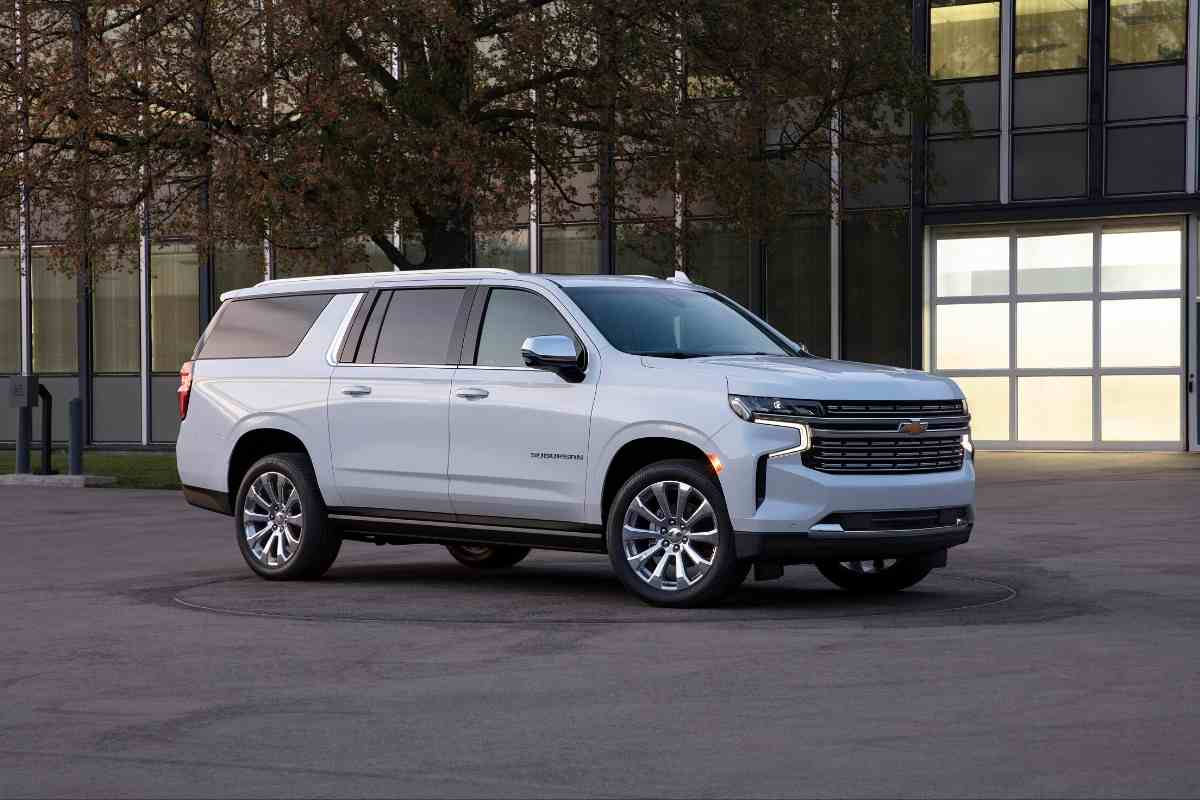 Toyota Land Cruiser (2010-2017)
Towing capacity: 8,100 pounds
The Toyota Land Cruiser is a veteran in the full-size SUV sector. In fact, little has changed since the J200 entered the North American market in 2007.
It has a reliable 5.7L V8 with a robust transmission that can provide 8,100 pounds of towing capacity. As with most Toyota products, the interior isn't anything to write home about, but it's well-equipped.
Toyota has introduced several driver's aids that can help with towing. But, this SUV is a dying icon, as Toyota announced that the 2021 redesign wouldn't be available for the US market. This means two things.
Those that are still in the US might increase in value, and that, if you're looking for one, it's best to hurry. Also, this vehicle went through only minor changes in its long history (since 2007). So, Toyota has worked out most of the issues, and it's very reliable.
GMC Yukon Denali (2013-2015)
Towing capacity: 8,000 pounds
Mechanically, the GMC Yukon is identical to the Suburban and Tahoe. But GM plays a different strategy. The GMC brand comes with more luxury, so the interiors are more comfortable, and hence, the SUV is heavier.
If you don't mind having fewer towing pounds in exchange for more luxury, then the Yukon Denali is for you.
Yukon Denali is the top trim level. So, it only comes with RWD. This is great for those who are into towing. It has more capacity than other Yukon models, with 4WD options and less pulling power.
Plus, the Yukon Denali comes with a 6.2L V8 as standard. It's a smooth accelerating engine that takes this SUV to a whole new level. So, you can ride with ease, luxury, comfort, and power.
Volkswagen Touareg (2014-2015)
Towing capacity: 7,700 pounds
The Volkswagen Touareg is one of the smallest SUVs on this list. That's not to say it's small. This midsize SUV has excellent handling, far superior to others on this list, and it also can tow a decent amount. Thanks to its diesel engine, it can tow 7,700 pounds.
We have to recognize that Volkswagen ran into controversy with their diesel powerplants. But if you buy one with the upgrade already in place, you shouldn't have problems.
One vast advantage that Touareg has over the competition is its European DNA. As a result, the Touareg has excellent handling, braking, and acceleration. Inside, it's everything you can expect. Luxury exudes in every corner. But seating and cargo room are considerably smaller.
The Touareg is ideal for anyone who doesn't need that much interior space but wants to tow heavier loads. Plus, thanks to its diesel powerplants, you can get decent miles per gallon. Unfortunately, that doesn't often happen on this list.
Toyota Sequoia (2015-2017)
Towing Capacity: 7,400 pounds
If you like the Toyota Land Cruiser but want a bigger interior, then the Sequoia is the answer. The 5.7L V8 gives it adequate performance and competitive towing capabilities. The Sequoia is as large as some of its American competitors, but it's far heavier. So, it tops out at "just" 7,400 pounds.
If you have a Sequoia, you know you will ride in comfort and reliability. The interior room is more extensive than other competitors, and the seats are comfortable. In addition, there's a heap of features and driver aids that can prove vital when towing.
One downside is that the Sequoia doesn't have the best handling. Still, it's an excellent choice for those who want a reliable SUV that can tow a decent amount.
Dodge Durango (2014-2017)
Towing capacity: 7,400 pounds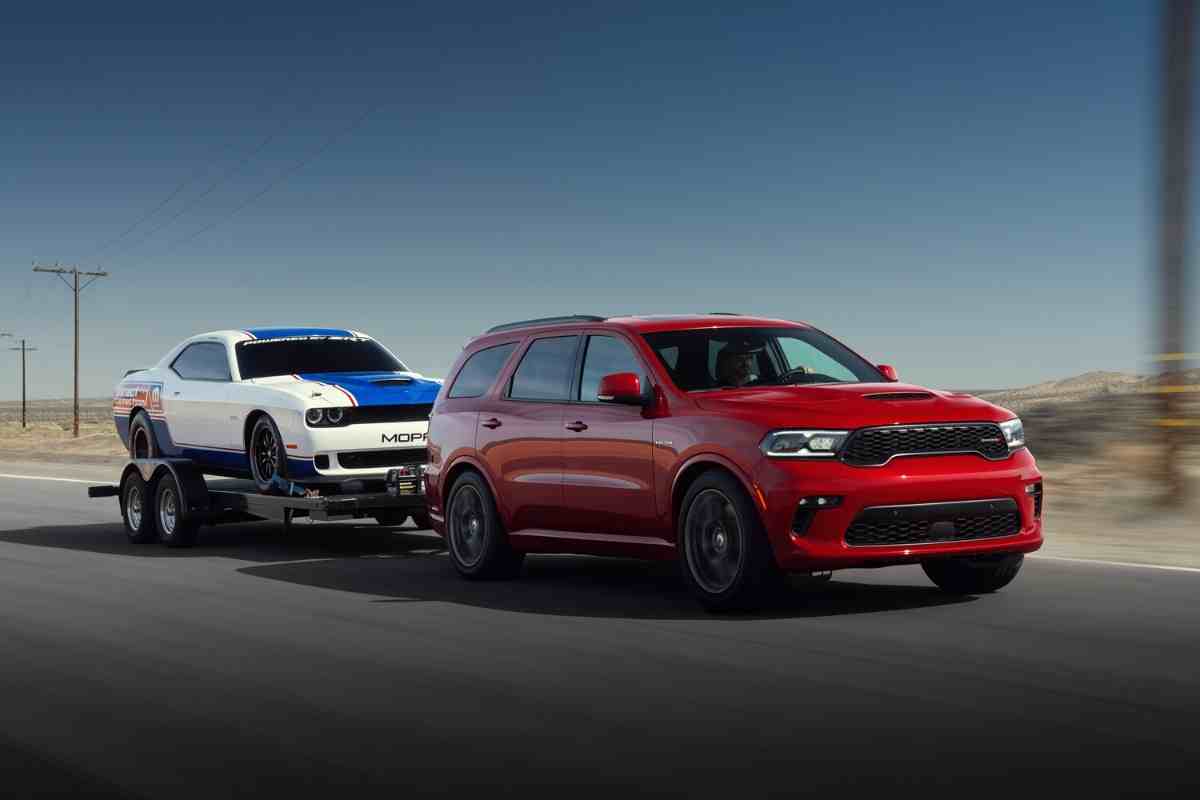 The Dodge Durango is another SUV that's smaller than average on this list. Still, it can tow a decent 7,400 pounds thanks to its 5.7L V8 and RWD configuration. Plus, if you compare the Durango to others in this list, you'll find that its handling is superior.
Plus, one of the Durango's party pieces is its acceleration. So you can have a fun time with it. These aspects make up for a more basic interior that doesn't surprise anybody. But it fulfills its functions well.
Still, it's not like Dodge has worked to improve the Durango. With towing features such as a trailer camera, this SUV is actually very safe for the job. So, if you don't mind fewer pounds, you get an excellent SUV for everyday driving at the end of it all.
Jeep Grand Cherokee (2014-2015)
Towing capacity: 7,200 pounds
If it's the performance that you're looking for, then the Jeep Grand Cherokee is the choice for you. Of course, you'd be sacrificing a considerable amount of towing capacity, but this SUV can haul and fast.
The 5.7L V8 engine in the SRT option can tow 7,200 pounds, even with 4WD. Plus, it gives you excellent acceleration and handling. So, it's a complete package for performance junkies.
The interior isn't as comfortable as other SUVs on this list. Seating can be more cramped, and features aren't outstanding. But, they do their job well. The Grand Cherokee makes up for it with extras like air suspension and handling packages. Plus, it looks great.
Besides, it's not the biggest SUV out there. It's comfortable to drive in the city and won't be as thirsty as others on this list. This is important, as fuel economy also comes into play. So, the Cherokee makes a strong case for the best used SUV for towing and gas mileage that won't hurt you.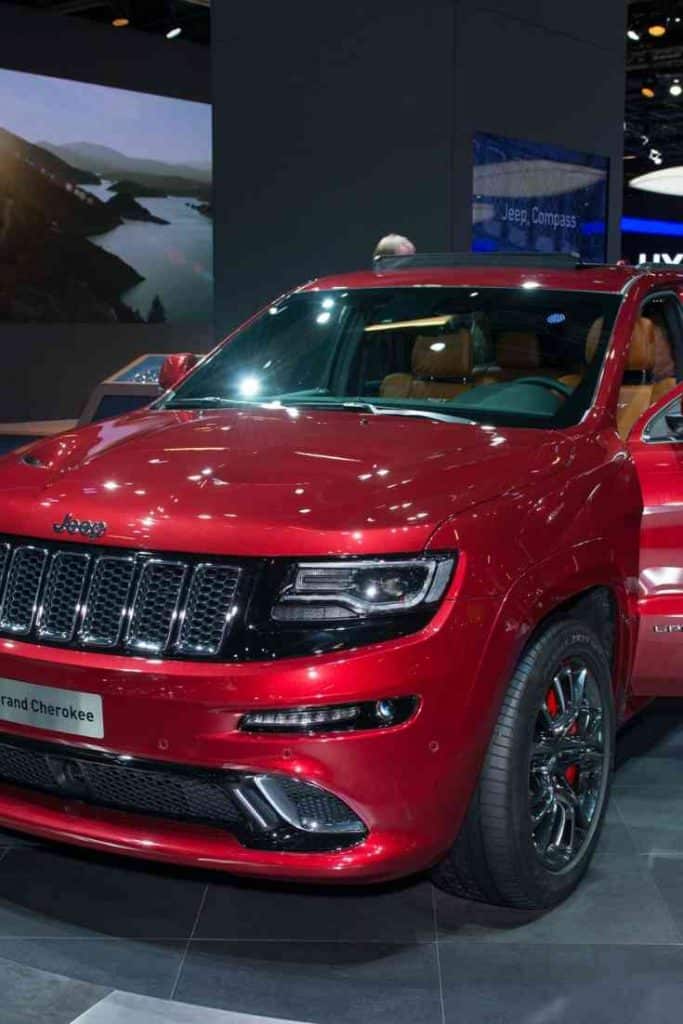 What is The Best Used SUV For Towing A Boat?
While most of the SUVs on this list can easily tow a boat, it's important to note that this cargo is usually bigger and heavier. Therefore, if you're looking for the best used SUV for towing a boat, you should opt not only for the most towing capacity.
Ideally, you should also opt for the longest wheelbase, as it can provide more stability while hauling bigger cargo such as a boat. At the same time, you can always opt for ways to improve your towing capacity.
Having said that, the best used SUV for towing boat trailers, boats and similar cargo is the Tahoe, followed by the Expedition and the Suburban.

Closing thoughts
SUVs are becoming the norm for carrying lots of people and hauling plenty of cargo. They're also turning into the go-to choice for towing.
It's no longer only about trucks. People want comfort, interior room, and outstanding pulling capacities. Also, buyers like you and me are looking to save a buck. So, used SUVs are gaining more interest.
A lot of people ask: what's the best used SUV for towing? That's what we set out to answer in this article. We provided the ten best used SUVs for towing, according to the total towing capacity in pounds. Some on the list aren't surprising, as the Tahoe and Expedition. But, there are some surprising models, like the Touareg.
If you're looking for a used SUV for towing, be sure to understand what you need. For example, you might have a large family and need plenty of interior room.
Or, you might also want a smaller SUV that can still pull a decent amount. Of course, all these factors come into play, and we considered them on this list. Hopefully, it can help you choose the best used SUV for towing that suits your needs the best.