Does the Toyota 4Runner Have Four-Wheel Drive?
This post may contain affiliate links. As an Amazon affiliate, I earn from qualifying purchases.
The 4Runner has driven adventure seekers to all corners of the planet. But, not only that, the Toyota 4Runner has done so with reliability and ruggedness. The 4Runner is a product of Toyota's obsession with overengineering. So this 4×4 is an obvious choice for anyone who wants to go farther. So, let's find out what makes the 4Runner such as good adventure car.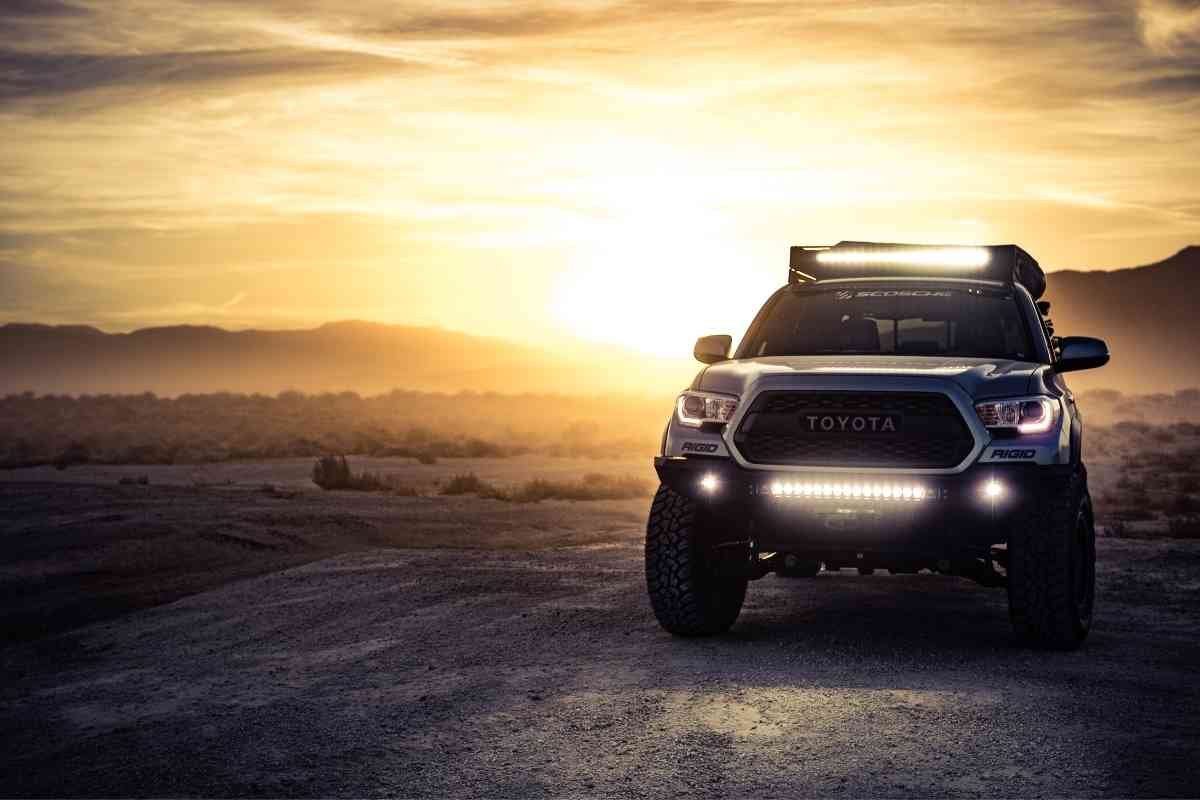 While you are researching 4Runners, be sure to bookmark the Toyota 4Runner category page and save these popular articles for future reading: What Are The Best and Worst Years for The Toyota 4Runner?, 8 Things To Consider Before Lifting Your 4Runner, and FJ Cruiser vs 4Runner: Which One is Better for Overland Adventures?
Does the Toyota 4Runner Have Four-Wheel Drive?
Yes, the Toyota 4Runner comes with four-wheel drive (4WD), either as standard or optional, depending on the trim level. The two base trim levels come with rear-wheel drive as standard and 4WD as an option. From there, trim levels come with part-time 4WD or permanent 4WD. Also, there's an option to have locking differentials.
These combinations make the 4Runner a versatile off-roader. But that's not the only trait this car has that gives it an advantage. You see, Toyota is one of the last manufacturers to use a body-on-frame construction extensively. As its name states, this method involves bolting a body to a frame made up of solid materials for heavy-duty use.
The 4Runner can withstand the toughest of terrains, further enhancing its off-roading abilities. Also, thanks to its solid rear axle, this vehicle can put down torque where others can. But, it comes at a cost since it's heavier than many of its modern counterparts. The ride is also choppier at highway speeds.
It's a price to pay for a versatile vehicle that can take you anywhere. So, if you want to learn more about the ins and outs of the Toyota 4Runner, we'll explain how its 4WD works and which versions have it.
How Does the Toyota 4Runner 4WD System Work?
You might have heard the terms RWD, AWD, and 4WD. They sometimes can feel confusing, especially when people talk about sending power to all four wheels instead of two. The first thing that we need to understand is how, in most vehicles, a car moves its wheels.
Cars send the engine's power to the wheels through a transmission. Gears inside the transmission convert it to specific ratios, depending on the speed at which you're traveling. Sometimes you need more torque (such as when you're going up a hill), and sometimes you need more speed (when you're driving on the highway).
In most cars, the engine only sends power to two wheels instead of four. This configuration is popular because it's cheaper to produce.
But, other vehicles send power to all four wheels. These vehicles are categorized into all-wheel-drive (AWD) and four-wheel-drive (4WD). 
AWD vehicles are constantly sending power to all four wheels without your input. You don't even notice which wheels are moving thanks to the car's computers, intelligent differentials, and transmissions. 
On the other hand, 4WD cars can select when to move all four wheels through a transfer case. You can engage and disengage all four wheels by pressing a button or pulling on a lever. 
The car then goes from 2WD to 4WD. But, in the 4Runner, this configuration goes one step further.
The Toyota 4Runner has something called low-range gearing. Inside your vehicle's transfer case, some gears have a higher ratio to produce more torque. You can select them by engaging the 4WD and low range. 
With low range and 4WD, the 4Runner now has more torque and traction because all four wheels move simultaneously. But, keep in mind that you sacrifice final speed, as the vehicle will move slower. 
Some Toyota 4Runners come with permanent 4WD. All four wheels have power all the time. If you choose to do so, you can increase the torque by selecting low-range gear. But, another mechanical component gives these Toyota 4Runners more off-roading abilities. Let's see what it is. 
Does the Toyota 4Runner Come With Locking Differentials?
The Limited and Limited Nightshade editions of the Toyota 4Runner come with full-time 4WD and a locking rear differential. This added feature increases the 4Runner's traction in a difficult situation. Before we explain how a locking differential works, let's talk about differentials in general. 
If a vehicle with a standard differential finds itself in certain conditions such as gravel or mud, it might send power to the wheel with less traction.
This situation happens because differentials send power to where there is less resistance.
While this sounds logical, it's not always beneficial. The wheel with less traction might be the wheel that's up in the air. So, a locking differential mechanically locks both axles so that the wheels spin together if they have traction.
If this isn't the case, the locker will send power only to the wheel with traction, allowing the vehicle to move in harsh conditions. 
The Toyota 4Runner comes with a locking rear differential. This feature means that you can lock the rear wheels, but the front still uses a standard differential. As we said at the beginning, not all editions come with this option. Let's find out which features does the 4Runner model range offer. 
Which Toyota 4Runner Comes With 4WD and Locking Differentials?
The Toyota 4Runner comes in several editions, from the basic to the most equipped, to suit most needs. But these levels don't only vary on the inside. They also come with different mechanical components. The following table explains how Toyota configures the different Toyota 4Runner trim levels. 
| | | | |
| --- | --- | --- | --- |
| Trim Level | 2WD | 4WD | Locking Rear Differential |
| SR5 | Standard | Optional | No |
| SR5 Premium | Standard | Optional | No |
| TRD Off-Road | No | Part-time | No |
| TRD Off-Road Premium | No | Part-time | No |
| TRD Pro | No | Part-time | No |
| Limited | No | Full-time | Yes |
| Nightshade | No | Full-time | Yes |
As you can see from this table, there are plenty of options if you're looking for part-time 4WD. So, if you want to challenge yourself and explore the wilderness, the 4Runner might be a good option for you.
There are aftermarket lockers you can buy. Always remember that any modification can void the warranty or alter your insurance conditions. Before you install a locking differential, please find out how it could affect these aspects. Read our article on the topic.
And, as we mentioned before, there's another trait that makes this car a good option for adventure. We're talking about how its construction.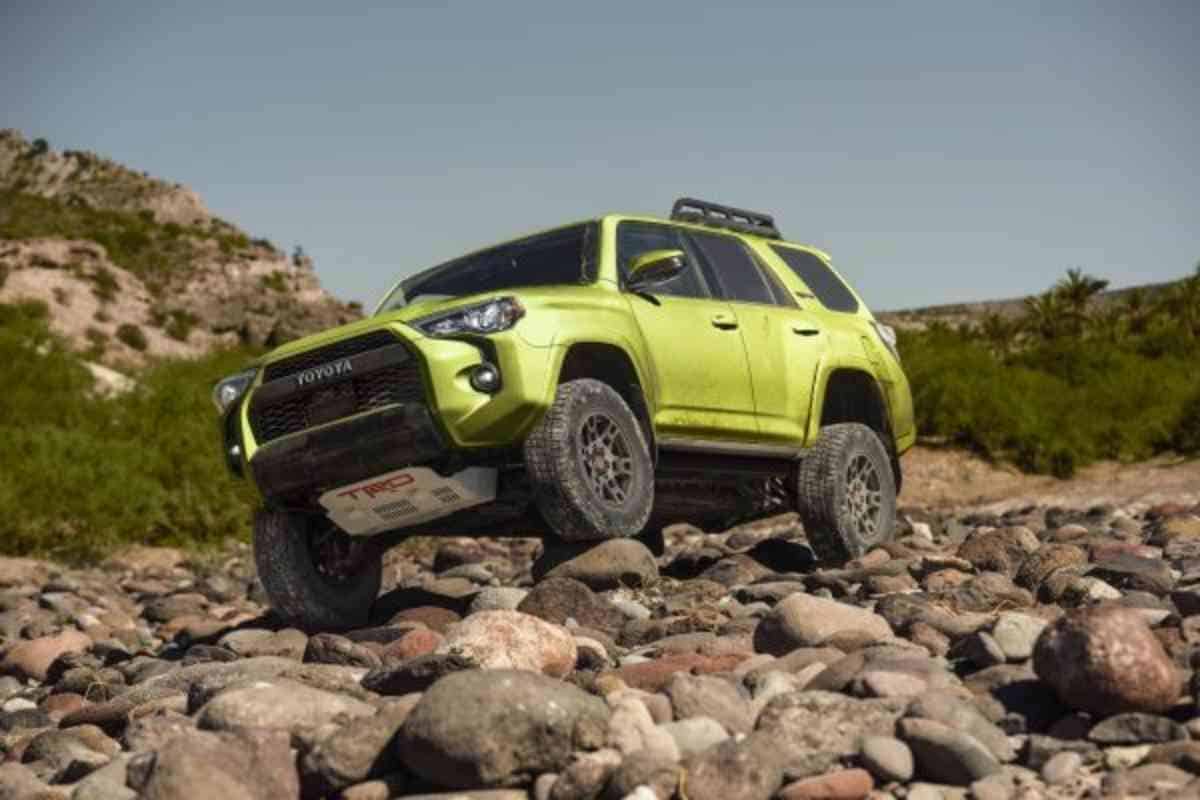 Is the Toyota 4Runner Body-On-Frame?
The Toyota 4Runner is body-on-frame. Toyota loves this construction because it allows for more rugged vehicles. In addition to the 4Runner, the Japanese manufacturer also uses body-on-frame with the Sequoia, Tacoma, Tundra, and HiLux.
There are plenty of benefits to this construction process. For the manufacturer, it's easier to design vehicles that can fulfill many needs but use one frame (changing from an SUV to a pickup, for example).
The frame can also protect the transmission and engine components from rocks. But, in the case of the 4Runner, the most important benefit of a body-on-frame construction comes with off-roading.
Thanks to the rigidity of having a metal frame underneath it, the Toyota 4Runner can withstand higher flexing loads. For example, if navigating across a rocky path, it's less likely to suffer structural damages. The Toyota 4Runner can pull a lot. We've written about its towing power in this article. 
But it's not a perfect design. The 4Runner is heavier than some of its unibody rivals, so the fuel economy isn't the best in its class.
Plus, body-on-frame vehicles have a higher center of gravity, which translates to worse on-road performance. Many reviews have highlighted that the 4Runner is choppy at highway speeds and can handle clumsily in corners.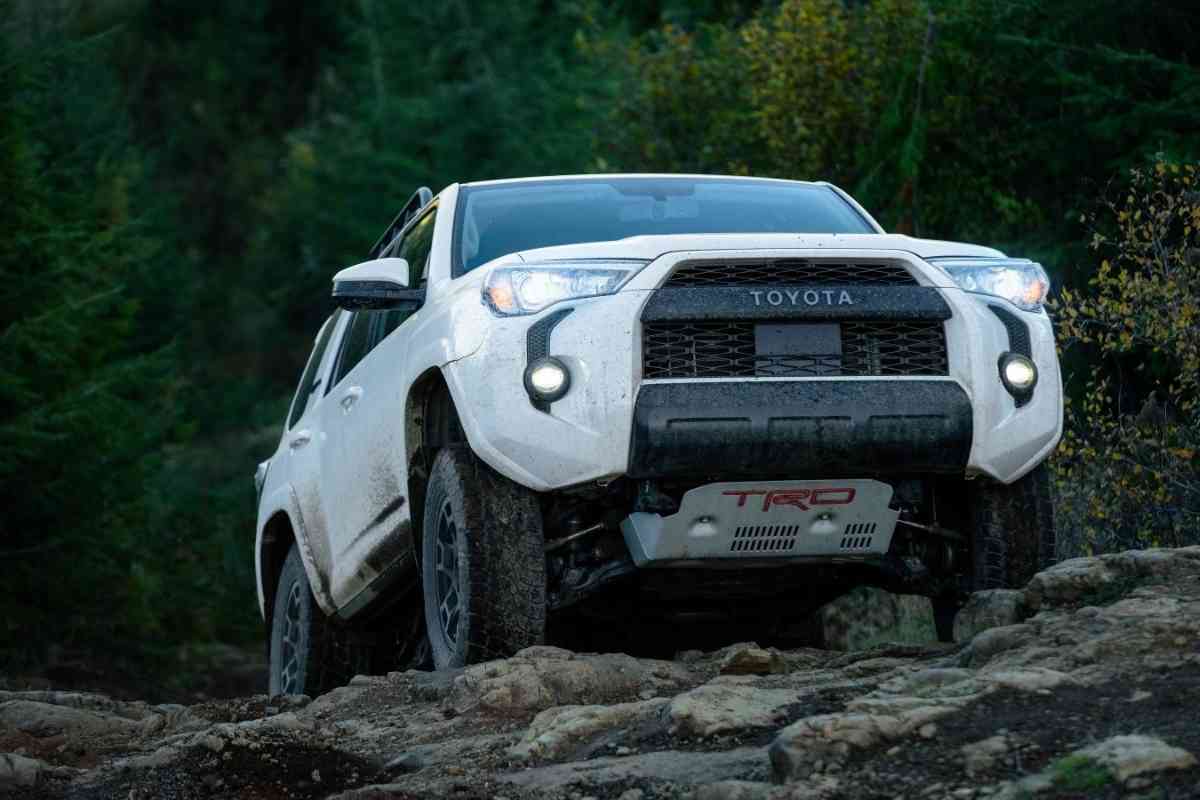 Though the 4Runner comes with a reliable engine, it's outdated. Read our article on how reliable this car is. If you combine an obsolete engine and transmission with poor handling, the 4Runner isn't for everybody.
More 4Runner Resources
If you enjoyed reading about the Toyota 4Runner, you will surely appreciate my other related articles. These articles delve deeper into specific aspects of the 4Runner such as its off-road capabilities, interior design and technology features. Additionally, I have compared the 4Runner to other popular SUVs in its class to help you make an informed decision about your next vehicle purchase. Give them a read; I am sure you will find them as interesting and informative as the first article.
Closing Thoughts
This article helps you understand which Toyota 4Runners come with four-wheel drive. We saw that the two most basic versions, the SR5 and SR5 Premium, come with 4WD as optional. The rest of the trim levels offer either part-time or full-time 4WD. 
We wanted to explain how 4WD works in most vehicles to understand how it can improve your chances of getting out of challenging terrain. The Toyota 4Runner not only offers 4WD but can also come with the necessary tools to further increase its off-roading capability. 
We also explained how the top-of-the-line Nightshade and Limited editions come with full-time 4WD and locking rear differentials. These features make these the most capable off-roaders of the entire 4Runner lineup. 
Besides 4WD and locking rear differentials, the Toyota 4Runner also benefits from body-on-frame construction. The entire body rests on a steel frame. This frame allows for more structural rigidity, higher ground clearance, and the ability to tackle more challenging terrains. 
Yes, the 4Runner has an outdated engine and transmission. But it also has features that many SUV no longer offer. The Toyota 4Runner's construction makes it a rugged, dependable SUV that can go anywhere you want to. Plus, with Japanese reliability, it can last for hundreds of thousands of miles.