Is The Toyota 4Runner Big Enough to Sleep In?
This post may contain affiliate links. As an Amazon affiliate, I earn from qualifying purchases.
The Toyota 4Runner is one of the most unique vehicles on the road. People who own 4Runners are likely to be outdoor enthusiasts and want to be adventuring as much as possible.
That has led to some people thinking about sleeping in the actual 4Runner itself as opposed to hauling some sort of trailer with their vehicle. While it's not the most traditional option, it definitely comes up a fair amount when people start to think about doing it. Are these people crazy or would it be easy to sleep in a Toyota 4Runner?
We've got all the answers and information that you need right here:
Is The Toyota 4Runner Big Enough to Sleep In?
The Toyota 4Runner has enough room in the back to sleep in when you fold the rear seats down that you could roll out sleeping bags or even fit an air mattress or portable mattress of some kind. Some people who are committed to sleeping in the rear of the vehicle will build a sleeping platform, which makes sense if you are making this a regular thing.
Whether you're building an entire sleeping platform, trying to catch a quick snooze on a road trip, or you're somewhere in between, you should be able to figure out a way to make this work if you have a Toyota 4Runner.
If you've been thinking about this problem and you're currently deciding whether to buy a 4Runner or not, you will want to keep reading as we have all of the best information about the 4Runner for prospective buyers.
The Toyota 4Runner Overview
The 4Runner can serve a few different purposes with relative ease. It's got room for seven people so for parents looking for a family hauler, they should be pleasantly surprised by the overall package that the 4Runner represents.
However, the 4Runner is much more than a simple family vehicle. It's got a great ability to go off-roading and it can serve its purpose when hauling something as well with a healthy towing capacity. It may not be the most refined SUV in the marketplace, especially when you look across at some different models in the industry, but there are a lot of people who swear by the 4Runner before those other vehicles.
The 4Runner is a truck-based SUV which seems to give it a good fit in the industry as people want something that is a bit more rugged than the more traditional crossover SUV options.
Toyota has also been working to improve the 4Runner to bring it into the modern era. They continue to add safety and technology features that should make consumers more comfortable when looking to purchase a modern car.
While it may not be an extremely polished SUV, it definitely gets the job done and leaves consumers happy. It's got a ton of "actual" usability and utility, especially when you consider that it seats 7.
That's going to be one of the biggest factors with the 4Runner and it has to be factored in to every part of the vehicle. The big size of the vehicle is why we see people thinking about setting up a sleeping platform in the back of the 4Runner.
It's actually large enough to handle some unorthodox uses and if you can sleep in the back, then you can certainly bring all of the cargo that you're looking to bring on a camping trip as well.
Regardless of whether you are going to use this as a traditional SUV and haul some kind of trailer or set up camp right in the back of the vehicle itself, the 4Runner has a lot to offer.
The Toyota 4Runner and Comfort
When driving the 4Runner, you basically get the experience that you are expecting when it comes to the performance of the vehicle. It's not super fast, but the engine feels pretty smooth when trying to push it. Again, it's a bigger vehicle so that has to be weighed into consideration here with the engine.
When using the brakes, you may feel that they are a bit touchy especially if you are trying to use your brakes in a hard way, but it is nothing that can't be solved once you drive it for awhile. The 4Runner corners quite well and has a lot of stability and doesn't feel shaky at all. Obviously, smaller vehicles can out-maneuver it some, but that's to be expected.
If you are someone who is looking for less comfort and more rugged ability, the 4Runner shoots up the charts. It's a beast when it comes to the off-roading experience and those who are serious campers are going to love it.
The 4-wheel drive system lets it attack trails effectively, the high ground clearance will keep you from getting stuck, and TRD features just add to its off-roading ability.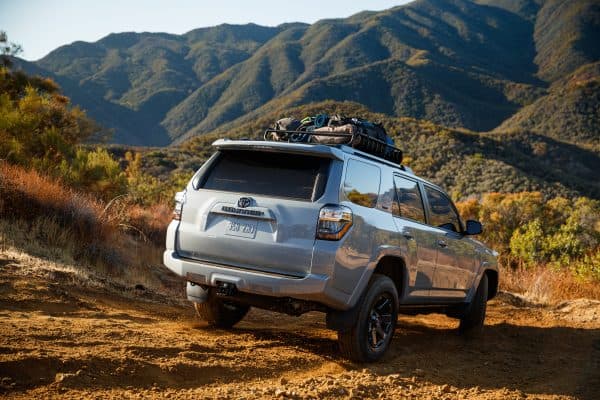 While driving on the "regular" roads out in the world, the 4Runner has some work to do. While it might be comfortable to put a bed in the back of the vehicle and get a nice night's rest, its performance on the road is less than ideal.
The fact that its body is built like a truck gives you comfort that makes you feel like you're riding in a truck. It's pretty bouncy and can be a very stiff ride. It's not the worst vehicle we've ever touched by any means, but many other SUV's will be more comfortable.
Speaking of other SUV's, they'll be a lot less noisy than the 4Runner as well because of the 4Runner's relatively tall and boxy shape. The noise doesn't come from the tires as much as it does from wind and the window areas.
The Inside of a Toyota 4Runner
We've already discussed that the interior of the 4Runner is quite spacious, so much so that you could set up shop in the back of the vehicle and have yourself a sleeping platform. But how does the rest of the vehicle perform when it comes to interior features and comforts?
Aside from being tall, which leads to a lot of wind noise, the 4Runner is a fairly pleasant place to be. That height also can make it hard for younger or less-mobile passengers to have a bit of a rough time getting in and out of the vehicle. It's not much different than a regular pickup truck, however not many people buy SUV's thinking that their kids will have to get up into a pickup truck body.
However once you're inside, you should feel pretty comfortable. From the driver's seat, you'll find controls that are easy to use and a driving position that can be customized to be comfortable no matter what size you are.
That driver seat has got some great views out ahead of the vehicle, but it also is easy to see through the rear and to the sides as well. Obviously, there's a ton of space throughout the interior of the car so passengers should stay comfy.
The newest 4Runner models have seen an increase in the technology in the cabin of their vehicle. They have rightfully started to realize that they can't continue to offer almost nothing in terms of tech.
This year's 4Runner has a new touchscreen system that has a larger screen and a clear layout that helps the driver get things done faster and with less confusion.
Trying to drill down through different options in confusing menus is basically gone. As most modern vehicles have done, the 4Runner has finally got on board with the Apple Car Play and Android Auto systems that will make connecting your smartphone fairly easy.
On top of these technology upgrades, Toyota has also implemented more safety aids for the driver. These are important as we continue into the modern era of vehicles so that all drivers can help to keep each other safe out on the road.
Even though these vehicles are great off-roading rugged vehicles, no one is indestructible on the road and it's a great step from Toyota to help keep more people safe.
We've already touched on the cargo area being quite large, large enough to sleep in, and this model is great for anyone who needs a ton of space whether that's for 2 people or 7 people. The cargo area is very accessible as well because you can open the hatch or simply lower the power rear window.

The 2nd row has room for car seats in any of the three available spots. The door openings have a lot of space but are going to be a challenge for smaller children.
While we have discussed the ability to sleep inside the 4Runner itself, it should be noted that the vehicle can actually tow up to 5,000 pounds. That number would allow it to tow a lot of things including most boats and a lot of smaller trailers.
If you haven't thought about adding a trailer to your options, you definitely should because the 4Runner can tow a lot of different brands and models successfully with its pretty solid towing capacity.
Other Information About the 4Runner
The Toyota 4Runner doesn't do a great job with fuel mileage. It averages 17 miles per gallon which is a few mpg worse than its competitors in the marketplace. The number isn't bad enough that it will be a dealbreaker for people, but it should be taken into consideration.
On top of its fuel mileage, it also simply costs more than a lot of crossover SUV's that it competes again. However, for that extra money you get a lot more performance in the off-roading / towing areas. That will be a question for individual buyers if they want more performance or more bang for their buck.
The 4Runner has traditionally had resale value that holds up quite well – so your investment may pay off well if you take good care of your vehicle.
It's a vehicle that is designed to be great when off-roading. For a serious camping enthusiast who needs a lot of space, the 4Runner aligns with what you're looking for quite well. It's unique blend of an SUV that can handle the tough world that trucks find themselves in often.