One of the first things that people want to know about their off-roading vehicle is about the traction the vehicle gets and will it be able to tackle tricky situations on the trail?
The Toyota Tundra is definitely a pick-up that can handle itself off-road. That's a great asset for those owners who are ready to go anywhere and tackle anything.
We're taking a look at the Tundra's traction so that you can be sure your tires will keep you moving no matter where you are at. We'll get into the locking differential system and show you if the Tundra is a vehicle you can trust to keep moving.
Does the Toyota Tundra Have a Locking Differential?
So, does the Toyota Tundra have a locking differential? No, the Toyota Tundra does not come with a locking differential. Instead, the Tundra uses something known as "Automatic Limited Slip Differential".
Most vehicles don't actually have a locking differential – they operate with an open differential which could also be known as a standard differential or a standard open differential.
In this open differential system, the engine sends power to the axle which will cause the wheels to spin at different speeds in a corner.
This makes sense for most situations because the outer wheel needs to be spinning faster because it has more distance to travel along the outside of a curve. Obviously, it is the standard because it works for most vehicles, however off-roading is not a common use for any or all of these vehicles.
Generally speaking, the wheel that gets the most power is the one that has the least traction. This is the system that most two-wheel-drive vehicles will have because they are simply looking to travel from Point A to Point B successfully and they don't have any need for a fancier system.
Automatic Limited-Slip Differential In Action [Video]
It also costs more to have a system that uses a locking differential, so again most vehicles opt for the cheaper and simpler solution that will allow them to drive safely in most environments.
A locking differential changes that system. The reason that a locking differential is great for off-roading is because it is much more common for a wheel to lose grip on the ground or to even be airborne.
In that situation, your open differential system would continue sending more and more power to the wheel that is either completely airborne or maybe is just struggling to get traction.
Adding more power to that is less than helpful, especially if you had an airborne wheel which would be the most extreme situation.
That wheel would receive more and more power while they wheel that is firmly anchored on the ground could be fixing the problem if it was receiving power. Unfortunately, with an open differential it would be simply stationary because the system would route all of the power to the wheel that can't get any grip.
When your vehicle has a locking differential, you continue to get power evenly to all of the wheels. That means that if one wheel has a bad grip on the terrain, your other wheels should be able to compensate.
Although it may not be the smoothest option, it will keep you moving so you can go ahead and tackle the rest of the trail.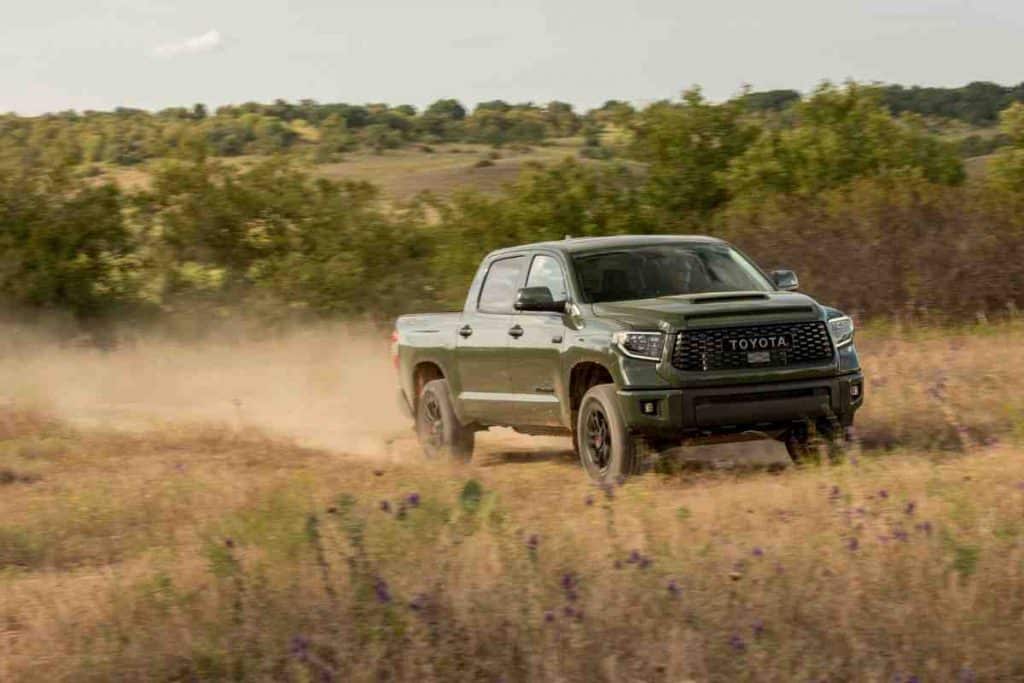 In vehicles today, there are two different systems when it comes to locking differential. There are systems that are automatic and there are systems that let you select when each system will be used.
Now that you know what a locking differential is and what it does for your vehicle, we can discuss the Toyota Tundra and figure out if the set up will work for your off-roading needs.
Do Toyota Tundras have locking differentials?
What seems like a simple question is actually a lot harder to answer in theory. To start with, the Toyota Tundra is equipped with a lot of features that should keep you moving regardless of where you are off-roading.
The Toyota Tundra uses a sort of substitute for its locking differential problems. That's not a bad thing, but you should understand how it works and what it means for you when it comes to off-roading.
The Tundra uses something known as "Automatic Limited Slip Differential". Immediately, some consumers may be frustrated by anything that happens automatically, but the system has a good reason for being this way.
This "Auto LSD" system, as its known, is able to use its rear brakes to emulate the action of a mechanical limited slip differential while also being a lot easier to use and maintain.
That's good news for consumers who are looking to have this Tundra for many years to come. What this system does is add some brake pressure to the wheel that is slipping or doesn't have traction.
Instead of pushing engine power towards it (or towards other wheels), it is able to add traction by trying to lock it in place temporarily and letting the other wheels keep the Tundra moving forward.
The wheels that have grip will have more power for the moment and help you get out of whatever situation your Tundra may be in. This system helps any Tundra vehicle including those that are 4×2 for some really good performance.
On top of this Auto LSD system, the Tundra also has 4WD Active Traction Control, or A-TRAC. Essentially this system helps regulate the traction between front and rear wheels and can really improve your grip if you are in a situation that doesn't offer a lot of natural traction.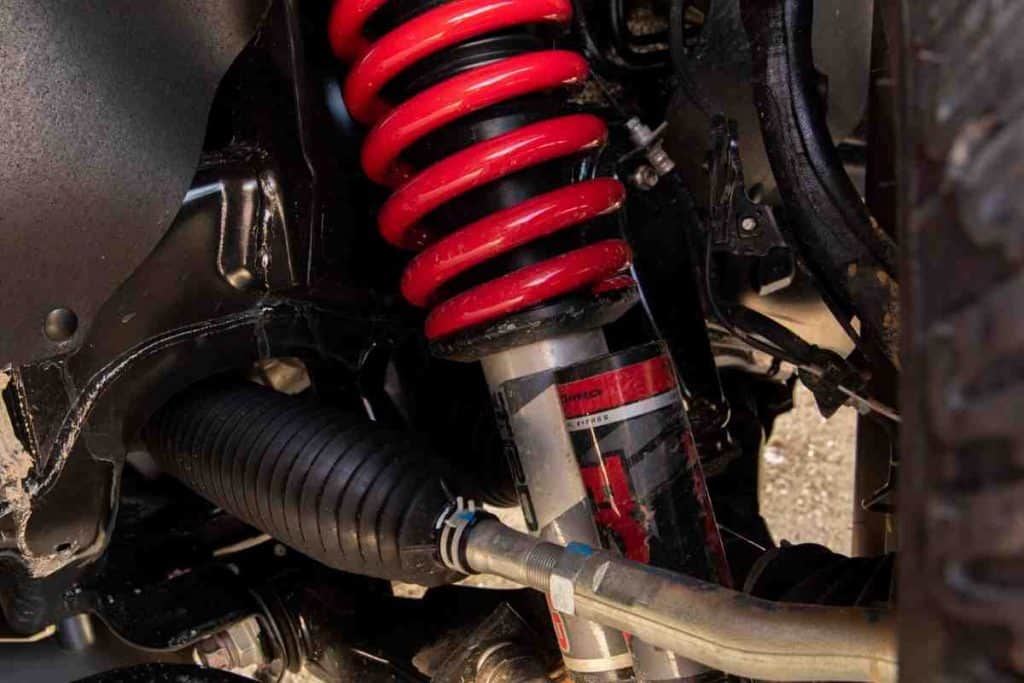 While these systems may not be what every consumer prefers, they do a nice job of helping your vehicle maintain its grip in tricky off-roading situations.
It is not exactly a locking differential system in the traditional sense, however the brake pressure that is applied to the wheel without grip is very similar to the effect that the system aims to provide.
The Tundra provides a great pickup that can handle off-roading situations quite well. Regardless of how it gets the job done, the Auto LSD system helps you keep your wheels moving regardless of where your truck is at.
Does Tundra have Limited Slip?
Yes, the Tundra uses an Auto LSD system to provide traction regardless of the environment the truck is in.
This system helps the wheels keep moving by using brake power to try to generate some traction momentarily in the wheel that is slipping and then letting the vehicle's engine power go to other wheels that are actually able to get the truck moving.
This system has been proven to be quite effective when managing trails and any other kind of off-roading in poor environments.
What is the TRD package on a Toyota Tundra?
The TRD is an off-road package that adds all of the off-roading capability that has been discussed here.
It is available on all Toyota Tundra models outside of the SR. This also may refer to the "TRD Pro" trim package that can be seen available in Toyota Tundra models.
You'll also see "TRD" listed on a different number of upgrades and options from floor mats to performance shocks. Simply put, if you see TRD next to something it is probably Toyota's way of saying that it is the best of the line that they offer.
Serious off-road enthusiasts may want to upgrade to the TRD Pro package that offers a special suspension to deal with all of the rocky off-road terrain you'll be facing.
However, you can upgrade to the TRD Off-Road package with models starting at the Toyota Tundra SR. Your individual choices will probably come down to your financial budget and what trim package you like as well as what you are looking to put into your Tundra.
One thing is for sure, if you see that a package is labeled as TRD you can be sure to expect excellent performance from it.
What's the difference between TSS and TRD?
TSS stands for Toyota Sport Series while TRD stands for Toyota Racing Development. Somewhere along the way, TRD became the branch of Toyota that deals with a lot of the off-roading performance as well because almost every upgrade that improves your off-road capabilities is marked as "TRD".
The TSS packages can help you upgrade your vehicle, however these items tend to be more cosmetic than the TRD upgrades. TSS generally refers to upgraded floor mats or exhaust system upgrades.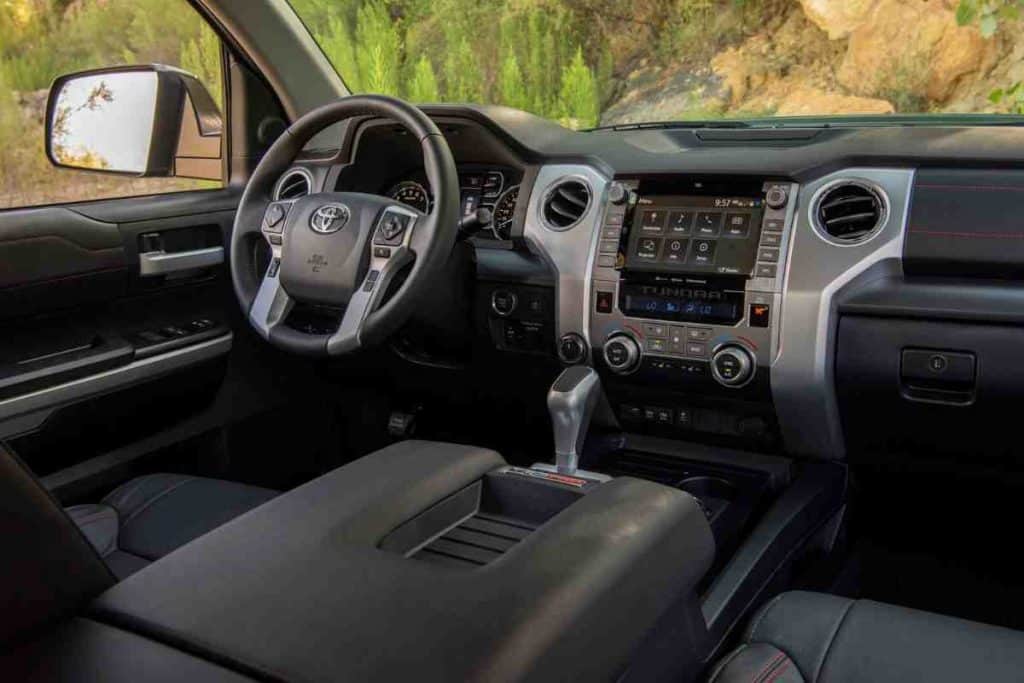 The TRD upgrades are the ones that can really improve the off-roading capability of your Tundra. While these may also be cosmetic in nature, they are usually focused on improving what you can really do out in the wild.
Conclusion
The Toyota Tundra uses an AUTO LSD system to keep your wheels moving when they start to lose traction.
Their system focus on brake pressure to keep the engine sending efficient power to wheels that are able to do their jobs. That works well to keep the Toyota Tundra moving smoothly. (or as smoothly as possible)
The TRD Pro Package featured on the Toyota Tundra is one of the best in the industry and represents an amazing off-road vehicle which has a ton of towing capacity and power.
Toyota Tundra Accessories!
Bestseller No. 1
JDMCAR Center Console Organizer Compatible with 2014-2019 2020 Toyota Tundra Accessories, Insert ABS Black Materials Tray, Armrest Secondary Storage Box - Full Tray
【SIZED TO PERFECTION】the center console organizer Fits for 2020 2019 2018 2017 2016 2015 2014 Toyota Tundra ,Including SR,SR5,LIMITED,Platinum,1794 Edition and TRD Pro.MUST-HAVE Tundra Accessories.CHECK FIRST: If your TUNDRA original center console comes with a small organizer which rides on TWO RAILS ( two rails positioned at the front and back of the box) ,the JDMCAR full sized tray will NOT fit.
【LASTING DURABILITY】Made from ABS plastic with matte finish.
【NO RATTLE】This tray fits the inside shape of the center console tightly so it wont make rattle. Removable coin case holds coins tightly,which is easy to put in and take out.
【NO-SLIP】No slip,removable,rubber tray liners prevent items from sliding and rattling in tray.
【INSTALL IN A FLASH】 Same size with original center console, install directly, no need to modify.JUST few seconds,your Tundra center console will be more ORGANIZED.
$1.00
Bestseller No. 2
Auto safety Tailgate Insert Letters for Tundra 2014-2020 3D Raised Zinc Alloy Rear Emblem Decals with 3M Adhesive(Matte Black)
✔ 【PERFECT OEM FIT】Fits for Tundra 2014-2020. They fit the recessed area of the letter perfectly and make your truck POP!!!
✔ 【 LOOK FANTASTIC 3D METAL LETTERS】Made of high quality Zinc Alloy with nice depth and heavy duty. More strong and reliable than the flimsy plastic and vinyl letters.
✔ 【EASY INSTALLATION】Only take 2 minutes to install the letters on your truck tailgate. It is better to warm up the paste position and 3m adhesive with a heat gun before applying them to your vehicle.
✔ 【GENUINE 3M CERTIFIED ADHESIVE】The tailgate inserts are very easily clean with soft cloth, soap and warm water. Are these car wash safe? Yes, make sure to clean the paint before installation and they won't come off!
✔ 【SAFE PACKAGE】Each letter is inserted into a foam slot giving full protection from damage. NO-RISK PURCHASE! 30-DAY MONEY-BACK GUARANTEE.
Bestseller No. 3
Tyger Auto T3 Soft Tri-Fold Truck Bed Tonneau Cover for 2014-2020 Toyota Tundra Fleetside 5.5' Bed TG-BC3T1432
US Design Patented
Cover is dual-coated and made out of heavy duty 24oz. marine-grade vinyl, with aircraft-grade aluminum frames, and comes with stainless steel clamps for easy installation and great durability.
pre-assembled horizontal crossbars offer support and conveniently fold up with the cover providing full bed access when needed.
Easy no drilling installation with instruction and mounting hardware provided. | NOTE: Small holes will need to be cut in the bedliner for vehicles equipped with over-the-bedrail bedliner to secure the clamps for proper cover installation; cover will work with under-the-bedrail bedliner without modification.
LIMITED LIFETIME ! | IMPORTANT: Please measure your truck bed size before ordering. We accept returns; however customer will assume the return shipping cost if ordered wrong.