What Are The Pros And Cons Of Owning A Jeep Wrangler?
In this article, Lisa covers the pros and cons of owning a Jeep Wrangler.
If you are reading this article, you are probably a jeep owner or looking to buy one. With that said, I want to address the one question I get from my non-jeep owning friends. Why do you love your Jeep Wrangler so much? If you own a jeep, that question is amusing, why wouldn't you love it? I understand driving a jeep is not for everyone, it takes an adventurous soul with attitude.
Sprinkle in the need for freedom to drive anywhere, and the ability to tackle the open road with the wind in your hair, and you have a jeep owner. However, for those still unsure about owning a jeep it is important to address the pros and cons of owning a Jeep Wrangler.
To be honest, owning a Jeep Wrangler has been a pleasure for me and my husband. This is a great vehicle, one that provides entertainment, on many levels. If you own a jeep you totally understand, there is nothing that compares. However, once you join the club, well, buckle up, and enjoy the ride.
As a Jeep owner, many adventures await you that would not be possible in other vehicles. Owning a jeep gives you the opportunity to explore unchartered lands, the sky is the limit with your jeep and enjoying the open road or off-roading trips, makes it a memorable ride.
There are many pleasures of owning a jeep but there are (if you search hard enough) some negative aspects as well. In this article, I address some pros and cons of owning a Jeep Wrangler. Since driving a jeep is not for everyone, your personality and sense of adventure will play a large role in your decision to drive a jeep. If you are looking for luxury and a smooth ride, then the jeep is not for you.
Jeep History
First, let me give you a little background information on the jeep as it has been around over 75 years. A brand that is indelibly linked to passion, authenticity, freedom, and adventure (how can you not enjoy this ride). It is a direct descendant of the WWII vehicles first introduced in the 1940's to thousands of Allied soldiers around the world. Due to its rugged nature, the Wrangler has some of the best off-road capabilities of any production vehicle. If there is somewhere you want to go, the Jeep Wrangler is the vehicle for you.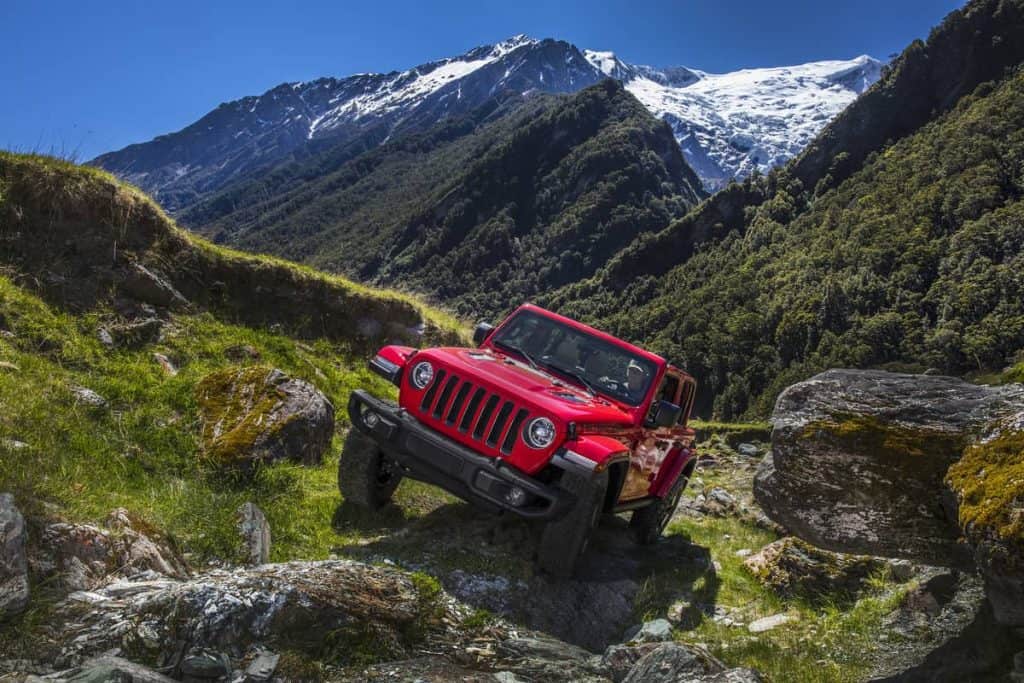 The Wrangler is available in many colors, a wide variety of body styles, and you can select between a two or a four-door model. If a newer model is what you are searching for the 2018's just got a major overhaul. However, if you love the older models, there are many choices to choose from, if you can find anyone willing to give up their jeep.
If you are seriously looking at purchasing a Jeep Wrangler, do your homework, I have listed a few pros and cons of owning a Jeep Wrangler, and what makes them so popular in the jeep community.
The Pros of Owning a Jeep Wrangler
Off-Road Capabilities (Let's start with one of the obvious pros )
Check Out This New 2-Door Jeep Wrangler Offroad In Moab
If you enjoy rock crawling, camping and fishing in hard to reach places, or just seek a great on-road adventure, your choice should be the Wrangler. This Jeep is hands down the best vehicle to put its 4X4 capabilities to the test. It doesn't matter whether you make the trek on your own or with a group of fellow jeep lovers, you will find plenty of off- and on-road weekend (or daily) adventures. There are Jeep Jamborees which bring Jeep Wrangler lovers from all over the country. The Wrangler is not tied down to the season, it is not limited to summer, the Wrangler is great at tackling ice and snow too! The Wranglers are built for durability, lasting for many years, and many adventures filled miles.
Ask anyone who enjoys rock crawling, camping, and fishing in places other vehicles dare not tread, or someone looking to explore the great outdoors. Then look no further, this is the vehicle for you, hands down! You will be amazed at the 4X4 capabilities of the Wrangler. There is a great deal of pride in the ownership of a Jeep Wrangler. The Jeep owner is very loyal to the Jeep name, you must understand and appreciate the history of the jeep and its abilities both on and off-road.
How many vehicles have their own wave? The "Jeep Wave" is a long-time tradition between fellow jeep owners, other drivers fail to understand this tradition. Jeep Wrangler owners have a fraternity of friends for life.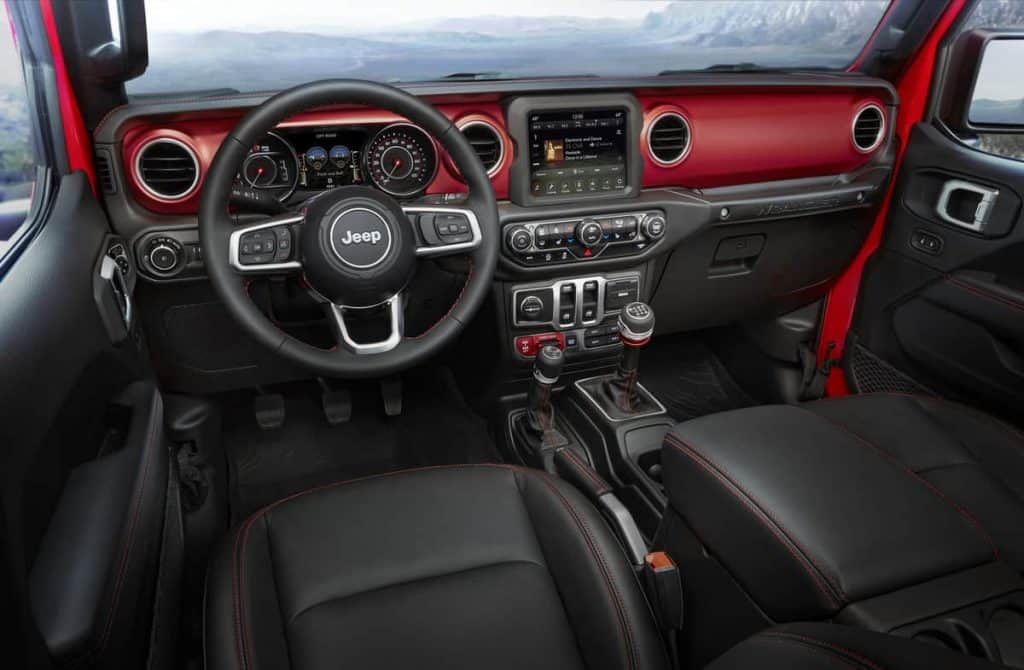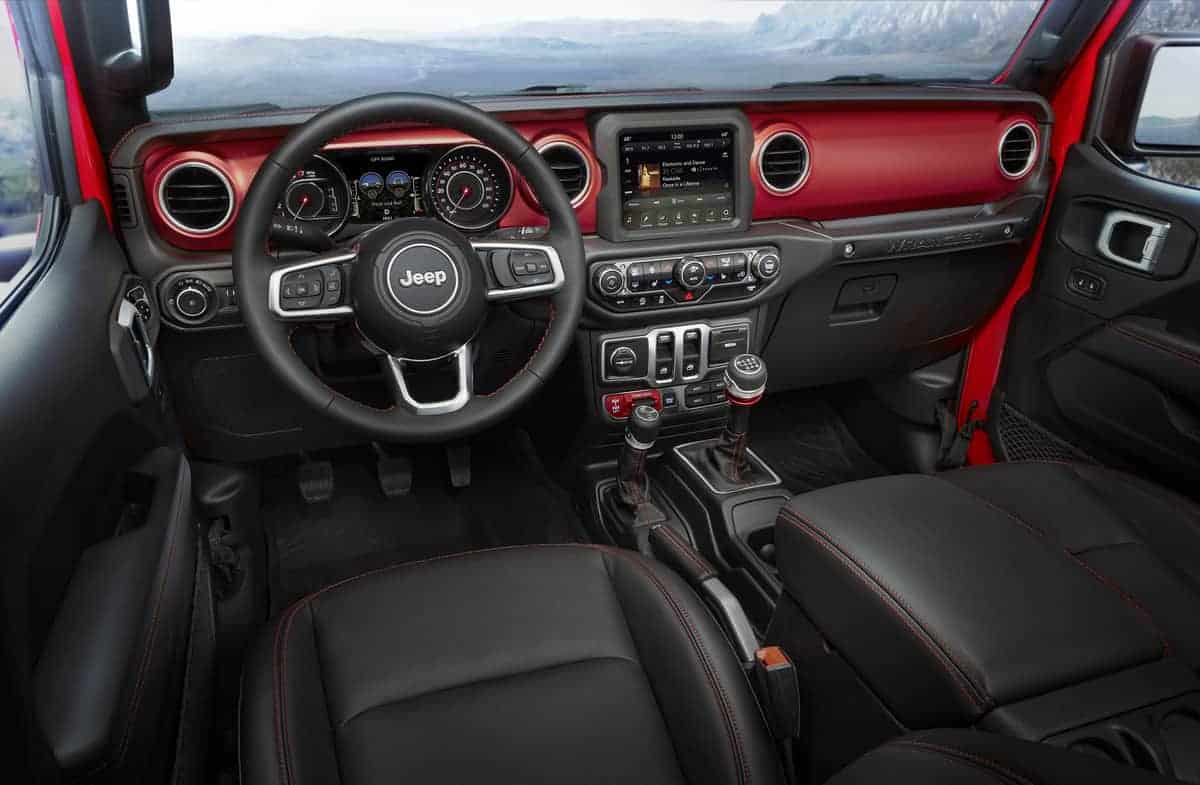 Classic and Rugged Good Looks
With the Jeep Wrangler, you not only own the road, but you look great while you are driving it. Of all the vehicles I have owned over the years, never have I had more compliments than we have for our 2015 Jeep Wrangler. You have many colors, body styles, and options, allowing you to express your personality with your jeep and make it your own!
Speaking of modifications, the Jeep Wrangler is one of the few markets where certain modifications improve the value of your vehicle. Many Wrangler owners want the larger tires, specific wheels, lift kits or aftermarket off-road accessories which can add value to your vehicle.
To see a complete list of accessories we recommended for Jeep Owners see our article, 27 JEEP WRANGLER ACCESSORIES YOU'LL BE SORRY YOU DON'T HAVE! (https://fourwheeltrends.com/27-jeep-wrangler-accessories-youll-be-sorry-you-dont-have/).
Jeep Wrangler Towing Capacity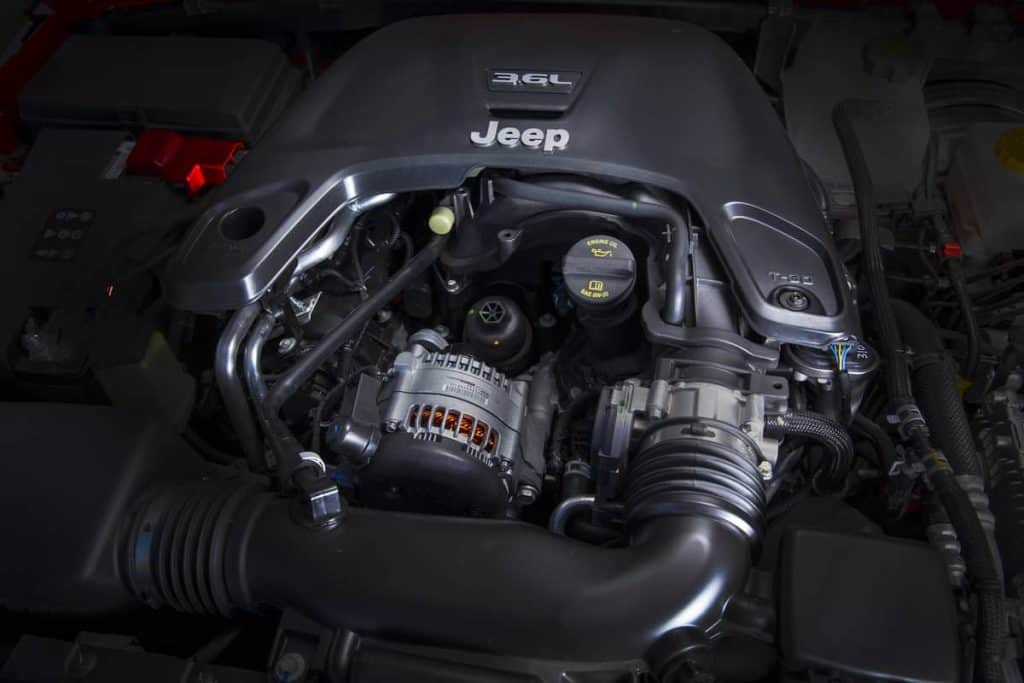 Let's be honest, if you have a jeep, the opportunity will arise on one of your adventures when you run out of room and need to be able to have additional storage capacity. Or you want to take the boat to the lake for a lazy summer day.  
The Jeep Wrangler allows you to tow a trailer or boat behind you enhancing your off-road experience. The 2-door models have a towing rating up to 2,000 pounds for the 4-cylinder or V-6 engines. With the 4-door you can increase your towing capacity up to 3,500 pounds. That is a great feature when you are out enjoying the great outdoors.
Learn more — Jeep Wrangler Towing Capacity for Every Wrangler – YJ, TJ, LJ, JK, JKU, JL, JLU
Durability and Reliability
A feature that is loved by most Jeep owners, is its ability to keep up with the demanding needs of those who love the great outdoors. Wranglers are known for their durability and reliability as they are built to be tough and rugged for heavy-duty use.
This was the initial trait required when the Wranglers were first designed to be used in the war in the military. Since the design of the Wranglers are simple, you as an owner, can work on your jeep and repair it, when things go awry.
Thanks to the popularity of the Jeep Wrangler, aftermarket parts are easy to find, and most are reasonable in price.
Safety Features and Modern High-Tec on an Old School Classic
The importance of keeping you and your passengers safe cannot be overlooked. The Wrangler offers many safety features including a rear-view mirror, stability control, system to monitor blind spots, and you can add on a forward-collision alert system to your Wrangler.
Along with safety, you can cruise the highway (or wherever your travels take you) with your favorite music. There is nothing better than having the wind in your hair and your favorite band on the radio.
Some features available to spruce your enjoyment is an HD touchscreen, available in 5", 7" and 8.4" for your displaying pleasure. Stereo sound systems with eight or nine speakers and fantastic sound quality are available.
You may want to check out the available sound bars that allow you to never miss a beat again as you drive down the road, whether you have the top on or off, hearing your music will not be an issue. Taking the open road will become a pleasurable experience with these great features.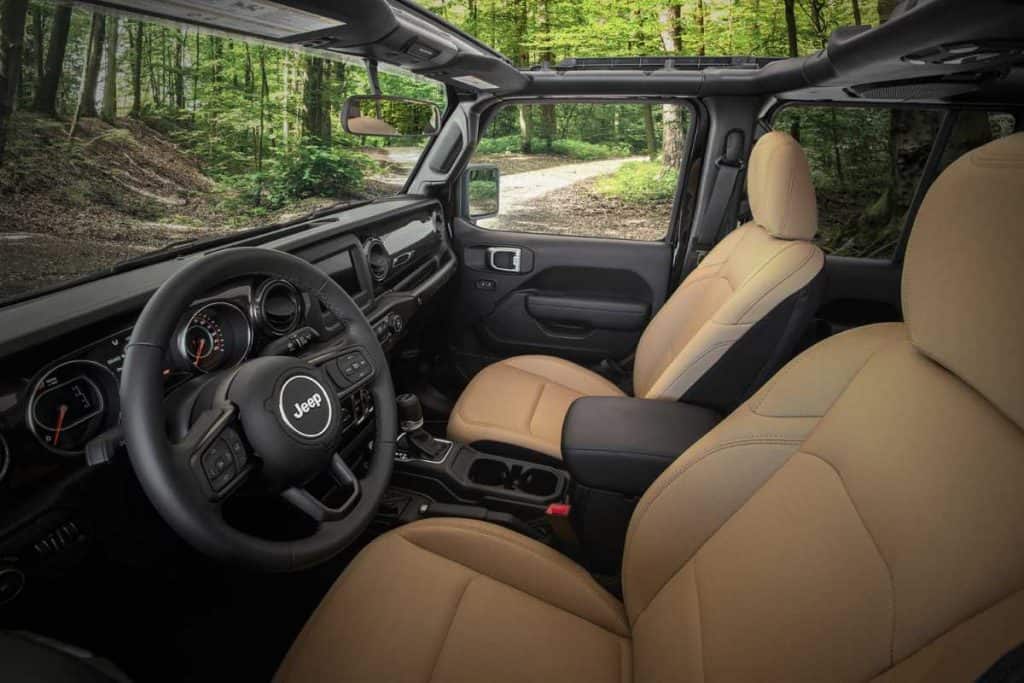 The Cons of Owning a Jeep Wrangler
Anytime you purchase a vehicle there is the possibility of having issues or features that just don't work for you as an owner. Having a downside to the ownership of a Jeep goes back to what everyone should know. Do your homework to ensure the needs you have meet the features offered in a Wrangler.
However, with the Jeep Wrangler, you will see the cons of owning a Jeep Wrangler impact those that would never be a jeep person, or the issues can easily be remedied with accessories or aftermarket parts, to alleviate any inconvenience you may experience when driving your Wrangler.
Practicality as a Daily Driver – (Ride Quality in a Jeep, Ride Comfort, and Road Noise)
Ok, I hear this one a great deal. I think it is important for you as a potential buyer, to consider your reasoning for wanting to purchase a Jeep. If you are looking for a comfy, luxurious, feel behind the wheel, then the Jeep is not for you!
When we bought our Jeep, we wanted a rugged, durable vehicle, one that could tackle the challenges of a great adventure. Our Wrangler has not failed us.  
If you want a quiet ride with seats that lull you to sleep, then you need to look at other options, The Wrangler was not designed for ultimate comfort, however, great strides have been made in the newer models making the seats more comfortable for you adventures.
If you are worried about comfort and road noise, there are aftermarket accessories to help alleviate these "annoying to some" issues. To me it is part of riding in a Jeep.
The Base Trim Package is Bare When Purchasing a New Jeep Wrangler
The purchase of a Wrangler normally does not have a bunch of "extras". The base trim package is enough and economical for many buyers, but it is a bare-bones form of transportation.
If you are looking for utility more than comfort, then you have made a good choice.
However, it is important to note, there are many options and features available to tailor your ride to your specific desires (you will purchase these separately as your budget allows).
Buying A Used Jeep Wrangler Is Not Cheap
So, you have decided to buy a Jeep Wrangler (or at least it is still in the running of options), but you think you will buy used instead of a brand-new Jeep.
When you begin pricing the "used" Jeeps you will notice a pattern, most of them are as expensive as their new base counterparts (some even more). There is a reason for that. Most Jeep buyers have made their modifications and decked out their Jeep to make it their own.
There are numerous aftermarket products that are available for your Jeep Wrangler, each comes with a price, but you are making it your own.
One thing to keep in mind, the Jeep Wrangler hold its value very well, hence the higher prices of the used cars.
If you look at this with a positive viewpoint, doesn't that make it a great investment? For most Jeep owners, if they decide to sell their Jeep within two years of purchasing it, they can get what they paid for it.
Remember I stated earlier, a great feature of the Jeep Wrangler is its ability to improve in value, with certain modifications! You have your choice of numerous trim levels, option packages, color choices, and features, someone has already done some of the work for you!
*How to Get A Great Deal On A New Jeep Wrangler! [Ste-By-Step Instructions]
Limited Storage Space in Your Jeep Wrangler
It is true the Jeep Wrangler does not offer a plethora of space, even the rear seats can be a bit challenging regarding passenger space. But, again, what are you buying your Jeep for?
When looking for off-road capabilities, it doesn't get any better than the Jeep Wrangler. It takes the most mundane outing and turns it into an adventure, they are just fun to drive (and ride in).
If you are really stuck on cargo space, you can find many aftermarket options to help with that issue. In our article mentioned above, we have reviewed a great cargo basket rack that offers versatility to your traveling needs.
I do want to point out as a Jeep Wrangler owner, we are able to pack a great deal of items in our Jeep when we go camping (our tent, 2 large coolers, large cage for our dogs, camping gear, 2 chairs and more).
Bonus Tip: Did you know you could add a 3rd-row seat to your Wrangler? You can also fit three car seats in the back seat! [Full Article]
Poor Fuel Economy
I almost didn't even put this one down. Let's be honest….. it's a Jeep. You are not buying the Jeep to save money on your commute, you can't expect the gas mileage of a Jeep to compare to a gas economy vehicle.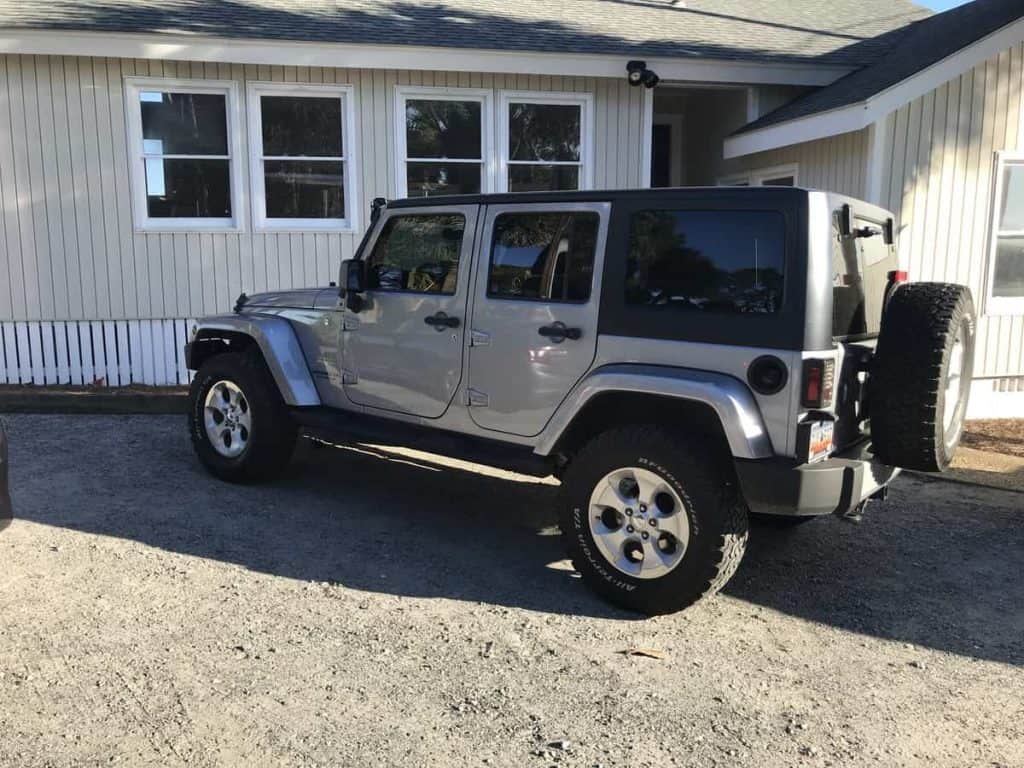 In Conclusion
I believe the Jeep Wrangler is not for everyone, there are enough vehicle choices out there to satisfy everyone's needs (and wants).
One suggestion, if you are considering a Jeep but you or someone else in the family is not sure if the Jeep is right for you, rent one. Take it out and see how it feels to drive and ride in "Americas Favorite Vehicle".
Ultimately, your decision to buy a Jeep or not, will depend largely on your personality, your sense of adventure, and love of tackling challenging roads.
Owning a Jeep is truly about personal preference and having the love of the outdoors with a touch (ok maybe more) of attitude.
When you get the behind the wheel of a Jeep Wrangler the open world is your oyster, you have the freedom to remove the doors, fold-down the windshield, remove the top and make new memories with your ultimate outdoor adventurer's vehicle.