The 2 Main Reasons Why Toyota Land Cruisers Are So Expensive
This post may contain affiliate links. As an Amazon affiliate, I earn from qualifying purchases.
The Toyota Land Cruiser is a pricey but incredible vehicle. But why? Here are some reasons why Toyota Land Cruisers are so expensive.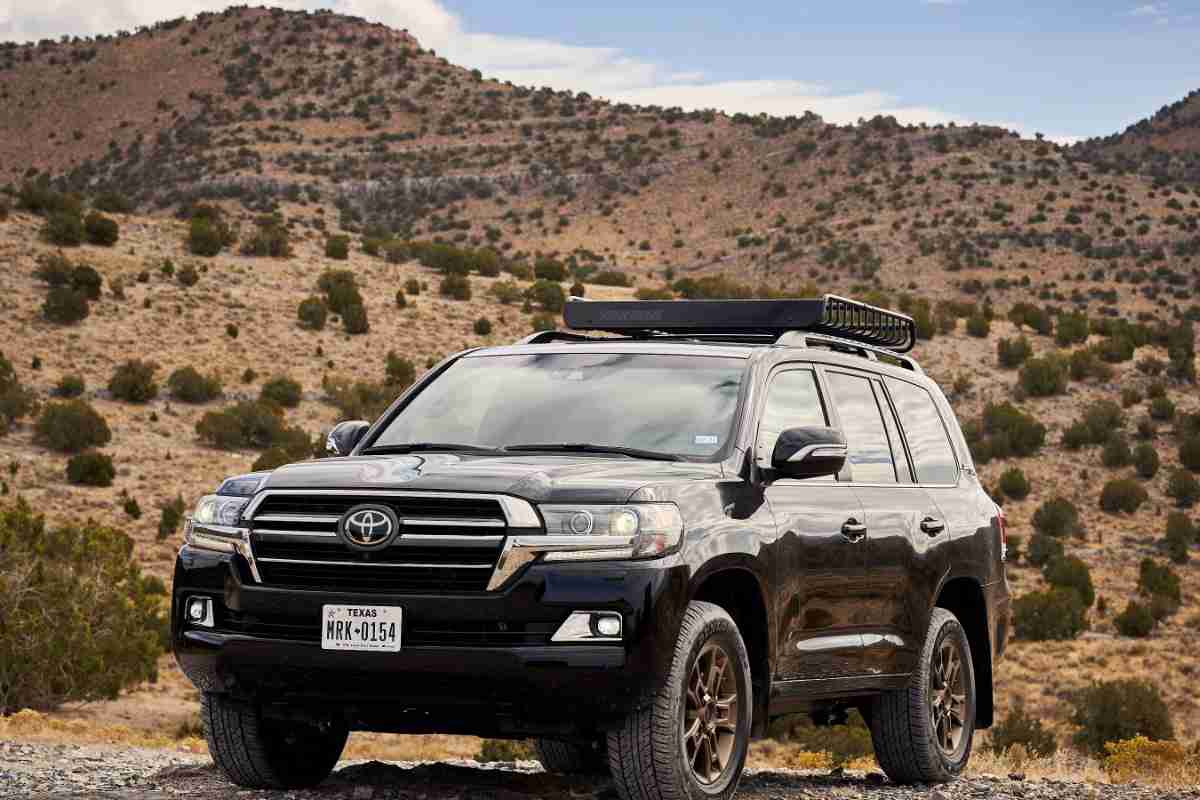 Table of Contents
Why are Land Cruisers so expensive?
There are several reasons Toyota Land Cruisers are so costly. They are reliable, and they also offer great off-roading capabilities. Furthermore, they are sturdy, luxurious, and offer immense security. Finally, the R&D and materials that go into making these vehicles are incredibly pricey.
We have been driving Toyota Land Cruisers for as long as we can remember. With all this experience behind us and having done our research into the production of these amazing vehicles, we're going to provide you with reasons to justify the cost of your Toyota Land Cruiser.
How Much Does a Toyota Land Cruiser Cost?
A brand new Toyota Land Cruiser costs $86,000. If you're looking for a cheaper alternative, you can opt for a 2016 Land Cruiser, which costs around $65,000.
You can also consider getting a 2005 model, which costs around $19000.
How Many Miles Can It Last?
Toyota Land Cruisers are built to last a lifetime, and it doesn't end there. They offer amazing comfort and performance in challenging conditions, especially on difficult terrains.
A Land Cruiser can last anywhere from 200,000 to 300,000 miles.
If you land a land cruiser that has covered 100,000 miles, you're lucky because they are also good as new. There have been cases where people have driven their Land Cruisers 400,000 to 600,000 miles.
Why Are They So Pricey?
First of all, a Land Cruiser is built like a tank. What sets these vehicles apart is the reinforced steel frame and shatter-free glass. Moreover, there are some bulletproof versions available as well.
It may seem exaggerated, but the Toyota Land Cruiser is the strongest and the most versatile SUV ever built.
If you don't know already, the Land Cruisers were built for the US military. They were tested in the harshest conditions and held up pretty well.
Another reason why they are so costly is the luxury aspect, which cannot be ignored. Not only is riding a Land Cruiser similar to driving a tank but the functionality and class of this vehicle are way out there.
The Functionality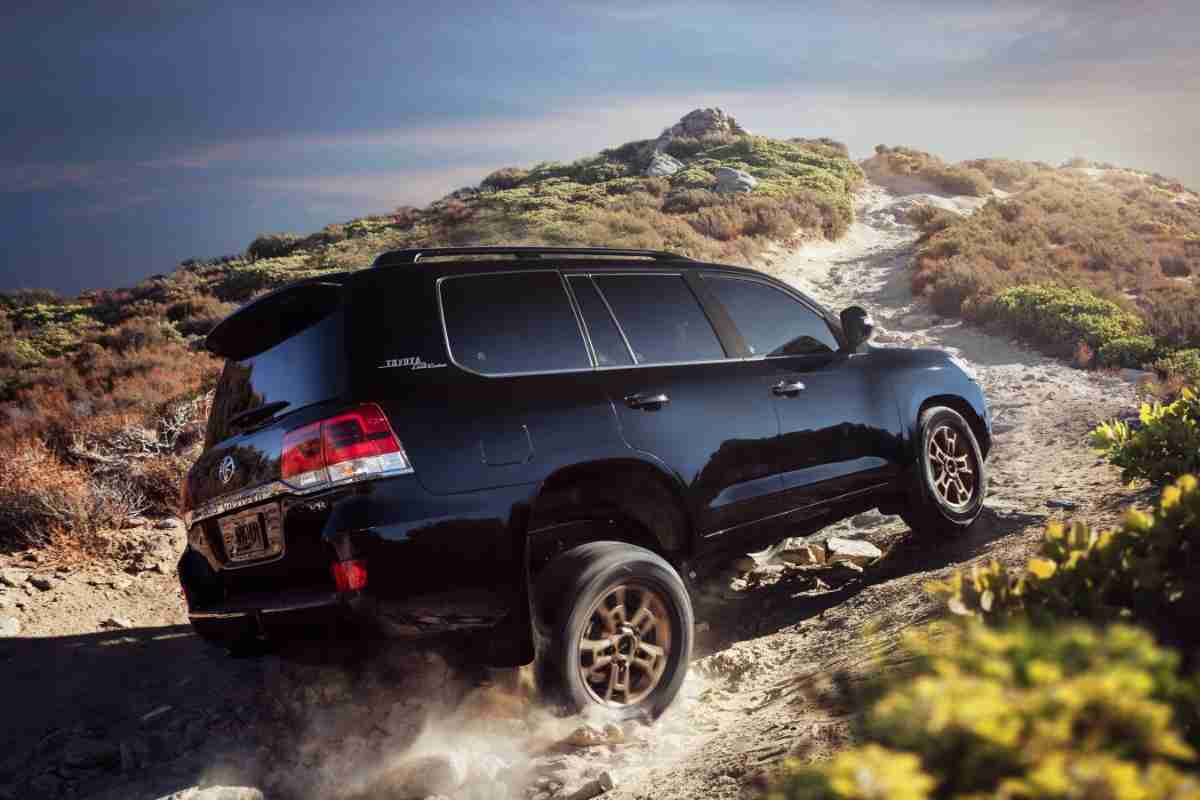 As discussed above, the land cruiser is designed for rugged terrains. If you look at the 2021 model, it has a 5.7 L V8 engine.
Moreover, it offers 401 lb-ft of torque and 382 horsepower.
This four-wheel-drive truck can tow up to 8000 lbs. Also, it has a payload capacity of a little over 1320 lbs. Other features include a crawl control, a limited-slip differential, and multi-terrain select modes.
Another thing setting this vehicle apart is space. This vehicle can accommodate eight people at a time, which makes it the perfect automobile for road trips. It also has a multi-terrain monitor, which offers various camera views.
Moreover, you cannot ignore the safety aspect. This vehicle offers a combination of a reinforced body and a steel frame that serves as a cage. It also has a skid plate that protects itself and the driver.
Furthermore, the vehicle has a total of eight airbags. Another technology in the Toyota land cruiser is blindspot monitoring. It also offers a rear-cross traffic alert.
The Luxury
Another aspect of the iconic Toyota Land Cruiser is the interior. It offers a four-zone climate control, which makes it the ideal vehicle for long rides in remote locations.
It also has a keyless entry system, which makes driving this vehicle even more convenient. Also, the mirrors and steering wheels are heated, making driving easier in chilly conditions.
Some people believe that the Toyota Land Cruiser is a noisy vehicle. Considering the powerful engine it carries, anyone would be compelled to think this way, but the reality is quite different.
The engine of the land cruiser is extremely quiet, which makes the experience more comfortable for the driver.
Where Are Old Land Cruisers So Expensive?
It is sad to know that the 2022 model of the Land Cruiser isn't available in the US. As a result, Land Cruiser enthusiasts are turning to older models that are readily available. This surge in demand has spiked the price of these older models.
From an investor's viewpoint, buying a used land cruiser at this point might help you reap bigger profits in the future as any economist would tell you, the increase in demand and a shortage of supply results in higher prices.
Are They Worth It?
Before getting your hands on a land cruiser, you must ask yourself whether you truly need it. If you are passionate about off-roading or enthusiastic about collecting high-end vehicles, there isn't a better investment today than a used Land Cruiser.
Furthermore, if you have a big family and need a big vehicle to accommodate them, you should consider getting a land cruiser. This vehicle is sturdy, and its comfort level gives it an edge over most modern vehicles.
Affordable Alternatives to the Toyota Land Cruiser
Jeep Wrangler
Jeep Wranglers are often considered more affordable than Toyota Land Cruisers, but that doesn't mean they're not just as capable.
Jeep Wranglers are very comparable to Land Cruisers when it comes to off-road capability. Both vehicles have four-wheel drive and high ground clearance, enabling them to tackle rough terrain.
Jeep Wranglers also have several other features that make them just as good as Land Cruisers for off-roading, including optional locking differentials and disconnecting sway bars.
So if you're looking for an affordable alternative to the Toyota Land Cruiser, the Jeep Wrangler is worth considering.
Toyota 4Runner
The Toyota Land Cruiser is popular for those looking for a reliable, tough off-road vehicle.
However, the Land Cruiser can be quite expensive, making it out of reach for many buyers. The Toyota 4Runner is a great alternative to the Land Cruiser that is more affordable while still offering many of the same features that make the Land Cruiser so popular.
The 4Runner is just as reliable and tough as the Land Cruiser, and it comes with plenty of standard features that will make your off-road adventures more enjoyable.
If you're looking for a Toyota off-road vehicle but don't want to spend the money on a Land Cruiser, then the 4Runner is a great option.
Toyota makes quality vehicles, and the 4Runner is no exception. You won't be disappointed if you choose the 4Runner over the Land Cruiser.
Ford Bronco
The Ford Bronco is a great choice if you're looking for an affordable alternative to the Toyota Land Cruiser.
It's a spacious SUV that can seat up to seven people and has plenty of storage space for all your gear.
The Bronco is also equipped with four-wheel drive, enabling it to tackle any terrain. Whether driving on the highway or exploring a remote trail, the Bronco will get you where you need to go.
Plus, with its built-in navigation system, you'll always know where you are. So if you're looking for an SUV that's both affordable and versatile, the Ford Bronco is the perfect choice.
Key Takeaways
Land Cruisers are designed for extreme conditions and are built to withstand a lot of wear and tear.
Due to their popularity, there is often high demand for Land Cruisers – which drives up the price.
Land Cruisers come standard with a long list of features and equipment, including a four-wheel drive, seven seats, and a large cargo area.
Over the years, Toyota has built a strong reputation for quality and reliability – and the Land Cruiser is no exception.