What Size Camper Can You Pull With A Toyota Tacoma?
This post may contain affiliate links. As an Amazon affiliate, I earn from qualifying purchases.
So, you have your Toyota Tacoma ready for a road trip, and it's got some hauling to do. The problem is that you are wondering if it can really handle your camper with all those toys inside.
Lucky for you, I did some extensive research on the same to help put your worries to rest. The results are presented below.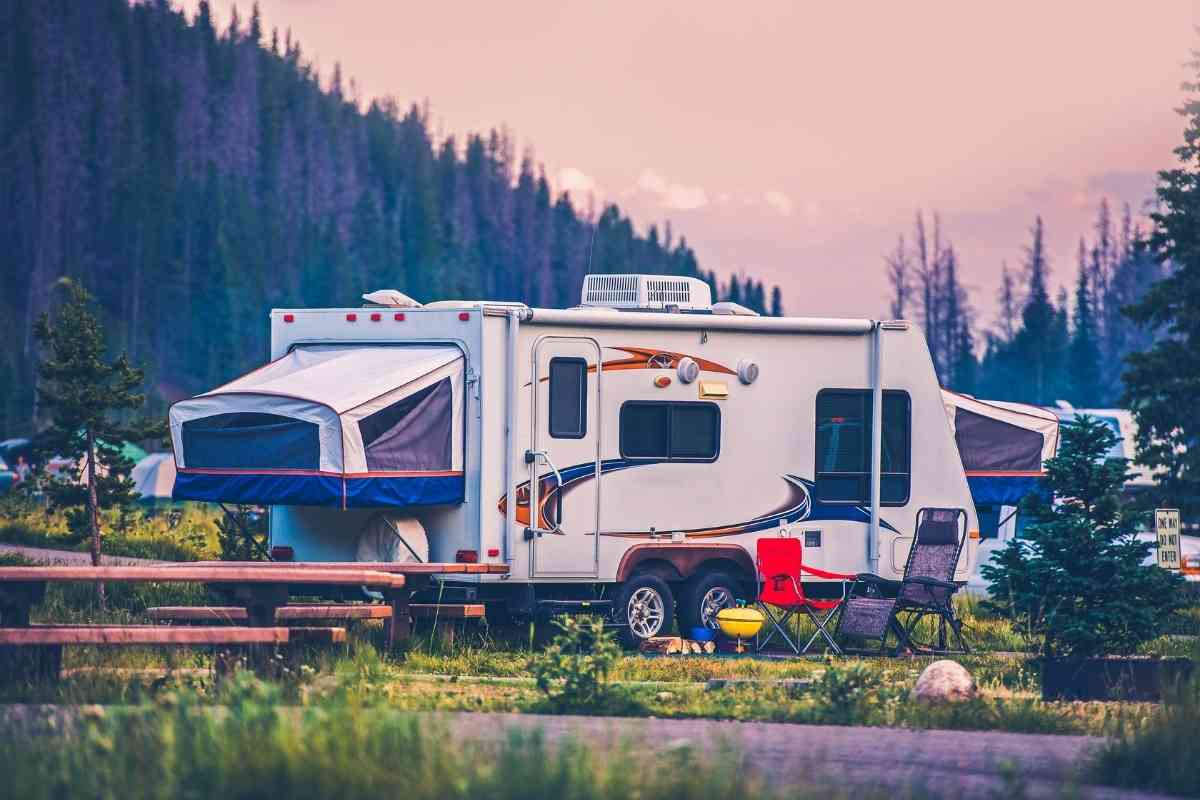 Table of Contents
What Size Camper Can You Pull with a Toyota Tacoma?
Toyota Tacoma can pull campers that range from 3,500 lbs to 6,800 lbs. The wide range is because some models of Tacoma call haul more than others. A Tacoma with a four-cylinder engine can tow up to a 3,500 lb camper, whereas the V6 can tow up to a 6,800 lbs camper.
Now, on to the finer details, because that is not all, there is to what size camper your Toyota Tacoma can pull. You should well be aware that its towing ability really boils down to your truck.
Before you hook your camper and roll down the road, first, you need to understand a little bit more about the Toyota Tacoma's tow capacity.
Can A Toyota Tacoma Pull A Camper? – The Need-to-Know
The Toyota Tacoma is among the most popular trucks for off-roading, thanks to its robust build, capability, and its long-term reliability.
Almost everything about it comes in twos; it is equipped with two transmission options, either a 6-speed auto or a six-speed manual.
But they shook things up a bit in the engine department with different Tacoma models, where you get the 2.7l four-cylinder engine, the 3.5l V6 engine, and the 4.0l V6 engine.
Nonetheless, these trucks are available in Access-Cab or double cab and have two-length options, including five-feet and six-feet long beds. The latter is used by all Access-Cab levels.
As I've already mentioned, the maximum towing capacity is 6,800 lbs. This figure can only be attained if you are driving a two-wheel drive Access-Cab Toyota Tacoma with a V6 engine and automatic transmission.
That means you can hit the max towing capacity with the trim levels SR, SR5, TRD Pro, TRD Off-Road, and TRD Sport trims.
With a 2WD Access-Cab, four-cylinder engine, and auto-transmission, your Toyota Tacoma can net the minimum towing capacity which is 3,500.
The same goes for a 4WD Access Cab with four-cylinder auto transmission and a 2WD four-cylinder engine with auto-transmission with a five-foot bed.
Toyota Tacoma Tow Capacity By Engine
2.7L Four-Cylinder
The 2.7l four-cylinder Toyota Tacoma exclusively carries the six-speed auto transmission. With 180 pounds-feet of torque, its maximum pulling capability, which also happens to be the minimum for all Tacomas, stands at 3,500 lbs.
These 2.7l four-cylinders are available in three configurations, the 2WD Access Cab auto, the 4WD Access Cab auto, and the 2WD double cab with a five-foot long bed.
3.5-Liter V6
The 3.5l V6 engines represent the powerful Tacomas. They sport 265 pounds-feet of torque and can nearly double the towing capacity of the 2.7l four-cylinder Tacomas.
The maximum rating of 6,800 can be achieved with a 2WD Access Cab auto. Coming in second in terms of towing capacity is the 2WD double-cab auto transmission with five-foot-long trim levels at 6,700 lbs.
At 6,600 pounds, the Toyota Tacoma models with the third-highest towing capacity are the 2WD Limited auto double cab with a five-foot bed, the 2WD TRD Sport, and the trim level SR5 auto equipped with a bed six feet long.
The trim levels in this category make some of the best trucks for towing campers, RVs, and boats.
Of course, there's a vast range of options, special features, upgrades, and other modifications that can help you tow better, and the best way you can compare the towing capacities for the different configurations available is by visiting Toyota's website for Tacomas.
Before Towing With A Tacoma
And while, in this case, the towing capacity is of utmost importance, you should remember that ultimately, what you will be able to pull is dependent on things such as:
Tongue Weight
This is a fundamental consideration that should be at the top of your list. If you are not familiar with what tongue capacity is, it simply means the amount of pressure your truck is subjected to by the hitch.
In other words, you should balance the weight of your camper and have more load at the front. If there is not enough pressure exerted on your truck's hitch ball, that's if the tongue weight is lightweight, a trailer sway could result.
Similarly, if the tongue weight is too heavy, then you will have problems steering the camper. Finding an equilibrium between the two will help your Toyota Tacoma and your camper remain stable.
Payload Capacity
It simply refers to the weight of all your toys and other cargo, the passengers, and the tongue weight.
This does NOT include your vehicle's weight. If, for instance, the average payload is 2,000 lbs., with 1,000 lbs. accounting for the passengers and your gear, then the remaining 1,000 will be your tongue weight. 
NOTE: The above figure is just to guide you on what you should consider. The actual towing capacities and the recommended tongue weight is included in your truck's manual.
If you are trying to figure out how much you can tow, here is a suggestion; go for a tongue weight that is between 12 and 15 percent of your trailer's weight. This way, regardless of what you are towing, it will always work!
What If I Tow More Than Recommended?
Well, you shouldn't.
For one, it is illegal.
Second, it's irresponsible and highly unsafe.
Other than that, towing overweight will hamper your ability to brake well. The excess weight alongside the excess strain can cause damage to your vehicle's transmission. Even if you manage to get going, your camper will sway a lot.
Thus, ensure that the weight and balance are correct. Otherwise, you will likely lose control.
Can I Tow A Light Camper With A Toyota Tacoma?
You can tow a light trailer, but this requires extreme caution. You need to be careful because you can still experience trailer sway even with a small size travel trailer.
The tongue weight and payload rules apply. If your truck's hitch doesn't get enough downward force, you might not steer well. Ensure that the load you're carrying exerts enough pressure for stability.
In other words, it is not recommended to tow a lot of weight or too little weight. Both cases can make you lose control of your vehicle.
What Campers Can I Tow With A Toyota Tacoma?
The towing capabilities of a Toyota Tacoma are vast. It can pull all types of loads. It just requires a little bit of math regarding the type of load you have, the equipment, and what camper you are thinking of pulling.
Here are the types of campers you can pull with your Toyota Tacoma according to Camper Report:
Camper Weight Chart
| | |
| --- | --- |
| Camper Type | Dry Weight |
| Pop-up Trailer | 600-4,000 lbs. |
| Fifth Wheel | 2,400-20,000 lbs. |
| Teardrop Trailer | 520-2,000 lbs. |
| Airstream | 2,500-4,000 lbs. |
If anything, the table above tells you that there are lots of options to choose from if you are looking at towing a camper with your Toyota Tacoma. Well, each has its strengths and drawbacks. Below is a look at the above categories in detail.
Pop-Up Trailers
Pop-up trailers feature a typical ball hitch for the conventional types and a weight-distribution hitch for the weightier types. While these campers are generally lighter, they are quite luxurious and compact.
The flaps that open when parked fold as you tow, transforming it into a streamlined body that produces little drag.
While considering this type of camper, look at the maximum tow capacity your Toyota Tacoma can handle. Once that is sorted, go ahead and choose a pop-up trailer that falls within the minimum and the maximum tow capacity of your truck.
For any of the models you opt to go with, pay attention to the dry weight and try to establish how much your trailer will pack. The dry weight is measured when your camper is without any luggage, fuel, water, or any other cargo. This weight contributes significantly to the total weight of the trailer once it is loaded up. 
It can easily be heavier than you intended. As such, it is recommended that you remain at least 20 to 35 percent below the maximum capacity you can tow. This consideration will help you stay within the legal and safety limits.
Fifth-Wheels
Fifth-wheel trailers are no doubt some of the most challenging campers to fit in a truck, and Toyota Tacomas are no exception. According to the above specifications by Camper Report, their weights stand in between 2,400 lbs. to an astounding 20,000 lbs.!
Well, while you can always get a fifth-wheel trailer for your needs, the downside is that you will go through a lot of them before finding one that matches your truck. Most of these trailers are designed for luxury and are, therefore, mostly heavy.
Nevertheless, if you are looking to tow one with your Toyota Tacoma, pay close attention to the payload weight. I've, for instance, found out that a high tow capacity won't do you good if the payload weight is low.
What I mean is that it's true, you can tow heavier weights behind you, but your truck bed may give in to the weight that a fifth-wheel trailer comes with.
So, that's another thing for you to consider. The hitch weight. Regarding your Toyota Tacoma, the hardiest of them carries a minimum payload of 1,620 lbs., which incredibly limits your options in terms of what fifth wheel camper you can tow.
This isn't to say you won't find one, well, in most cases, these trailers were designed for trucks. But find a model that balances the weight and keeps you happy on the road.
For more information on what size truck, you need to pull a fifth-wheel camper, read this guide.
Airstreams
Airstream trailers are rounded campers that bring a sense of a classic travel trailer. Although they are available in different sizes, their outward appearance usually remains consistent across all models.
While they look confined, these trailers can be up to 33 ft in length, with some being as short as 16 feet. Despite their sizes, these trailers are still ideal to be towed by your Toyota Tacoma, although you might want to consider the short models.
That is, of course, if you can't find a lighter model that balances with the towing capacity that your truck offers.
Teardrops
Teardrop trailers are some amazing types of campers you could ever pull with your Toyota Tacoma. They are ideal for anyone who has a low towing capacity.
That means that even if you have the 2WD Access Cab auto, the 4WD Access Cab auto, or the 2WD double cab with a five-foot long bed, you can easily tow a teardrop trailer.
These campers are extremely aerodynamic and easy to tow. But it is worth remembering that they are also available in a litany of models.
So, if you have a Tacoma with a V6 engine and you're worried that it will be light, you can rest assured that you will find one that holds quite well. Better yet, with these types of campers, towing capacity isn't much of a concern since their weight doesn't rest on the bed of your truck.
This negates the payload factor while choosing them. The only thing you should concern yourself with is their dry weight and their dimensions. Take these and compare them with the specifications of your truck for a stress-free experience.
Towing Campers With A Tacoma
So, there you have it. Now you know what size campers you can tow with your Toyota Tahoma, which is incidentally one of the best trucks for hitting the off-roads. 
The truck is available in various trim levels and is remarkably reliable in terms of towing. Their configurations and upgrades ensure that they live true to handling between 3,500 lbs to 6,800 lbs tow capacity. But remember, this is all dependent on several factors, including the payload and tongue weight.
Ensuring that you find a balance between the two goes a long way in helping you enjoy your camping experience. The only thing that might limit you are the safety and regulations, otherwise, you can tow fifth-wheelers, airstream, teardrop, and pop-up trailers effortlessly.