Can You Fit Golf Clubs in a Jeep Wrangler?
Jeep owners get a lot of use out of their specific vehicles. The Jeep Wrangler is famous for being a capable off-road option for many consumers, but that's not the only thing a Wrangler is capable of. The Wrangler can also be used as a daily vehicle for a family and for so many more uses.
One thing that a Jeep Wrangler can be asked to do is fit a bag of golf clubs. While a rugged vehicle that is used to get dirty on the trails may not be the first vehicle you might guess you would see at a local country club; but there are a lot of avid golfers who use Jeep Wranglers. It actually makes a lot of sense when you think about it.
Can You Fit Golf Clubs in a Jeep Wrangler?
So, can you fit golf clubs in a Jeep Wrangler? Yes, a set of golf clubs will fit in a Jeep Wrangler. Only the smallest golf bags will fit in a 2 door Wrangler, while the Unlimited 4-door Wrangler has more room for golf clubs.
There is a whole lit more that goes into the decision, so keep reading to find out the rest of the story.
So today, we're looking at the Jeep Wrangler and its ability to head to the putting green. How good of a fit are golf clubs in a 4 door Wrangler Unlimited? We're going to break it down for you here.
Cargo Space in the Jeep Wrangler
There is a huge difference between the 2 door and 4 door Wrangler models. If you are looking for a lot of cargo space and being able to take a lot of things like golf bags on road trips with you; you may be much more interested in the 4-door Wrangler Unlimited.
In the 2 door Jeep Wrangler, you have limited space to work with. There are only 13 cubic feet available if you are using the rear seats in this model. Once the seats are folded, the situation gets a bit better, but only to a certain extent. There are 32 cubic feet available with the seats folded. These numbers are unremarkable and are actually a bit below average as far as comparable vehicles go.
Some of the things that make the Jeep Wrangler a desirable vehicle hold it back at times. One of those strengths is its ability to be an awesome off-road vehicle. In the 2 door situation, the set up takes away from cargo space significantly.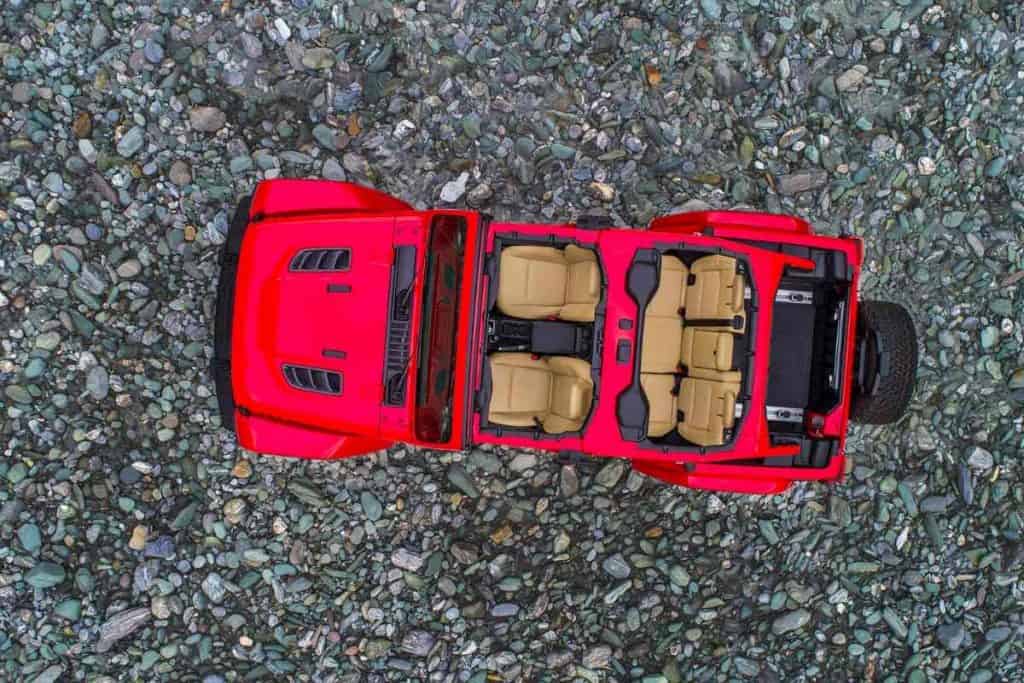 If you're going to be riding solo a lot, you may not be as dissuaded by this information, but if you travel with family regularly it is going to be fairly hard to make the 2 door Wrangler work.
The 4 door Wrangler does a lot better, fortunately for potential customers. With the rear seats in use, the Wrangler has 31 cubic feet available.
Compared to the 2 door model, this is a huge jump in space. That's almost as much as the 2 door can ever achieve, and it certainly represents a big boost up. This number is more in line with what you can expect from other vehicles in the industry.
When you are able to use the 4 door Wrangler Unlimited without its rear seats in use, your cargo space becomes quite large. You are able to achieve a large 72 cubic feet in this mode.
Even though the vehicle is modified to be great for off-road use, that's still a number that you should be able to work with when it comes to cargo space.
Will Golf Clubs Fit?
This may seem like an unusual question to some Jeep owners; however there are a lot of people out there living the Jeep life as well as playing in some regular golf games. It becomes a matter of convenience then to easily carry your clubs in the back of your Jeep Wrangler.
When discussing the Jeep Wrangler 2 door trunk space is definitely at a premium. However, that doesn't mean that you are doomed to go without your clubs.
A lot of this formula is going to depend on what kind of bag you use to go golfing. If you weren't aware, there are different types of golf bags that players carry.
There are smaller versions like Sunday bags or larger versions like travel bags that the professionals use. If you have seen a caddy hauling around clubs all day on TV; you are familiar with the difference between a bigger pro bag and a casual one.
Obviously, smaller bags are more equipped to fit into a Jeep Wrangler. The smallest golf bags can fit into a 2 door Jeep Wrangler even if you have the rear seats still in action.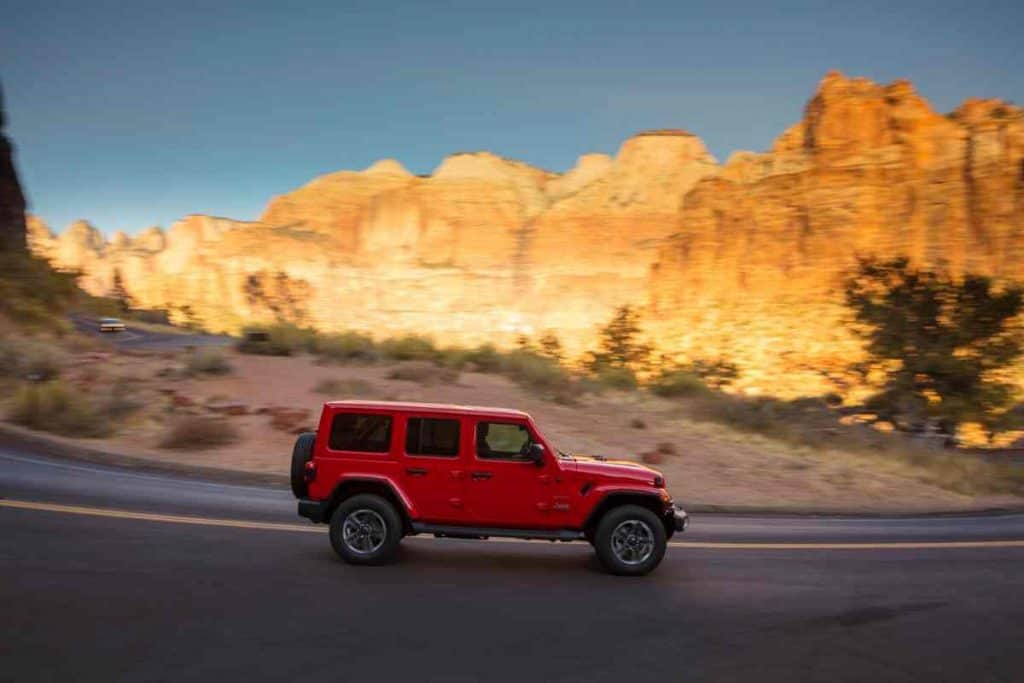 However, as you get into larger bags, you are going to find that they may not fit or that you may be risking damaging your bag trying to "crush" them into the back.
There is still good news here. As long as you don't need the passenger space, you should be able to flip the rear seats so that your clubs have ample space in the back to fit nicely.
Although you may have to get a little creative with the driver, you should still be able to get all of your clubs into the vehicle successfully.
Some people have an issue with putting bags into the trunk area, or they may have more than one bag to bring with them. There is another option when you are stuck or your trunk may simply be full of other cargo – a common problem for those doing a lot of travel.
The best fix in this situation is to simply put the golf bag into the passenger seat of the Jeep. Obviously, you'll need to be travelling alone to make that one work, however it does fit into that space nicely and may be a fix for your problem.
That can seem a little awkward and may be inconvenient for some, but if you are truly stuck and looking for space, it really is not the worst way to get around.
The 2 door Jeep Wranglers do not have the most space, but as long as you are able to get the seats down or get a little creative, you should not have too much of a problem.
Fortunately for those driving in the 4 door Wrangler you really should not have much of a problem in any situation. As we know from the rules of golf, clubs cannot extend past 48 inches. That means that you should be able to figure out a configuration if golf clubs are your biggest priority.
If you are travelling out of town or if you are a long trip, you still may be using a lot of the storage space that the Jeep Wrangler has so you still may want to consider the front passenger area if needed.
The Unique Wrangler Cargo Space
The Jeep Wrangler has a unique set up when it comes to their back cargo area. The space tends to be a bit more narrow than other vehicles due to the wheel wells.
This unique set up has caused problems for some people who are used to a more traditional set up. Even the way the swing gate opens in the back can be a challenge for some people.
If you are struggling to make your golf clubs fit among your other cargo, you should remember that you have a bin underneath the cargo floor that can hold some additional items. While it is certainly not the biggest storage space, it is there so if you can take advantage of it, you definitely should.
Generally, you are able to fit a few bags into the back of a Jeep Wrangler comfortably, depending on what model you are working with. The box nature of your back cargo area could cause you problems that you aren't used to with luggage fitting the way it should.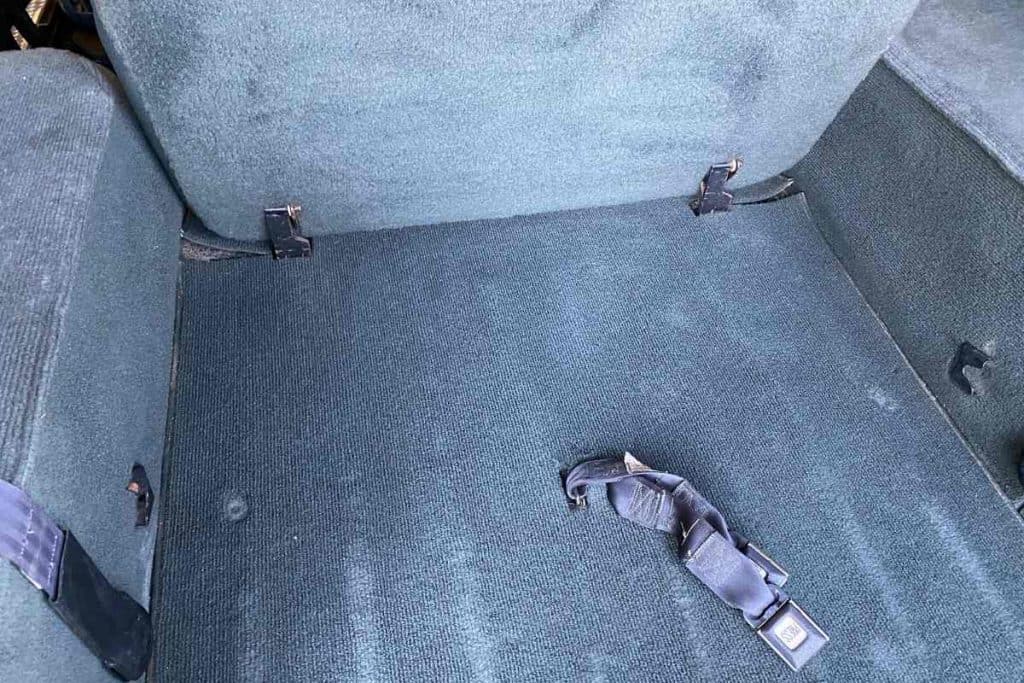 You may need to rearrange the contents in your vehicle to find ways to place things that are bit more "optimized" than normal, especially if you are trying to pack something that is kind of awkwardly shaped like a bag of clubs.
You should look to take advantage of the space between the roof pillars as it can be wasted if you are not adding a bag to that space.
Conclusion
The Jeep Wrangler is known for a lot of things, but its cargo space is probably not on the top of the list. For those looking to pack a lot of bags, (including golf bags) you may find yourself having a hard time.
That being said, it is definitely possible to carry a golf bag in the Wrangler. You will probably want to put the rear seats down so that you have some extra room and you may need to utilize the front passenger area if you don't seem to have the extra space.
Another way to guarantee yourself that you have the room is to go with the 4 door model over the 2 door Wrangler. The cargo space in the rear of the Wrangler is much larger in the 4 door model and will be well worth the upgrade if you are looking to travel with a lot of luggage. Regardless of your goals, you should be able to find a way to get your golf clubs in the Wrangler.
Bonus Idea: Put Your Clubs On The Trailer Hitch!
As I was putting this article together, I remembered a friend did this for a guys golf trip and it worked out great. A trailer hitch carrier with a waterproof cargo bag worked great for carrying 4 sets of clubs or a long golf road-trip.
Last update on 2023-11-29 / If you click this affiliate link and make a purchase, we earn a commission at no additional cost to you.
Last update on 2023-11-29 / If you click this affiliate link and make a purchase, we earn a commission at no additional cost to you.