Are GMC Yukons Front Or Rear-Wheel Drive?
There is no doubt that the GMC Yukon is a beautiful car. If you have not seen it yet, we ask you to pause reading this article and do a quick Google search. Quite a beauty, huh?
However, since you have clicked on this article, you probably already know what a great car the GMC Yukon is. You are here for a different reason: you want to know whether the GMC Yukon is front or rear-wheel drive.
That is an excellent question. For some people, it is the ultimate question when it comes to purchasing a car. With that, we mean that if they are pro one side over the other then the "wrong answer" will cause them to pass. So, is the GMC Yukon a front or rear-wheel drive? Let's find out!
Is the GMC Yukon Front Or Rear-Wheel Drive?
The answer to this hot-searched question is rear-wheel drive…sort of. You may be wondering what we mean by that so let's jump right into it.
First thing's first, if you were hoping that the 2021 GMC Yukon would offer a front-wheel option then we are sorry; it does not. The GMC Yukon mostly offers a four-wheel or a rear-wheel drive.
Please note: We are using the 2021 GMC Yukon model as our example because it is the most current model. We cannot speak for older models or newer models.
The GMC Yukon has four trim levels: SLE trim, SLT trim, AT4 trim, and Denali trim. Deciding whether your Yukon is going to be your daily driver or your cross-country adventure ride may help you determine which is right for you:
If you go with SLE trim level then you can get the four-wheel-drive or the rear-wheel drive.
If you go with the SLT trim level then you can get the four-wheel-drive or the rear-wheel drive.
If you go with the AT4 trim level then you can only get the four-wheel drive.
If you go with the Denali trim level then you can get the four-wheel-drive or the rear-wheel drive.
For more information about the four trim levels of the 2021 GMC Yukon and their seven configurations, please click here.
2021 GMC Yukon Reviews: A Mixed Bag
Now that you know more about the GMC Yukon's drive mode, you might be curious about the rest of the vehicle. What do other GMC fans think of the 2021 GMC Yukon? Please note, as of the publication of this article, the 2021 GMC Yukon is the most current model.
While GMS Yukon drivers appreciate that this is a beautiful car that will have heads turning all the time and also the powerful 10-speed automatic engine, it seems people are a bit underwhelmed by the 2021 GMC Yukon.
Fans of GMC and the GMC Yukon specifically also acknowledge it's not so appealing features. Here is what Motortrend had to say about the 2021 GMC Yukon:
The other major change for 2021 is GM's new Air Ride Adaptive Suspension, which combines GM's magnetic shocks with air springs to improve ride quality, provide load leveling when towing or hauling, and increase ground clearance off-road.
The suspension system, standard on models like the Yukon AT4, certainly works as advertised. "The Yukon has a commanding, if not imperious, ride quality," senior features editor Jonny Lieberman said. "You feel as if everything is less than you are. It just feels good."
Although its platform and chassis are new, the Yukon's powertrains are largely unchanged. The base engine is still a 5.3-liter V-8 making 355 hp and 383 lb-ft of torque. It's paired to a new-for-2021 10-speed automatic, relegating the old six-speed slushbox to the dumpster (and the base GMC Sierra).
The 10-speed auto breathes new life into the V-8, which has long been a weak point in the Yukon line. "I always thought the 5.3-liter engine was kind of soggy," features editor Scott Evans said, "but it turns out the problem was the transmission. With this new 10-speed, it feels great."
Although it's a dramatic improvement from Yukons of yesteryear, when we start looking at the Yukon against our criteria, it stops looking so rosy. First, there's Advancement in Design: The sheet metal has been loved, but the cabin has been neglected.
Buttons seem haphazardly placed throughout. The sliding center console and tailgate switches are on the ceiling; drive modes, drivetrain, suspension, and lighting switches are to the left of the steering column. There's little rhyme or reason.
Although the author of the article did mention that the engine and wheel drive was a standout:
The Denali's carryover 420-hp 6.2-liter V-8 and 10-speed auto combo rounds out the Yukon's engine lineup for 2021 (plus a new Duramax 3.0-liter turbodiesel I-6, which wasn't available for testing). Rear-drive is standard on all but the Yukon AT4, with all- and four-wheel drive optional.
2021 GMC Yukon Overall Performance
This is a popular question because despite wanting to know about wheel drive, a lot of people want to know about the big picture. This includes information beyond the wheel drive such as the performance of the 2021 GMC Yukon, the engine, and the transmission. Here is what the experts at Car and Driver had to say. Do you agree with them?:
Similar to the last-generation Yukon, two V-8 engines will be offered: a 355-hp 5.3-liter and a 420-hp 6.2-liter. In addition to those gasoline-burning engines, GMC also will offer a 3.0-liter turbo-diesel inline-six that makes a whopping 460 lb-ft of torque and should be the choice for buyers who intend to tow heavy items.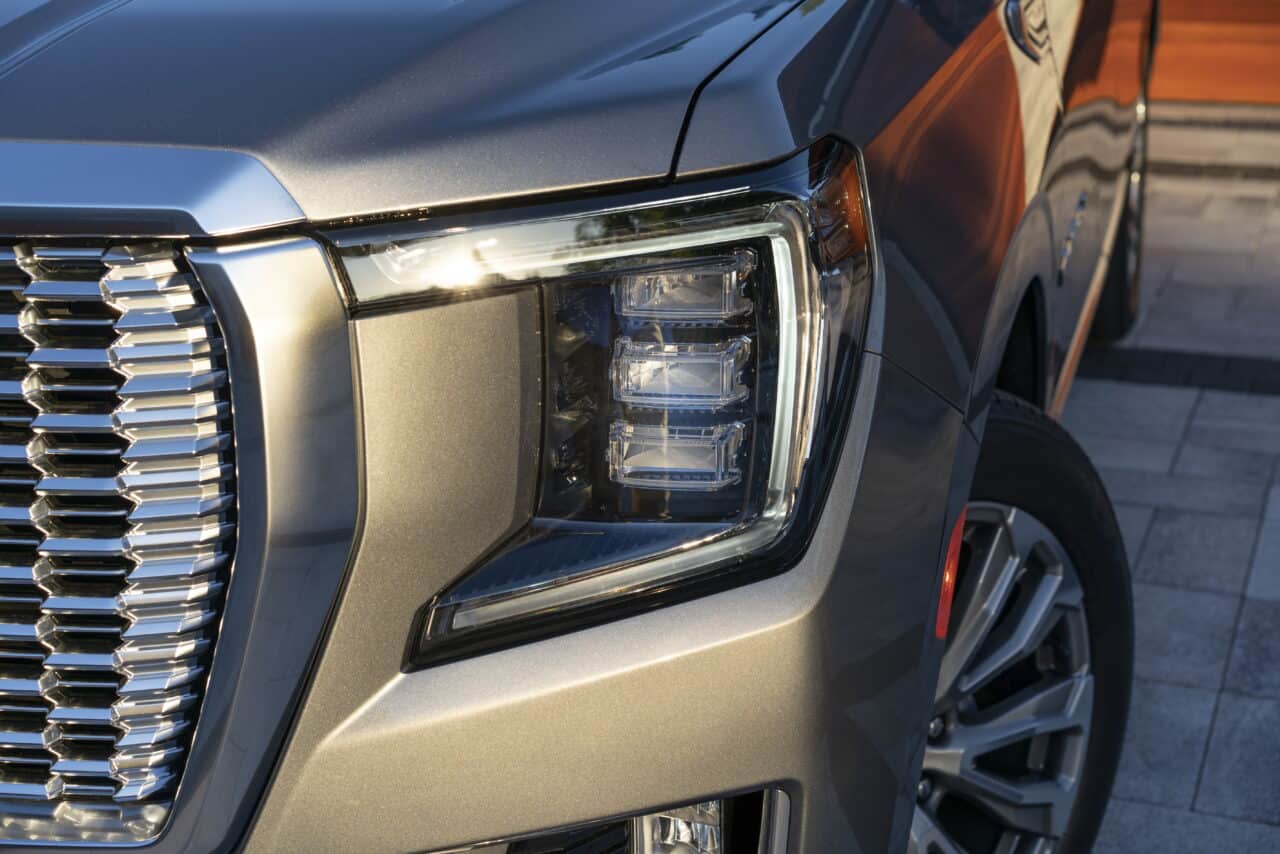 All models come with a 10-speed automatic transmission operated by a push-button panel on the dashboard and will offer either rear- or all-wheel drive. An off-road-oriented AT4 model joins the lineup for the first time in 2021 and features a two-speed transfer case, 20-inch wheels with all-terrain tires, underbody skid plates, and an optional air suspension capable of offering up to two more inches of ground clearance.
In Conclusion | Where Do You Stand?
It seems many people are speaking up about their opinions on the 2021 GMC Yukon. Some people think it is a fine car and they do not understand all the complaints while others cannot stop finding reasons to be disappointed with the new model.
As far as the wheel drive options go, it is good to know that you can either get a four-wheel drive or rear-wheel drive. If you wanted the 2021 GMC Yukon to be front-wheel drive then we can understand how disappointed you must be.
Hey, there is always the 2022 GMC Yukon model, right? Who knows what they will offer with their newest trim models.
For those of you who wanted rear-wheel drive, are you disappointed by the fact that only one trim level offers this? Or are you just happy that it is even an option at all? Share your thoughts with the GMC community via blog posts and forums or share your opinions with close friends and family.