Are Cadillac Escalade Chevy Tahoe and GMC Yukon The Same?
Chevrolet has just announced their latest Chevy Tahoe and GMC Yukon. It is believed that Cadillac Escalade will follow soon. It is important to note that you will get the same powertrains from both GMC and Chevy, though they have some differences in the bodywork and visual design cues.
Both full-size models belong to the general motors used to twins to each other. Initially, the only difference one could see was in the badges and sticker prices. However, as in the time of writing, that is not quite the case.
In recent times, GMC has focused its efforts to bring about notable differences in Chevrolet's Tahoe not to look very similar to the GMC Yukon. Thus, today, if you make a close comparison of Chevy and Yukon, you will realize some unique styling cues and features that make each one of them stand out from the crowd.
Thankfully, in this piece, we have outlined these differences to help you make the best choice once you go out there to acquire a ride. Note that while both have different designs for 2021, they share similar mechanicals, so that should not be your point of focus when dropping one of them off your wish list. This means that your primary interest should be focused on the SUV that will give you adequate comfort and style.
Platform and Size
Both Yukon and Tahoe ride on the latest GM's T1 truck platform, which is not a new thing as far as the truck industry is concerned. However, we are talking about the latest model. Compared to their predecessors, both SUVs are a bit larger, spacious and have some additional features.
Note that they are both spacious on the interiors and exteriors. The smaller Yukon and Tahoe come with around five inches in the wheelbases. Overall, both of them have extra six inches in length, compared to the initial 204 inches to 210.7 inches.
This indicates that there is adequate space for the passengers and an extra room for legs, more so in the third and second rows. The cargo space has a massive increase compared to the initial models. It has been increased from 94.7 cubic feet to 122.9 cubic feet.
One of the primary reasons for the massive increase in cargo space and passenger rooms is the shift to the independent rear suspension. This is the very first time we see this in the two GM SUVs.
Besides the increase in the interior space, the latest suspension setup is put in place to ensure that you get an outstanding ride quality and functionality.
The Engine Options
Both Tahoe and Yukon enjoy a 10-speed transmission that is automatic across the board, and you will have up to three engine choices. The base engine is a 5.3-liter V8, providing 355 horsepower and 383 lb-ft of torque.
Also, you will have the 6.2-liter V-8 that produces 420 horsepower and 460 lb-ft of torque. Both of these have been carried over from initial generations of both SUVs. However, now, they come with smarter cylinder deactivation systems and start/stop systems.
You can also choose to utilize the third engine, and it is a turbo diesel 3.0-liter inline-six that was first seen on the Sierra and Silverado pickups. With this engine, you will get up to 277 horsepower and a mind-blowing, healthy 460 lb-ft torque, and is an excellent choice for those looking to achieve fuel economy.
Both Tahoe and Yukon leverage a highly advanced drive system dubbed Active Response 4WD, which is mainly exclusive to Yukon. This one operates with an electronic limited-slip differential called Elsd to ensure elaborate management of power distribution and torque based on your driving scenario.
There is a good chance that you have heard about the Elsd, and this is because GMC has used it in other performance-oriented applications such as Camaros and Corvettes. Due to the Elsd, compared to the Tahoe, Yukon is a better performer both off-road and in low-grip situations.
This is important to keep in mind, especially if you are an aspiring buyer looking for the main differences between GMC's AT4 and Chevrolet's Z71 off-road-oriented trims.
The Exterior Design
It is interesting that when it comes to the exterior design, GMC ensured that the designers of the two SUVs are placed in two separate rooms. This was to ensure that they come up with a different finish for both SUVs. Thus, you will notice that the only similarity is in the exterior design's side and top-down views.
To notice the similarity, take a keen observation of the pillar design and the window arrangement. But everything else is different as far as the exterior design of the two vehicles is concerned.
You will notice that Tahoe has a broader grille in the front area, with headlights that are a little narrower and higher-up than what you will find with Yukon. On the other side, the Yukon comes with an imposing grille, but its headlights are a little more sweeping, and they occupy most of the front-end estate on the Chevrolet.
On the rear end, the SUVs have very different liftgates and taillights. But this is something unique since the outgoing models were more identical in the rear.
On the Inside
On all trims, but for Yukon Denali's top-end, the screen setup, switchgear, diver's gauge cluster, and climate control panel are the same. There is only one thing that seems different: the badges located on the steering wheel, the trim material, and the interior color schemes.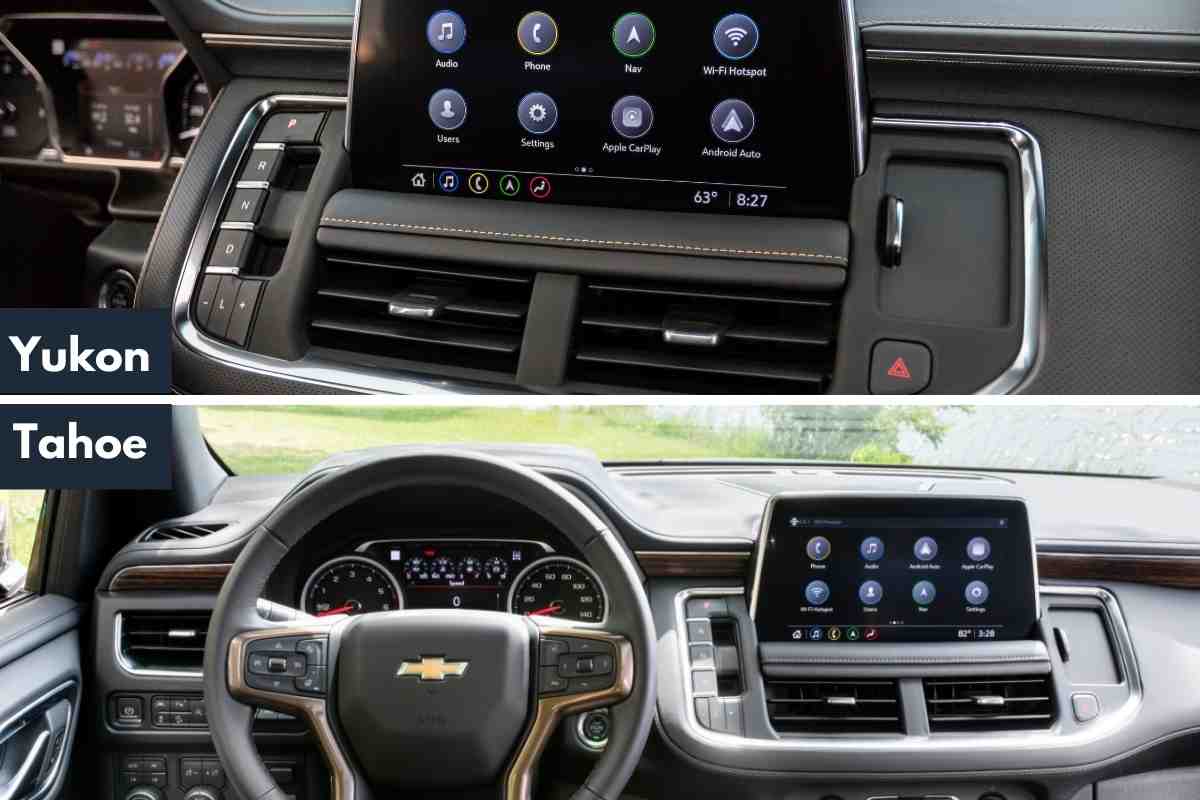 The Yukon Denali has a very different dashboard setup with a little lower screen compared to what other SUVs have. The screen also comes with two large HVAG vents located right above it. Compared to the rest, the Yukon Denali features more excellent wood and leather materials to claim its price.
The main features available on both GMC and Chevrolet models include 15-inch head-up displays, optional air suspensions, active grille shutters, and a wide range of driver-assist and safety features.
The Cadillac Escalade
Though this SUV shares parts with some GM products, the latest Escalade is one luxury thing worth adding to your fleet. It comes with a chrome-laden shell and many other standard features that make it stand out from the crowd.
The unique features include self-parking assist, ventilated front seats, leather interior, e.t.c. It is an all-wheel-drive with the capacity to tow up to 8300 pounds. There are both short and long-wheelbase versions, and they can both fit up to eight people. However, you can opt for the extended Escalade ESV since it comes with a spacious third row and adequate cargo room.
Compared to GMC Yukon and Chevy Tahoe, its immediate cousins, the Cadillac Escalade looks cozier and snazzier but is way more expensive. Though in 2020, the Cadillac Escalade brings in the Hollywood lifestyle, it exceptionally doesn't provide the red-carpet experience.
What's New?
It is clear to see that Cadillac spent much time to upgrade the Escalade for 2020. It has a new Dark Mocha color that adds to its overall cost. Due to the lineup, the SUV has an appearance package known as the Sport Edition.
You will only find the get-up in the Red Passion, Black Rave, and Satin Steel. It is unfortunate that, as of the time of writing, Cadillac has not confirmed whether there will be a newer version of Escalade in 2021.
Today, the Cadillac Escalade's base price is $76 490, and we feel this is the best model you should consider going for. Though it comes with rather expensive trims, that should not be why you get this luxurious SUV.
Suppose you have a larger family, you can opt for the extended version, but you will need to spend $3000 more. The all-wheel drive is optional, and you should only consider it when living in cold areas.
Cadillac Escalade: Performance, Transmission, and Engine
Escalade has a giant sparkling grille that sits a mighty 420-hp engine connected to a 10-speed automatic transmission. These push the SUV and give it the power to tow up to 8300 pounds. It comes with a standard rear-wheel drive, and you can opt for the all-wheel drive.
According to our test results, the Escalade was more than just responsive, and the transmission worked perfectly without fuss. The slide was refined and quiet at high speeds. However, we expected something comfortable based on its price and brand, but that was not the case.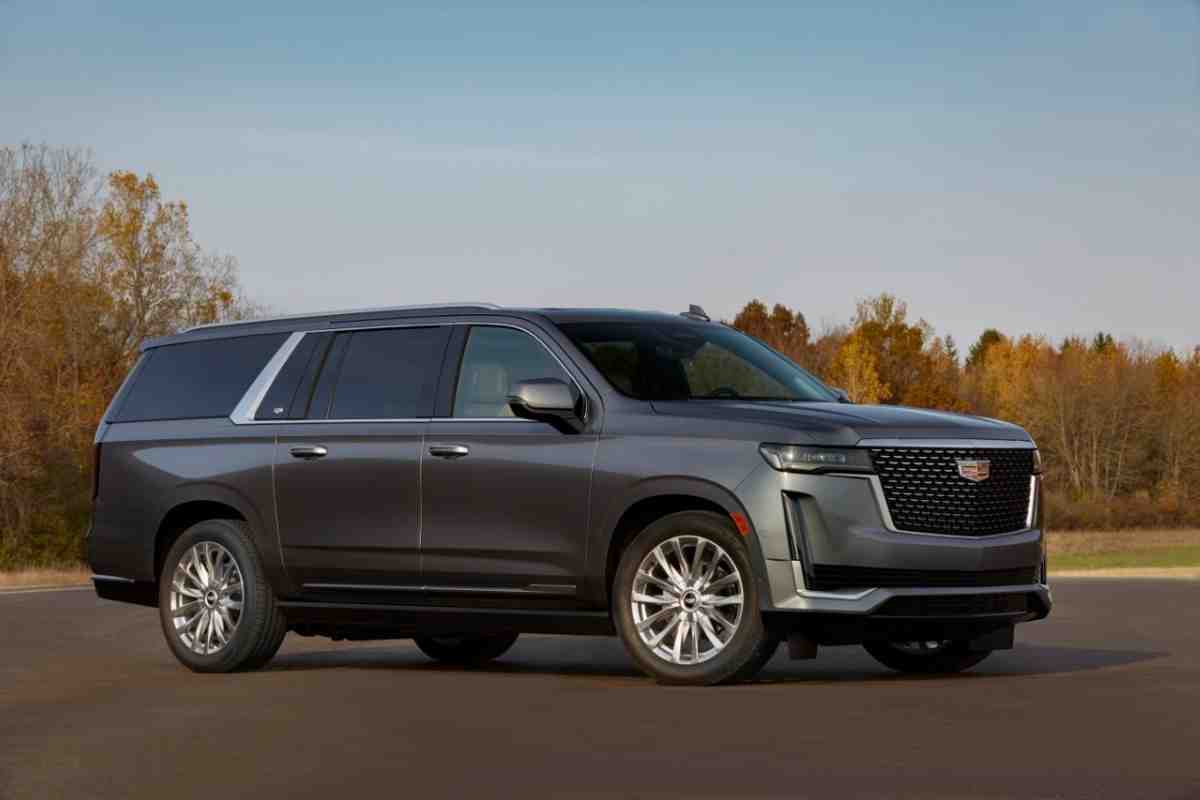 The truth is that the SUV never felt convincingly comfortable. It shivered over uneven surfaces, and the harsh bumped managed to infiltrate the cabin; that is entirely unacceptable. But we are happy that it is composed around the corners, but you still don't want to launch it onto the exit ramp over the posted speed limit.
Compared to what we found on Tahoe and Yukon, the steering wheel is easy and doesn't need much effort to steer. This makes the Escalade a breeze to operate at low speeds. You also need to note that the SUV does not have a directness, which makes it wander in its lane on the highway.
The brake pedal is highly responsive, smooth, and firm, which is something everyone would appreciate.
Which One to Buy Between Chevy Tahoe and GMC Yukon
The main challenge of building cars along the same line is that they will always look the same. The Chevy Tahoe, GMC Yukon, and Cadillac Escalade have shared the same features for many years, and that is not going to change significantly even as they keep releasing new models.
As for the GMC Yukon and Chevy Tahoe, some differentiations have been put in place to make shopping easier for you.
GMC Yukon Enjoys More Refined Design
As a result of being constructed on a truck platform, both Chevy Tahoe and GMC Yukon look more like their pickup counterparts. From the front, the Chevy Tahoe looks more like the Silverado with a massive front grille that covers almost the entire front width.
However, the problem is that the Tahoe looks more like a work truck instead of a luxury SUV. On the other hand, the GMC Yukon comes with a smaller grille and chrome elements. This was done to give a unique front-end design while giving it more contrast.
The chrome has been used in Yukon's entire body, and the extra shine is appealing to most potential buyers. The chrome trim accentuates the overall look of the SUV. Thus, if you are looking for that, the decision is a lot easier to make.
According to the GMC, the primary difference between various dashboards is closely related to screening placement. Tahoe leverages a touchscreen display that sticks out of the dashboard, and vents are surrounding it.
On the other hand, the Denali's dashboard has a screen located in the center, which lowers its height while improving accessibility. The GMC interior has additional benefits such as a unique steering wheel, gauge cluster, and AC control.
If you are buying an SUV for the first time and torn between Chevy Tahoe and GMC Yukon, you need to take your time and consider the type of functionality you are looking for. You can easily see that the main differences are exterior design and some interior features from the review.
Also, the sizes are more or less the same, so we believe that should not be an essential factor when making your decision. We know that price matters the most, and the problem is that it keeps changing from time to time; maybe that is what you need to consider when shopping for Cadillac Escalade, Chevy Tahoe, and GMC Yukon.