Jeep Wrangler Tires: Helpful Tips Before You Buy
This post may contain affiliate links. As an Amazon affiliate, I earn from qualifying purchases.
Jeep Wrangler Tires: Helpful Tips Before You Buy
What tires should I get for my Jeep Wrangler?
This is one of the most frequently asked questions when it comes to customizing your Jeep Wrangler to your liking. Tires can completely change the look and feel of a Jeep so it is important to pick the right ones.
I believe most owners should put All-Terrain Tires on their Jeep Wrangler due to their mixture off on-road control and offroad ability.
But don't just take my word for it. Let's look into the types of tires available for you to upgrade over the factory tires.
Here's are a few things you need to consider before dropping big money on new tires for your Jeep.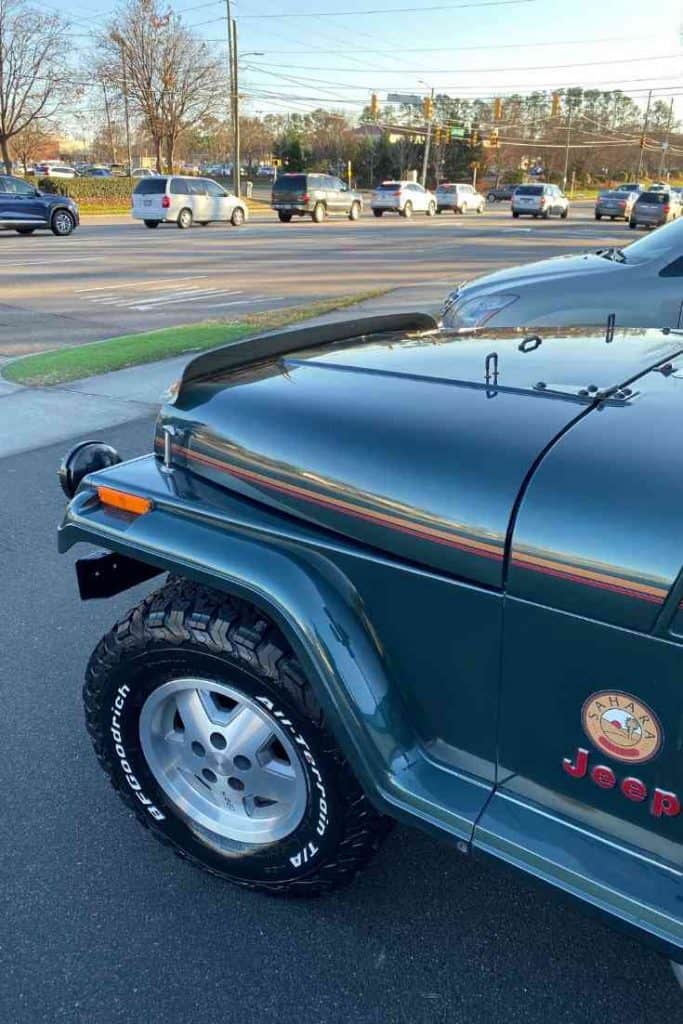 How Often Do You Drive Offroad? Is your Jeep used for daily driving with occasional offroad trips? Will this Jeep be used exclusively as an offroad adventure vehicle?
How you answer these questions will make a meaningful difference in picking out the right tires for your Jeep.
What's more important – a good ride or a great look? If looks are your biggest concern, then just pick out what looks good and ignore the fact you will not be able to have a conversation inside of the Jeep when the top is off.
If you are looking to find excellent performance, appropriate noise and weigh the trade-offs of various tire designs, then this post is for you.
#1 Mud Terrain Tires
Visually, these are my favorite. They are aggressive and look awesome installed on a Wrangler. Mud terrain tires have a large tread design which grabs dirt, mud, and rocks giving you excellent traction for offroad use.
The trade-off for this offroad performance is on road shortcomings. If you want to daily drive your Jeep and only go offroad occasionally, using mud terrain tires may not be your best choice. Mud terrain tires are typically loud, wear out quicker and are expensive.
Additionally, if you are in wet or snowy conditions, mud terrain tires are not known for great on-road traction in these conditions.
Who Should Buy Mud Terrain Tires? I suggest true offroad enthusiasts should buy mud terrain tires. If you are a casual offroader, then the All-Terrain style tire may be a better fit. Let's discuss why in this next section.
#2 All Terrain Tires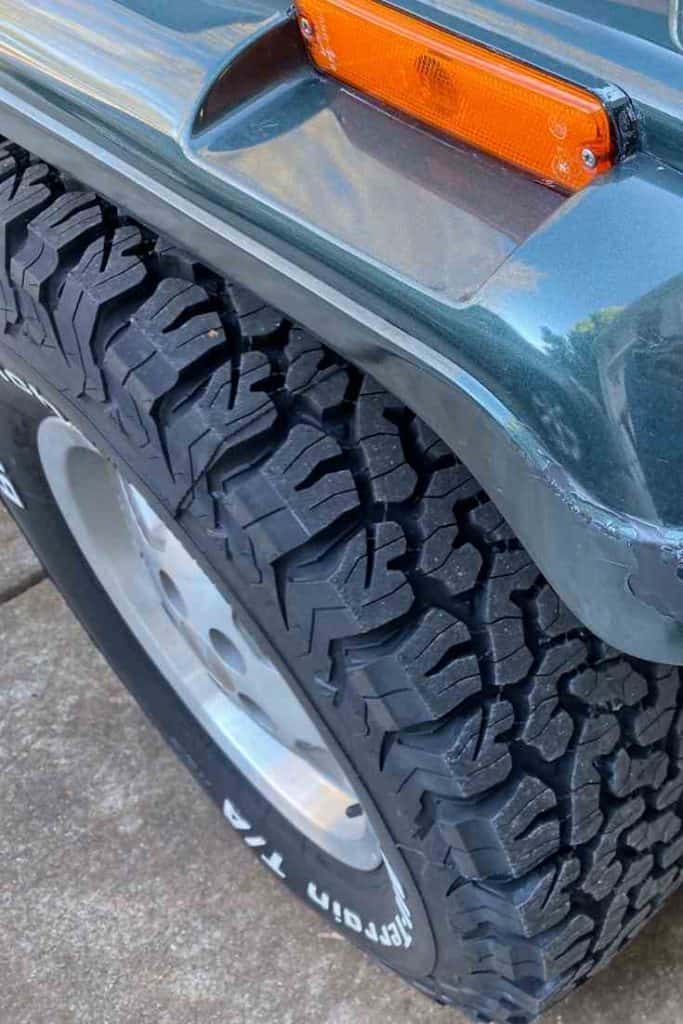 In my opinion, most Jeep Wrangler owners should buy all-terrain tires for their Jeep.
You can get all-terrain tires in many sizes, several have the aggressive look that people like and the provide better on-road performance compared to the mud terrain tires.
Typically, all-terrain tires are quieter than a mud terrain tire, but not quite as quiet as a highway rated tread tire.
All terrain tires give you the ability to have your Jeep drive and ride well on the roads for daily driving purposes, but still be able to be a weekend worrier on the offroad trails.
#3 Highway Terrain Tires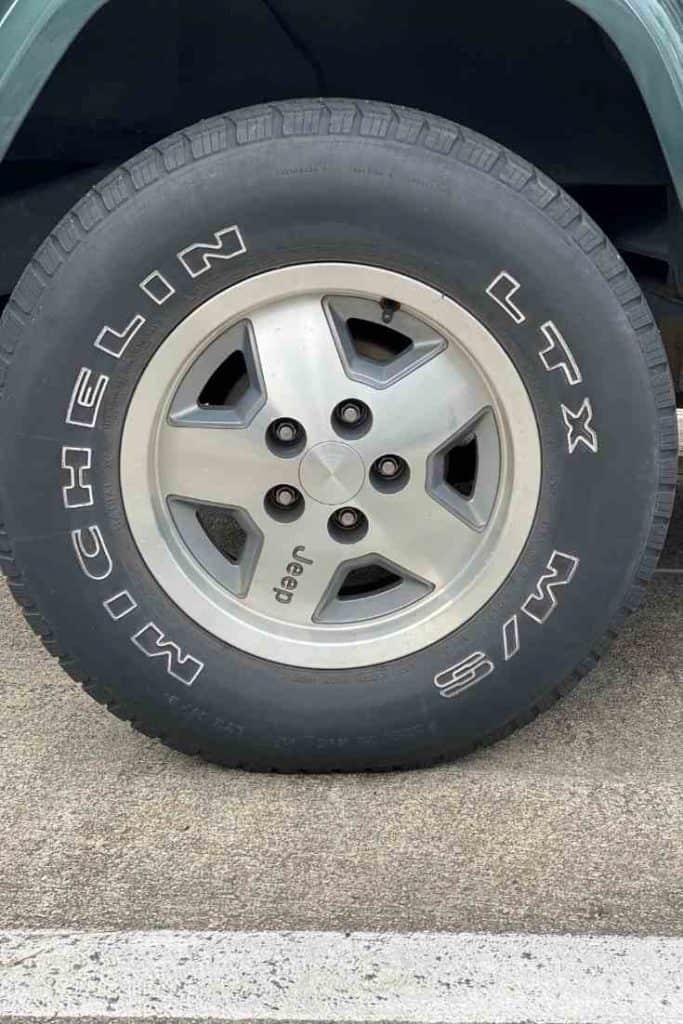 Jeep Wrangler Sport and Sahara models are often paired with a highway tread tire. This is because of their excellent handling, smooth ride and they are not loud like a mud terrain tire.
Highway tread tires are excellent tires, but if you want to venture offroad, these tires can be rendered useless if you face wet or muddy offroad conditions.
These tires in mud will cake up and just spin causing you to call a friend to help get you unstuck.
Because of the history and notoriety of Jeeps being excellent offroad vehicles, most Jeep owners who buy a new (or used) Jeep with highway tread tires often find they want to swap them out for either all-terrain or mud terrain tires.
My guess is, if you are reading this article, you are likely in this category. Am I right? If so, comment down below in the comments section and let me know what tires you are thinking about using.
Now that you have an understanding of what types of tires are available, let's discuss a few tips and ideas.
Some tips and pointers on Jeep Wrangler tires
Air pressure: When riding in sand or mud, lower the air pressure in your tires. This allows more surface area on the tires to contact and grip with the sand and mud. For harder conditions, and trail riding over stones, branches e.t.c, you should ride inflated up If the air pressure is too low over hard terrain, you run the risk of causing a puncture or damaging the rims. If you really want to be able to air down really low for offroad use, check out bead lock rims. They are specially designed for low air pressure driving.
Popular Brands: Some popular, quality brands are… Michelin, BF Goodrich, Toyo, Nitto, and Cooper to name a few.
Jeep Wrangler Tires: Helpful Tips Before You Buy