What SUVs Can be Flat Towed?
If you have ever wondered which SUVs can be flat towed, then you are not alone. Flat towing is quite tricky because if not done right, it can waste a lot of time to set up. Most people think they can flat tow using any SUVs but that is not always the case. We have compiled a list of the best flat towed SUVs.
It is important to note that many factors come into play when you are looking for a good SUV to flat tow and most of these factors, most people might not even consider. It is also important to distinguish the difference between flat towing and dolly towing.
If all of this seems a bit overwhelming do not worry, it is a lot simpler than it seems. If you are looking for an SUV to flat tow or if you are wondering if your current SUV would be able to get the job done, then you have come to the right place.
What is the difference between Dolly Towing and Flat Towing?
Dolly towing and flat towing are pretty similar so it is quite easy to get them both confused. Most vehicles can be dolly towed or flat towed but there is always one way that is better than the other. Down below are some ways to tell the two methods apart.
What is Dolly Towing?/ When Should You Opt for Dolly Towing?
When you choose to have your car dolly tow, then the vehicle's front wheels must be elevated off the ground and be rested on top of your trailer.
You will need a front-wheel-drive but most cars come with it. When you choose dolly towing, you do not have to worry about changing the drive shaft in any way.
If you are someone that loves to travel but are worried about putting extra miles on your car, then you might want to consider dolly towing.
One great factor of dolly towing is that it will decrease any wear on your drive train.
One con to consider with dolly towing is you will not be able to pull a rear-wheel drive with a dolly.
Dolly trailers are also more expensive investment in the long run than flat towing.
What is Flat Towing?/When Should You Opt for Flat Towing?
Flat towing is great because you can tow almost any kind of vehicle with a flat tow trailer. This makes flat towing very versatile and this is why many people love it.
To flat-tow a car, you have to drive the car onto the flat trailer platform, be sure to anchor it securely, and then you can be on your way.
When you choose to flat tow your car, you do not have to worry about putting any sort of stress on your tires or drive train.
That means there are no worries about the mileage.
Flat towing does have a downside in that it will take you quite a bit of time to load up whether you have done it a few times or not.
What are the Best SUVs to Flat Tow?
Broadly speaking, the smaller and lighter the car is, the best it would be for flat towing.
● Jeep Wrangler: The Jeep Wrangler is great for towing, especially 4×4 flat towing. The Jeep Wrangler is one of the most popular vehicles for towing on a smaller scale overall. Since the Jeep Wrangler is a 4×4, it is preferred by drivers since it is great off the road. If you like Jeep Wranglers and are thinking of using it or buying one to flat tow your car, then do consider the Jeep Wrangler TJ, the Jeep Wrangler Jk, and the Jeep Wrangler JL.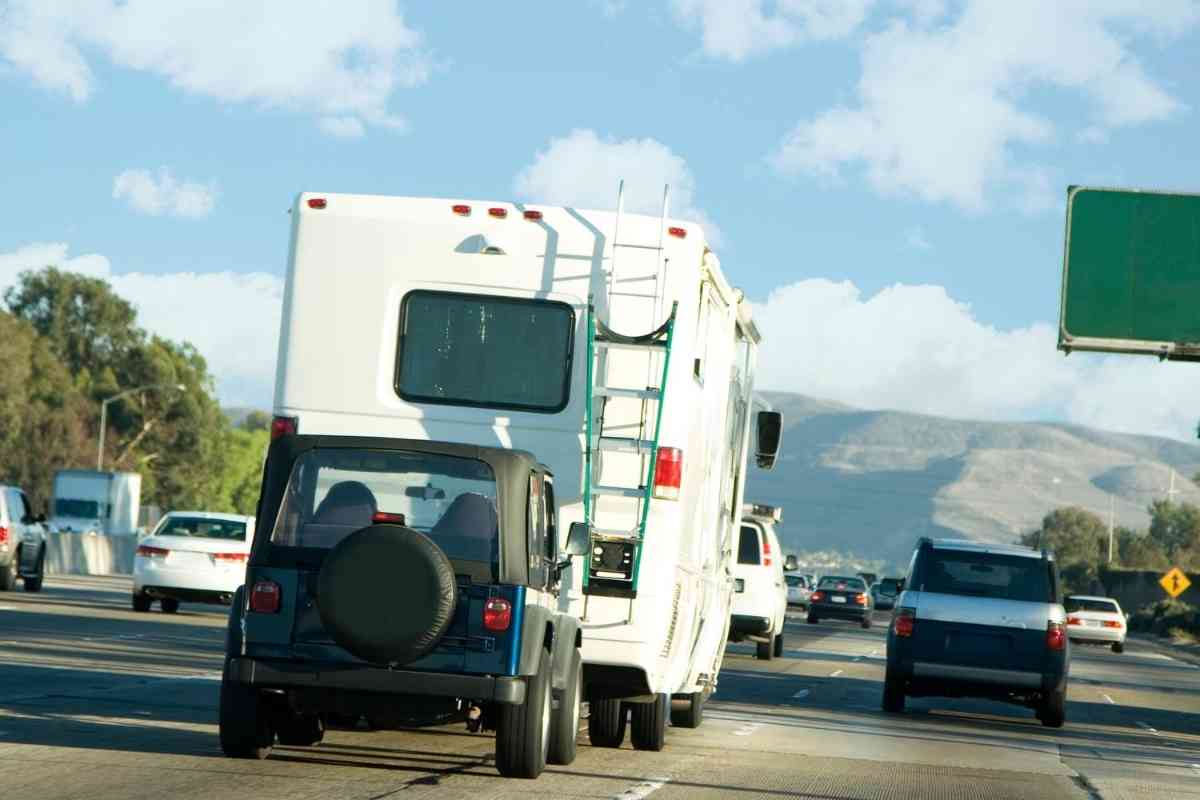 ● Jeep Grand Cherokee: Next on our list is the Jeep Grand Cherokee. To flat tow your Jeep Grand Cherokee behind your trailer, you will need a few items: a base plate, safety cables, a tow bar, lighting solution, high-low adapter, and lastly, a supplemental braking system. Although the Jeep Wrangler is best suited for flat towing, you do not need to trade in your Jeep Grand Cherokee. The Jeep Grand Cherokee is also a great option even if it is not the ideal one; it still gets the job done.
● Dodge Durango: The Dodge Durango is a bit of a trickier one. If your Dodge Durango has a 3.6 L V6 engine or the 5.7 L V8 Hemi engine, then you will be able to flat tow it. However, you will only be able to flat tow it if it is equipped with the two-speed transfer case.
On the other hand, if your Dodge Durango has the 6.4 L V8 Hemi engine then it cannot be flat towed. If you have this model then you would need to use a dolly tow and not just any dolly tow, but one that has the capacity tow around 6,000 lbs.
● Chevrolet Colorado: If you own the 2019 or 2020 then you are in luck, both models are capable of being flat towed. The 2019 Chevrolet Colorado is 4×4 flat-towable with all four wheels down. All Chevrolet Colorado models seem to come with a 2-speed transfer case which is essential to be flat-towed. With this said, you should not have any issues with this model. For the 2020 Chevrolet Colorado, it is pretty much the same story.
● Chevrolet Equinox: Another Chevrolet makes the list and this time it is the Chevrolet Equinox. Do keep in mind that not all Chevrolet Equinox can be told, unfortunately. OnLy the Chevrolet Equinox with the 1.5 L engine and 1.6 diesel engine can be flat towed. Any unit with a 9-speed electronic transmission cannot be flat towed. If you are not sure which engine you have, please double-check by reading your owner's manual.
● Ford F-150: When it comes to the Ford F-150, you will need to make sure that it is equipped with the four-wheel drive. If it does, then it will be able to be flat towed. However, if you have an older Ford F-150 model, as in any model made before 2012 then you will need to do a bit of extra homework to see if it is able to be flat towed. The Ford F-150 has to have a manual-shift transfer case in order for it to be flat towed because recreational towing is not prohibited if the SUV has an electronic-shift transfer case.
● Honda CR-V: If you are like most people, then you can understand how a Honda CR-V made it our list. It is a great and reliable SUV, and the best part is it can be flat towed! The 2019 Honda CR-V specifically is a great model to flat tow as long as you do not exceed 65 mph.
● Chevrolet Sonic: Next on the list is the Chevrolet Sonic. A Chevrolet Sonic can be towed but you will need a few items. These items are a tow bar, safety cables, a base plate kit, and a supplemental braking system.
● GMC Terrain: Almost at the of our list we have the GMC Terrain. According to the GMC Terrain car manual (if you have lost the car manual for your GMC Terrain, you can always find this information online), GMC Terrains can be flat towed. However, you need to take a few preparational steps with your GMC Terrain before you can flat tow it. The first step would be to remove the fuse of your GMC Terrain to prevent battery drainage. If this is something you are nervous to tackle on your own, there are plenty of videos online that will be able to help walk you through this step by step method.
● Mini Cooper: Last on our list, are Mini Coopers. Yes, you heard right, Mini Coopers and it makes sense right? This car is small but mighty, and it can easily be flat towed.
What Else You Need to Know About Flat Towing your SUVs
Although all of the SUVs listed can be flat towed, it does not mean that they are best suited for flat towing. Some vehicles are better suited for flat towing than others and some SUVs are better suited for dolly towing.
The Takeaway | Safety First
Flat towing is such a great way to save miles on your car without ruining your tires. If your vehicle made this list, then you are very lucky. However, if yours did not, it does not mean that you cannot take it with you when you travel.
Check to see if your SUV is better suited for dolly towing instead. If you are not sure and do not want to risk damaging your car, then you should speak to your local mechanic and ask him/her on which method you should take.
Although flat towing is fun, it can also be dangerous if not done properly. Make sure to double-check that everything is secure before you hit the road; remember, safety first!