What SUV Can Be Towed Behind a Motorhome?
This post may contain affiliate links. As an Amazon affiliate, I earn from qualifying purchases.
Whether you have your own motorhome, or you drive a motorhome rental, you have virtually limitless travel options. Wherever you go, you have the luxuries of your home with you in the motor home. You have access to a good warm "home-cooked" meal, a warm bed, and so much more.
However, once you get to the campground, you will need a more convenient vehicle to navigate busy roads, narrow campgrounds, and park in small spaces in shopping malls. This is where a flat towed vehicle comes in. There are several SUVs you can flat tow.
What SUV Can Be Towed Behind a Motorhome?
The SUVs you can flat tow behind an RV are four-wheel-drive models with a two-speed transfer case that you can set on a Neutral position and a low setting for the four-wheel drivetrain. There are also AWD models such as the Dodge Durango that you can flat tow. The most popular flat-towable SUV is the Jeep Wrangler.
Like the original Jeep this car is based on, the Wrangler is an adventure car, and you can bring it on any trip. It is flat-towable in any configuration.
Some vehicles tow with ease while others require lengthy procedures to ensure you do not damage any parts. The best way to flat tow an SUV is to check the user manual. Automakers have a detailed towing procedure for their SUVs.
Once you are sure you can flat-tow a vehicle, the next thing you need to do is create the camper-SUV connection. The process is easier than dolly towing, but you will need some hardware. These include a base plate and a tow bar and a few accessories that help protect you and your vehicle.
You also need to wire the dinghy vehicle properly to ensure that the brake lights of the dinghy SUV and the RV work in tandem. Finally, you need dinghy towing brakes. This is a requirement in some states, but even if your state doesn't need it, the brakes are important for your safety.
Which SUV Models Can You Flat Tow Behind a Camper?
Each SUV model has a number of settings and procedures you need to follow before and during the trip. The procedures are unique for every SUV, and you have to read your user manual to understand them. Again, just because one model year is flat-towable doesn't mean that all model years are towable.
For instance, Ford Explorer has been a popular flat-towable vehicle. However, Ford switched from 4WD to RWD. While this gives the SUV great handling, it doesn't make it an ideal flat-towing vehicle.
Below are SUVs to consider for flat towing:
Jeep Wrangler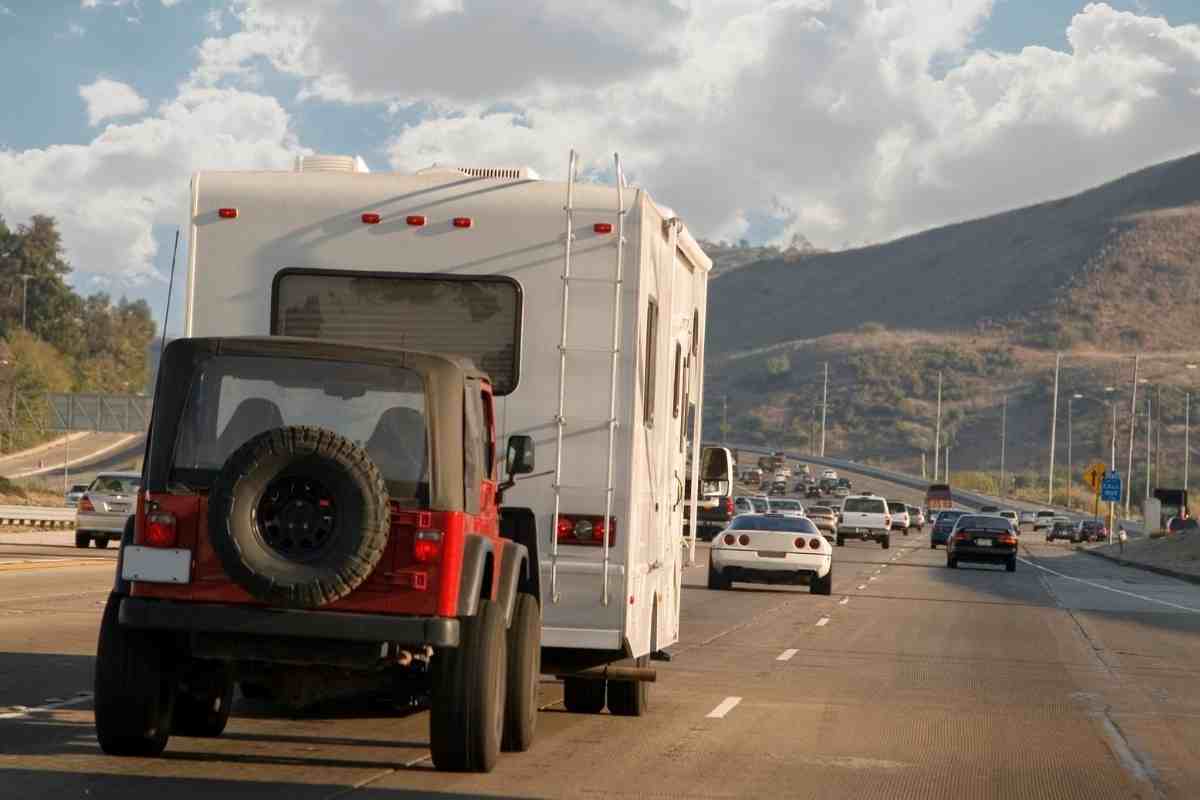 You have probably seen RVers tow the Wrangler behind their campers. For more than two decades now, the Wrangler has been the more popular flat tow option for those going camping. The appeal of this SUV is in the fact that both the manual and the automatic transmission models are flat-towable.
This SUV was engineered to handle the most difficult terrain off the road. It is your go-anywhere do-anything SUV, which makes it great to tow behind a camper.
The Wrangler has several fun features, including its removable doors and top, a premium look, and ample storage. Its seven-slot grille and the fender flares make this an interesting drive at all time. Its ergonomics are thoughtfully designed so that you can handle any off-road challenge.
Although it is a powerful SUV, it still comes in a modest size that you can flat tow behind class A and C campers. It also has no restrictions on speed and distance, so you can take it anywhere you want.
If your Wrangler has an automatic transmission, you can flat tow it in park mode while if it has a manual transmission, you can tow it in gear mode. The transfer case should be set to neutral in both cases. The best Wranglers to flat tow are models between 1997 and 2018.
Jeep Cherokee and Grand Cherokee
Besides the Wrangler, the Grand Cherokee models between 2011 and 2018 are among the most popular flat towed vehicles. However, you can only flat tow 4WD models fitted Quadra-Drive II. There are no restrictions on distance and speed, and you can bring this SUV on your longest trip.
The interior and exterior of the Grand Cherokee sport striking and functional designs. Further, it has more than 70 standard safety and security features, including the ProTech packages. This Jeep hasn't received a complete overhaul in many years, but it will in 2021.
When flat towing the Grand Cherokee, the transmission should be in Park position, and the transfer case in neutral.
The Jeep Cherokee is also a popular flat-towable model. Models between 2014 and 2019 are the best to tow as long as they are 4WD and sport a two-speed power transfer case. It has no restrictions on speed and distance.
When towing a Jeep Cherokee, the transmission should be in park mode while the power transfer unit should be in neutral. Ensure you disable the auto park brake feature before you tow this SUV.
Chevrolet Suburban and Tahoe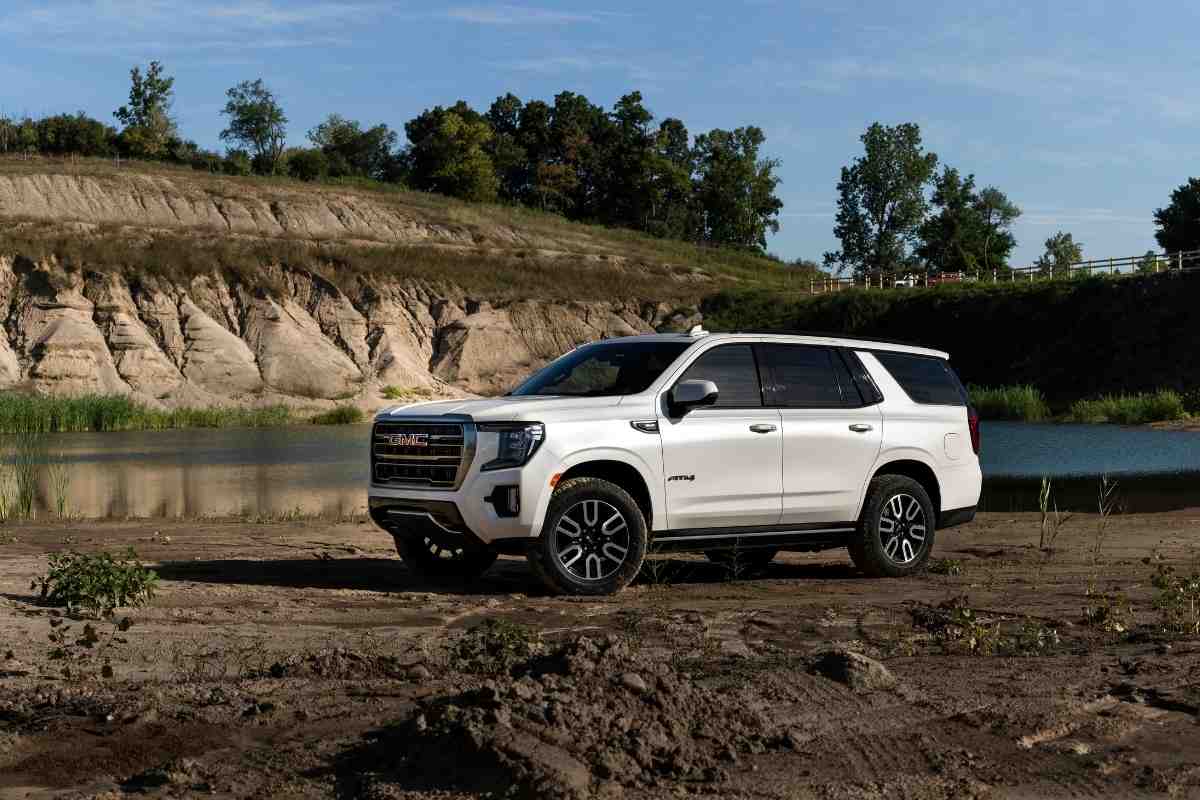 These two are among the most popular full-size SUVs to flat tow. These are new entrants in the list of flat-towable models. The 2020 Chevy model is flat towable when equipped with a four-wheel drive train and a two-speed transfer case. If you go for the newer models, you will have more cabin space, which means more comfort.
The Suburban adds 1.3 inches in length while the Tahoe adds a whopping seven inches in length. The models also have interesting modern technology features such as five display screens and nine camera views. If you plan to venture of the road, the two full-size SUVs have powerful engines and a host of off-road features.
For Chevy Suburban, you can flat tow it with the transfer case in neutral position and the 4WD in low setting. Other settings include turning off the engine if the SUV is equipped with keyless access and covering negative batter posts with a non-conductive material.
The Tahoe flat tows the same way as the Suburban.
Dodge Durango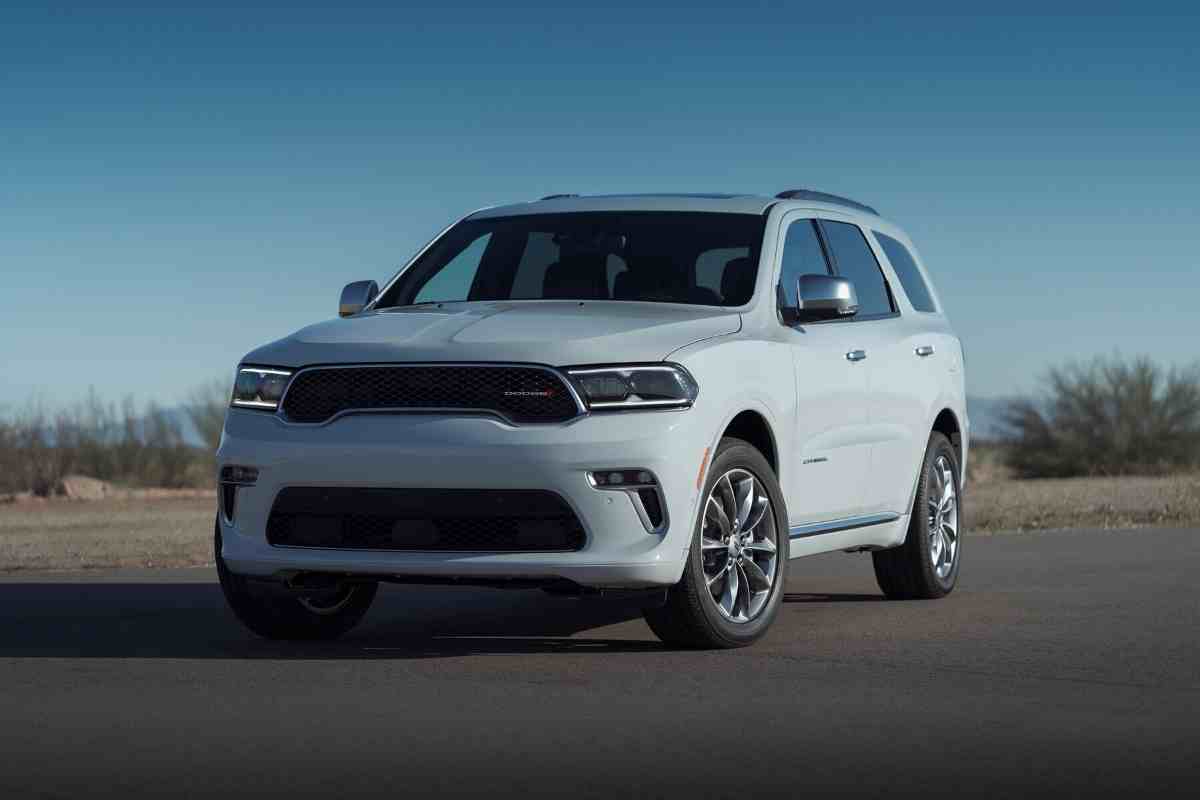 The Dodge Durango is a mid-size three-row crossover SUV. It is a powerful car with a standard V6 engine that you can upgrade to a Hemi V8 engine. Inside, the Durango has comfortable seating.
When you need a mid-size crossover SUV for towing and driving off the road, the Durango will meet your needs. Unlike most other models on this list, only the AWD model of the Durango is flat towable. The towed vehicle needs to have a two-speed transfer case.
You cannot tow the SRT trims. When towing, the transmission needs to be in park mode and the transfer case shifted to neutral. Check your user manual for a more detailed procedure on how to set your SUV for towing.
Ford Models
You can tow the Expedition and Expedition Max. These two SUV models need to have a four wheel drivetrain and a two-speed transfer case. You need to set the transfer case to neutral position and the 4WD to low setting and then you engage the 4WD towing feature.
The Edge ST 2.7L and the Escape Hybrid are also flat towable. These are crossover SUV models engineered to offer a comfortable cabin and great maneuverability.
The Edge ST needs to run for about five minutes at the start of the day to oil the engine. After that, you need to make stops every six hours and run the engine for five minutes. You also need to activate the manual park release feature when flat towing.
The Escape Hybrid also needs to run for a few minutes before the start of the tow and every six hours during the tow. To set the crossover for towing, run the engine and place your foot on the brakes. Set the car to Drive, then to Reverse, and back to Neutral.
GMC Yukon and Yukon XL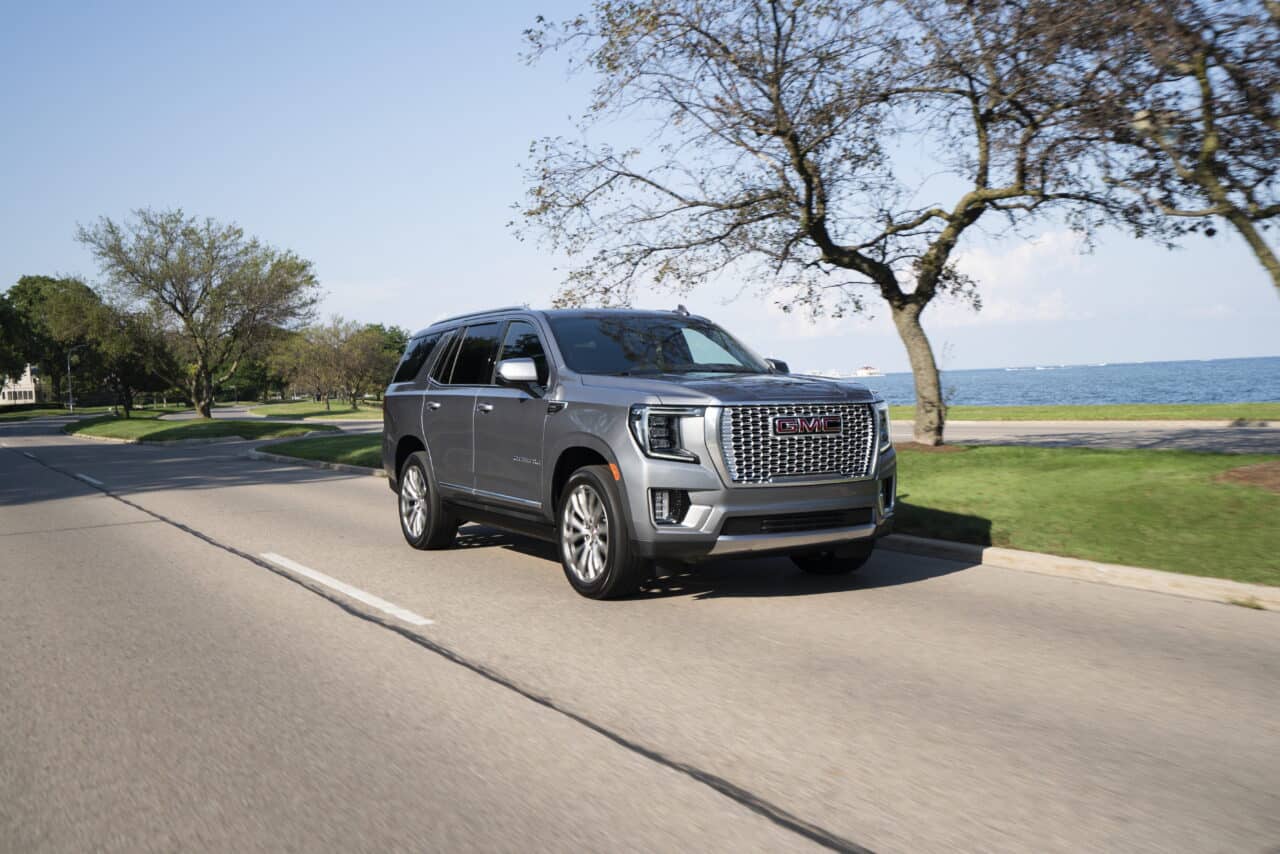 The GMC Yukon is a truck-based SUV. Granted, the SUV offers impressive towing capability and great handling. It is also one of the most comfortable full-size SUVs, thanks to the spacious cabin and the range of comfort features installed in the model. You will also enjoy more cargo space inside the SUV.
You can only flat tow the 4WDA models fitted with a two-speed transfer case. To tow, set the transfer on Neutral position and 4WD on low setting. To do that, apply the parking brakes, start the engine, and shift the transfer case to Neutral.
You can ensure the SUV is in neutral by shifting it to reverse, then to drive, and then back to neutral. Ensure the vehicle doesn't move while you shift. You further need to disconnect the negative battery cable and cover the negative post with a non-conductive material.
Subaru Crosstrek and Forester
The Crosstrek is Subaru's smallest crossover offering but a powerful vehicle nonetheless. Forester is a classic crossover SUV engineered to handle rugged terrain and offer unmatched comfort while at it.
You can tow all AWD vehicles from this automaker as long as they have manual transmission. You need to set the transmission on neutral. You can also tow all SRI vehicles with six-speed manual transmission as long as you set the transmission in neutral.
For the STI models, you need to set the Driver Control Center Differential, DCCD, to manual mode. The DCCD control dial need to be set to the furthest rearward position.
What Equipment Do You Need to Flat Tow an SUV?
An SUV was engineered to drive on the road and not to be towed unlike a trailer. As such, you need to set it up with the right hardware for effective towing. Below are some of the equipment you need to set up an SUV for flat towing.
Baseplate
Trailers designed to be towed behind a truck or SUV come with an A-frame that accommodates the hitch. Because your truck doesn't have such a thing, you need to fit it with a baseplate, which allows it to accommodate the hitch.
This baseplate is a steel structure designed for specific cars that attaches to the frame of your SUV. It is on this bracket that you attach the tow bar.
Baseplates for SUVs are smaller than those of smaller cars. Because the frame of a smaller car is lighter, the baseplate needs to distribute towing loads the right way to ensure the chassis of the vehicle is not destroyed. Your SUV is engineered to tow and haul heavy loads and so its frame comes strong from the manufacturer.
When shopping for a baseplate, you need one that is specific for your SUV model. The baseplate manufacturers offer complete instructions on how to install. You can check these instructions to know how much work you need to get the baseplate connected.
The Tow Bar
The tow bar has been in use since the 1970s. It was a simple A-frame steel bar that has advanced over the years to make it easier to use. These bars have weight ratings just like hitches. As such, you need to know the weight of your vehicle with a tank full of fuel and with necessary cargo.
Most of the tow bars, however, can handle at least 5,000 pounds, which covers about every passenger vehicle on the market. Because you may add some cargo to your SUV, ensure that the tow bar you pick has capacity to spare.
Some tow bars have unique features that make them more versatile. For instance, you find bars with drop/rise provision and heads that allow pivoting up or down.
Lastly, you need to consider the weight of the tow bar. Some bars are as heavy as 50 pounds, which can be a lot to handle when you remove the tow bar. Unless you are a bodybuilder, go for the lightest, but strongest bar available on the market.
You need to enquire what accessories the two bar needs to connect the SUV to the camper.
Accessories
The baseplate and the tow bar are the main hardware you need to flat tow your SUV. However, some connections might require accessories such as the drop/rise receiver adapter. This adapter comes in handy when the tow bar is not level with the camper.
Another accessory you need is rock guard. This guard protects your SUV from rocks, debris, fresh paint, and gravel that the camper might kick up from its rear wheels. Before you get a rock guard, check your SUV user manual to ensure that the manufacturer doesn't warn against the use of such an accessory.
Taillight Wiring Kit
Your SUV's electrical system needs to run in tandem with that of the camper. The running lights, turn signals, and brake lights need to go off together for the two vehicles. Today, RV lovers have access to ready-made kits that they only need to plug to the SUV and the connection is done.
The kits are in three categories:
• Prefabricated harnesses
• Universal towed vehicle wiring kits
• Bulb and socket systems
The prefabricated wiring kit is the easiest system to install. However, if you need a system than can fit any vehicle, go with the universal wiring kits. The bulb and socket system bypasses your SUVs wiring with bulb and socket assemblies that connect inside the taillamp housing.
Auxiliary Barking System
An auxiliary braking system keeps you safe on the road. It reduces the stopping distance and helps you avoid accidents. Most campers are heavy duty and are capable of stopping while towing an SUV behind them.
However, the extra weight of the SUV increases the stopping distance sometimes by up to 50 feet. Reducing the braking distance comes in handy in a busy highway where you find traffic comes to a dead stop.
Besides installing the auxiliary brake for safety, the law in some states requires that you install one. The law is different in different states. Some states check the weight of the dinghy vehicle while others require that all trailers have auxiliary brakes.
You can check the requirements on the braking requirements for trailers in the U.S. and Canada on Driving Laws. Even if you are in states that do not require the auxiliary braking system, you still need to install the brakes for your safety.
Closing Thoughts
A camper is a vehicle for explorers and adventure lovers. However, there are places that the camper cannot take you once you set up camp. This is where the second vehicle, your SUV, comes in.
If your SUV is not in the list above, check your user manual and see if the manufacturer recommends flat towing. If yes, check the procedures the automaker lists and follow them promptly.
For SUVs that cannot be flat towed, you can add aftermarket parts to make the SUV towable. These parts include transmission lubrication pumps and driveshaft decouplers. The parts are expensive, but they will get your SUV towed behind a camper.
If you are looking for an SUV to buy and tow behind your camper, go for one that you can two without any add-ons.