Do Toyota 4Runners Get Good Gas Mileage?
Four-wheel drive vehicles and SUVs in particular, are quickly becoming the go-to vehicles for both families and adventure seekers. One model that commonly ranks at the top of the list is the Toyota 4Runner. One common question asked about the 4Runner is how it does with regard to gas mileage. In this article, we will talk 4Runner fuel economy, and I will share with you what I have learned owning a 4Runner over the years.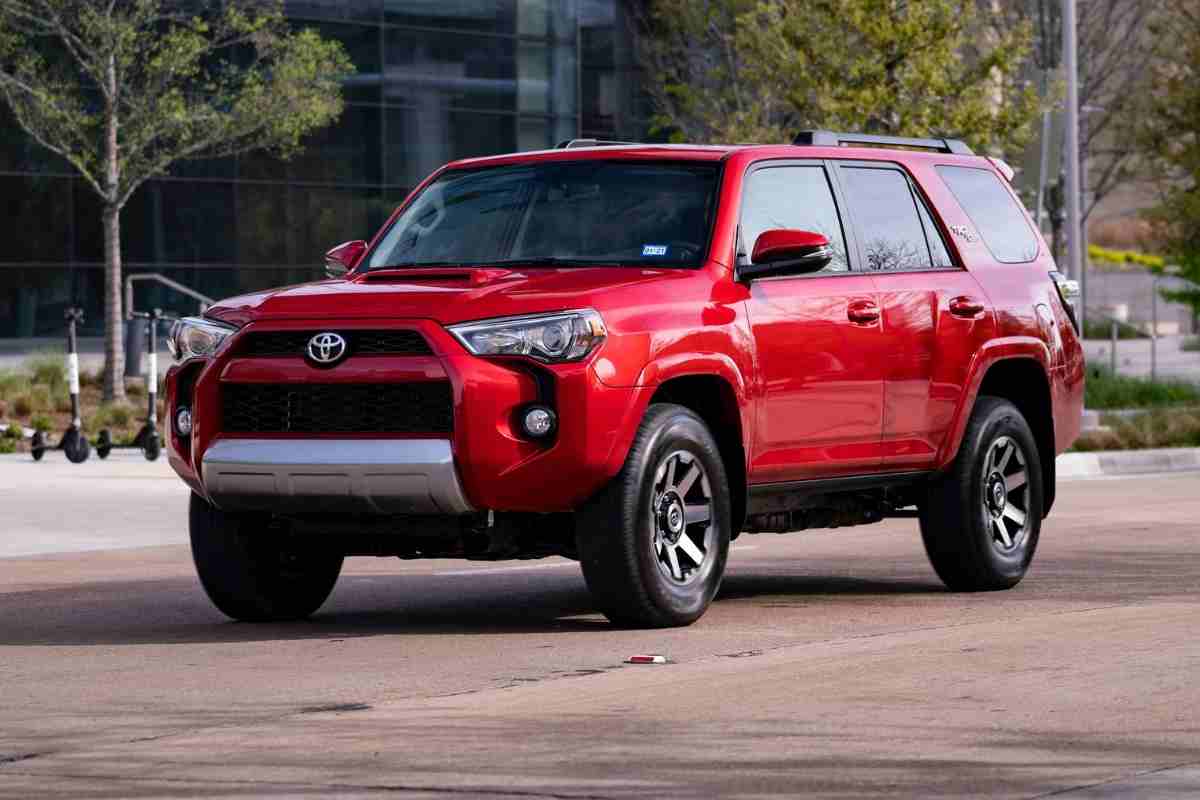 While you are researching 4Runners, be sure to bookmark the Toyota 4Runner category page and save these popular articles for future reading: What Are The Best and Worst Years for The Toyota 4Runner?, 4Runner Clicking Noise When Accelerating, What Do I Do?, and 6 Best Seat Covers for Toyota 4Runner
Do Toyota 4Runners Get Good Gas Mileage?
The Toyota 4Runner gets average gas mileage compared to other 4-wheel-drive or all-wheel-drive vehicles. With an average of 17 miles per gallon in everyday driving conditions. This is a reasonable level of fuel economy for a rugged body-on-frame vehicle.
If fuel economy is more important than rugged and reliable performance, a crossover SUV build on a car chassis and one that is lower to the ground may serve your needs better.
However, if you want the off-road ability of a vehicle built on a strong frame that will last a long time, the 4Runner may be the best fit for your needs.
There are certain decisions you make about upgrades and accessories that can drastically impact your fuel economy when it comes to your 4Runner. Keep reading, and we will go through these topics in detail.
Disadvantages that Affect the 4Runner's MPG
The main disadvantage of All-Wheel Drive (AWD) is the added cost for purchasing and maintaining the vehicle. The added cost and maintenance of All-Wheel Drives is due to their weight. Because of the added weight, the vehicle's fuel economy is lower than that of most other vehicle models.
The vehicle also requires more fuel to maintain its speed than the standard trucks because of the extra handling and weight. Despite these disadvantages, it's still possible to get the best MPG out of your 4Runner. I'll list a few examples of this in the following sections.
Improving Fuel Efficiency For Your 4Runner
Many consumers are unaware that to find a fuel-efficient vehicle that will save them the most money on gas consumption, they should compare the GMA on their vehicles.
The Kelley Blue Book is one of the best guides for seeing how many miles you will get your truck per gallon of fuel that you are consuming.
To get the best fuel efficiency rating on your vehicle, you have to make sure that you take the time to compare the estimated mileage that the truck can perform based on the model its year.
When you explore the 4runner MPG ratings, you have to look at the highway fuel consumption numbers. These are typically higher than the city numbers to account for when driving on the open road; you will encounter many obstacles that can decrease the truck's efficiency.
Understanding MPG
Suppose you were to only estimate the time and expect to get about 17 MPG in the city. In that case, you may find that it is actually a better idea not to take that route with the 4runner because you will not be saving any money.
You are much better off exploring the various options instead. This way, you can precisely determine how many miles your vehicle can travel on the open road.
When it comes to finding out the exact fuel savings, you have to examine the overall fuel consumption numbers closely. This SUV has a sporty model that consumes a lot more fuel when running on the highway and heavy traffic, especially compared to the city model.
However, this does not mean the 4runner TRD Pro is not a great 4Runner truck simply because of this fact.
Tips On How To Use Your 4runner More Efficiently
 The fuel economy for the Toyota 4Runner is 16 mpg in the city and 19 mpg on the highway. This car is ideal for those who want to travel 300,000 miles or more. In this article, you can find out which 4Runner has the best fuel economy and how you can use your 4runner to its best advantage.
In its own right, the 2020 4Runner is a perfect vehicle for outdoor enthusiasts. When it comes to body-on-frame SUVs, it's on par with Sequoias, Expeditions, and Tacomas.
However, the car has little aerodynamics, even though it looks great and can go up mountains.
Top 4Runners for MPG Efficiency:
• Limited Nightshade Edition
• SR5 Premium
• SR5
• Limited
 Driving slower is better for your fuel economy. For example, a car speeding at 80mph consumes 10% more gas than one driving at 70mph. Your 4Runner won't suddenly become supercharged, but you will get some excellent EPA ratings.
Keep Off-road Modifications to a Minimum
All kinds of off-road mods and accessories turn the 4Runner into a hot performer among off-road enthusiasts. If you don't plan adventurous back-country trips often, you're worse off buying off-road parts and accessories.
Large All-Terrain or Mud Tires
Tires with big diameters are likely to have the biggest detrimental effect. Having 32-inch tires decreases the vehicle's fuel economy and makes it heavier. A street tire has a much smaller tread pattern and has a smaller load capacity than an off-road tire.
Your car's fuel economy will drastically decrease if you change your tire size since a larger tire requires more effort to roll than a smaller one because of its higher rolling resistance. When your engine needs to work harder, it's going to result in a lower MPG. Your car will ride better on a smaller tire and a thicker wheel.
It is always best to use OEM passenger tires. You could stay with smaller tires if you don't expect to do much off-roading with your 4runner and get good gas mileage. You can always buy an 18-in wheel for better handling if you need a bigger wheel.
4Runner Lift Kits May or May Not Help
Lifts do not have as much of an impact on your fuel economy. A few different types of lifts are currently available to accommodate the Toyota 4runner's suspension. Although it sits well off the ground with its suspension completely visible, you can still add one of the following kits:
• spacers
• upgraded shocks
• coil overs
• long travel kits
• drop bracket lifts
• combination lift kits
 Fuel efficiency isn't affected by engine lifts, so modifying them by a few inches won't matter much. If you choose to invest in a lift kit, check your lift's compatibility with your suspension.
This is especially true if you have a fancy OEM like X-REAS or a KDSS. Remember that lifts do not directly affect your fuel efficiency, but it can cause issues and other factors. It is still something you should watch out for.
Roof Racks Have to Be a Certain Weight
Aerodynamics plays a crucial role in fuel efficiency. In most cases, the Dynamic Weight Capacity (DWC) of racks or bars must be at least as much as the tent's weight. However, your fuel economy may decline if your 4runner has a heavy roof rack on top.
A rack with more than 165 lbs is necessary for safety since most models weigh between 120 and 165 lbs. Roof racks on 4runners have a driving load capacity of 300 lbs. On the flip side, If you have tools, spare tires, or anything heavy attached to your rig, it will struggle to move efficiently.
Headers
You can significantly increase MPG with a short tube header set. Headers can be beneficial for Toyota 4Runners equipped with restrictive exhaust manifolds. Consequently, the engine can produce more horsepower and torque.
Cat-back Exhausts
Exhaust systems on 4Runners will not see the same performance or fuel economy improvements as headers will. However, there is no exhaust system without the catalytic converter. A cat-back exhaust may be a good idea if you want to improve the factory muffler's performance.
Make Sure You Choose the Best Performance Mods
Not all 4Runner modifications result in bad gas mileage. There are a lot of them that are helpful. For instance, you can progressively improve your power by using Intakes, Catback Exhausts, or Headers.
Each of the following models delivers an outstanding driving experience with the right amount of performance and control.
Trim levels for 2020 4Runner:
• TRD Pro
• Limited
• Venture
All four-wheel-drive 4Runner model engines produce predictability for its size, despite being an off-road SUV. When you buy the right model, you can depend on its performance.
Summary
There are plenty of reasons why you will want to make sure that you are taking advantage of everything that this vehicle has to offer.
The best defense is to keep your costs down. Here are some other ways to improve your 4Runner's gas mileage that we might have missed in earlier sections:
• Don't push the throttle too hard.
• Use less A/C.
• Drive at a moderate speed.
• Do less traveling in cold weather.
• Don't go over the recommended RPM.
• Minimize your trailer weight.
• Check your HCF (Hydrocarbon filter) often.
• Cut back on short trips.
Whether you like to travel on free weekends or commute to work, the 2019 Toyota 4Runner gets you wherever you need to go. However, the 4runner's fuel consumption is relatively high, so if you don't follow these tips, your dependable 4WD's mileage can progressively worsen over time.