Can A Toyota 4Runner Pull A Camper?
This post may contain affiliate links. As an Amazon affiliate, I earn from qualifying purchases.
It's a veteran of the SUV market. For more than thirty years, the Toyota 4Runner has taken us to anywhere we want to go. It's reliable and rugged, with an engine that's tried and true. You can fit all your stuff and take it for a long trip over the weekend. But, can you take it one step further and tow a camper? Let's find out.
Can a Toyota 4Runner pull a camper?
Thanks to its 5,000-pound towing capacity, the Toyota 4Runner can tow a camper. This SUV can also tow many other things, like boats and jet skis. Thanks to its 4.0L V6 producing 270 hp and 278 lb-ft of torque, the 4Runner doesn't disappoint in the towing category. There's no difference in towing capacity between the 2WD and 4WD versions.
To provide safer towing, the Toyota 4Runner also comes with many features. It includes an integrated hitch receiver, and wiring harnesses to connect the trailer (or camper) and the car.
One of the 4Runner's main advantages for towing is its solid rear axle and body-on-frame construction. This design allows a vehicle to carry more weight and pull heavier loads at the cost of fuel economy. Thanks to its rugged construction, the 4Runner will pull a considerable load in tougher terrains.
But the 4Runner's construction is outdated when compared to the competition. Its rear suspension, primitive engine, and rudimentary transmission make it hard to drive at highway speeds. Because its ride is choppy and unrefined, you should take extra precautions when towing.
Also, you have to remember that 5,000 pounds are the maximum towing weight. This includes the camper and all cargo inside. Always respect the manufacturer's guidelines when it comes to towing capacities. We'll explain more on this further down in the article.
You can read more about the risks of exceeding towing capacity in our article. But, first, let's see how the 4Runner stacks up against the competition in the towing department.
How many pounds can the 4Runner tow?
The Toyota 4Runner can tow 5,000 pounds in both 2WD and 4WD versions. This weight allows you to tow campers that average 23 ft in box length, without gear or water. Remember that, as you add weight, you must factor in these extra pounds to the total towing weight.
So, how does this stack up against the competition? Let's find out. The following table shows some of the 4Runner's direct competitors and their towing capabilities. Keep in mind that this list includes the V6 engine (when possible) and any necessary towing packages to reach this figure to provide an equal field. Some vehicles, like the Durango, come with a V8 and a towing package that increases its pulling power by a hefty 1,000 pounds.
| | | |
| --- | --- | --- |
| Make | Model | Towing capacity (pounds) |
| Chevrolet | Blazer | 4500 |
| Honda | Pilot | 5000 |
| Toyota | 4Runner | 5000 |
| Ford | Explorer | 5600 |
| Nissan | Pathfinder | 6000 |
| Jeep | Grand Cherokee | 6200 |
| Dodge | Durango | 6200 |
As you can see, the 4Runner doesn't lead the competition in towing. In fact, it only outperforms the Chevrolet Blazer by 500 pounds. There are many reasons why the 4Runner doesn't have the best towing performance.
Also, Toyota doesn't offer a package that can increase the towing capacity. The performance version, known as TRD, only upgrades the suspension and underside protection. As we've written before, these improvements do not increase the vehicle's towing capacity.
So, when it comes to options, the 4Runner feels limited. There are few trims, and they include no performance improvement.
Then, there's one of its most striking features, which is also the 4Runner's Achilles' heel. Its body-on-frame construction makes it a rugged off-roader, capable of traversing extreme terrains. But, the 4Runner is also very heavy. The following table shows how it stacks against the competition in curb weight.
| | | |
| --- | --- | --- |
| Make | Model | Curb Weight |
| Chevrolet | Blazer | 4287 |
| Honda | Pilot | 4287 |
| Ford | Explorer | 4345 |
| Nissan | Pathfinder | 4489 |
| Toyota | 4Runner | 4675 |
| Jeep | Grand Cherokee | 4746 |
| Dodge | Durango | 5381 |
Only two vehicles weigh more than the 4Runner. Such weight places it at a disadvantage. Its powerplant, the 4.0L V6, produces adequate power and torque, but it falls behind the competition. The main reason for the lack of competitiveness is its age, as it has been in use for more than 12 years, unchanged.
Is the 4Runner's towing capacity of 5,000 pounds good? We let you know in this article. Now that we've seen how the 4Runner performs versus the competition, let's get into valuable towing terms you need to know.
Valuable towing terms to understand:
If you're going to put your 4Runner to the test, it's recommended that you know the basic terms so that you prepare your ride safely. The following is a list of terms that are essential for any towing experience:
Gross Vehicle Weight Rating (GVWR): usually expressed in pounds or separated by class. It's the vehicle's maximum total weight. No other weight can exceed this rating.
Gross Combined Vehicle Weight Rating (GCVWR): usually expressed in pounds or separated by class. It's the recommended maximum loaded weight of your vehicle and your trailer. This number cannot be larger than the GVWR.
Gross Trailer Weight Rating (GTWR): usually expressed in pounds or separated by class. The maximum recommended weight for a fully loaded camper, in this case.
Curb Weight (CW): usually expressed in pounds. This is the vehicle's weight when there are no passengers or cargo. But it does take into consideration fuel and the fluids necessary to operate.
Tongue Weight (TW): usually expressed in pounds. This is the maximum weight that can be exerted onto the back of the vehicle. It concerns the hitching point between the camper and the truck. It's an essential value for stability.
With these numbers in mind, let's do an exercise and see what kind of camper can the Toyota 4Runner pull.
Let's say you have a Jayco Jayflight 19-foot camper that weighs 3,175 pounds without gear or water. The average trailer has a 48-gallon tank for freshwater, which translates to 400 pounds. Also, as a hypothetical, you go overboard in loading your camper. You cram in elements like heating, food, and cooking supplies and increase the weight by 500 pounds.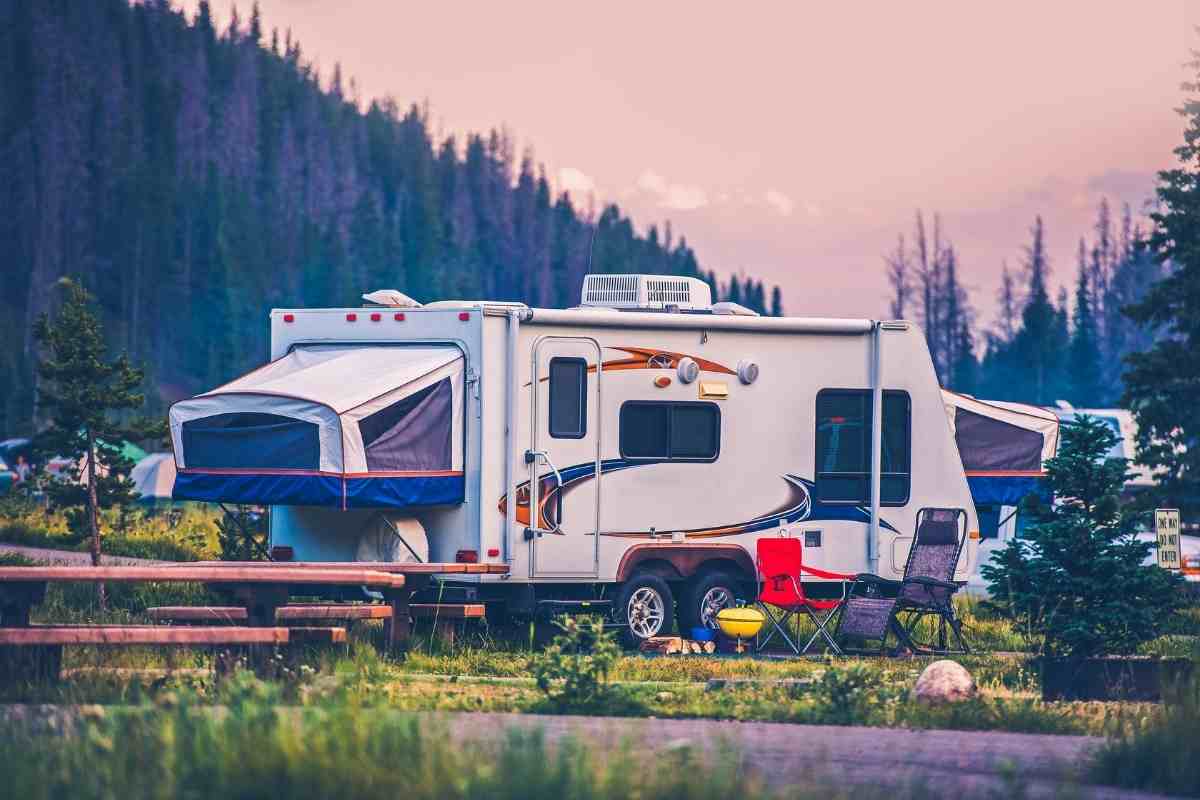 This will increase the total weight to 4075 pounds, leaving you with more than enough additional towing capacity. But, let's remember that the 4Runner isn't the best when it comes to highway speeds, so driving safely is key. Keep track of all the pounds you add to your camper.
The Toyota 4Runner is a good off-roader and, as we can see, it can tow decent numbers. But does all of this translate to reliability? Next, we'll discuss the 4Runner's dependability.
Is the Toyota 4Runner reliable for towing?
The Toyota 4Runner is a reliable vehicle. In fact, it's four times more likely to reach 200,000 miles than the segment average.
The main reason for this reliability is that Toyota works hard to weed out all the vehicles' problems. The Japanese manufacturer isn't afraid to use older engines and transmissions if they're reliable.
As we mentioned above, the Toyota 4Runner's engine is the 4.0L V6, which has been in production, largely unchanged, since 2003. The powerplant connects to an equally old 5-speed automatic transmission. It's robust but can be choppy at times, especially downshifting.
But, both components have proven their worth. With proper maintenance, these vehicles will last for hundreds of thousands of miles. If you want to know more about this topic, check out our article on it.
It's no surprise, then, that Toyota comes out as the most reliable brand in many magazines and surveys. The disadvantage to this tradition is that the 4Runner might struggle to keep up with the competition.
As we have seen, it doesn't excel in towing performance and is heavier than most of its competition. With more intelligent gears and efficient engines, many vehicles are better at towing. And, yes, the 4Runner's party piece is its off-road ability, but it might not be enough.
Closing thoughts:
In this article, we wanted to answer if the Toyota 4Runner can tow a camper. We discovered that the 4Runner could tow average-sized campers with its 5,000-pound towing capacity. When you put this car side by side with the competition, that number isn't impressive.
In fact, the 4Runner only outdoes vehicles like the Chevrolet Blazer and lags behind other manufacturers. But, it makes up with excellent off-road performance, outstanding reliability, and rugged construction.
Thanks to its body-on-frame construction and solid rear axle, the 4Runner is a heavy vehicle. Its beefy engine produces average power and torque. This construction and outdated components have an advantage. The engine is tried and true. It's reliable and rarely has issues. The transmission and rear axle can withstand anything you can throw at them.
It's important to highlight that the Toyota 4Runner doesn't handle well at highway speeds. Its ride is choppy and might feel cumbersome when towing a camper. But once you get to the wilderness, there's no better option. With its off-roading prowess and ground clearance, the 4Runner will take your camper to the edge of the lake if you want to.