4 Campers You Can Tow With A Jeep Cherokee?
If you own a Jeep Cherokee, it is likely that you are looking to go explore the great outdoors.
Maybe you have already, and you realize that you want to tow a camper in order to really be able to stay out for great lengths of time and reach more remote places. While you may be worried that there isn't a camper for you if you have a lower trim package, we are here to tell you not to worry.
Not only is there a great camper out there that any Jeep Cherokee can tow, it will look great and have all kinds of high-tech bells and whistles as well. However, before you get started, it is important to know what the towing capacity of your 2020 Jeep Cherokee.
Towing Capacity: What Camper Can a Jeep Cherokee Tow?
A Jeep Cherokee can tow a camper and gear load of 2,000 pounds depending on trim and year. Upgraded engines will change this, as well. Campers that fit in this tow weight capacity include pop-up campers, hybrid trailers, and teardrop trailers.
Now that you know what the potential is for a Jeep Cherokee, it's time to determine what your trim package can tow, and then take a look at Campers that will be light enough to include all your additional gear, as well.
Are you ready to get the camper of your dreams and take your Jeep Cherokee out to the world-class national parks in our beautiful nation? Yes? Then keep on reading.
Different Tow Capacities of a Jeep Cherokee
It would be awesome if we could jump right into all the amazing options for campers out there, but it is very important that we determine what the towing capacity is for your Jeep Cherokee.
If you go overboard and buy something too heavy – you can do irreparable damage to your Jeep Cherokee and potentially even yourself. Don't worry, we'll be at the fun part before you know it.
For the purpose of this article, we are only going to look at the variations of the different trim options of the Jeep Cherokee for 2020.
If you have a different year of Jeep Cherokee, it is very important that you look up what the towing capacity is for your trim and year, or call your dealership if you need help.
Once again, it is very important that you don't scrimp on the details, here.
Finally, please make sure that you have the proper towing accessories for your Jeep Cherokee. There are plenty of options your dealership can help you with, or you can consult your local outdoor adventure store or mechanic for more help.
| | |
| --- | --- |
| Trim | Towing Capacity |
| Trailhawk Elite | 2,000 lbs |
| High Altitude | 2,000 lbs |
| Trailhawk | 2,000 lbs |
| North Edition | 2,000 lbs |
| Limited | 2,000 lbs |
| Altitude | 2,000 lbs |
| Latitude Plus | 2,000 lbs |
| Upland | 2,000 lbs |
| Latitude | 2,000 lbs |
As you can see, there are many different trims of Jeep Cherokee, and the standard towing capacity is 2,000 lbs for all of them. What gives?
Well, unlike other Jeep models, a Jeep Cherokee gets an increased towing capacity with an increased engine in the 2020 models. You can ask your dealership about this option, or build custom specs on the Jeep website to ensure a larger towing capacity.
When it comes to your Jeep Cherokee being properly equipped, there are many different options that you may be able to purchase from the dealership with your new vehicle.
If you already own a Jeep Cherokee, don't worry! You can also find aftermarket options that ensure that you are reaching your maximum towing capacity.
If you need more information about the towing specs for a 2019 Jeep Cherokee, make sure to check out our article which goes into the nitty-gritty of what you can do with your new vehicle.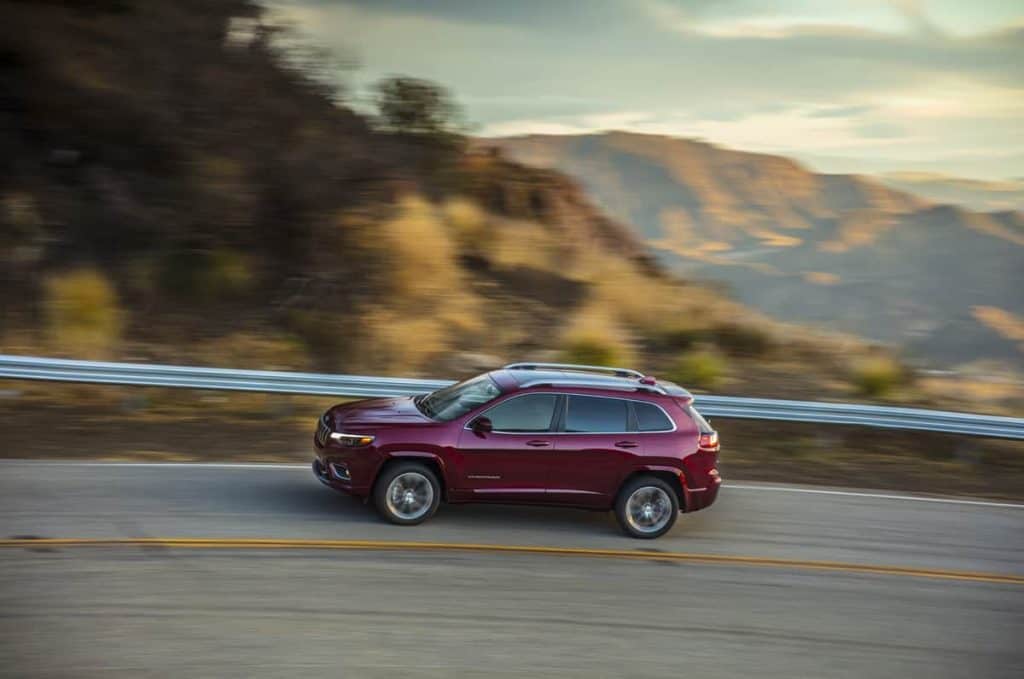 What Campers to Buy for a Jeep Cherokee
Now that we have discussed some of the limitations with towing behind a Jeep Cherokee, let's get to the good stuff.
Here are our top picks for ultra-light campers that you can tow (with your gear) behind a Jeep Cherokee.
Air Opus Pop-Up Camper
We are starting you off with an amazing camper that has everything you need for an ultra-comfortable and luxurious camping trip.
Amazingly, it also sleeps six people. How does it do it all at 1557 pounds dry weight? It is a pop-up camper, so a lot of the weight of a heavier camper is replaced by lightweight fabric and aluminum. It is kinda like a high-tech tent.
This camper has it all, including an electric heater, 2-way refrigerator, comfortable seating, gas stove, and running water.
Better yet, all you have to do is flip a switch and this pop-up camper sets itself up. No vacation disasters trying to get poles to fit together in the rain, here! That's a win in our books.
Important Specs:
Capacity: 6 people
Length: 18.5 feet
Dry Weight: 1557 lbs
Escapod Teardrop Trailer
The Escapod is one that any Jeep owner is going to love. Why, you ask? Well, it is specifically designed to travel over the most technical of terrains.
This means that you can take this teardrop trailer anywhere that you want to take your Jeep Cherokee, how cool is that?
If you've ever seen those pictures of people sleeping under the stars in the most remote locations and wanted to recreate that for yourself, you couldn't do much better than an Escapod Teardrop Trailer.
Another bonus to the Escapod is, unlike most teardrop trailers that only sleep 2 people, there is actually an additional rooftop tent you can buy that will sleep an additional three people.
If you want to take a group of friends out to some remote spot in a beautiful park, but are worried about the towing capacity of your Jeep, the Escapod is going to allow you to achieve your camping dreams.
The cool exterior of the Escapod makes it a no-brainer for a Jeep lover, and its versatility is going to impress everyone.
All the amazing shots off the tops of mountains with your Jeep and teardrop trailer front and center is going to impress them even more.
Important Specs:
Capacity: 2-5 people (with rooftop tent add-on)
Length: 18 feet
Dry Weight: 1600 lbs
Polydrop Teardrop Trailer
The Polydrop teardrop trailer absolutely must be included on this list if for no other reason than its incredible lightweight.
Seriously, how they designed something so beautiful and functional at only 760 pounds is something we still haven't been able to wrap our heads around.
This teardrop trailer is perfect for weekend getaways, beach trips, and long road trips where you don't want to stay in a hotel every night.
We can also see it being great for music festivals and desert getaways. It has a 100W solar system, outdoor kitchenette, and a sleek minimalistic sleeping area, meaning that you can sleep and eat in style during your entire trip.
It's easy to see that this teardrop trailer was designed by an architect due to it's instagrammable exterior. While it does lack some of the features as that other options we have discussed here, it's lightweight means that you don't have to worry about loading up some gear.
It is easy to buy outdoor showers with some privacy curtains for those times you're really in the middle of nowhere, and the 1,000 pounds of payload capacity that your Cherokee has in addition to its towing capacity means that loading up luggage on the roof and in the hatch is no big deal.
Important Specs:
Capacity: 2 people
Length: 12.5 feet
Dry Weight: 760 lbs
The Happier Camper
While the name kinda gives it away, it is almost impossible to look at The Happier Camper without feeling supremely happy.
It gives us the same joy that a Volkswagon Beetle gives. Lots of retro joy and visions of playing your guitar around a fire at the beach or your favorite campsite.
The Happier Camper has one of the most well-thought-out uses of space from any camper we have seen. Its innovative modular design means that its features move around and rearrange to make the space workable for a variety of activities.
The Happier Camper comes in a variety of colors, so you can pick the one that best accentuates your Jeep Cherokee.
The fiberglass double-hull ensures both heat and AC are cheaper than expected, and the solar power option helps in this regard as well.
This little guy even fits in a single parking space in your garage, so you can keep it nice and clean while you are back at home working. But don't worry, the simplicity in this design means you can be right back at it every weekend.
Important Specs:
Capacity: 2-5 people (not five adults)
Length: 13 feet
Dry Weight: 1100 lbs
Conclusion
The Jeep Cherokee is definitely not the Jeep with the largest towing capacity.
However, there is absolutely no reason that you can't get a camper that is functional, affordable, good-looking, and perfect for your next outdoor adventure.