Jeep Gladiator Sport vs. Sport S Trims | Jeep Pickup Truck Comparison
This post may contain affiliate links. As an Amazon affiliate, I earn from qualifying purchases.
Have you been trying to decide whether Jeep Gladiator Sport or Jeep Gladiator Sport S is best for you?
This is not an easy decision to make as buying a car is one of the major purchases one makes in a lifetime.
Jeep is known for being a high quality brand that offers a lot of different options when it comes to buying a vehicle.
Both the Gladiator Sport and Gladiator Sport S give you a lot of flexibility depending on what you're looking to do with your Jeep.
Regardless of whether you're trying to find a car for work, the car that you drive daily, a "fun" Jeep for the weekend adventures or if you want to be off-road 24/7 – it probably makes sense to be looking at a Jeep due to their overall high quality.
All four of the Gladiator models offer awesome towing and payload specs, however the Gladiator Sport and Gladiator Sport S both offer more in this area than higher-priced packages. That's great news for those looking for a heavy-duty use Jeep.
However, how does one make that final decision between the Gladiator Sport and Gladiator Sport S?
The Gladiator Sport is more of a purist's vehicle. There are a lot of features that beat out other brands of vehicles to be sure, but when compared to the Gladiator Sport S it definitely has less features overall.
The benefit here is that the Gladiator Sport also comes home with a more reasonable price tag.
On top of the base purchase features and price difference, the Gladiator Sport S opens the door for some future package purchases that you may consider; where as if you buy the Gladiator Sport model you won't be able to even think about buying those packages because they aren't compatible.
While that may seem unfortunate, you really need to weigh price with the features you're getting. Buying a vehicle is never a cheap process so you really want to take your time to research what you're getting so that you are satisfied with your purchase long down the road.
How can you decide if the extra money is worth it to spend for the Gladiator Sport S over the Gladiator Sport?
We're going to take you through every single pro, con, difference, and similarity to help you make the perfect purchasing decision that will make you a happy camper.
Jeep Gladiator Sport vs Sport S Similarities
It's important to realize that when you are deciding between the Gladiator Sport & the Gladiator Sport S that you truly are the same vehicle and you are only debating on a trim package.
I mention that because at times people can over-estimate the differences of the vehicle. The differences sound like a lot when you are listing off all kinds of differences, however you should also pay some mind to these similarities. Yes, additional features do matter.
However, most people buy a vehicle for the basics as well and if you are thinking in that mode; here are some ways that the Sport & Sport S perform exactly the same. Even though the names are so similar, people really do forget to think this way.
Let's start with the engine. Both packages offer a 285-horsepower 3.6 liter V6 engine. This has got a nice feel to it and should give you enough power whether you're using the vehicle for work or play.
The torque, payload, and towing capacity also both match up on these vehicles. You've got a towing capacity of 7,650 pounds and a max payload capacity of 1,600 pounds with either door you go through.
That's deceiving as some people will think that they're getting more power when they pay more, obviously that's not the case here.
To get up to those maximum capacities advertised by Jeep, you will need to get the Max Tow Package that has 4.10 Axle Ratio.
Some people can feel a bit misled by that, but that's somewhat of an industry-standard when advertising for towing capabilities.
The size of the vehicles stays the same as far as length, width, and height goes, and with all of these similar stats you are getting the same fuel capacity as well as fuel performance.
Both vehicles are going to average around 19 MPG if you are combining some level of highway and city driving.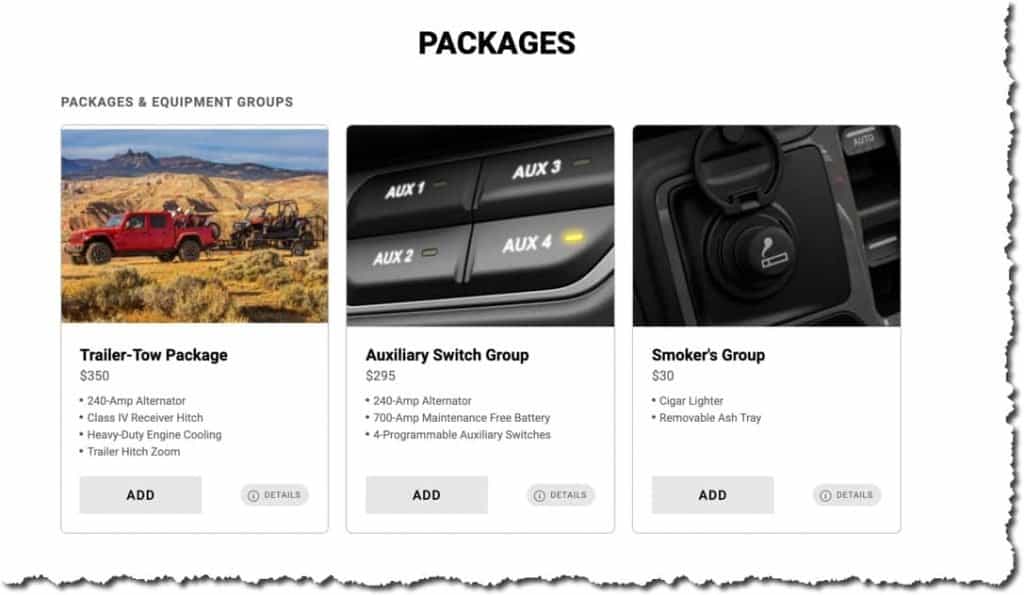 On top of that, your off-road capability will not be affected if you go with either set-up. The Command-Trac Part-Time 4WD System will be identical no matter what you choose.
Jeeps are known for heading off-road and the 17" wheels give you a lot of traction with that Command-Trac system.
Most customers are satisfied when they buy through Jeep and they'll continue to lead the field when it comes to off-road vehicles.
When it comes to some of what could be considered the "hard" specs, you'll find that the Gladiator Sport and Sport S are exactly identical.
For those thinking they can get a leg up in power or in size by simply spending a bit more, they will be disappointed as they could have got the same performance from the Gladiator Sport.
When you get to the interior, you're still going to find a lot of similarities between the two trims.
Both models come with standard air conditioning to keep you cool on hot summer days. The interior designs are the same so nothing really stands out here as far as picking a superior package.
Of course, Jeep wants to keep their drivers safe so anything you can think of that is related to safety will be included on both models.
They feature back-up cameras which can help get you out of sticky mountain situations (or just bad parking from your neighbors).
The Jeep models also come with electronic stability and swaying trailer controls which allow you to navigate with confidence.
At the end of the day, the biggest features in the Gladiator Sport & Sport S really do match up with each other and the differences end up being things that are more "convenience" based.
Whether you're willing to pay that convenience will be the deciding factor about which model you should go with at the end of the day.
Jeep Gladiator Sport vs Sport S Differences
To effectively decide which Jeep Gladiator trim is for you; you need to know the essential differences between the Gladiator Sport & Sports S.
The Gladiator Sports S trim is more expensive – getting priced over $3,000 more than the Gladiator Sport when going by the Manufacturer Suggested Pricing. Of course, that means that the Gladiator Sports S is going to have more features that are either added or improved when compared to the Gladiator Sport.
The big question you have to ask yourself is "Do these additional features add up to more than $3,000 in value for my personal needs?"
Let's take a look at the differences and clear up that thought process for you.
Let's start with the windows.
The Jeep Gladiator Sport really lags behind its counterpart when you take a look at the windows.
The first difference most people notice is that the Gladiator Sport has manual crank windows. Yes, that's still a thing. It's a big deal for some buyers and this level of inconvenience doesn't stop there.
The Gladiator Sport also has manual door locks.
The Jeep Gladiator Sports S really stands out with these two factors alone when you consider that has power windows, power door locks that offer keyless entry, and even a nice 1-touch down option that means you don't even have to hold your finger on the down key to get the windows down on that nice sunny day.
The side mirrors also get the electronic upgrade as well – they're powered and the Gladiator Sport has manually adjustable side mirrors.
For drivers who don't want to go back to the old days of cranking their window down; this power window feature along is going to be a deal-breaker.
As one last note on the windows; it should be noted that the rear windows of the Gladiator Sport are clear where as the Sport S have tinted rear & rear door windows tinted automatically.
Those buying the Gladiator Sport can choose this tinted option for just under $500; however that means you're cutting into your saving that you had from buying this model.
As we move around the two models, we come to the tires, another big difference point here between the two.
The Sport S has what many will consider a better wheel set up (aluminum with silver finish vs. steel w/ black finish).
When you look at the steering wheel, you see the Sport S has a leather upgraded version which will feel a bit more comfortable when driving.
You've got one more major difference to consider when deciding on the Sport or Sport S which is additional "miscellaneous" options.
If you are looking for a Bluetooth speaker or premium audio system, those are only available for purchase on the Sport S. That also goes for some "camping" features like a Hard Top Headliner or Side Steps.
There are also some packages that cannot be added to the Sport such as a Remote Start package or a Cold Weather Package that includes heated front seats and a heated steering wheel.
None of the packages are "do or die", however, there are also some safety ones like Adaptive Cruise Control or a Jeep Active Safety Package (offers blind-spot detection, parking assist, etc.) that may interest you if you are looking for the absolute safest option.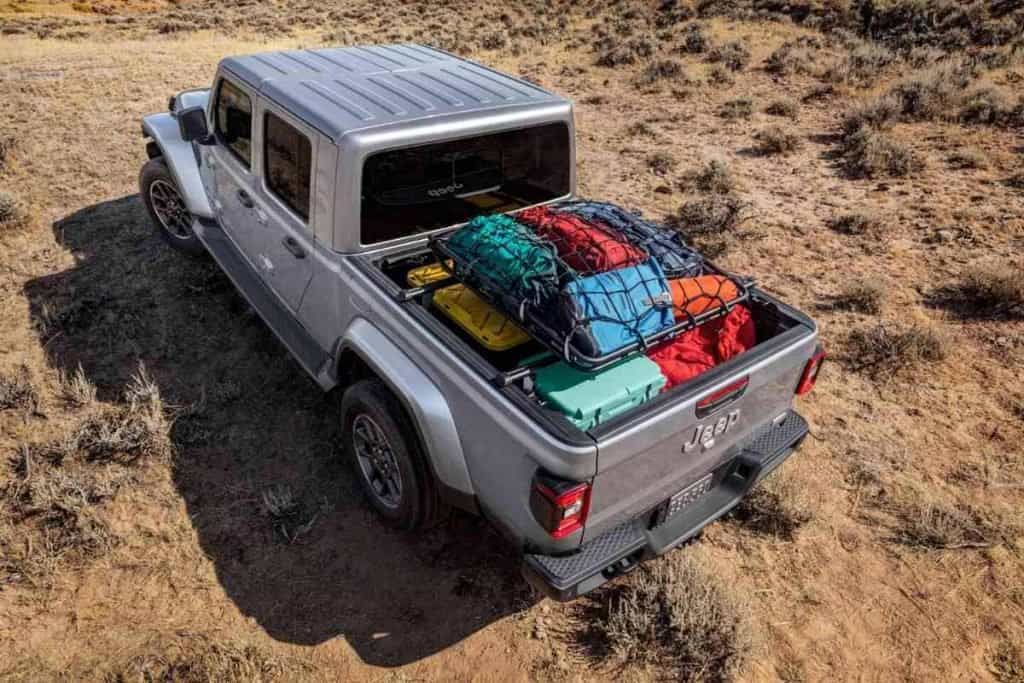 Making A Final Decision: Jeep Gladiator Sport vs. Gladiator Sport S
When you're considering the Gladiator Sport & Sport S, you need to be thinking about the convenience options that are the big difference between the two.
There are no major performance differences between the two when comparing activities like towing, on-road performance, or off-road performance.
Both vehicles are pretty solid in the statistics and reputation that they bring to the table, so you are in the right area of consideration.
The Gladiator Sport gives you exactly what you need and nothing more. If your main consideration is performance and price, that is probably where you need to go.
Some drivers may be put off by the fact that you've got crank windows; however others may feel a bit of nostalgia for rolling the window down on a beautiful day.
Either way, the Gladiator Sport gives you the basics and gets you on the road (and off it) at the bare minimum price for a Jeep with these capabilities.
The Gladiator Sport S gives you a bit more – features that you will have to decide if they are worth the bang for your buck.
You've got convenience when it comes to the windows and doors with the electronic system there.
You've got a nicer feel when it comes to your steering wheel, and you've got a tire package that is generally accepted as a bit nicer than the Gladiator Sport.
For those upgrades; however you're also upgrading your price tag just over $3,000 more than the Gladiator Sport would run.
On top of those convenience and extra features; you definitely want to check everything that the additional packages offer that are only available for the Sport S.
You can't go back and change your mind if you buy the Gladiator Sport; you're not even going to have the ability to add the Jeep Convenience package Group or the Cold Weather package Group if you wanted to.
That shouldn't scare you away, but you should think about your needs and consider closely if you'll need those extras.
At the end of the day, you have to do the math that makes sense for you and your budget.
Making a decision between these two similar models isn't easy – but you should imagine yourself with each package and what the extra options truly add to your life. Will it be worth the extra money that you pay?
When you are able to think that way; you will have made the perfect decision when picking between the Gladiator Sport and Gladiator Sport S.
Popular Jeep Gladiator Accessories
Last update on 2023-09-15 / If you click this affiliate link and make a purchase, we earn a commission at no additional cost to you.
Jeep Gladiator Sport vs. Sport S Trims | Jeep Pickup Truck Comparison