Which Chevy Truck is Diesel? (2 Good Options!)
Chevy trucks are well-known and much beloved by truckers everywhere because of their rugged, intimidating exteriors and powerful engines. Some of these Chevrolet trucks even come with diesel engines (which are more powerful than gas engines), but the question is, which one(s) do come with this option and which one should you get? If you are or have ever been wondering which Chevy truck to invest in, you have come to the right place!
Two of Chevrolet's trucks run on diesel and those are the Colorado and the Silverado. These trucks both have diesel engine options with different trim packages which means they can be customized to the owner's liking. Chevy also has other diesel-powered vehicles like the Tahoe and Express van.
Now that your options have been laid out for you, you undoubtedly want to learn a little bit more about these options. Read on to learn some details about both the Silverado and Colorado and the features and pros and cons they have to offer.
Chevrolet Colorado
The Chevy Colorado, like the Silverado, is powered by a Turbocharged Duramax diesel engine. Keep in mind that a diesel engine is only an option for certain trim packages. The Z71 is one such package. This trim option is the nicest/most advanced that Chevy has to offer for the Colorado, including Multimatic shocks, heated folding mirrors, and, yes, a 2.8 Liter diesel engine which will greatly increase the truck's performance.
The Colorado's performance is nothing to sneer at for a midsize truck. It has a towing capacity of about 7,000 pounds and a payload capacity of 1,500 pounds. It also has over 50 cubic feet of cargo space available so you don't have to worry about having enough space for all that camping gear.
One of the nicest things about the Colorado's diesel engine option is that it adds an increased 700 pounds to the towing capacity. It doesn't drive quite as fast with a diesel engine, but with 7,700 pounds of towing capacity and 369 lb-ft. of torque, the diesel option will serve you quite well. (source)
Thanks to its smaller size, the Colorado drives more like an SUV. It has smooth and comfortable maneuverability and it handles just like a champ. If nothing else, buy a Colorado truck for its awesome ride quality and handling. You surely won't regret it at all.
The Colorado is also a much more affordable option than the Silverado. Granted, it is a bit smaller but it still does have plenty to offer so this shouldn't be that big of a deal. You can get a Colorado truck for roughly $25,000 or maybe a little more. In comparison to the Silverado's $30,400, this is probably a better alternative.
The only thing to keep in mind is that the Colorado is a mid-sized truck so it's not going to have near the capabilities of a full-sized truck like the Silverado. This doesn't detract from its performance, of course, but it can feel limiting to some people, especially since it doesn't have as many safety features. This can be somewhat worrisome.
Plus, there's not as much storage space offered with a Colorado truck like there is with different models. While the Colorado will likely serve you just fine for most of the time, it may be a bit harder to haul extra-large cargo. Just make sure you carefully consider this truck's limits before making a purchase. (Source)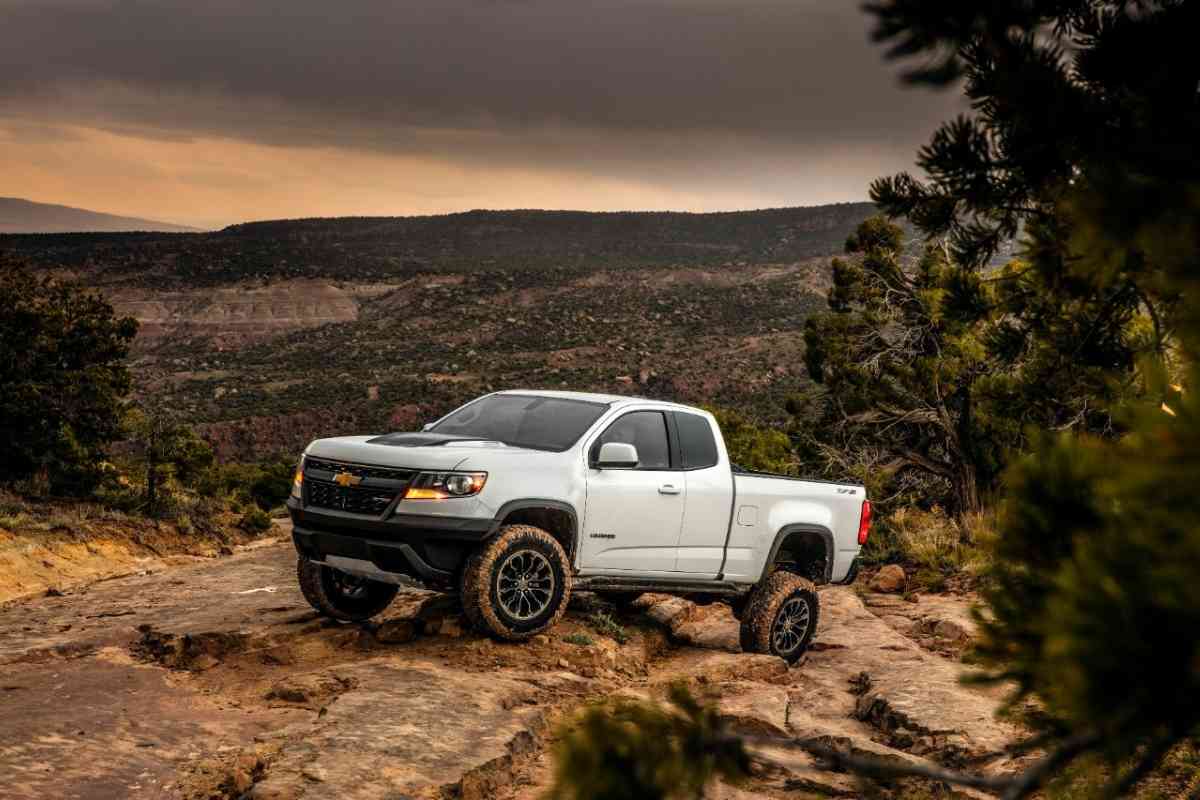 Chevrolet Silverado
The Silverado is quite possibly Chevrolet's most popular truck. The diesel engine options for the Silverado are a bit more diverse and greater in number, so if a diesel engine is your highest priority, the Silverado might be a better choice than the Colorado. You can get a diesel engine with the LT, LTZ, and High Country trim packages.
There are many different Silverado models so these specs will vary some, but one of the lowest towing capacities for the Silverado 1500 is about 13,000 pounds (it would be higher if you bought a 2500 or 3500!). It also has a maximum payload of 2,280 pounds and about 90 cubic feet of cargo and storage space. This is a great truck to take camping or offroading not only because it handles marvelously, but also because you'll have plenty of room for all your supplies!
One thing that makes the Silverado so popular is its versatility. There are a dozen different engine options (including diesel ones) and plenty of trim options on top of that. If you choose to invest in a Silverado, you will have the chance to customize your vehicle in any way that you would like. This makes it a tempting choice for most people.
The Silverado also has great fuel economy to boast. The 1500 model can pull an impressive 23 mpg in the city and 33 mpg on the highway. Most trucks are gas-guzzling monsters that will empty your bank account just to fill up the tank. While the Silverado does need quite a bit of juice, it is definitely the most economy-friendly option.
Additionally, the Silverado has a great trailering package, making it the perfect vehicle for towing. This trailering package comes with a camera system that will give you vision around the truck bed, a hitch view, a surround-view, and more, all topped off with zoom-in features. If frequent towing is a big part of your lifestyle, you can't do much better than this.
However, you should also be aware that the ride quality of the Silverado 1500 is not five-star. It was designed to handle rough terrain with ease and it does just that. But unfortunately, it will not necessarily shield you from that rough terrain. You will likely be jostled around a good deal when you head out to go off-roading. The Colorado scores higher in this department for sure.
Some of the Silverado's materials are a little bit on the cheaper side of things. While this is a pretty minor issue (especially if you purchase an expensive trim package) there are a few cheap plastics and other materials that can be found on the Silverado's interior. Again, this is usually just a minor grievance, but if high-quality materials are important to you, this might be a bit of a game-changer. (Source)