Why are Toyota 4Runners so Popular?
The 4Runner has been one of the most popular SUV catalog models for more than three decades. Its first introduction was in the form of a compact SUV buy was upgraded to a midsize SUV to keep up with the market demands. Saying that people love the 4Runner is an understatement. It is a vehicle that is adored by a lot of people throughout the world. Many drivers who have had a chance to use the SUV have been loyal to it for many reasons.
If you have been asking yourself why you may have heard just about anybody talking about it, then we have the answers to it. If you have used the car, chances are that you already know all the pros that come with the 4Runner model. If you have not used it, it is better first to understand the nitty-gritty details.
Why are Toyota 4Runners so Popular?
This mostly boils down to two thing: excellent performance and long-lasting reliability. These two features make even used 4Runners some of the most popular vehicles on the road today.
How Long do 4Runners Last?
If you have never thought of the value you can get with your car when you buy it, think again. It is best if you always make this part of your checklist when planning to purchase a vehicle. Buying an SUV such as a 4Runner can give you a high value in the future if you decide to sell it.
Due to its build among other features, the value of the SUV remains intact for years. It has a 36.5 percent depreciation rate projection within five years. For standard cars out in the market today, their depreciation rate is way higher, reaching up to 49.6 percent; that's almost half of the value within a short time.
Whichever prize you sell, you will have great satisfaction knowing that you haven't wasted your money for years on it. No matter the age your 4Runner is, you can still get the most out of it.
All these features are perfect if you are willing to invest in a vehicle that will take you for decades without feeling a need to get another one. Even as more crossovers seem to be flooding the market, the 4Runner will remain on the roads for years to come.
When it comes to these brands, long-term dependability is out of the question. All their car catalogs have the same high quality, and so the 4Runner is not left behind. According to an analysis by top vehicle professional critics, the 4Runner has been a long-lasting car within the United States and other geolocations.
You should not be shocked when you look through reviews and see the 4Runner appearing within the top 10 in almost all of the lists. This is due to the company's reliability through its decades of car development and manufacturing.
How can I make my 4Runner Last Longer?
Even with the durability of your 4Runner, you still need to take care of it so that it serves you more with a continuous lifespan. There are different ways to make your 4Runner last longer and go for more miles than it intends to. These methods are also designed to keep the value of the car. Some of the ways include:
Being a good driver
If you wreck your 4Runner, then it will probably be useless after a few years. When it is straight from the factory, it is supposed to serve you for a long time. It would be best to drive it safely anywhere you go watching everything that can cause minor and significant damage to the vehicle.
Check out for brushes that can take out the body paint or any issues that can damage the shocks and suspension. Always make repairs to the slight damages as soon as you can to avoid them growing to worse injuries that can cost you a lot more.
4Runner Servicing
Just like any other car, the service routine remains for the 4Runner. You have to change the filter and the oil, the spark plugs, and plug wires, among other critical components to keep your car running efficiently through the years.
Ensure you don't skip on the servicing or compromise on the type of parts that you use. Using aftermarket parts can make you lose a lot in the entire car's performance and long-term system performance. You can get genuine parts for the 4Runner from trusted retail shops anytime you want.
Always know all the parts that need servicing. Servicing your forerunner can have up to 50 or more components that you need to keep in check. Don't limit yourself to only the oil and the oil filter. Other systems include the transmission, power steering system fluid, braking system, and even the 4Runner's differential.
Check Warning Messages and Trouble Codes
Ignoring trouble codes or warning messages is only asking for trouble. Every light on the dashboard needs a check to make sure everything is reading correctly. Nighttime lighting on the dashboard should also clarify to avoid any visual struggles when driving at night and dark locations.
You may need to scan the PCM and the ECM when any messages or lights come up. If you see the codes first, then it might be easy to identify where the problem is. It would be best to consider that the problem's code might also affect other systems in your 4Runner.
Any code warning could create more problems, so you need to identify most trouble codes and take the necessary actions to sort them out.
Give the Radio a Break
You may always be cranking up the volume on your radio every time you start driving. If this is the case, the chances are that you can't hear if there is a mechanical problem in your 4Runner.
Switching off your radio once in a while when you drive will let you hear any squeaks and grinding noise in your car. The faster you notice them, the faster you can check and take the steps needed to sort them out before they become messier.
Cooling System Service
You may not overthink about the role of the cooling system in your 4Runner, but if it is a mess, it can be a significant headache to get your car running again sufficiently. Your engine does last long because of the entire cooling system in your 4Runner.
You can get many troubles with your water pumps and blow head gaskets when your car starts overheating due to the cooling system's neglect. Always get the appropriate mixture of the coolant. If there is any contamination, flush out the system first to eliminate any impurities before adding the coolant.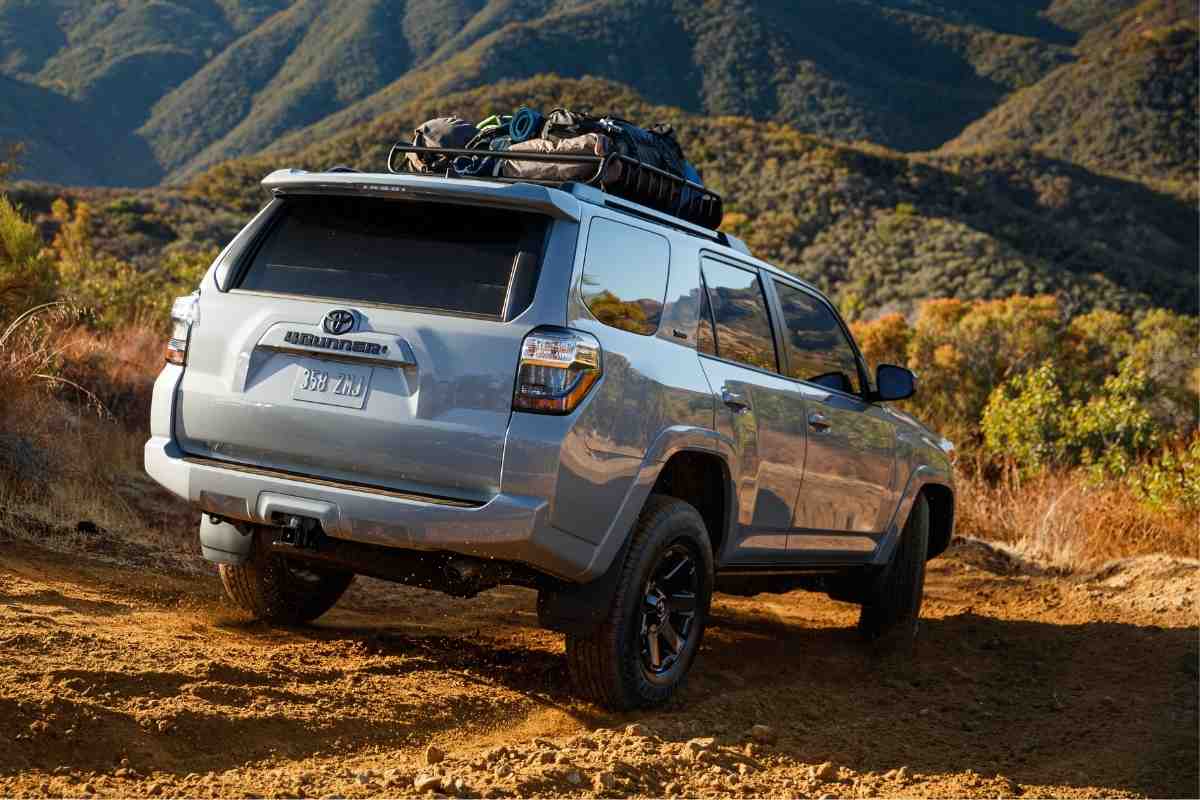 What Common Problems are Associated with the 4Runner?
Just like any other vehicle out there, the 4Runner also has its problems. Being aware of the common issues is vital to prepare to encounter them before giving you a headache that you may not seem to handle after buying the car. Below is a list of some of the problems you can encounter.
Degradation of the Airbag Propellant
The airbag inflators of the front passenger tend to fail during accidents. They mainly fail to launch due to a drying agent chemical that is missing in the airbags.
The drying agent is meant to absorb moisture and prevent the moisture from causing early degradation of the propellant due to fluctuating high temperatures. You can contact your 4Runner's manufacturer to solve the issue for your car.
Melting Dashboard
Even if the 4Runner's dashboard has a warranty, this is a problem that you should not have to be dealing with. The problem affects a lot of 4Runners across all generations. The reflections from the sun are dangerous when temperatures skyrocket when you are driving.
Premature Piston Ring Failure
Failure of the 4Runner's Piston Ring can make the consumption of oil to be in excess. This can cause damage to your engine if not sorted as soon as possible. You will realize this problem if you often see your dipstick is dry or lighter than usual any time you have oil changes.
You can fix the problem by replacing the existing rings with the OEM piston rings to lower genuine retailers' prices.
Frame Rust
Frame rust is more familiar with third-generation 4Runners. Undercarriage rusts are common after a few years of running, leading to the suspension systems' complete failure. The problem is mainly due to the frame's construction since moisture can sip in and cause rust to accumulate. Fixing this will require a replacement of the structure.
Blown Fuses
Fuses can blow if you have any accessories that draw too much power. Such accessories can be as simple as an aftermarket phone or charger.
Blown fuses can lead to other problems such as dim lights, radio failure, or other related electrical elements. Fixing this problem is not complicated as you only need to replace the blown-out fuses with new and reliable ones.
Should I Buy a New or Used 4Runner?
If you plan to purchase a 4runner, you might be asking yourself if a used one is as good as a new one. Well, there are several factors that you need to consider to determine which model you will go for without any regrets. Some of these are:
Cost and Budget
You might assume that the 4Runner costs so much due to all the features that it comes packaged with. It's not that expensive at all. Most basic cars might be more costly than the 4Runner. Whether it is new or old, you can still purchase it at affordable prices. A basic 4Runner model can cost you up to $35,000.
With what you are getting, this seems more of a bargain for most people who have taken the chance to buy it. Even with this base model, it is well equipped with more features than you may need. You can get different 4Runners based on the budget you have.
The new pro models might cost upwards of $50,000. If this is not in your budget range, consider getting a used one instead of a new but lower price point. It is all about how you do your research to get more for your money since the SUVs are more than you can imagine.
Off-Roading Capabilities and Build
One of the main reasons why everyone loves the 4Runner so much is its sheer ruggedness. Whether it is new or used, it offers the same off-road capabilities. The new models may have added capabilities, but all generation 4Runners have the same quality built into them.
The trims are powered by a V6 4.O liter. It has 270 horsepower, which gives it powerful capabilities to bypass all kinds of hurdles when driving. The 278 lb-ft of torque and automatic transmission of 5-speeds give it capabilities that very few cars have. The SUV has a standard configuration for its rear wheels, but higher trim levels change it into an all-wheel-drive as well as a configuration for a full-time all-wheel-drive.
Its ground clearance is up to 9.6-inches, which means that you can pass through large rocks with no worries of getting stuck or breaking any parts beneath the SUV. It comes with an additional aperture angle of 26 degrees while the approaching angle is 33 degrees. And the biggest of all, it can haul up to 5,000 pounds, so your camper is also accommodated no matter how heavy it is.
When it comes to versatility, the 4Runner has it all. You can use it in almost all types of terrain, including mountain passes, hidden off-road trails, and even along river beds.
Conclusion
When searching for a vehicle with all the capabilities, the 4Runner should be at the top of considerations. The model is still one of their most demanded vehicles, with skyrocketing sales every year. The time you take to take care of your 4Runner is worth it and will not take much of your time if you have tight schedules on your priorities.