Is The Toyota 4Runner A Good Car?
This post may contain affiliate links. As an Amazon affiliate, I earn from qualifying purchases.
You've probably seen old 4Runner SUV's advertised on Craigslist and Facebook Marketplace for shockingly high prices. A 20-year old 4Runner with over 200,000 miles will often sell for over $6,000. What gives? Do 4Runners really live up to the hype?
Yes, the Toyota 4Runner is an incredible, durable SUV that, if taken care of properly, will give you years of daily driving and off-road functionality. A common 4Runner will give you a V6 engine with a 5-speed automatic transmission. There aren't really many drivetrain options aside from that. Some older models do come with a manual transmission if you're into that kind of thing.
This SUV hasn't changed a whole lot from its original design, and for good reason: There's no need to change something that works so well. If you're looking for fuel economy or luxury, you'll need to look elsewhere. That's just not what the 4Runner was designed for. However, if you're looking for a go-the-distance tough, versatile SUV, look no further.
Is The Toyota 4Runner A Good Car?
Let's re-iterate: If your standards of a "good car" include things like a ton of modern features, cushy comfort, luxury, ease of handling, precision, or speed, the 4Runner will not meet your standards. It has some of those things, sometimes. But what it always delivers on is being one of the last true mainstream SUVs on the market. Most other SUV's have gone the way of the crossover and just present the illusion of utility without actually delivering on it.
The 4Runner is a "good" car based on your dad's standards of what makes a good car. It's dependable. It's tough, without trying too hard to look tough. It's safe, and it's quite functional. It's also a lot of fun to drive.
Read On
That's not all you should know about owning a 4Runner. Here's some more info about what makes the 4Runner one of the most legendary SUV's of all time.
Toyota 4Runner Resale Value
The 4Runner, like most Toyotas, has incredible resale value. Based on data taken from an online rating, the 4Runner ranked in the top 5 (out of 7 million used cars).
We played down the 4Runner's available features, but they're really not all bad. Just don't expect a Range Rover. Newer 4Runners come in a variety of trim levels that offer some enticing off-road packages, but the trim level isn't bad either. Newer models have roof rails, moonroof features, skid plates, as well as a touchscreen system equipped with Apple CarPlay.
It's also got a lift gate window (perfect for loading in all your junk without letting the hatch down) and a pretty decent audio system.
Let's talk about off-road capability for a bit. Each trim level of the 4Runner comes standard with a 4.0-liter V6 engine. It's got 270 horsepower and 278-lb-ft of torque mated to a 5-speed automatic transmission, assuming you've got a newer model. Some of the older, first-generation models come with a 5-speed manual for a truly *vintage* truck experience.
Rear-wheel drive is the standard option; higher trim levels get a part-time all-wheel-drive option, or, in the Limited trim, a full-time all-wheel-drive setup. Any of those can be suite to an off-road adventure.
If you do plan on taking it off road, you should know it's got a 9.6-inch ground clearance and a 33-degree approach angle, along with 26-degree departure angle. Total tow capacity is 5,000 pounds.
The 4Runner is a sturdy body-on-frame SUV that holds its value well, suited for off-roading, and is the perfect choice for a family looking to avoid a minivan at all costs.
Apart from its ruggedness, it's actually quite easy to drive, legendarily dependable, and will treat you well for years and years — provided you do the same.
4Runner Compared to The Wrangler
Why compare the 4Runner to the Jeep Wrangler? For one good reason: These two vehicles are among the few modern, consumer-focused SUV's left on the market. Most other cars marketing themselves as such just don't cut it when it comes to performance or off-road capability. These two SUV's share the same real-deal off-road heritage.
The Wrangler, perhaps more beloved than the 4Runner, is an American icon. Heralding back to WWII, the Wrangler has a long tradition of off-road performance.
The 4Runner was built originally as a version of Toyota's Hilux pickup truck with some extra seats in the back. Eventually, Toyota caught on to the 4×4 craze of the 80's and began to build the 4Runner as its own vehicle.
Which of these is right for you? While they're both off-road vehicles, they approach their craft in totally different ways. Let's take a look at each car and its features.
How Much Does The Toyota 4Runner Cost
The Wrangler has a base MSRP of $28,295. It's got 2 and 4-door variants. You've probably seen the 4-door option more often. The 4-door variant costs $31,795 — which is less than the 4Runner's base price of $36,340. The Wrangler also has standard 4-wheel drive in every one of its trim levels, while the 4Runner only has 4WD in higher trim levels.
Both vehicles are offered in higher-level trims; the infamous Jeep Sahara package starts around $40,000, and the 4Runner Limited starts around $45,000. The highest trim level of the 4Runner climbs to around $50,000.
4Runner vs. Wrangler Reliability
While the 4Runner is pricier, keep in mind that it generally holds its value far better than Jeeps.
That's because the 4Runner scores so high on reliability scores every year, while newer models of the Wrangler have a poor predicate reliability score.
4Runner vs. Wrangler Interior & Comfort
The Wrangler comes standard with cloth seats; leather seats are available in higher trim levels. The front seats in both models are pretty supportive, and should provide enough support for any off-roading you might want to do.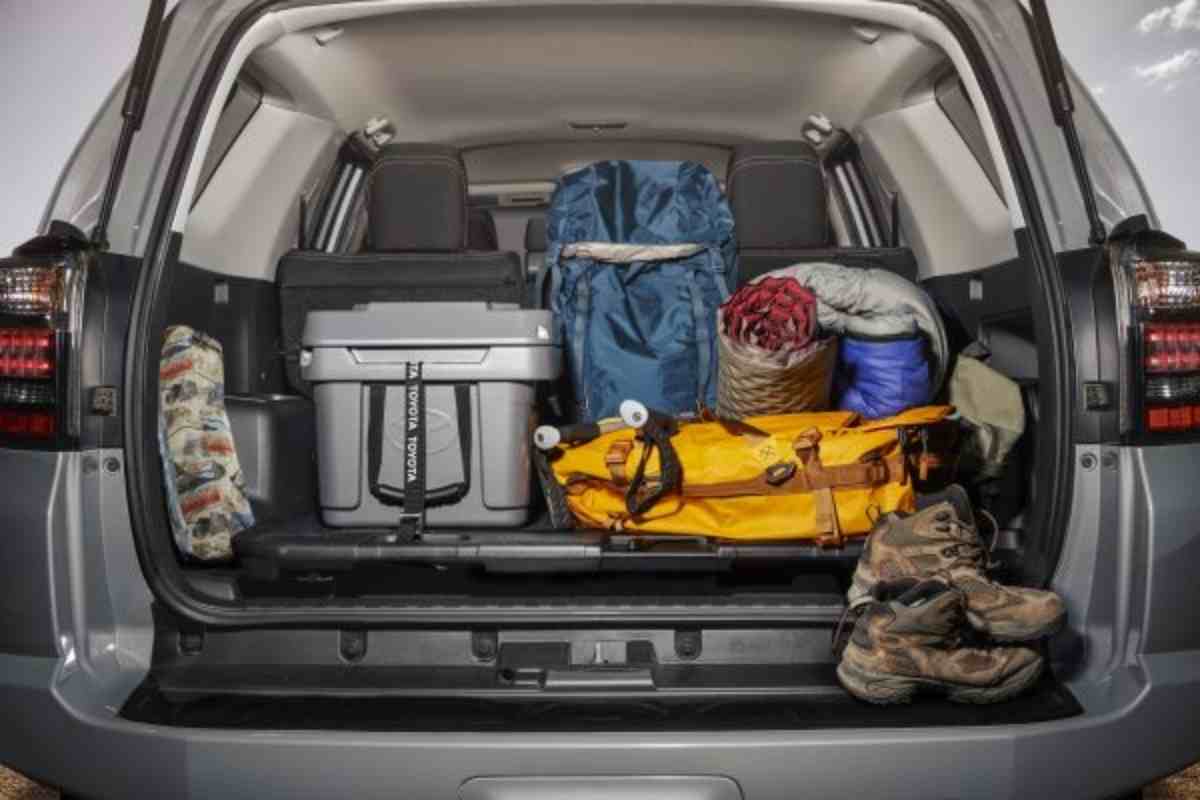 While neither SUV should be bought exclusively for comfort, the 4Runner is the clear winner. It's got two-row seating with a surprising amount of room for an off-road vehicle.
Second rows seats recline as well, which is a nice feature. It's also available with leather seats and third-row seating, something not available in any Wrangler.
While the Wrangler won't feel like a Bentley on the inside, it did get an interior makeover in 2018. It maintains its retro feel with a few nice features like a large touchscreen media center.
As far as interior goes, the 4Runner hasn't really been updated in quite a while. The interior is filled with hard, plastic parts, and overall features a fairly utilitarian design. Overall, it toes the line between looking rugged and cheap.
4Runner vs. Wrangler Handling and Comfort
If you don't buy a 4Runner for comfort, you certainly don't buy a Wrangler for it either. The Wrangler has an "off-road" experience whether you're taking it off-road or not, with its noisy cabin and generally pretty bouncy ride.
The 4Runner's cabin is entirely enclosed, making it quieter and a bit more suburban. Some people enjoy the "rough" ride that the Wrangler offers, but it can get a bet tiring after a while.
4Runner vs. Wrangler Off-Roading
The 4Runner is really, truly an off-road vehicle. However, it lacks the pure, simple brutality that the Jeep does. For that reason alone, the Wrangler pulls ahead when it comes to off-road ability.
Wrapping Up
Overall, the 4Runner is a great, versatile vehicle for buyer who wants versatility and dependability. As long as you understand what you're buying, the 4Runner is a great choice for any off-road enthusiast.
It's also a great option for anyone who wants a great, dependable car with a bit of extra storage room and some light towing capacity.