Can You Plow with a Jeep Gladiator?
Nothing shows off a truck's strength quite as well as moving large amounts of heavy things. Of course, doing it with speed and good looks only adds to the bravado. So, if you have your eyes on the new Jeep Gladiator, don't worry. It can do quite a bit, especially when dealing with harsh winter weather.
Can You Plow with a Jeep Gladiator?
Can you plow with a Jeep Gladiator? Yes. Outfitted with four-wheel drive, a V6 engine, and your favorite plow, a Jeep Gladiator can easily move snow anywhere you need. There are four models of the Jeep Gladiator being sold, and each one should be able to plow. However, the higher models may be a bit easier to work with. 
As the Jeep Gladiator hits markets as the first truck from Jeep in close to 30 years, we are all learning about what exactly makes this truck unique.
Truly built from the ground up, it redefines what a truck can be this year. And this includes, of course, how easily it can plow. Read on to learn all about plowing with a Jeep Gladiator.
All About the Jeep Gladiator & Its Plowing Capabilities
The all-new 2020 Jeep Gladiator has erupted as one of the best trucks of the year, marrying rugged looks, a luxurious yet tough interior, and incredible power.
It comes with two engine options: a 3.6-liter V6 engine that produces 285 horsepower and 260 lb-ft of torque or a 3.0-liter V6 diesel engine that has 260 horsepower and 442 lb-ft of torque. For the best plowing power, we recommend going with the diesel for the higher torque rating. But both engines will work well.
With a five-foot cargo bed, the Jeep Gladiator is not overrun with room for extra outdoor essentials. But it does have quite a few handy spots inside for random items you may need. So, if you need your smartphone for directions on the go or to keep that extra set of gloves for those early morning plows, the Gladiator is ready for you. 
The Jeep Gladiator has a few options that can be extra helpful when plowing. The Rubicon model uses a front-facing camera that drivers can see trails and rocks with. For plowing and navigating tight spaces with a plow, this can be a great feature worth the upgrade.
It is not always apparent if a mid-size pickup truck can truly plow well. But even the head of FCA's North America branch, Jim Morrison, drives his 2020 Jeep Gladiator Rubicon with a plow attached. So, if a man who knows Jeeps better than anyone else stands behind his truck and its plowing abilities, you can too.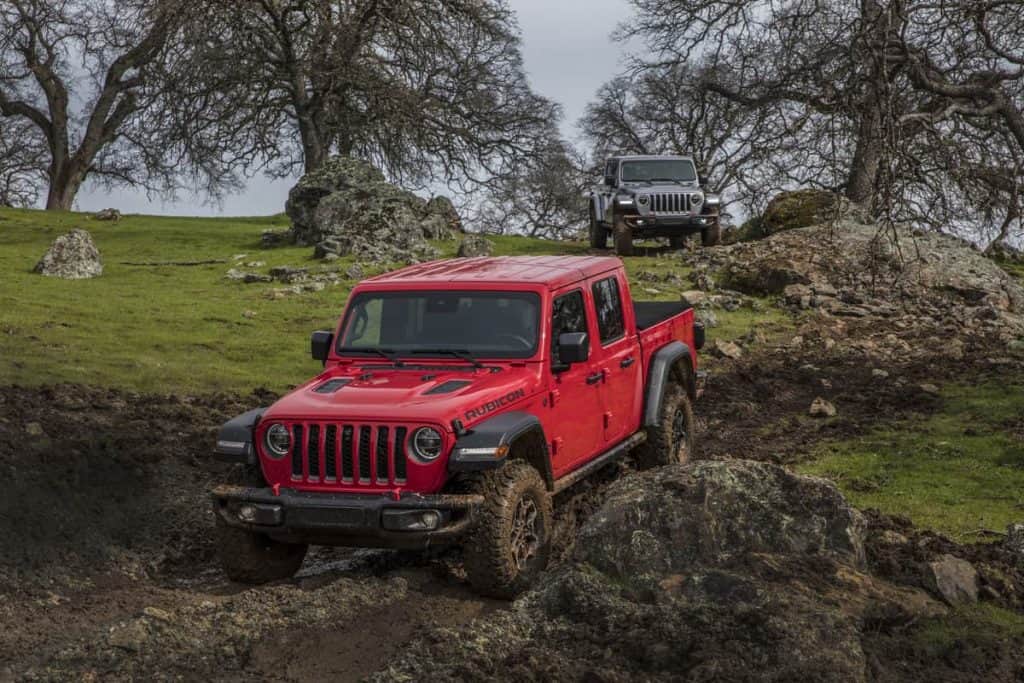 Plowing with Your Jeep Gladiator
Now that we have settled that you can plow with a Jeep Gladiator, it's time to learn how to do it. To plow with your Jeep Gladiator, you will need a reliable plow. By spending a bit of money upfront, you can have a plow that will make the job fun and will last you for many years to come.
Here are some features to look for on a plow for your Jeep Gladiator:
Plow Headlamps: Maximize light output in heavy snow conditions
Full-trip Moldboard: Coiled springs keep you, your truck, and your plow safe from obstacles
Reinforced Plow: Vertical ribs on your plow will keep it from deformation over time
Hardened Steel Edge: For a clean plow, you need a durable edge for long-lasting performance
Handheld Controls: Simple and straightforward one-handed controls make plowing a breeze. 
Simple Attachment: Some plows can be easily attached from one side, making plowing quicker and easier.
Security System: Plows are expensive and having some sort of security to keep them locked down when off your truck is essential.
Blade Guides: Bright poles help guide your plow in dark or dreary conditions
Curb Guard: Corner protection on your plow will keep damage from sidewalks at bay
With these features, plowing can be enjoyable. Make your Jeep Gladiator pay its way for the family by taking it for a plow. The easier it is for you to get out and plow with some great features, the more you will want to do it.
The Jeep Gladiator: Tips for Plowing
Whether this will be your first time plowing or your hundredth, it is always important to remember the best tricks of the trade. With the all-new Jeep Gladiator, you want to pay close attention to these.
By caring for your plow, you also care for your Jeep. Follow these tips, and you will be using your truck to the best of its ability. 
How to plow with your Jeep Gladiator:
Windrow by Angling the Blade. By angling either left or right as your plow, you toss the snow diagonally out of your way. This is great for the first pass or repeated passes to clear larger roads and lots. Make sure to keep the angle in the direction of the road shoulder.
Back Drag in the Straight Position. Back dragging is used to clear edges of buildings. Raise your blade and drive as close as you can to the building. Lower your blade and drive backward 15-25 feet. This will pull snow away from the building. When finished, windrow the freshly moved snow as usual. 
Cut Deep Snow in Half. If you are blessed enough to have deep snow, start by only taking off the top 6-12 inches of snow to lessen the pressure and weight on your equipment. Then, go back and do the rest. 
Finish What You Start. Once the snow begins moving under a plow, it usually gets extra wet and mushy. If left overnight, it can freeze into an even more dangerous block of ice. So, make sure to finish what you start for everybody's safety.
Check Your Temperature Gauge. While the Jeep Gladiator is a serious warrior, it still can be overworked. Keep tabs on your engine temperature to make sure you do not overwork and damage the vehicle. 
Start Driving, Then Lower the Blade. To begin a pass, drive first then lower the blade to help your truck get rolling before the resistance comes. 
Which Jeep Gladiator is Best for Plowing?
It may seem like Jeep planned for its Gladiators to be used for plowing. That's probably because they did. Specifically, Jeep has introduced the Jeep Gladiator North Edition, which has every bell and whistle to get you through winter safely and with warmth.

The North Edition can be put on any of the four Jeep Gladiator models. 
Equipped with heated seats and steering wheel, you can keep your gloves in the back seat for more precise control of the plow. 
The Jeep Gladiator also comes with a remote start, so the cab and engine can be all warmed up before you get there in those early morning hours. 
Power heated side mirrors always help you to keep your surroundings in check, too, which is essential for any plowing day.
All-weather floor mats are included in the Jeep Gladiator North Edition, which is helpful when salt is seemingly everywhere. 
Lastly, the North Edition helps you pull your neighbors out of the ditch when they take on more than they could handle. With recovery hooks, trail kit, tow strap, D-rings, and a steel carabiner, you will be able to assist anyone you find out on the road while plowing.
Get Out and Plow with the Jeep Gladiator
The Jeep Gladiator is a welcome addition to the world of mid-sized trucks. With a stunning profile and beastly engine to match the Jeep name and capabilities, the Gladiator is a top pick for anyone looking for a reliable truck. So, between backcountry trails and rough mountain roads, the Gladiator can do it all. 
Can You Plow with a Jeep Gladiator? 
Last update on 2023-11-15 / If you click this affiliate link and make a purchase, we earn a commission at no additional cost to you.