5 Epic Campers You Can Tow With A Jeep Renegade
Boats, Campers, and Trailers, oh my!
Towing behind a Jeep Renegade can seem like a daunting task. It isn't the SUV with the highest towing capacity in the Jeep lineup by any means, certainly less than the Jeep Wrangler, Jeep Gladiator, or Jeep Cherokee. It can seem overwhelming when trying to decide what recreational vehicles to buy for your family when you already own a Jeep Renegade.
Before going off to buy another vehicle to handle a heavier load, never fear! There are plenty of recreational vehicles such as boats, campers, and trailers that can be pulled easily by a Jeep Renegade with its towing capacity.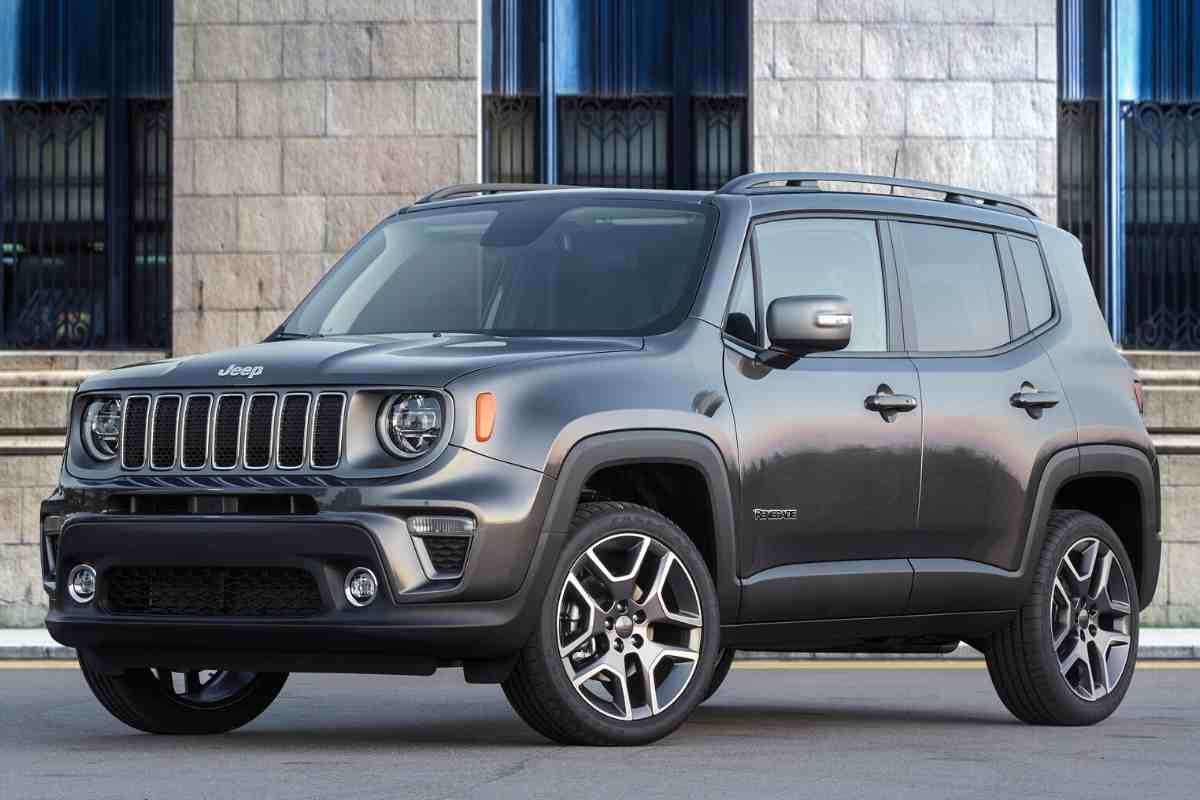 Table of Contents
How much can a Jeep Renegade tow?
Most Jeep Renegade models can tow up to 2,000 pounds/907 kilograms, which is enough towing capacity to haul small boats, campers, and trailers behind your Jeep Renegade with the appropriate towing equipment.
Despite being a smaller SUV, your Jeep Renegade can tow a lot of different campers, so long as you find a lightweight one.
If you want to learn more about your Jeep Renegade's towing capacity, as well as see some examples of the recreational vehicles you can take out on your family's weekend excursions in your Jeep Renegade, this is the article for you.
Keep on reading to discover and be impressed by all of the recreational vehicles your Jeep Renegade can tow.
Jeep Renegade Towing Capacity
Your Renegade's towing capacity will depend on whether or not it is properly equipped. The trim level and different engine options your Renegade has are going to affect your final towing capacity, so it is important to consult your owner's manual for your Renegade's performance specs if you have questions about this.
If you need to hit the maximum 2,000-pound towing capacity (about 907 kg), your Jeep will need to be outfitted with the 2.4L motor that gives 180 hp as well as 174 lb-ft of torque, plenty of horsepower to haul a small camper with your Jeep Renegade.
The 9-speed automatic transmission is also going to ensure that your Jeep Renegade is performing its best when towing, no matter what the weather or terrain. This is important when purchasing a vehicle with which you plan to tow a boat over terrain like sand or mud.
You are going to want the optional trailer tow group, which is going to outfit your Jeep Renegade with a Class III hitch receiver and a 4-pin wiring harness. Once you have completed the installation of these best towing accessories for your Jeep Renegade, it will be much easier and safer to tow your boat, camper, or trailer with comfort and without the risk of sway.
The Jeep Renegade Trailhawk model is going to be your best bet for trim level as it has the trail-rated capacity that really takes any Jeep to the next level when you are planning on taking your vehicle into any kind of rough terrain. This trim level of the Renegade has the greatest towing capacity.
Other important features include the Jeep Active Driver Low mode, the front and rear tow hooks, and the other tow-friendly gadgets that Jeep offers.
You can buy many of these things after-market, so make sure to contact your dealership to ensure that your Jeep is properly equipped to tow your new recreational vehicle.
If you are worried that you will not be able to carry any luggage because you will hit your towing capacity with your recreational vehicle, keep in mind that your Jeep Renegade has over 1000 pounds of payload capacity.
This means that you can easily outfit a rooftop cargo unit and carry your luggage with your vehicle, no need to worry about towing it behind you as well or taking up needed space in your small crossover vehicle.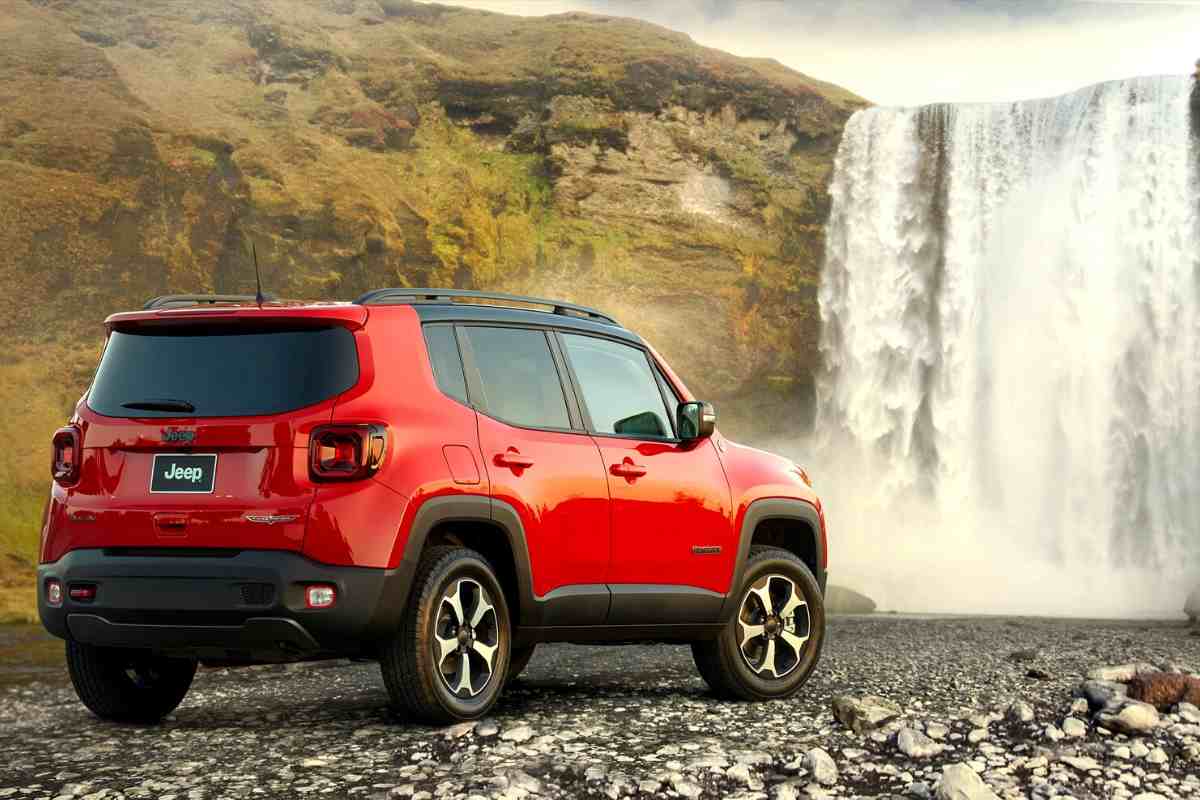 The Importance of Dry Weight vs Wet Weight
Now that we have covered the information on the Jeep Renegade's towing performance, as well as the materials you will need to tow properly, it is important to talk about what to factor in when you are determining what recreational vehicle to buy as to not exceed your Jeep Renegade's maximum towing capacity.
We will be looking at the dry weight of these recreational vehicles, but it is important to account for other causes of weight before purchasing.
For a boat, for instance, you need to factor in the weight of a full fuel tank as well as the maximum weight of the trailer when determining how much boat you can buy.
For a camper or trailer, you need to think about what items are going to be added to the camper or trailer and how much those things will weigh when purchasing your new recreational vehicle. Towing a trailer with your snowmobiles and ATVS is very different than towing a small fishing boat.
Jeep Renegade Camper Options
Can a Jeep Renegade tow a camper? Yes! But the trailer for a Jeep Renegade has to be a small one under 2,000 pounds, like one of these:
Jayco Hummingbird Travel Trailer 10RK
TAXA Outdoors TigerMoth Travel Trailer
Sweetwater 2086 BF
Minicat 310
Polydrop Trailer
Now that we have the important information about wet vs dry weight and a better idea of how many pounds of boat, camper, or trailer can be safely towed behind a Jeep Renegade, we have finally come to the fun part of this article.
Here, we can take a look at a few of the different options that you have for your family's next adventure.
Jayco Hummingbird Travel Trailer 10RK
The Jayco Hummingbird Travel Trailer is at the top of our list because it is a great lightweight camping trailer that doesn't skimp on the luxuries.
While there are eight floorplans of the Jayco Hummingbird Travel Trailer, it is important to note that only the 10RK will be light enough to tow behind a Jeep Renegade.
The Jayco Hummingbird, despite being so lightweight, offers a lot of space to its customers. Customers won't need to worry about having enough room to sleep everyone with folding tables and beds.
There is even an outdoor shower and a 25-gallon water capacity, so you'll be able to shower and clean dishes no matter where your adventure takes you.
Not to mention, the water will be warm thanks to the included water heater. There's even a furnace, so winter trips to the mountains aren't out of the question with the Jayco Hummingbird.
TAXA Outdoors TigerMoth Travel Trailer
If you are a Jeep owner, there is probably a good chance you are a bit of an outdoor enthusiast.
If that sounds like you, then the TAXA Outdoors TigerMoth Travel Trailer is the perfect travel trailer to pull behind your Jeep Renegade, and the reason why this versatile trailer is the second one on our list.
TigerMoth claims that its campers can go off-grid for a week in its travel trailer, which is an awesome prospect for those who really want a true outdoorsman experience.
It allows campers to do this with its built-in electric system, 12V outlets, and LED lights. You can even add solar panels if you would like to extend the amount of time you are off-grid past a week.
This NASA-inspired travel trailer has a lot going for it. It features a compact design made of UV-treated aluminum panels, which helps minimize the risk of sun exposure for occupants as well as for the vehicle itself.
Forests aren't your only option with the travel trailer, feel free to take it to desert and beach destinations with ease.
The all-terrain tires that come included with the TAXA Outdoors TigerMoth Travel Trailer are a beckoning call for serious Jeep owners. There's even a cargo deck with a 300-pound capacity.
Sweetwater 2086 BF
While finding a boat for the whole family with a dry weight under 2,000 pounds can be a bit difficult, the Sweetwater 2086 BF fits the bill.
This pontoon boat has a lot of awesome features that will make it perfect for taking to the lake in the lazy summer months.
It has a silver easy-climb ladder, a large canopy to protect riders from the sun, standard removable bow fish seats, a captain's chair, a Livewell, interior lighting, and a round table. All of this under 2,000 pounds means this boat is no slouch.
However, you need to be certain that you are also purchasing a lightweight trailer so you do not go over your towing capacity.
You will also need to find a marina or ramp that has fuel available, as filling up before your drive could potentially put you over the towing capacity for your Jeep Renegade when you include the weight of the trailer, as well. The dry weight of this boat clocks in at 1,800 pounds.
Minicat 310
While not a full-grade sailboat, you can tow a couple of Minicats with ease with your Jeep Renegade and have a fun family hobby at the lake or seaside for years to come.
This boat easily breaks down and can be transported easily with any kind of vehicle, including your Jeep Renegade.
Each Minicat is 10 feet long and comfortable seats two people, meaning your family of four can have an amazing day out on the water while only needing to transport two Minicats.
A similar Sunfish does not fit two adults very comfortably. They do seat two children comfortably, so there is the option to purchase a Sunfish for the little ones and a Minicat for teenagers or yourself and your partner, as well.
Each Minicat has a dry weight of only 77 pounds, meaning you can potentially take two with you and a lightweight teardrop trailer or pop-up camper and even make an extended vacation out of it, all with just your Jeep Renegade.
Polydrop Trailer
The architectural-looking Polydrop trailer is the perfect teardrop-style trailer to include with your Jeep Renegade – and still have plenty of towing capacity for your Minicat 310s.
This trailer clocks in at 760 pounds dry weight without the battery – meaning your Jeep Renegade can tow it with ease.
You can easily sleep a small family inside, and the back is an outdoor cooking module. This is perfect for camping without truly needing to "rough it."