Are Toyota Trucks Good for Towing?
While Toyota is not necessarily known for making trucks, the Toyota Tacoma and Toyota Tundra are both excellent vehicles that stand apart from other trucks on the market. However, are they trucks that are good for towing large items?
Both the Toyota Tundra and Tacoma are great trucks for towing. The 2022 Toyota Tacoma's three trim packages—the SR, the TRD Off-Road, and the Limited—have a maximum towing capacity of 6,400 pounds. The 2022 Toyota Tundra can tow 10,890 to 11,175 pounds depending on the trim, almost twice as much.
Toyota trucks are good for towing, but many competing trucks have more impressive towing capacities, so is a Toyota truck really worth it? Keep reading to learn a bit more about Toyota and its competitors.
The Toyota Tacoma's Towing Abilities
The 2022 Toyota Tacoma is sold in three trim packages: the SR, the TRD Off-Road, and the Limited. All three trim packages have a maximum towing capacity of 6,400 pounds. This power is achieved with a V6 Engine and a 6-Speed Automatic Transmission in each vehicle.
The three trim packages for the Toyota Tacoma include a Class IV hitch receiver, an Automatic Transmission Fluid Cooler, an engine oil cooler, a power steering cooler, and so much more. These systems allow the truck to tow heavier weights without the engine overheating. Another feature that is crucial to your towing experience in a Toyota Tacoma is the Trailer Sway Control.
Some of these features may vary depending on the type of engine and transmission you choose for your vehicle.
Unfortunately, Toyota's trailering package is not available in any of the 2022 Toyota Tacoma trim packages. While the Toyota Tacoma is already capable of towing a significant amount of weight, some upgrades may help it handle towing even better. This might include installing larger tires.
The Tacoma might be the smaller of the two Toyota trucks, but it is still very capable of towing. Not only are Toyota Tacomas capable, but they are reliable too. In fact, the 2022 Toyota Tacoma received a reliability rating of 81 out of 100 from J.D. Power.
The Toyota Tundra's Towing Abilities
Let's not forget about the Toyota Tundra! Compared to the Toyota Tacoma, the Tundra is much larger and more powerful.
The Tundra has plenty of horsepower underneath its hood. Like the Tacoma, there are three trim packages available for the 2022 Toyota Tundra: the Limited, the 1794 Edition, and the TRD Pro. Both the Limited and the 1794 Edition trim packages feature an i-FORCE 3.5L Twin-Turbo V6 engine.
This engine is capable of putting out 389 horsepower. Meanwhile, the TRD Pro runs on an i-FORCE MAX 3.5L Twin-Turbo V6 Hybrid engine, capable of creating 437 horsepower. These engines are more than capable of towing trailers.
Since each trim package is different, they each have a unique towing capacity. Find the towing capacity for each trim package available for the Toyota Tundra below!
| | | |
| --- | --- | --- |
| 2022 Tundra Limited | 2022 Tundra 1794 Edition | 2022 Tundra TRD Pro |
| 11,120 lbs | 10,890 lbs | 11,175 lbs |
(Source)
The 2022 Toyota Tundra can tow nearly twice as much as the Tacoma can! Of course, twice as much power comes at double the price.
Toyota has big hopes for their new hybrid engine, featured in the Tundra TRD Pro. With a hybrid engine, the Tundra should be able to tow heavier weights without suffering in terms of gas mileage. Unfortunately, this engine is so new that the average number of miles per gallon that it gets has not yet been determined.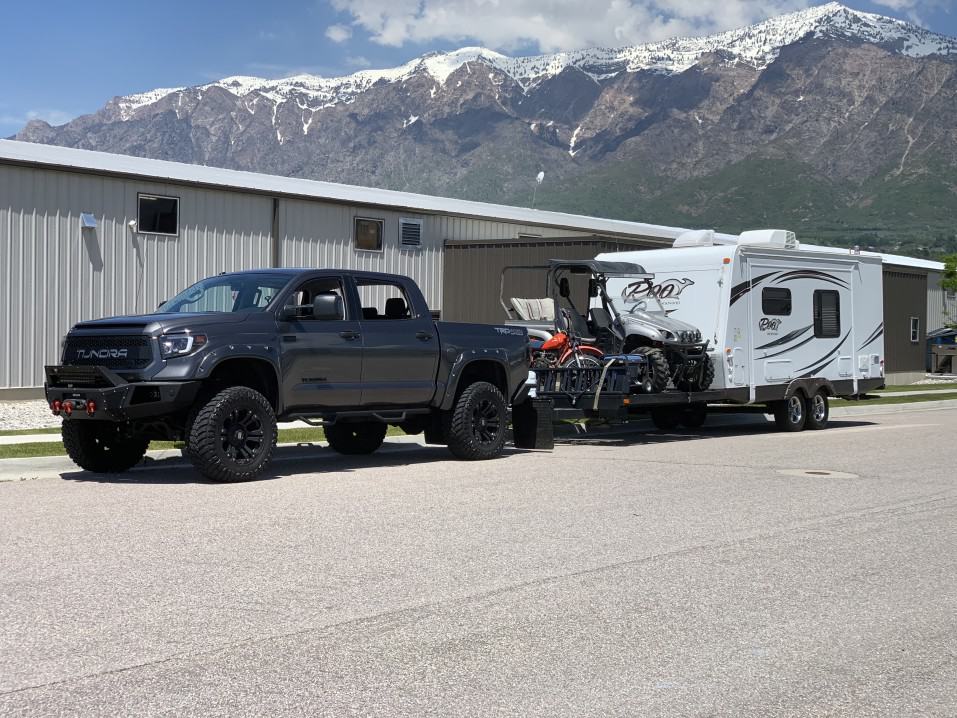 Meanwhile, the Limited and the 1794 Edition's engine gets 17 miles per gallon in the city and 22 miles per gallon on the highway. One can only expect fuel efficiency to significantly improve with the TRD Pros hybrid engine.
Towing with Toyota Trucks
If you're looking for a basic tow-it-all truck, then a Toyota truck will suit your needs. Even the Tacoma, which is a relatively small truck, can haul up to 6,800 pounds. This beats the Nissan Frontier by at least 100 pounds. However, several other manufacturers make trucks that have a larger towing capacity than Toyota's trucks by a long shot. Here are a few examples:
| | | |
| --- | --- | --- |
| Brand | Model | Towing Capacity |
| Toyota | Tundra | 8,800-11,175 lbs |
| Toyota | Tacoma | 3,500-6,800 lbs |
| Ford | F-350 | 12,000-20,000 lbs |
| Chevrolet | Silverado | 3,500-14,500 lbs |
| Nissan | Titan | 9,210-9,400 lbs |
| Ford | Raptor | 8,200 lbs |
| Chevrolet | Colorado | 3,500-7,000 lbs |
| Nissan | Frontier | 2,844-6,720 lbs |
The towing capacity that you need in your truck varies depending on your towing needs. If you need to tow a trailer or camper, the Toyota trucks will do the job, but if you are towing something quite heavy, then you may want to consider a different brand.
The main reason why you possibly would want to purchase a truck manufactured by a different brand than Toyota is that you want a truck that is more powerful than the Toyota Tacoma or Tundra. Chevrolet and Ford both sell powerful trucks that have a similar reliability rating to Toyota's trucks.
Other car manufacturing companies make more than two models of trucks, so you have more options to choose from if you purchase a truck from Chevy or Ford. However, Toyota vehicles are known for being more reliable than cars made by other brands.
That being said, Toyota trucks are still suitable options for towing vehicles. In fact, the Toyota trucks include a Tow/Haul system. This system gives extra power to the vehicle's lower gears, allowing it to tow heavier weights with ease.
Towing with a Toyota Tundra or Tacoma is not limited solely to smaller items such as Jet Skis and dingy boats. With the added hitch system, a Toyota Tundra can even tow a gooseneck trailer. Keep in mind, goosenecks often weigh more than bumper pull trailers. Regardless of what gear your Toyota truck is in and what equipment is attached, you will need to keep the weight your truck is towing under 10,200 pounds.
Although Toyota only manufactures two trucks, they have a relatively high towing capacity. That towing capacity changes depending on the year, the model, and the trim package you choose to have installed in your Toyota truck.