What Can I Tow With a Toyota Highlander? Boats | Campers | Trailers
This post may contain affiliate links. As an Amazon affiliate, I earn from qualifying purchases.
The Toyota Highlander is a popular model among consumers looking for a modern SUV. It can carry a lot of passengers in three rows of seating along for a road trip and are great for families who need a vehicle that can also adventure outdoors after a long week of work. They're built to make sure that passengers stay comfortable, so you should definitely be able to use them for longer trips.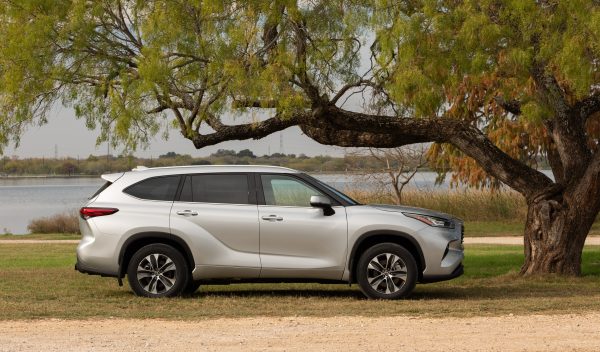 The Toyota Highlander also has significant enough power for an SUV that will let it tow certain types of vehicles and trailers behind it. While it may not match the power of heavy-duty trucks or even the biggest SUV's, the Highlander can get certain jobs done quite well.
Don't miss out on valuable information about which models to consider and which to avoid – learn all about the Toyota Highlander Years To Avoid in our insightful article and make a smart investment.
What Can I Tow With a Toyota Highlander?
Your Toyota Highlander has a towing capacity between 1,500 and 5,000 pounds, depending on your particular model. Even the Highlander with the lowest towing capacity can still tow small campers and boats, and the fully upgraded Highlander models can even tow classic travel trailers like Airstreams.
As mentioned, there are a lot of varying towing capacities that are available in a variety of different models of the Toyota Highlander. If you got an optional towing package on the Highlander's highest trim level, you're going to be able to tow more than the lowest trim level in the Toyota Highlander family.
Starting with the base LE package; you will only have 1,500 lbs of towing capacity. However, the Hybrid LE (and all hybrid engine trim levels of the Highlander) can actually tow up to 3,500 pounds. That kind of number is enough to get you into the game when it comes to towing a light trailer behind your vehicle.
The best models of Highlander to tow with are the LE Plus, the XLE, the SE, and the Limited. These models all check-in with 5,000 pounds of towing capacity which is really the range you would want to be at to tow most vehicles.
Can A Highlander Pull A Camper?
Yes, Toyota Highlanders can pull campers that have a a gross vehicle weight (the weight of the camper when it's fully loaded) of 1,500-5,000 pounds, depending on your particular Highlander model.
The reason that you would want to be up at 5,000 pounds is that you need enough capacity to tow the entire weight of the trailer, any weight that you add to the trailer, such as supplies, equipment, or cargo, and still have some room in the cargo area to spare.
It would be fairly unsafe to try pulling a trailer with a "gross" weight of 4,990 pounds with a vehicle with 5,000 pounds of towing capacity.
While that may work for extremely short trips, you are probably putting yourself at risk of something bad happening if you try to push up towards the towing capacity like that. You should leave yourself 10-15% of the top level number to be safe.
Teardrop trailers are the lightest option and therefore make the best option for being towed by a Highlander. These trailers usually weigh in anywhere from 500 to 2000 pounds.
Suppose you have a baseline model of the Highlander. In that case, you can see how towing is going to give you problems because these are the lightest trailers and even with one of the lightest versions, you'll still be taking up a fair amount of your towing capacity.
That being said, it is possible which is why staying among these lighter models is recommended if you have the basic package on your Highlander.
The next lightest model of trailer to tow is a pop-up trailer. These trailers have unique designs and will unfold so you can get a nice camping experience without all the weight of a traditional trailer.
These are some of the best models for people who have SUV's and want a model that is still nice but can still work fairly convenient. A lot of well-known brands will manufacture pop-up trailers and therefore there are a ton of premium products and high-quality products in this space.
When looking at weights, the next heaviest model is the airstream trailer. These are very unique models that usually have a rounded shape and a metallic shine on the outside.
While they are less popular these days, that means that you should be able to find them on different marketplaces for a lot cheaper than some of the newer modern trailers.
Small airstreams are really unique and can be great for a certain type of camper. One thing about airstream trailers that most people fail to realize is that they have a lot more space in them than you may think, so don't under-estimate these trailers when you consider one for your Highlander.
Finally, we have classic travel trailers which can weigh anywhere from 2,000 pounds to 8,000 pounds. These travel trailers are the ones that you think about when you hear the word "trailer", but many of them are going to be too heavy for the Highlander when you consider everything that you will be adding to the trailer as far as equipment and supplies go.
There are models that will work for the Highlander, so you shouldn't dismiss all of them right away, but you should know to be careful. You should avoid overloading your vehicle because you are going to see a significant drop in performance. You may be putting yourself, your other passengers, and other motorists in a dangerous position if you try to tow a trailer that your vehicle is not equipped to tow.
It should also be noted that you can tow various boats with the Highlander due to its towing capacity. Again, you need to be careful to pay attention to certain weights, towing capacities and payload to make sure that your vehicle rig is safe no matter where you travel.
Now, let's take an in-depth look at some different trailers that will work for your Highlander in these different sections.
Teardrop Trailers
Here are some great camper options that will work well with your Highlander if you are looking for a teardrop trailer:
Little Guy Max
Mean Bean
Timberleaf Classic Teardrop
nuCamp TAB Clam Shell 320CS
Of these models, one that seems to work really well for people is the Timberleaf Classic Teardrop because it has a dry weight of just under 1,500 pounds.
As we mentioned earlier, that probably won't work for you if you have the base engine package; however for people with the 3,500 pound or 5,000 towing capacity, that gives you plenty of space to tow comfortably without any kind of problems.
Timberleaf is a well-respected brand that has a history of making quality products and this is really a setup for someone who isn't trying to live outdoors forever, but if you have a sense of adventure one of these teardrop trailers is going to be a great choice for you.
These are all options that will leave you fairly stress-free which is great for those people who love adventure because you aren't really looking for a trailer that you have to worry about or that is going to cause you more problems when you are just trying to get away and relax.
Pop-up Trailers
Here are some great choices if you are looking for a pop-up trailer to carry with your Toyota Highlander. All of the following have weights that will definitely be a trailer that you can work with if you have the maxed out towing capacity.
Flagstaff Hard Side Pop-up T21
Flagstaff Tent 206LTD
Sylvansport GO
Rockwood Extreme Sports Package Camper
With this list, we have some great options that will provide a fairly small trailer that comes with slide-outs along the exterior of the camper. These pop-outs have different materials like canvas or something else that is water-proofed so you can get a larger living space with less weight.
There are actually many people who prefer pop-up trailers even if they have more towing capacity because it does help to keep things light and you do get a lot of extra space as opposed to pulling a full travel trailer.
Obviously, you make some trade offs when it comes to luxury options and your camper probably won't have anywhere near the amenities that those normal ones do, but these are great options nonetheless.
You see two Flagstaff campers here on our list for good reason because they are an extremely reliable company and they have been known for making great pop-up trailers for a long time.
Any campers who have used their products have probably been pleased as they have great reviews online and seem to be a brand that really cares about someone.
Another camper that is great on this list is the Sylvansport GO. That one is worth a look if you think you are definitely interested in a pop-up model.
Of course, you still need to do the math here and make sure that the dry weight makes sense for your vehicle. While most Highlander vehicles can handle a pop-up trailer without much problem, you still need to make sure that your model works with whatever trailer you select.
You also need to factor in all of the luggage, cargo, and equipment that you put into the trailer. Some campers will load up trailers thinking that they are saving space in their actual vehicle, while in reality they are creating a dangerous situation.
Airstream Trailers
As mentioned, Airstream trailers are extremely unique. Here's a list that will work for the Highlander with the maximum towing capacity.
Caravel 16RB
Bambi 16RB
Nest 16FB
You can see how much of a nice product the airstream trailer is by the uniformity of the names on this list. They are all going to be fairly similar regardless of what model you pick, although the variations that do exist on the trailer are there for a reason so you should pick one that suits you and your family.
These airstream trailers are just so unique that it's hard to put into words. The outside appearance is almost always going to look the same, so if you take one look at them and think that you have a definite "no" then you don't have to look through more airstream trailers because you're almost certainly wasting your time.
These can actually be hard to find because they're not made as often these days; so if you have your heart set on one you may have to search a bit harder to find them.
You should make sure that this doesn't influence the time and care that you put into your search. You are still making a major purchase and you are still purchasing something that can be fairly dangerous if used incorrectly. You should take care to make sure that you are doing your math correctly and you have all your bases covered.
The one thing to note when it comes to airstream trailers is that you don't have the flexibility that other models can offer. There generally are not going to be any compartments that fold out or any kind of the usability that pop-up models offer.
Honestly, this is why pop-up trailers are more common is because the fact that they are easier to use has made them gain popularity while the airstream trailers simply don't do as much for as many people so they have really decreased in popularity. Again, you shouldn't let other people's opinions sway you because you are doing this search for you and not anyone else.
Classic Travel Trailers
Finally, we come to the heaviest category on our list. These travel trailers usually have a pretty high weight so you need to take the utmost care when trying to tow these in a Highlander.
It's usually recommended that you pick one of the lighter models seen up above; however if you are a true expert and you really know what you are doing when hauling vehicles, these are some good options that you can probably make work:
EVO 177FQ
No Boundaries NB16.5
Wolf Pup 16PF
R-Pod RP 176
All of the models listed here are some really high-quality trailers that can add a lot to your life when adventuring outdoors.
For many consumers, the Wolf Pup 16PF is a great model because they have been cranking out quality trailers for a while now and have gained a lot of trust with the consumer.
The biggest thing to note about this category is that you shouldn't be intimidated by the broad spectrum of floor plans found in this arena.
These trailers all have larger living areas and can provide a lot more comfort than any of the trailers seen before them. However, with all of that comfort comes a lot of weight that can make your rig a lot more unstable.
This is one of the biggest factors that Highlander owners face when trying to haul a trailer, is making sure that their rig is stable because an SUV like this doesn't leave a lot of wiggle room like a heavy-duty truck could.
Some of the models on our list actually have bathrooms as well as eating areas, so if this sounds like your type of deal when adventuring, you may want to do some more research into the individual models to find out what will work for your family and what may simply be too heavy to bring on the road depending on your individual needs.
The hitch system works pretty easily as well, which is great for owners of the SUV who may not be super familiar with towing in their past.
Can A Toyota Highlander Tow A Boat?
Toyota Highlanders can tow boats, but it's important not to exceed your Highlander models towing capacity. Highlanders can tow between 1,500 and 5,000 pounds, so even the Highlander with the lowest towing capacity can still tow a good sized boat.
To discuss boats, we are not going to provide a list of available models because there are so many different ones on the marketplace, but we are going to provide a list of ideas to use when towing so that you can do your own research on models that may be available near you.
The first thing to consider is that your towing capacity is of the utmost importance. If you try to tow a boat that weighs 5,500 pounds with a Highlander that has a towing capacity of 5,000 pounds, you are going to have problems. Some people may think that they're able to test this for a short period of time and that they will get away with pulling a heavier model.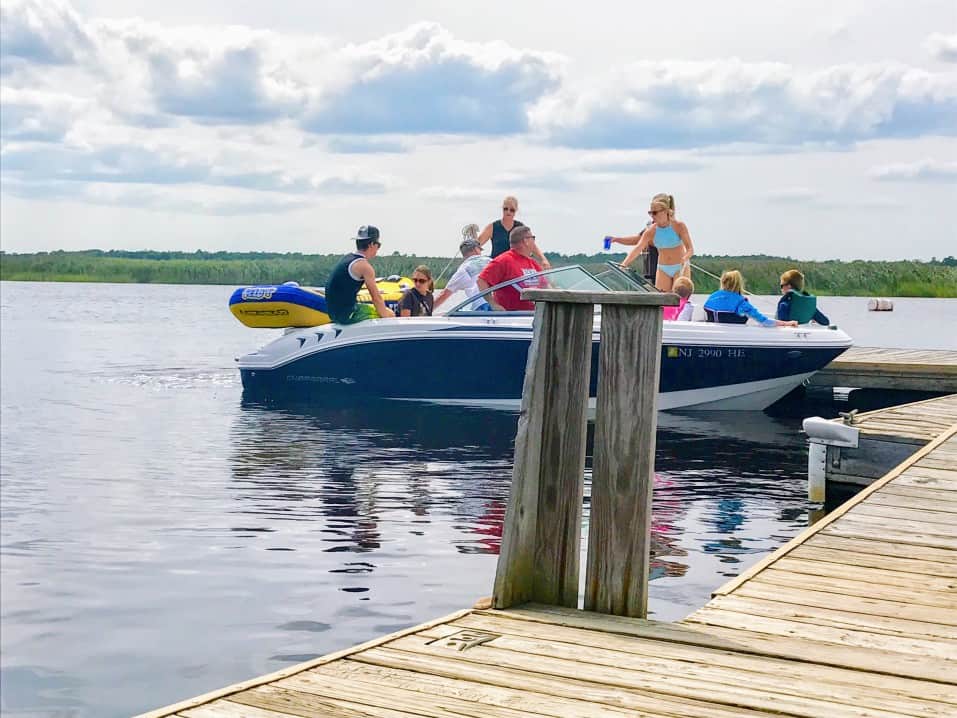 However, that is not the case because you are putting wear and tear on your engine that cannot be undone.
Another factor with boats is the fact that you'll usually be towing on or off of a boat dock. You should keep in mind the different conditions of these boat docks and the fact that some offer more traction and more or less slope than others.
That's a big deal – especially if you are trying to push your towing limits because you could get into some bad situations.
Conclusionp
The Toyota Highlander can tow a lot of different trailers and boats along on adventure trips. It will be up to you to select a model that works with your individual vehicle to keep everyone safe on the road as you go out and tackle the world!
Toyota Highlander Best Selling Accessories
Last update on 2023-09-29 / If you click this affiliate link and make a purchase, we earn a commission at no additional cost to you.
Last update on 2023-09-29 / If you click this affiliate link and make a purchase, we earn a commission at no additional cost to you.
$7.66
Last update on 2023-09-29 / If you click this affiliate link and make a purchase, we earn a commission at no additional cost to you.