Is a Jeep Compass Good In the Snow?
If you live somewhere where it snows frequently, you need to have a vehicle that performs well in the snow. Today, we're looking at how a Jeep Compass performs and if it is a car that you should feel confident if you or your family is driving it during the Winter.
Jeeps have a great reputation when it comes to making vehicles. They're known for their off-reading set-ups and that should translate well to snowy conditions.
The search to find a vehicle that performs well in the snow is not one to be taken lightly. It's important to do your research when making a major purchase like a vehicle so you get a lot of bang for your buck.
Is a Jeep Compass Good In the Snow?
Yes, the Jeep Compass is a safe vehicle that does well in the snow when equipped with the Jeep all-wheel-drive system. The Compass model comes with standard front-wheel drive, so you will want to upgrade if safety in snowy conditions is a concern.
There is a lot more about the Jeep Compass you should know. So, let's get into the specific details of the Jeep Compass so you can decide if it is right for you.
All About the Jeep Compass
The Jeep Compass is an in-between SUV that is a comfortable ride when driving on the road but may be able to take on some off-road trails if you outfit it appropriately.
It is not the most beastly of Jeep's offerings but it still have a lot of features that allows it to compete for consumer dollars.
If you plan on using a Compass to off-road regularly, you'll probably want to opt for the Trailhawk trim package because that has the biggest amount of features that are precisely made for the off-road life.
That's where you get a better suspension, some awesome tires, and a better traction control system. That traction control could be good for buyers who have the money for the Trailhawk while still being equipped well for the snow.
The Compass has some flaws including an engine that doesn't do a great job in either category of fuel usage or raw power.
That's a bit of a lackluster feeling especially when looking at some offerings in the Jeep family. However, when you look across different smaller SUV's, the Compass fits in pretty nicely and should be in consideration.
The Compass has a nice level of comfort that should keep passengers feeling good when riding on board.
The interior controls have a layout that feels extremely intuitive and the doors have a nice clearance that will allow people who may have trouble moving get in the car easily.
The headroom and legroom is ample and everything feels quite spacious. Some drivers may have trouble seeing to the rear with some pillars that take away from blind spots.
Jeep models now come with Uconnect and the touchscreen with the Compass has an awesome graphical display and menus that can be accessible for a variety of people.
There's not a ton of cargo space on the Compass but what space is there is pretty useful for consumers. The cabin has a lot of smaller cargo spaces that would be great for more items but not necessarily larger spaces. The center console has a fair amount of space as well.
When it comes to towing capacity, the Compass comes with up to 2,000 pounds which should do a decent job of towing in a lot of situations.
Most rival SUV's that are as big as the Compass get slightly better fuel mileage.
That's the biggest question with the Compass is if other similar offerings give you better value overall for your buying dollars.
Generally, the Jeep brand is highly valued and is probably one of the biggest positives when it comes to the Compass. It's got a great look and feel and that will be popular with those who love the Jeep brand.
The Jeep Compass offers 4 trim packages:
Sport
Latitude
Limited
Trailhawk
All of these models come with the standard engine that is available in the Jeep Compass.
It's a 2.4 liter four-cylinder engine that checks in at 180 horsepower. That's not terrible, but it's also not stand out for the SUV category.
Front-wheel drive is the standard here, although if you are worried about driving in conditions that may be less than optimal you will probably want to opt for all-wheel drive.
Most Jeep Compass models come with automatic transmission which is good for most drivers. The first two trim packages actually have the option to switch to a manual transmission. It's pretty rare that a driver would pick this option right now; however it is available if needed.
The Sport trim is the first and most basic trim package. However, you do have access to a nice 7-inch touchscreen on the interior. Second row USB ports are a nice addition here and you get a car that is easily connected with Apple Car Play and Android Auto.
The Latitude steps up what is included in the Sport in a pretty big way. It comes with upgraded wheels, upgraded cloth and some faux leather upholstery.
The steering wheel feels a lot better because it's leather-wrapped. You have access to keyless entry which is awesome and you also have the option have buying a few packages that you don't even have access to with the Sport.
The Limited is pretty much the "on road" luxury option. It's got a ton of equipment starting with a remote start system that will help you stay warm in the cold Winter season.
You get some other heating components as well including heated seats and a heated steering wheel. You've also got a terrain system that would help with traction and some off-road performance if you do decide to take your vehicle down a trail.
However, if you are looking to be off-roading frequently, you'll definitely want to go with the Trailhawk.
Everything about that model is designed to be geared towards the off-road, which actually means it can suffer slightly on the road sometimes. It's definitely the beast of the Compass family and you should be confident you can get off the road with it.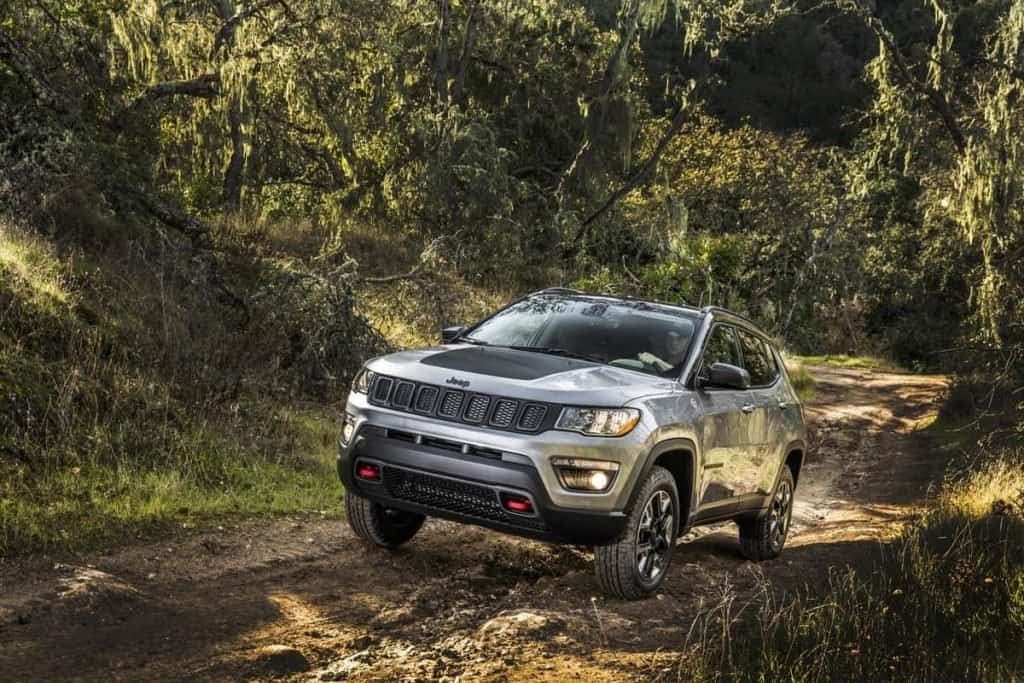 Driving In The Winter
To figure out whether or not the Jeep Compass is good in the snow, you'll want to start with the interior to make sure you stay nice and warm.
The Compass has various trim packages that include heating components. If you're concerned, you should definitely be buying one of those trims and make sure that you can get into a car that's going to be comfortable quickly.
The standard front-wheel drive may be a concern to some as well, so to make the Jeep Compass a very safe option on slippery surfaces or on ice you probably want to add the all-wheel drive so that you get more traction.
That would be the best way to make sure that you or your family feels secure when driving the Compass.
You may also want to consider adding a Safety Group package or the Advanced Safety package. Those systems add in a lot of detection systems that can help you stay safe around other drivers.
Those drivers can cause most of the problems with their unsafe driving in the Winter and may create a situation that is dangerous but unavoidable so having these safety systems is a great benefit to your security.
Summary
The Jeep Compass is a good option for a vehicle that you're needing for significant Winter time driving.
It's definitely recommend that you upgrade to the all-wheel drive packages if you are looking for the best option that the Compass has.
That extra traction will be really important in keeping you safe when the weather gets rough and you still need to be out driving.
While upgraded trim packages can seem unnecessary due to the financial cost, it may be necessary here to get your best purchase. The Compass is a bit smaller than other SUV's out on the road so the horsepower is not quite as high when you are comparing.
The Trailhawk trim package adds a lot of off-roading potential, but it can change how the car feels and handles when you're on the "real" road; so you should probably test-drive it to make sure you like the feel if you are not simply looking for an off-road package.
Jeep has made many safety options available here for drivers who are concerned or who feel like this may help them stay out of trouble; especially in adverse conditions.
That can help you stay out of the way of other drivers who may not be doing a great job navigating the slippery road.
Overall, depending on the options that you add on to your Jeep Compass, it is probably a good vehicle to be driving around in the rough Winter terrain.
Popular Jeep Compass Accessories
Last update on 2023-11-15 / If you click this affiliate link and make a purchase, we earn a commission at no additional cost to you.