These 5 Models Are the Best Jeeps For Driving In the Snow!
This post may contain affiliate links. As an Amazon affiliate, I earn from qualifying purchases.
When purchasing a Jeep, most people are thinking about buying a reliable and durable vehicle that is going to make it through some tough situations.
One of those tough situations that people face on a yearly basis is the Winter season. Driving in the Winter is not a fun experience, especially if you are not confident when doing so.
However, you can buy a vehicle that makes driving in the snow and ice a lot easier, and these are the best Jeep models that you can purchase to make sure you stay safe in the cold.
Jeep Wrangler
The Wrangler is a rugged model that Jeep fans have always loved. This love came honestly and it is known for its off-roading capabilities. If you are looking for the toughest Jeep model out there, you should definitely start and stop with the Wrangler.
The Jeep drives with a ton of comfort and is a beast when it comes to the off-road aspect (or adverse road conditions). The Rubicon trim package stands out as an amazing option because it has 33-inch tires. The Rubicon can actually be a little bit harder to manage because it's so fine tuned to off-road performance.
The Wrangler's engine is extremely powerful offering a 3.6 liter V6. The automatic transmission shifts comfortably and will keep you driving with plenty of power that can get you out of harm's way if you need to react to another driver quickly.
Driving in the snow is important, however you will also need to be comfortable. The Wrangler has a great climate control system that will keep you warm even in the Winter cold. The windows offer some great sight lines so you shouldn't have any pesky big blind spots where danger could be lurking.
The automatic driving systems could actually be better in the Wrangler though. You do get blind-spot monitoring and as mentioned sight lines that should keep you clear in that regard. However, there is no automatic front collision braking and no lane shift assist. Those shouldn't be too big of problems in Winter driving because you are more than likely being extremely attentive to the environment and everything that is happening.
The price tag on the Jeep Wrangler is high, but if you are looking for a vehicle that is great for off-roading and can handle itself in the snow, you've got a model here that you should definitely look at.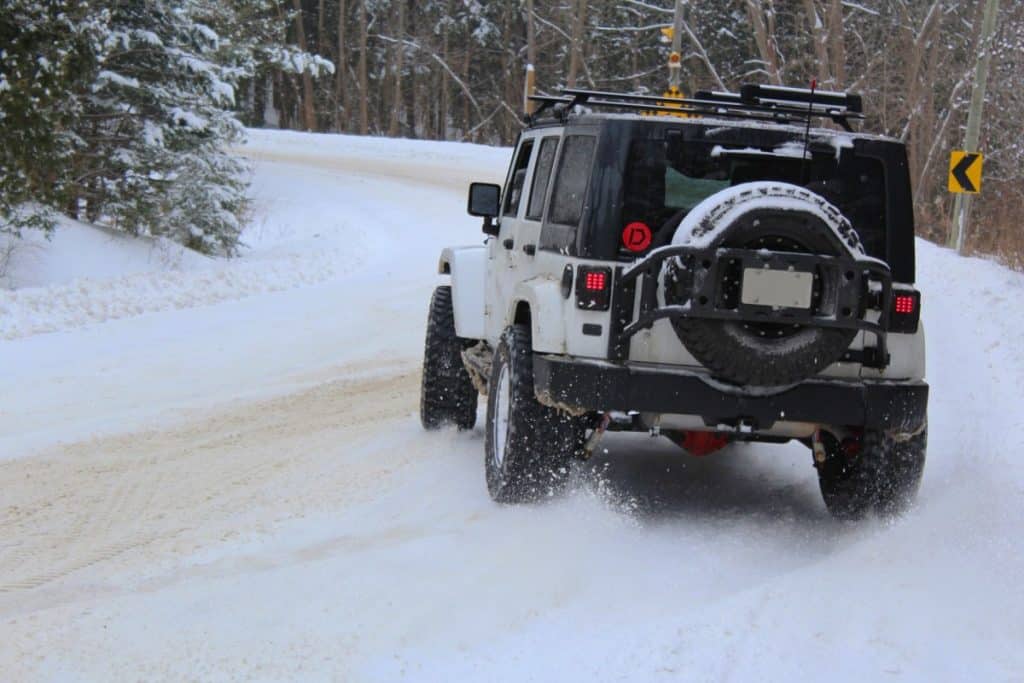 Grand Cherokee
The Grand Cherokee is a midsize SUV that has drawn some great reviews online. The design is one that has been around for a decade; but Jeep has kept the model going strong with awesome updates.
One of the reasons that the Grand Cherokee is such a great Winter driving option is the fact that it comes with some of the most advanced driver safety features seen anywhere.
The system that includes Apple Car Play and Android Auto is a clean one that drivers can use to negotiate their normal phone functions while driving in a safe way.
That only gets harder to do when you have to have a bigger focus on your environment because you're in a dangerous driving situation.
The engines in the Grand Cherokee give it some impressive power. You have options from 270 horsepower to over 700 horsepower and those engines are important when you need to quickly make a move or simply have the power to get up an icy hill safely.
One of the biggest factors in Winter driving is the traction you get on the road.
The Grand Cherokee has a ton of different options for four-wheel drive systems which is going to keep you going exactly the way that you want to.
The brakes in this model are also quite impressive – giving you some great stopping power that can keep you out of harm's way if necessary.
Brakes are often overlooked but the fact that the Grand Cherokee is a big plus for Winter driving.
One downside is that it's a relatively big vehicle so some things like wind can really effect the body of the model. A lot of things that Jeep has done has combatted that, but it should be noted.
When you compare the Grand Cherokee to other models in its class, you will find that the Grand Cherokee has a lot to offer for driving in the snow, ice, and other slippery conditions.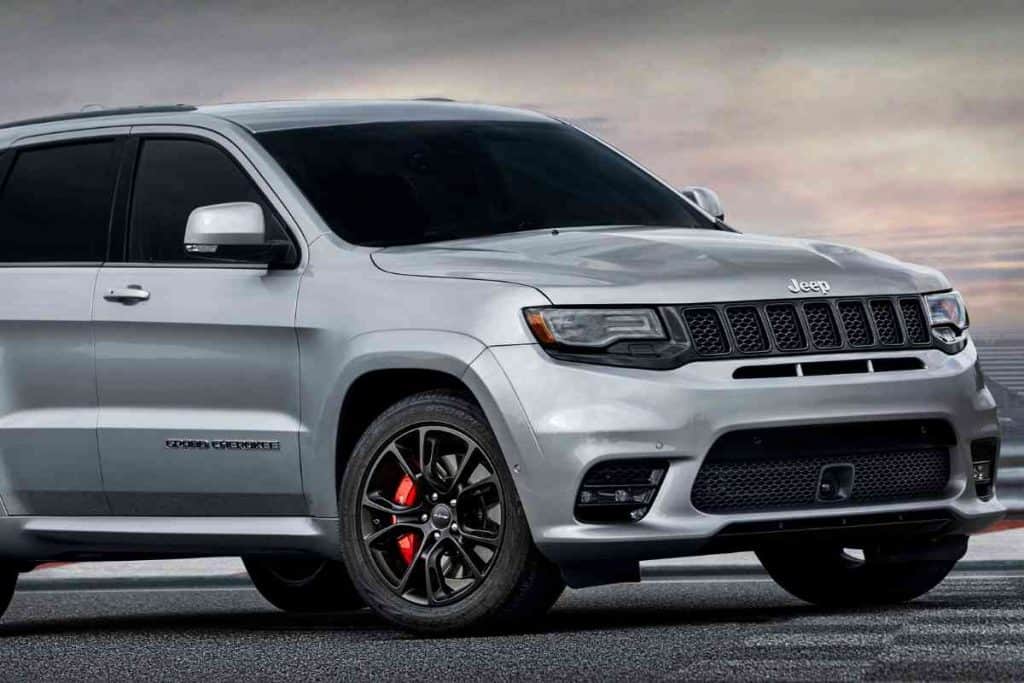 Cherokee Trailhawk
The Jeep Cherokee may not be the most obvious choice for a car that drives well in the snow, but the Trailhawk version of the model has made it on to the list.
The reasoning here is that the Trailhawk upgrades a lot of the things that you'll need to maneuver safely including an advanced all-wheel drive system. All-wheel drive is extremely important to have when you are not sure of the traction that your vehicle will have overall.
If you have all-wheel drive, you can be confident in the inputs that you are putting to the vehicle because you have more points to engage the road. While the main focus of the Trailhawk was off-roading, it translates well to getting through snow or ice.
You get wider wheels and ground clearance that is higher than other models. If you're unfamiliar with what that means, you should understand that it is a positive for the snowy situations.
You also have access to a technology package that adds a lot of driver aids when you purchase the Trailhawk.
This package adds a lot of things such as automatic front collision braking. You can't control other drivers when you are out in the Winter time, but they often cause a lot of problems.
If you have decreased vision or if another driver simply panics, you are going to be able to stop safely and with confidence in your Trailhawk vehicle.
Because the Trailhawk is one of the nicer trim packages available on the Jeep Cherokee, you get some added comforts in the interior of your vehicle as well. It's always nice to have some extra comfort when you have to be out in harsh environments.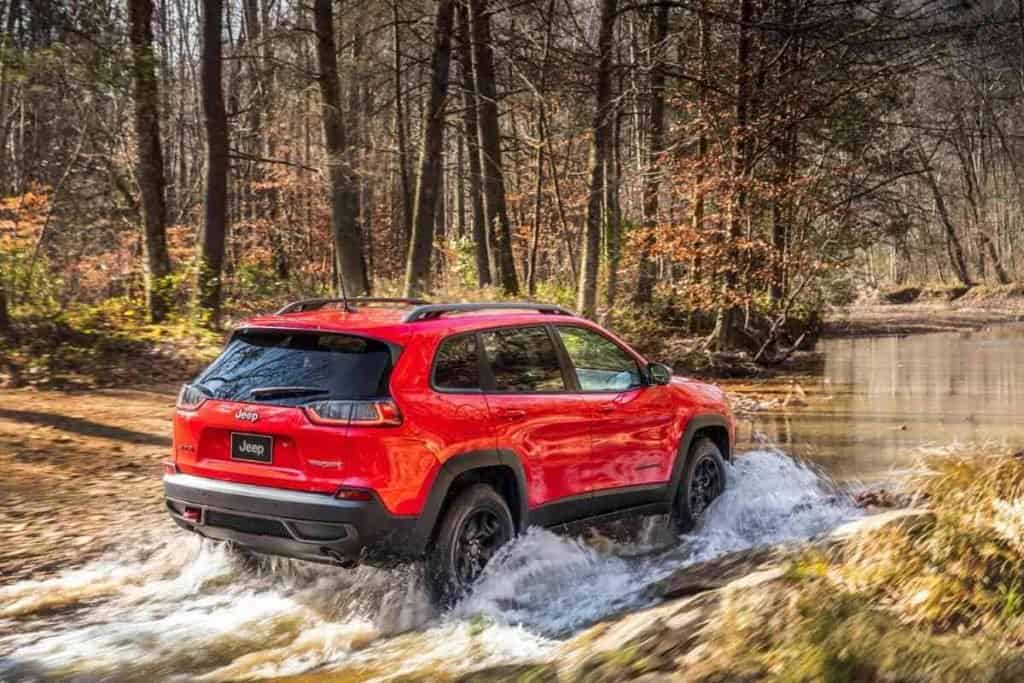 Renegade
The Renegade is more of a smaller option when compared to the other models on the list. Don't let it size fool you though, it holds up well when compared to its competition on snowy roads.
The Renegade is a great vehicle for off-road situations which compares well to what you may face on the road when conditions are less than ideal.
Four-wheel drive is optional here but you will probably want to opt in to that to take full advantage of what the vehicle can offer when it comes to traction.
When purchasing a Renegade specifically focused on its Winter use, you will probably want to buy a trim package that supports your goals.
The Trailhawk is a great idea similar to the Cherokee above because it has so many chops related to traction and the raised suspension that it offers. There's a lot to be said for that model and the way it handles in conditions that are tough.
The Limited or Latitude are also good options because they specifically include a Cold Weather package. With the Limited package, you get upgraded wheels for safer driving. On top of that, you'll also receive keyless ignition that offers remote start.
If you haven't experienced the luxury of remote start in a Winter climate, you are certainly missing out.
The Latitude and Limited both come with automatic wipers and heated front seats and a heated steering wheel. All of that heat is a great thing when facing the cold and brutal Winter season.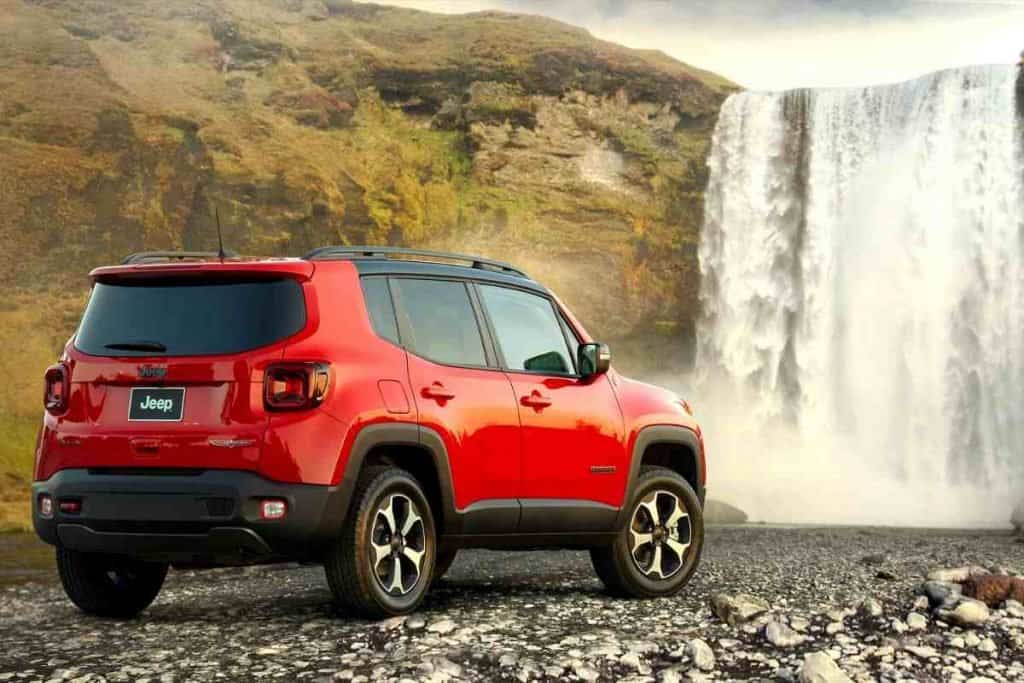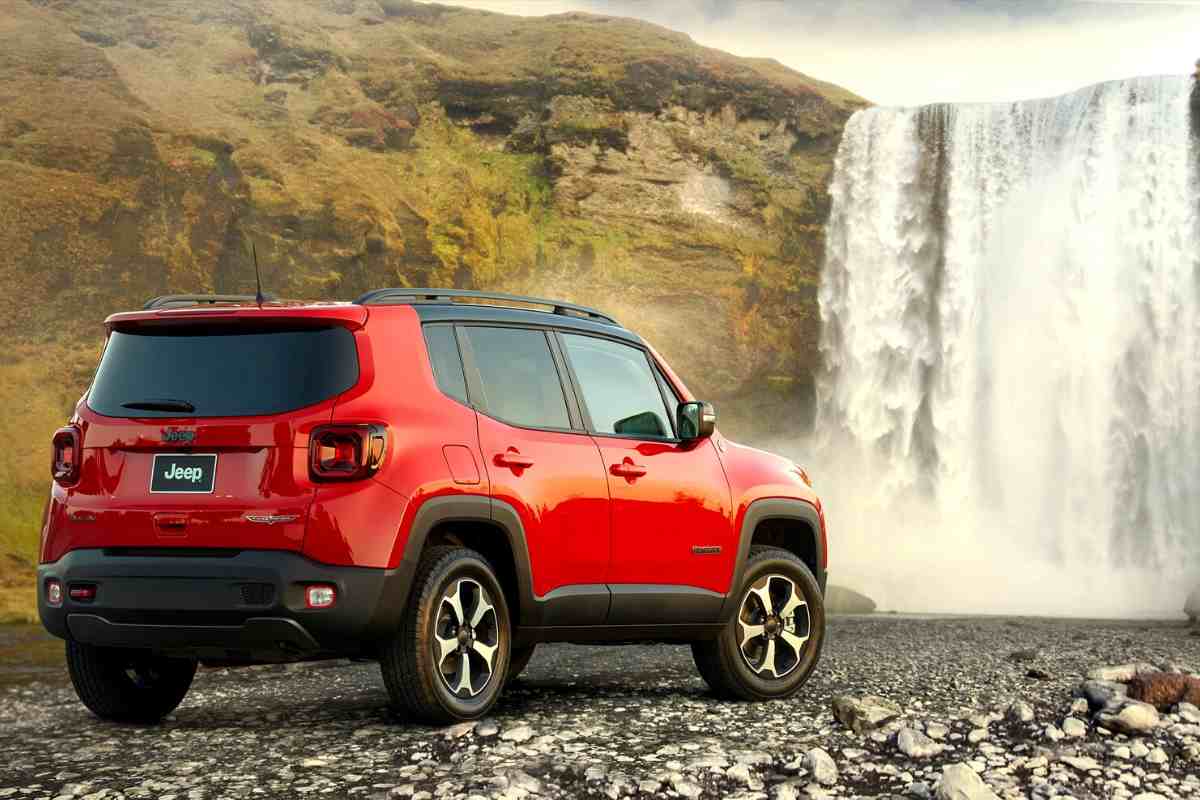 Patriot
The Jeep Patriot is probably a model that will be cheaper than many of the others listed above, however it can still hold its own in the snow.
The Jeep brand is known for creating vehicles that handle well and are able to get through any environment and the Patriot is no exception.
If you are able to purchase the Freedom Drive II package, it would probably be a good idea. That helps the car handle in off-road and adverse conditions and will give you some great benefit in the snow.
The smaller size than some other SUV's can mean that you have less car to handle which is good when the ice is making it hard to handle.
The Sport and Latitude package both feature antilock brakes so even if you find yourself in slippery conditions you should still be safe.
No matter what trim package you have, you will find your vehicle has stability control as well as traction control that will help you keep your vehicle in complete control.
The Patriot features brakes that are pretty much middle of the road for its size, which could be a concern for some.
The Jeep Patriot is a nice answer when looking for a car that controls well in the Winter if you are looking to save a bit of money and want to have a small SUV.