What is the Biggest Tire You Can Put on a Stock FJ Cruiser?
FJ Cruiser is the off-road beast you go to if you are not going for a Jeep Wrangler. Fitted with big tires, the SUV looks commanding, and it can take on any challenge. When new, FJ Cruiser comes with 32-inch factory tires, which are still great when you drive on rough terrain.
However, if you want to drive deeper beyond the pavement and enhance the masculine look of your FJ Cruiser, you need bigger tires. So, what's the highest you can go with new tires?
What is the Biggest Tire You Can Put on a Stock FJ Cruiser?
The biggest tire one can put on a stock FJ Cruiser without any modifications is 275/70/17. This is just a little bigger than the factory tire, which is 265/70/17. The tire measures 32.2 inches tall and 10.8 inches wide and will not need you to cut or trim any parts.
With a lift, you can fit bigger tires, up to 35 inches. A lift gives you several options on how you customize your SUV for off-road driving.
Tire lifts are great when you need bigger tires. However, as you add height to the tire, the tire also needs to be wide, and this is where more modifications come in. You might need to chop, relocate parts such as brackets, and add spacers among others.
The bigger you want to go, the more the modifications you have to make to the SUV. With so many modifications, installation of new tires becomes complicated. Tires are expensive, and you need to keep them safe from fenders that might scrap them.
After fitting new tires and driving on-road, they roll perfectly. However, when you take the SUV off-road, it needs to flex, and this is when rubbing starts. It is at this point when you feel like you need to slice the tires.
The best biggest tires for your FJ Cruiser should allow you to drive off-road up and down without any impedance. It should also allow the SUV to brake with ease at full lock.
Biggest Tires on FJ Cruiser Without Modifications
FJ Cruisers can take 32-inch tires with ease. Some models can fit 33-inch tires without rubbing and without the need for any form of modifications. Others might rub a little, meaning you have to trim the fender.
Tires come in different dimensions and different features. Some are the same height, but different widths. They also have molds and other features that influence how they fit on your FJ Cruiser.
The 275/70/17 fits perfectly on your stock FJ Cruiser, and you never have to do anything more than fit the tires. If you need a tire bigger than this, you will have to be ready to chop, lift, add spacers, or buy aftermarket rims.
If you only need bigger tires to make the Cruiser more aesthetically appealing, and you never drive off-road, the 275/70/17 tires will meet your needs. These tires can even go off road as long as the uneven terrain doesn't have depressions deeper than 18 inches.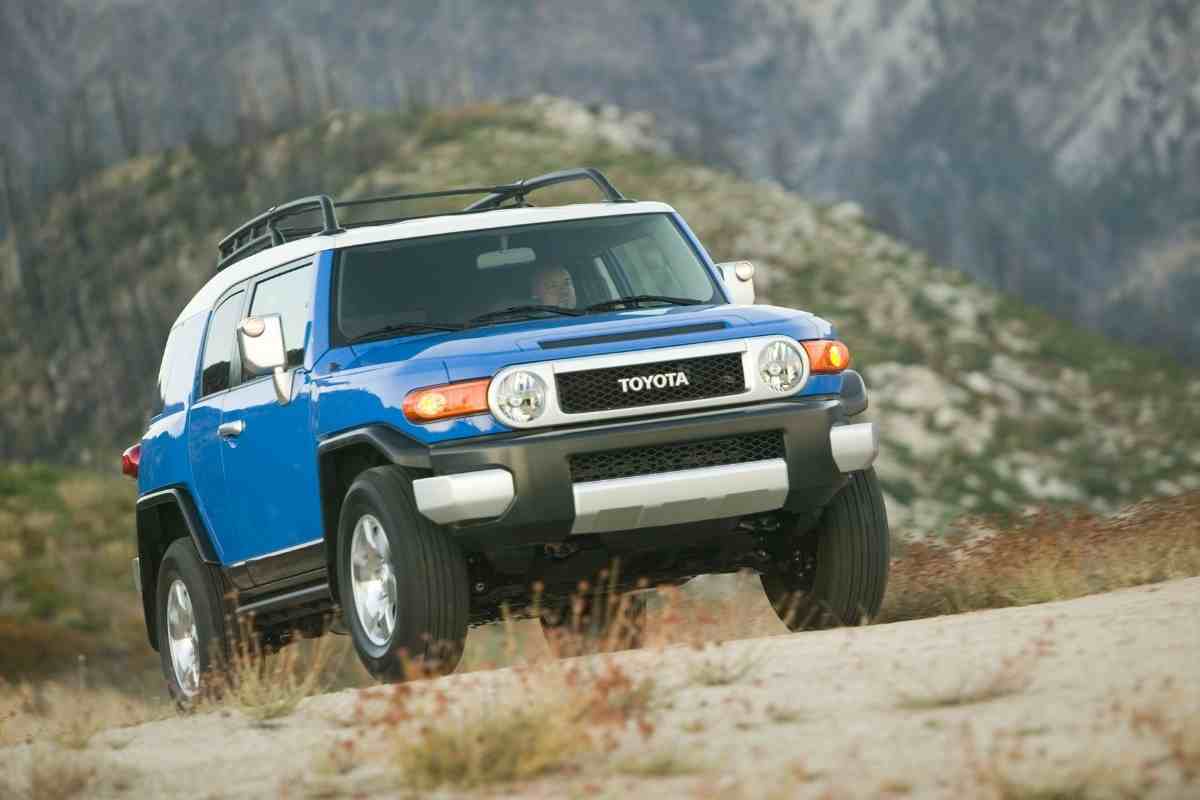 If the terrain is so rough with depressions deeper or stones taller than 18 inches, you will need to go for bigger tires. Very rough terrain can cause the tire to scrub on fenders or the body mounts.
How High Can You Go with a 3-Inch Lift?
If a 275 tire on stock rim 17 inches doesn't meet your needs, you can go as high as 285/70/17 with a lift. A 3-inch tire lift allows you to fit a 285/70/17 and drive smoothly without ever having to chop, add spacer, or do any other modifications.
Some FJ Cruiser owners claim that you cannot fit any tire bigger than 285/70/17 on the stock rim. The stock rim is 17 inches tall and 7.5 inches wide. If you want the SUV to flex enough when you drive off the road, you should avoid going too big as this might affect the performance of your SUV.
When you go for big tires, backspacing becomes limited. The 285/70/17 is 33 inches tall and 11.6 inches wide. After fitting, the tire will bulge a little, so you need to leave enough clearance for the tire bulge and tire flex. With a 3-inch lift, the 285/70/17 will never scrub or rub on the fenders or body mounts.
You can take your SUV off the road, and it will flex as you need it to. If you choose to go for aftermarket rims, you may fit a bigger tire. However, choose a rim with a more positive offset so that the tires do not stick out and cause rubbing during articulation.
Can You Fit a 33-Inch Tire ON Stock FJ Cruiser Without a Lift?
If you still want to go with a 285/70/17, but without a lift, you will need to make other modifications. The stock rim has an offset of 15mm with 4.84 inches of backspace. This rim can accommodate a 285/70/17 tire as long as you push the caster forward to top setting.
The 285/75-16 also fits 33-inch tires, but there will be slight rubbing on your SUV's mud flaps. You could get rid of the mud flaps and save the problem, but it might resurface if you go off the road.
If you have stock rims 16 inches, you need a 3-inch lift to ensure the tires roll smoothly. You might also consider an adjustable suspension so that you can increase it up when you need the wheels to articulate with ease.
The 285/75/16 stands taller than the 285/70/17 and this increases the chances of rubbing. Given that each FJ Cruiser is different, you have to observe the wheel well space and see whether the tires rub. Again, tire manufacturers create unique tires, so you do not want to go so big that you have to struggle with spacers and leveling kits.
To be safe on and off the road, avoid going higher than 285. When fitting bigger tires, you need to consider the offset and the width of the wheels on your FJ Cruiser. You may need to adjust the caster to ensure the wheels fit perfectly.
After fitting the tires, you need to watch out for spots where rubbing is common. Such spots include body mount, upper control arms, front sway bars or frame, rear wheel wells, and front wheel wells. If these parts rub, you might need to cut or trim the fenders and modify other parts.
Can You Fit 35-Inch Tires on FJ Cruiser?
The Toyota FJ Cruiser looks great in big tires. You can go bigger than 285/70/17 and pick 35-inch tires, which will make the SUV look more commanding. To fit these tires, you need a 6-inch lift to fit the tires and minimize the modifications you have to do.
Even with a 6-inch lift, you may still have to chop some parts and do other modifications to keep the tires rolling smoothly. The tire doesn't affect the performance of your FJ Cruiser as long as it doesn't affect flexing.
What should you do to fit these tires without rubbing?
For starters, you need to cut the body mount as back as possible to ensure there is no rubbing during articulation and at full lock. If there is plastic on the wheel well, you need to remove it or cut it back. The fender flares might also need trimming.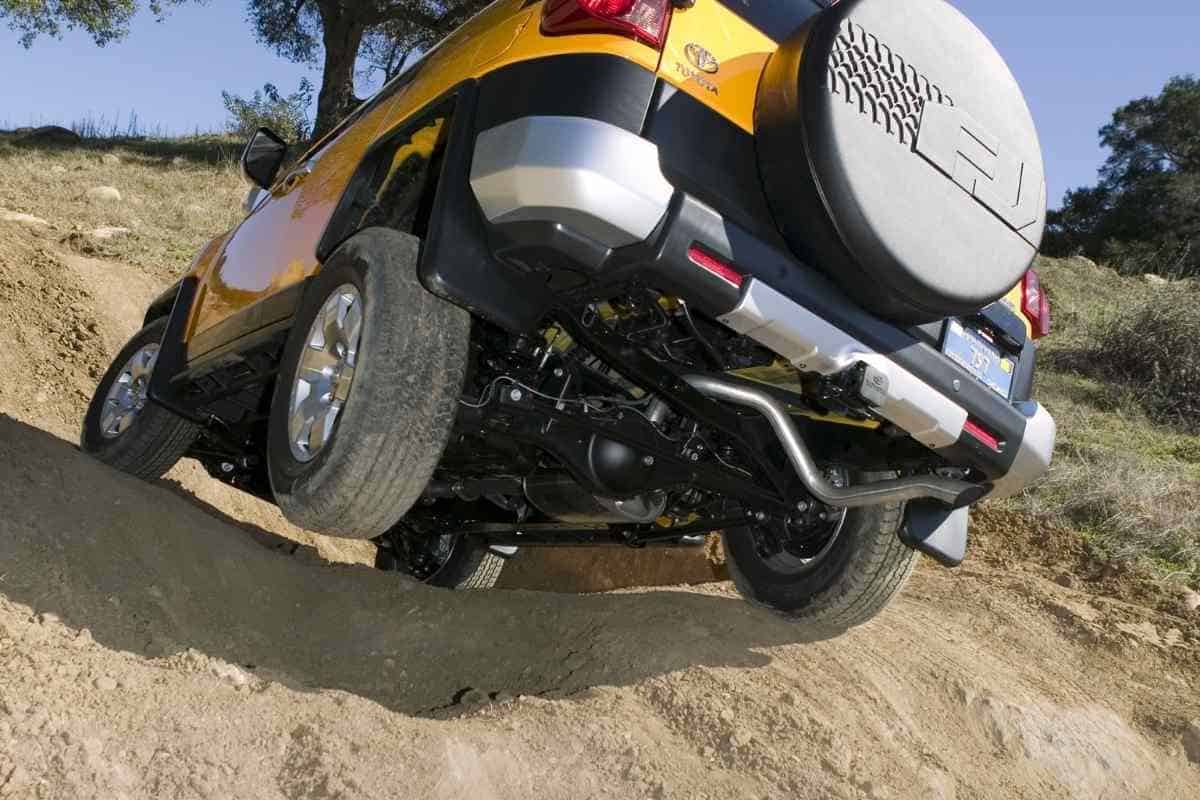 You can also go for bump stop spacers that ensure the rear wheel doesn't rub the SUV's wheel well. If all these fixes still do not help, you can go for aftermarket UCA (Upper Control Arms). If you fit aftermarket UCAs, you will need an alignment to ensure the tires roll smoothly.
Bigger tires affect more than how your SUV performs on and off-the-road. You might need to re-gear the SUV and re-program the computer for the best performance. When you re-gear, you get better mileage and maintain the power of the FJ Cruiser.
Closing Thoughts
What do you plan to do with your FJ Cruiser? If you plan to go off the road, you may need tires that allow maximum articulation. Off-road conditions are not the same – there are some conditions where the stock tires will work and others where you need to go for larger tires.
For your FJ Cruiser, regardless of the model year, you need not to go bigger than 35 inches. If you plan to use your FJ Cruiser on road, you do not need anything bigger than 33 inches tall and 11.6 inches wide. With a 33-inch tire, you do not need to do any major modifications besides a slight lift.
If you decide you need aftermarket rims to accommodate the new bigger tires better, consider the offset of the rims. A rim with a more negative offset gives you more clearance, but it might rub when the wheel is articulating. You need one with a more positive offset to minimize rubbing.