Can You Fit 35s on a Jeep with a 3-Inch Lift?
No matter what Jeep you drive, it was designed to help you explore. To explore further you often need bigger tires for added clearance and better handling. So can you fit 35-inch tires on a Jeep with a 3-inch lift to explore more?
With the right amount of work, any tire can be made to fit a Jeep, including 35-inch tires. Most will require extensive work. Rather than forcing a 35-inch tire to fit on a Jeep with a five to six-inch lift kit, find a quality tire that will fit and function easily with a 3-inch lift kit.
Although all Jeeps were made with the intention to be adventuring vehicles, others will work better for off-roading than others. Below you will find out which model of Jeeps can fit 35-inch tires with a 3-inch lift to improve its off-roading abilities!
Jeep Compass
The Jeep Compass is one of the company's vehicles that is geared more towards family travel but is still capable of suiting off-road enthusiasts. Unfortunately, the Jeep Compass comes with smaller tires and will need quite a bit of extra work in order to function best while exploring unpaved paths.
The stock tire size of the Jeep Compass is only 27 inches. In order to accommodate 35-inch tires, the Jeep Compass would need a lift larger than just three inches.
Another issue limiting the tire size you can put on your Jeep Cherokee is the enclosed wheel wells. Because the fenders do not expose the tires doing modifications for larger tires is much more difficult.
In order to fit the 35 inch tires, you will need to add both a large lift and some bump outs to prevent rubbing.
Although the Jeep Compass is capable of going off-road, the hassle to add 35-inch tires may not be worth the reward. Stick to a one to a two-inch lift kit and only slightly larger tires if taking your Compass off-road is a must.
Jeep Cherokee
The Jeep Cherokee has the smallest amount of clearance among all the Jeep vehicle models. However, it is not too low and can still make an excellent off-road vehicle.
Because of the lower clearance, adding bigger tires is a must before taking the SUV off the beaten path.
The stock rims on the Jeep Cherokee are 17 inches. This means you can add larger tires without needing to upgrade your wheel– although it is also a possibility. The stock tires on the Jeep Cherokee are the same size as those on the Compass, 27 inches.
With the enclosed wheel wells, you will likely need to add bump stops and a lift larger than three inches in order to fit 35-inch tires.
In total, all the modifications needed to fit 35-inch tires on the Jeep Cherokee are a fender trim, bump stops, and a 3.5 inch to the 4-inch lift kit. If you are looking for a project that will take a bit of time then this is the perfect project for you. However, if you want to be able to just slip 35 inch tires on your Jeep with a 3 inch lift, the Jeep Cherokee is not the choice for you.
Jeep Grand Cherokee
The Jeep Grand Cherokee is not much different from the regular Cherokee except that it has a third row of seats. This extra seating makes the vehicle perfect for larger families who like to get out and adventure.
Most Jeep enthusiasts think that conquering 35-inch tires with the Jeep Grand Cherokee is a mostly impossible task; however, where there is a checkbook, there is a way.
Some off-roaders estimate the upgrades needed to switch from the stock 30-inch tires to 35-inch tires would cost around five thousand dollars, not including the price of tires and rims.
On a three inch lift, the Jeep Grand Cherokee can fit up to 33 inch tires with some trimming and other adjustments.
To fit the 35-inch tires, the front axle will need to be regeared and the rear axle will need to be replaced entirely. However, some Jeep enthusiasts claim they run their Grand Cherokee with a 5 to 6.5-inch lift on 35-inch tires. While this is an adequate solution, the higher the lift the more risk you run of rolling over.
So the overall answer is yes, a Jeep Grand Cherokee can run 35 inch tires, but not on a three inch lift.
Jeep Wrangler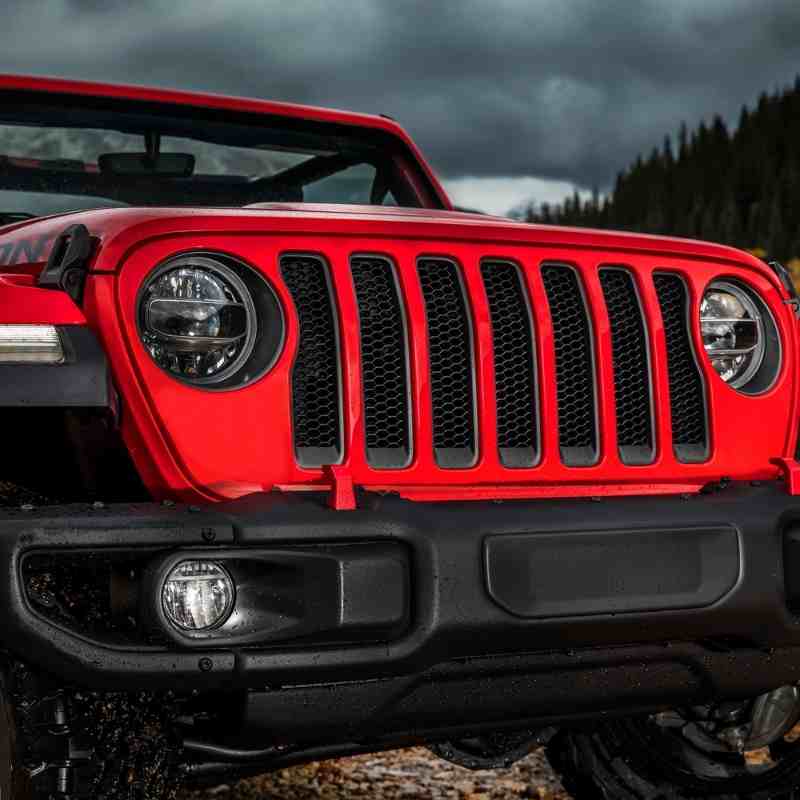 The Jeep Wrangler was the original off-roading vehicle. Unfortunately, for many, the stock tires just do not fit their off-roading needs. Jeep has taken notice of this and over the years has begun to release new models with larger tires.
Here are some of the models and how they can fit a set of 35 inch tires.
TJ
The Jeep TJ Rubicon comes with 30-inch stock tires. With a three-inch lift, this model of the Jeep Wrangler can fit 33-inch tires. While this is still a great upgrade, 35-inch tires offer much more clearance for off-road exploration.
In order to fit 35-inch tires on a Jeep Wrangler TJ, you will basically need to do a complete overhaul and consider the other obstacles this change would create.
35-inch tires would require steering upgrades, brake upgrades, new control arms, new track bars, and a larger lift (at least 4.5 inches). Ultimately, the Jeep TJ was not built to handle 35-inch tires and the extra power they require.
JK
After the Jeep Wrangler TJ, came the Jeep Wrangler JK which was slightly larger and had three different stock tire sizes. Depending on how you customized your vehicle, the JK came with either 29 or 32-inch stock tires.
While the tires were larger than the TJ's off-roaders know that bigger is always better. So can the JK fit 35 inch tires?
Technically, it can. With a three-inch lift, the Jeep Wrangler JK can accommodate 35-inch tires; however, there may be some rubbing due to the fenders. With some minor trimming or spacers, this problem can be avoided.
JL
The Jeep Wrangler JL runs 33-inch stock tires. This already leads to better off-roading abilities than its predecessors. However, in order to run 35-inch tires, the Jeep Wrangler JL will require a lift.
If you already have a three-inch lift installed on your Jeep JL you are in luck. The Jeep Wrangler JL can easily fit 35-inch tires with this size lift since it was purposely built with more room to accommodate larger tires for off-roading.
Jeep Renegade
Like the other Jeep SUVs, the Renegade is only sold with 27-inch stock tires. While these make for perfect around town tires, they leave much to be desired when going off-roading.
The largest tire the Jeep Renegade can fit without making any alterations to the vehicle is 28.5 inches. Anything larger than this will need a fair-sized lift kit and a fair bit of trimming.
Although it is possible to modify your Jeep Renegade to run 35-inch tires, this smaller Jeep was not made to produce the power needed to move them. The Jeep Renegade will also look fairly ridiculous and need some extra roll-over protections with that large of tires. Check out how it looks in the video below.
With only a 2.4 Liter engine, the Jeep Renegade would struggle to keep up, making the change not worth it. Keep the Renegade on the city streets and opt for a different off-roading vehicle for 35-inch tires.
Jeep Gladiator
The Jeep Gladiator is the newest vehicle being made by Jeep and was released in 2020. The Gladiator has created quite the divide among drivers with many opposing opinions. While some see the Jeep Gladiator as the perfect mix between a Jeep and a pick-up, others think the entire design is ridiculous.
No matter what side you are on, the Jeep Gladiator is undoubtedly one of the most versatile vehicles made by Jeep.
Stock tires on the Jeep Gladiator come in at 31.5 inches, the largest tire thus far. With 10 inches of ground clearance, the Gladiator is already a great choice for off-roading adventures. But if you want to have a bit more room and explore further, than 35 inch tires are the perfect choice. In fact, the Jeep Gladiator is already built with large wheel wells in order to accommodate off-roaders looking to get a bit more height.
Check out this video to see the Jeep Gladiator running 35 inch tires, with no lift!
The Jeep Gladiator requires no lift in order to accommodate 35-inch tires. However, if you purchase a tire wider than stock you will need to purchase a new wheel.
A few things to keep in mind when putting 35 inch tires on a Jeep Gladiator are lower fuel economy and tight fit.
The larger tires do reduce gas mileage but only by about 1.5 miles per gallon.
As for fit, the 35-inch tires take up all the room available to them, yet somehow do not rub. Do be warned, there will be absolutely no room left for a larger tire. IF you are looking to put a tire larger than a 35 inch, you are going to need to lift the Gladiator and potentially use bump-outs or spacers.