Which Ford Ranger is Best for Towing?
Ford Rangers are great for towing. However, it can be difficult to decide which one is the best choice for a driver. When taking into consideration maximum towing capacity, reliability, safety features, and durability, there is only one clear answer. Keep reading below to discover which Ford Ranger is superior for towing!
The 2021 Ford Ranger is the best for towing. With the Trailer Tow Package, the maximum towing capacity is 7,500 lbs. The 2021 model is built to travel across diverse terrains while allowing for easy towing. This truck combines strength and durability to ensure towing is safer and more reliable.
Below will explain more in-depth why the 2021 Ford Ranger is superior when it comes to towing, and which other Ford Rangers are worth the purchase.
The Best – 2021 Ford Ranger
The 2021 Ford Ranger is the best truck for towing. The 2021 model has an impressive maximum towing capacity of 7,500 lbs. The total payload capacity is 1,860 lbs, proving the strength and durability of this truck. Engineers worked to optimize the reliability of the Ford Ranger, and they were successful in doing so. The Ford Ranger is built from a steel frame with six cross members, maximizing the strength of this truck. The frame of this truck allows for successful towing and off-roading.
The 2021 Ford Ranger comes with an immense amount of features that are unmatched by any other truck. Below is a list of some of the most useful amenities that come with purchasing this truck:
2.3-liter four-cylinder engine
310 lb-ft of torque
10-speed automatic transmission
Terrain Management System
Four selectable drive modes
270 horsepower
Double independent A-arm front suspension
The four selectable driver modes allow for easy off-roading. The modes include a normal setting, and settings for gravel/snow, grass, and mud/ruts. Because of this feature, driving on any surface can be done with proficiency. As the 2021 Ford Ranger travels across diverse terrains, it feels smooth and controlled, without any sense of disturbance.
This Ford Ranger has a double independent A-arm front suspension. This impressive suspension provides drivers with an increased amount of control, leading to a safer drive overall. The suspension is designed particularly for terrains that may otherwise be difficult to maneuver on. In addition, they are nitrogen gas-pressurized to aid in absorbing shock.
In order to tow the maximum amount of weight, which is 7,500 pounds, the driver must purchase the optional Trailer Tow Package. This package consists of a 7-wire harness, a hitch receiver, and a 4-/7-pin connector. The Trailer Tow Package allows the 2021 Ford Ranger to tow heavy-duty items, without impeding its other abilities.
The only common complaint about the 2021 Ford Ranger is its interior design, which doesn't have to do with its towing ability.
Ford attempted to combine comfort and style with the interior, which is not an easy combination. The comfortable design seems to be easily confused by drivers as they typically refer to it as "boring" or "lazy". Drivers complain that the Ranger missed its attempt at a stylish design and that the interior does not match the slick aesthetic of the exterior.
If interior design is not important to you, however, then this is the perfect truck.
"Great design conveys more than just a vehicle's appearance. It says just as much about a vehicle's capability… And with available packages like the all-new Tremor or FX4 Off-Road packages and a plethora of available accessories to outfit your Ranger with, you can enjoy the road in style wherever your next adventure takes you."

Ford
Clearly, the exterior design of this truck is important to Ford. The polished design of the exterior of the Ford Ranger compensates for the interior, and the lacking interior design will most likely not even be noticed.
It is no question that the 2021 Ford Ranger is the best truck for towing. The 2021 model contains features that no other truck can compare with. However, there are other Ford Rangers that are excellent for towing as well and are less expensive due to their value decreasing over time.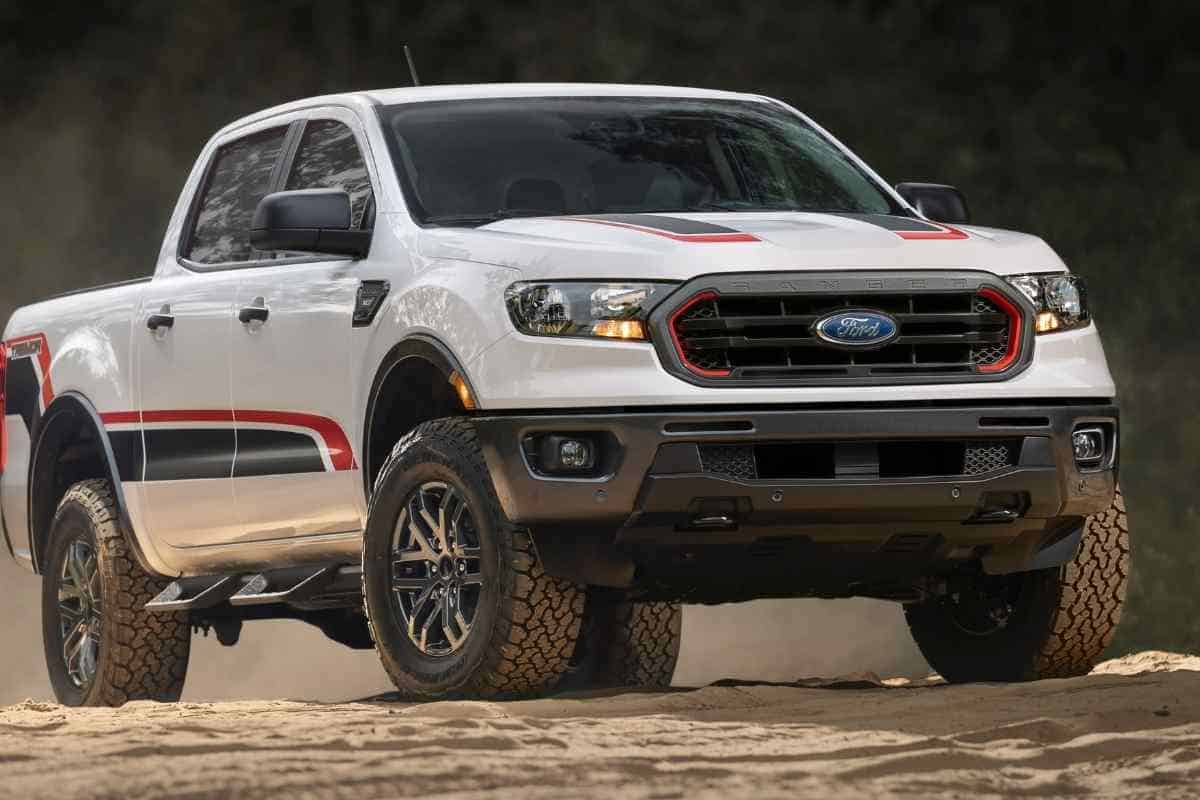 Other Ford Rangers for Towing
2020 Ford Ranger
The maximum towing capacity for the 2020 Ford Ranger is 3,500 lbs. However, this is without the Trailer Tow Package. With the package, the towing capacity is 7,500 lbs. The maximum payload capacity is 1,860 lbs.
The 2020 model is similar to the 2021 model, however there are a few features that are missing from the 2020 model.
With few changes between the 2020 and 2021 Ranger, most of the stand-outs are the packages to be added. Overall, the 2021 Ranger is keeping it simple. In a world where options are often too confusing and overwhelming, perhaps Ford is making a solid decision to give buyers a truck that's been missed for nearly a decade. But whether you chose the 2020 model or the 2021 model, you will be rewarded with an outstanding midsize truck.

AutoInfluence
This Ford Ranger is known for its strong turbo-engine that makes towing a breeze. In addition to its first-rate engine, the 2020 model comes with features that prove the excellence of this truck. The features are listed below:
10-speed automatic transmission
270 horsepower
310 lb-ft of torque
18-gallon fuel tank capacity
2019 Ford Ranger
As with the other two models, the 2019 Ford Ranger has a towing capacity of 3,500 lbs if it is left unequipped. However, if equipped with the Trailer Tow Package, the maximum towing capacity is 7,500 lbs.
The ground clearance of this truck is 8.9 inches, which prepares the truck for off-roading and uneven terrains. In addition, on-road and off-road safety features allow for safe driving no matter the destination.
This model is quickly becoming dated, particularly if it is compared with the newer models. However, it still gets the job done when it comes to towing. Below is a list of the features that are the most common causes for concern by drivers of the 2019 Ford Ranger:
The Ranger takes a different approach than its cross-town rivals, which offer gas four- and six-cylinder engines and a diesel four plus the choice of manual or automatic transmissions. Ford hopes you wanted a turbo four and a 10-speed automatic transmission because that's the only powertrain it offers.

CarAndDriver
Although getting low MPG is pretty common for large trucks, it can be offputting, especially considering that when you are towing something, it will only get worse.
All things considered, this truck still has a ton of positives that make it right for a lot of people. Here are some reasons to like it.
Below is a list of the features of the 2019 Ford Ranger:
270 horsepower
310 lb-ft of torque
10-speed automatic transmission
Although the 2019 Ford Ranger is not free of problems, it is still a great truck for towing. The engine for the 2019 model is a 2.3 liter EcoBoost four-cylinder. The engine is capable of 275 horsepower and 310 lb-ft of torque. The large towing capacity is enough to tow medium to large-sized items.
2011 Ford Ranger
The 2011 Ford Ranger has a towing capacity of 1,600 lbs. The payload maximum capacity is 1,160 lbs. This lighter towing capacity makes the 2011 model great for towing lighter-duty items. Although it is unable to tow items that are heavy in weight, its reliability makes it a perfect truck if it is not needed for heavy-duty towing.
There are many toys and everyday things that can be towed by the 2011 Ranger, but be sure to do your calculations before hitching up or loading anything.
Below is a list of the features of the 2011 Ford Ranger:
2.3 L 4-cylinder engine
143 horsepower
154 lb-ft of torque
5-speed manual transmission
"Critics said little about the base four-cylinder engine, as most tested models equipped with the V6. The V6 was generally liked, but some reviewers would have liked more power, especially for towing or hauling. Two- and four-wheel drive were available, and either engine was available with a manual or automatic transmission. The 2011 Ford Ranger achieves 19/24 mpg city/highway with the base engine and automatic transmission, which is typical for the class."

Cars.USNews
The 2011 Ford Ranger is a truck that is known for its reliability and is loved by its owners. Of course, compared to the newer models, there are many features that it lacks and the drive is not as smooth. However, this is to be expected due to its age. This truck seems to be timeless as it is one of the most highly regarded trucks by Ford.
Some of the negatives about this trucks is that:
Many find the dashboard and accessories to made cheaply with plastics
The seats are small
The base model doesn't come with much.
Again, these things are a bit nit-picky but can really matter to some. However, for towing, this model is a great option and is still favorable after 10 years. Additionally, it can be a cost-effective option since it is an older model.
Since it does have a towing capacity that isn't as high as others, it's good to keep in mind what you want to tow. It's also good to know that over time, towing capacity can decrease over time. Regularly adding weight to your truck and towing adds wear and your truck may not be as up to that is it once was.