What Size Truck Do You Need to Pull a 30 Ft Travel Trailer?
This post may contain affiliate links. As an Amazon affiliate, I earn from qualifying purchases.
Most people want an RV that is going to provide them a maximum amount of comfort when they hit the road on a long adventure. A 30-foot travel trailer is a serious model that should bring you a lot of amenities. However, a 30-foot travel trailer is not easily towed by any means. You'll need a serious truck with real towing capabilities if you want to bring along a 30-footer. It's not impossible, but you must match a truck with a trailer with enough size and power to keep you safe on your adventures.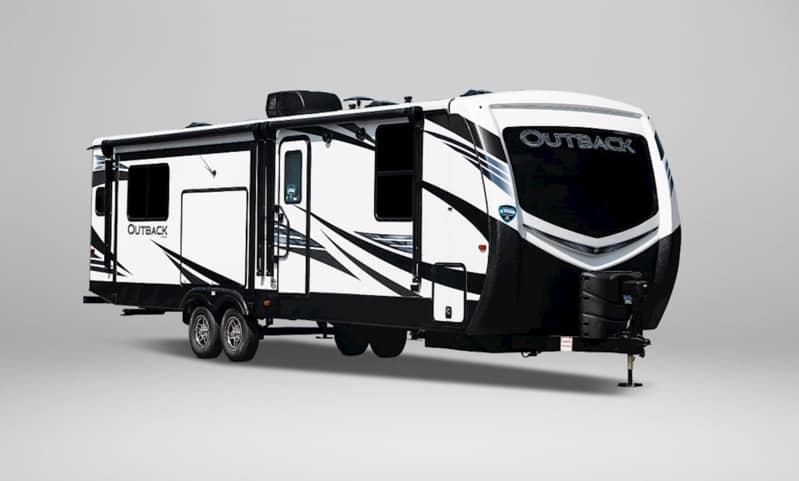 While you are researching towing a 30-foot trailer, check out these other popular articles: What Size Trailer Can A Ford Ranger Pull?, Can The GMC Sierra 1500 Pull Campers and Trailers?, Best Three-Quarter-Ton Trucks For Towing Campers, Boats, and Trailers and bookmark our towing category page with tons of helpful articles.
While we can take you through some different trucks that should get the job done, you always need to measure your individual trailer to ensure your own safety.
Let's get into the full breakdown:
What Size Truck Do You Need to Pull a 30 Ft Travel Trailer?
You will need a serious truck to pull a 30-foot travel trailer. While you may be able to get away with a compact pickup truck, it is more likely that you will need a full size truck. These are some great options when it comes to pulling a 30 foot travel trailer:
Keep in mind that your set up is not going to be the same as anyone else's in the world due to your specific vehicle, your specific trailer, and the cargo, equipment and supplies that you will be hauling in both your truck and your trailer.
Always research your towing capacity and everything that your manufacturer gives you to guarantee a safe ride.
Now, let's give you more information about these trucks so you can see which one may be best for pulling the trailer you've got.
Toyota Tundra
The Toyota Tundra is a powerful truck with some of the best towing capacity numbers among its peers. It's able to tout a lot of upgrades that it has received lately, however, the basic truck design itself is quite old, almost 10 years old actually.
That combo is an interesting mix, and this truck works best for those looking for a workhorse vehicle. It doesn't have the newest luxuries, but it does a great job towing and taking things off-road. That kind of power makes it one of the best if not the best full size pickup truck to pull a 30 foot trailer.
The Tundra features a 5.7 Liter V8 engine that is quite powerful. This is really the reason that it stands out among some of the others in this space. The extra power lets you have a little bit less concern when you need to pull a full sized travel trailer.
It doesn't even matter what trim package you pick with the Tundra. This is one of the most frustrating parts of buying a new vehicle today, there are many different options so the stats listed may not apply to the trim package that you are buying.
That problem doesn't exist with the Tundra, no matter what you buy; you are getting a vehicle that can tow up to 10,000 pounds.
That 10,000 number is great for a 30 foot travel trailer because you always want to exceed the total weight you need to pull.
While some trailers may push up towards 8,000 pounds; the Tundra's capability to tow 10,000 pounds gives you that added cushion that you won't have with other vehicles.
It is never a good idea to push up against your towing limit because you will be putting maximum strain on the engine which can start to wear it down a bit over time.
It is a viable option if you are using the Tundra as a work truck only or if your main purpose is to work with the Tundra.
It will lose points when compared to other trucks because it doesn't have all of the luxuries that many new trucks are being built with; however, if your #1 priority is hauling a travel trailer, you may not care about all of those luxuries.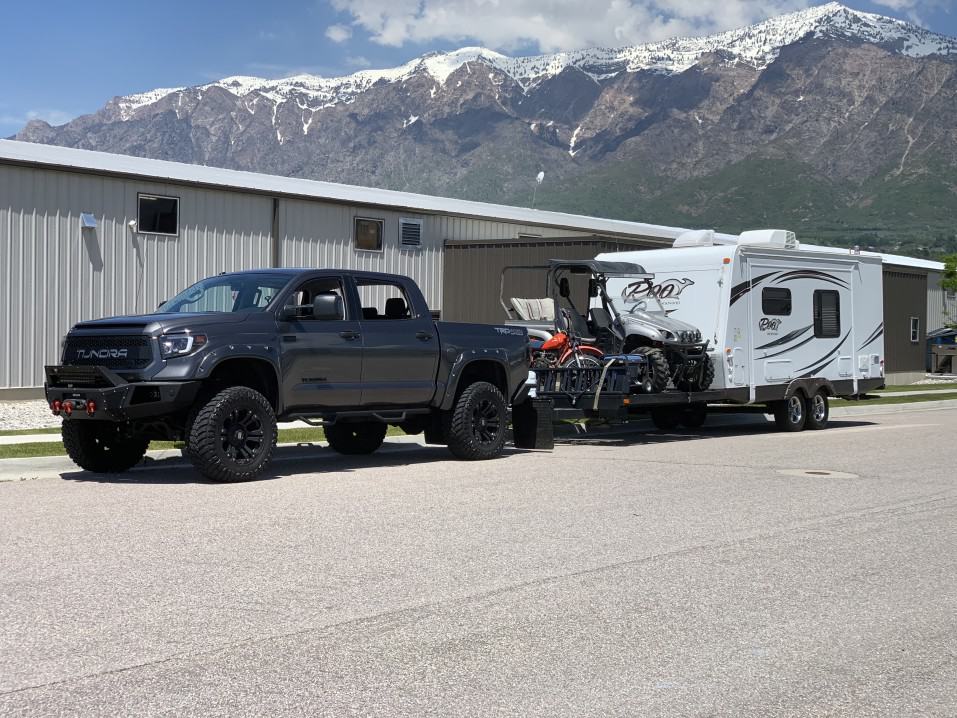 The problem with the Tundra is if you are also trying to bring your family along on this adventure inside of the truck cabin, they may not be as comfortable as you would like.
Compared to other trucks its size, the Tundra also seems to be a bit less maneuverable, which can be a problem. It's main strength is power, and it seems like everything else takes a step back.
Again, if your main purpose is towing then this mixture shouldn't concern you too much; but if you need more of an "all-around" vehicle, you may want to look at some other options as compared to this beast of a machine.
The Tundra also has some great upgrades that allow you to customize your truck the way you need.
Chevy Silverado 1500
The Silverado 1500 has recently received many upgrades that allow it to stand out among a competitive pickup truck field.
Just over the past few years, it has received upgrades that have improved its gas mileage, expanded cabin space, technology upgrades, and some towing upgrades.
That last feature should make your ears perk up if you are looking for a pickup truck that can handle hauling a 30 foot travel trailer. The Silverado 1500 has plenty of power which make it a pretty good option when it comes to that size of a trailer.
The Silverado 1500 has a ton of engine options, and now it has a diesel engine available to choose when purchasing your vehicle. Whatever you choose, you should be able to find a package that helps you tow those big trailer options so that you can keep your options free on that end of things as well.
The 1500 has recently added to its safety features which was fairly overdue, and now has safety and tech ratings that match up with other trucks in the category.
This is another big area for people hauling a trailer because the more information you can get about your rig will be quite helpful for navigating with a trailer attached.
Acceleration was an area where the Silverado 1500 used to struggle, however, it has been improved with the upgraded engine options available with the new models.
When using the V8 option for example, the Silverado 1500 handles quite well and hits every mark you would want to see from it as far as road tests and maneuvering capability.
The Silverado offers a pretty comfortable ride for those looking to take their family on the road. Other trucks may have seats that are a bit more comfortable, but the 1500 does a great job of smoothing out bumps along the road, keeping the passengers in the cabin comfortable on longer trips, and being smooth to drive.
One thing that people should love if they are going to be taking the 1500 on long trips frequently is the fact that the cabin has a ton of room. Even with adults sitting in the second row, they should feel comfortable and have no issues with their space or their legroom.
If you are driving most of the Silverado 1500 trim packages, you will have a very high towing capacity along with a payload rating that is impressive as well. The V8 option has over 2,000 pounds of payload capacity which is a great number.
The Silverado 1500 is a lot of fun to drive and handles quite well. It's impressive that they have managed to add so much to their vehicle to make it capable when going on long trips as well as short-term powerful towing.
Either way, if you are looking to travel with a 30 foot model; the Silverado 1500 is a great option for you that should keep your family comfortable inside as well.
Nissan Titan
The Nissan Titan has received some upgrades to its design that were fairly needed. They've got a re-designed exterior here with the Titan, and they have a vehicle that can do some real work if it is towing.
Nissan has emphasized adding more of their safety features to come standard with the Titan this time. That's great for drivers, especially those who rack up miles while towing a serious travel trailer.
If you are on the road on long road trips, you want to have the new features like adaptive cruise control; that will help keep you and your passengers safe.
On the inside of the Titan, the major recent upgrade came to its touchscreen information station. It is now a 9-inch display which is fairly large for any vehicle, but it should help drivers use an intuitive screen to minimize screen time before hitting the road.
Again, everything with the Nissan Titan has been designed to keep the driver safe and feel right at home in the driver's seat; which is great for those long road trips.
The Titan is probably most comparable to the Toyota Tundra, although it doesn't quite match the power that the Tundra can offer; the Tundra has two V8 offerings while the Titan only has one. That doesn't have to be a bad thing though.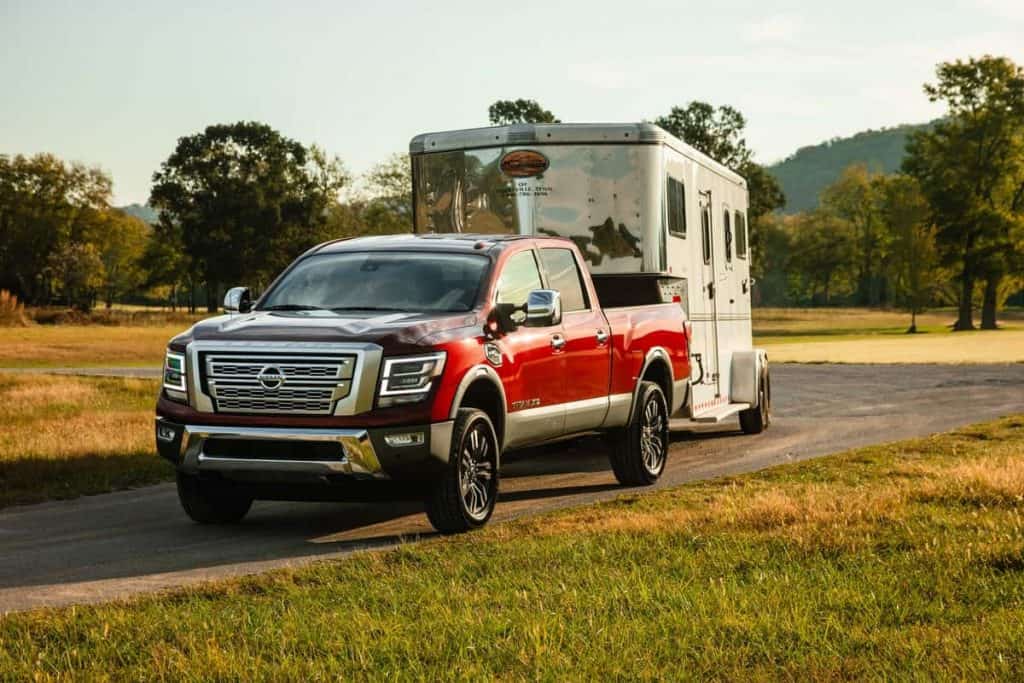 The Tundra is a bit "work" focused for some, so if you are looking for a vehicle that has a bit more focus on some of the tech and safety side of things, the Nissan can make for a bit more of a reliable vehicle in that sense.
As mentioned, the V8 engine does give a lot of power to the Titan, which should make it available to tow almost any travel trailer you are thinking about traveling with.
On top of that, it feels pretty nice to drive down the highway with the Titan. It has a fair amount of power and stays pretty quiet inside the cabin.
The air noise isn't too bad due to some new glass materials that Nissan used; and the stereo system also does its job well.
If you are looking for a model with some power to it but can also give you some comfort inside the cabin; you may want to check out the Nissan Titan.
Ram 1500
The Ram 1500 is one of the highest-rated full size pickup trucks that you can find on the marketplace right now. They are popular for so many reasons; but basically they are able to give you the full package while having enough towing power that they should handle almost any trailer without too much problem.
When driving in the Ram 1500; you may almost feel like you are driving a regular car. That's how smooth the ride is which is almost amazing to say.
This is a huge plus for consumers looking to take their family along for the ride when they are not doing the serious towing or work functions that the Ram 1500 is also capable of.
Even though it has a ton of power, the Ram 1500 is starting to capitalize on hybrid technology that allows it to get better fuel mileage than its competitors.
The engine is a definite winning point for the Ram 1500 because if you go for the diesel option, you are getting a vehicle that may be able to pull up to 12,000 pounds of towing capacity, which is just a huge number.
Even if you don't have the maximum set up, your Ram 1500 trim package will probably let you pull 10,000 or 11,000 pounds at capacity. For a 30 foot travel trailer that may weigh in around 7,000 pounds loaded; you are giving yourself a lot of engine space to pull uphill without much significant performance drop.
This thing is seriously a monster, and if you want a vehicle that is going to give you some of the best performance in every area; the Ram 1500 comes highly recommended.
The inside of the Ram 1500 feels amazing as well. The interior materials are all high quality, and this could almost be classified as a luxury pickup truck due to the awesome feel from the inside of the truck.
There's also a lot of room in every area that you may think your passengers need it; just giving another area of praise to the Ram 1500.
There are a lot of people who stick to one brand for their entire life when it comes to pickup trucks; however even those who are extremely brand loyal will find themselves impressed with the inside of this Ram 1500.
It's got some of the highest ratings on a lot of different review sites, and the Ram 1500 is just an absolute beast in this arena.
Ford F-150
The F-150 is an example of a pickup truck that mixes work capability with the luxuries of a modern vehicle.
The fact that Ford has built up a lot of brand equity with the vehicle that they have delivered here make it very popular.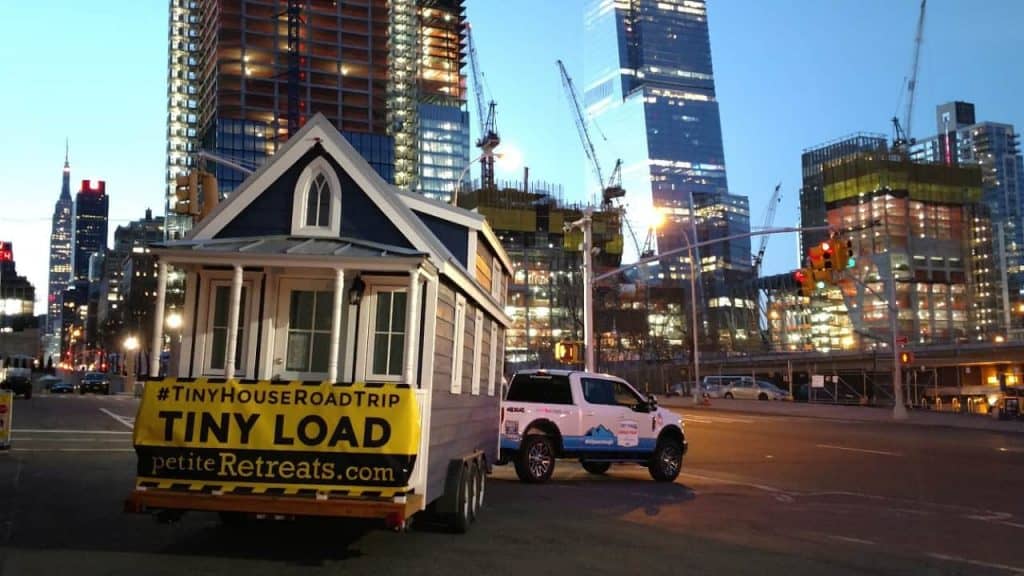 People are using their pickup trucks as a main vehicle more and more these days, so the luxury items inside of the F-150 make it even more of a reason to check it out.
As mentioned, the F-150 does have a nice amount of towing capacity that should allow it to tow a lot of travel trailers successfully. While it may not max out with a number as high as others on our list, most of its versions do a great job towing.
The base package is a bit underwhelming; however if you are serious about pulling something like a 30 foot travel trailer; it is very likely that you'll be opting for one of the nicer trim packages.
The engine options with the Ford F-150 are actually one of the best things about the vehicle. When buying an F-150, you should be able to play with their options to get a ride that is completely optimized for towing a trailer, for example.
However, if you want it to "just get by" in towing, you could also get a F-150 that is maxed out for comfort or for off-roading. That flexibility allows the F-150 to appeal to a more widespread customer base.
As with the rest of the vehicle, the F-150 does a nice job of compromising just the right amount when it comes to comfort. It has a soft suspension that should keep your passengers comfortable, but it is certainly able to pull heavy loads.
The Lariat trim package would be a great place to start if you are looking for a reasonably priced F-150 with many features.
You'll get a nice engine included there that should allow you to do a lot of towing; and you can still customize your F-150 with a lot of optional packages that will let you set things up the way you want to.
However, keep in mind there are six trim packages in all so you have a lot of options all around this Ford offering.
How Big of a Truck Do I Need to Pull a Travel Trailer?
If you want to haul a 30 foot travel trailer, you are going to pretty much need a full size pickup truck no matter what. If you are looking to haul a trailer that is slightly smaller, you should be able to get away with a slightly smaller truck.
It will all depend on the weight of your travel trailer. Some models are designed to be lighter so that they are easier to haul; but most 30 foot trailers are going to require 7,000+ lbs of towing capacity.
Smaller trailers will need less capacity, so you may be able to get away with some models that have lower capacities like 5,000 pounds.
What Is the Average Weight of a 30 Foot Travel Trailer?
When it comes to 30 foot trailers, they are some of the biggest models on the marketplace. They usually weigh between 5,000 and 7,000 pounds, although you will need to add in any cargo and equipment you add to the trailer. Many varieties exist and your model may weigh more or less than this range of weight.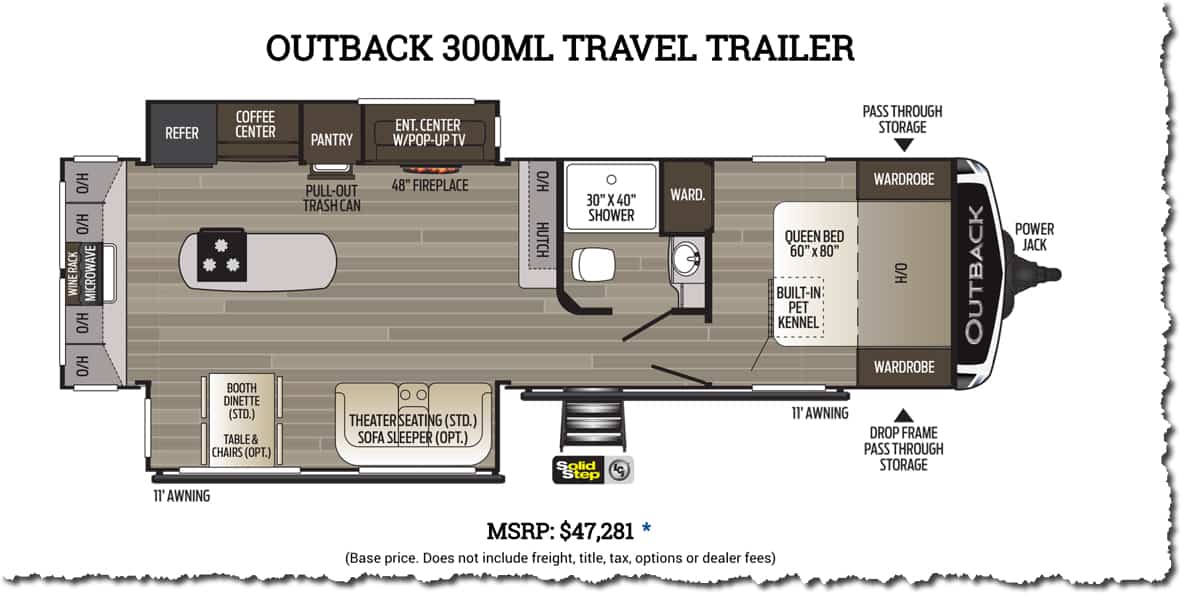 To ensure that you are towing an appropriate amount, you may want to take your setup to a scale to ensure the safety of you and your passengers when travelling.
You should also rely on the information provided by your manufacturer and make sure you know the weights of the different equipment you bring.
These items can add up and cause problems if you are not careful, so do take caution when adding items to the trailer.
How Much Weight Do You Add to a Travel Trailer?
The rule of thumb when it comes to cargo in a travel trailer is that you will add about 1,000 to 1,500 pounds to your travel trailer when packing it. This is not a guarantee and this is not a number that you should plug in to an equation to see if your rig will be safe.
For a 30 foot trailer, because the trailer size is so large, you may add more than that number. On top of that, some people will simply add more to the travel trailer than others. You should be careful when trying to make general assumptions about travel trailers and their weight.
Another word of caution when it comes to weight with travel trailers – you should not try to max out the towing capacity of your vehicle.
If your truck says it can tow 8,000 pounds, it would not be appropriate to load a travel trailer full of equipment and have it weigh 7,999 pounds.
Ideally, it would be best to stay at least 10-15% underneath of the towing capacity that is listed by your vehicle so that you have a bit more control over your haul.
How Much Does a 30 Ft Gooseneck Trailer Weigh?
A 30 foot gooseneck is a serious piece of equipment – the empty weight alone will probably weigh over 5,000 pounds – more likely in the 6,000-7,000 range.
That's a serious amount of weight before adding anything to the trailer; so you should check to make sure that your vehicle can handle a serious amount of weight before trying to pull one of these.
How Do You Increase Towing Capacity?
There are multiple ways you can get a bit more from your truck when it comes to your towing capacity. These aren't going to be magic fixes; however they can really help you out if you are looking for a bit of a boost when it comes to towing capacity.
Obviously, your engine is one of the most important parts of towing something. We're assuming that you are trying to upgrade the towing capacity on a vehicle you already have, so replacing the engine won't be practical. But, you should keep this in mind when purchasing a vehicle.
A better exhaust system paired with a new air filter may give your truck a slight boost in towing capacity.
This is not something that will add to the bulk of power of your truck, however it does give you more control and allows you to carry more without worry of losing control of your setup. It's a great idea, especially if you are trying to push the limits of what your truck can do.
You should watch out as your vehicle's suspension would be a costly upgrade; but you may be able to make some changes that would increase the towing capacity of your vehicle by upgrading your suspension.
By getting a larger radiator, you are going to help your engine cool off faster. This may not increase the bulk amount that you can tow; however, it will make for a more reliable system and help ease the strain you put on to your engine when towing.
Conclusion
You will need a pickup truck that has a lot of towing capacity to pull a 30 foot travel trailer. While you may get lucky with a smaller truck, it is highly recommended that you get a full size pickup truck to haul a trailer of that size successfully.
As always, you need to check your individual set up to ensure that your numbers and set up are safe.
There are plenty of vehicles that can successfully pull a 30 foot travel trailer; so there is no excuse to try to make something work that is unsafe.
FAQs on Towing Capacity
Is it hard to pull a 30-foot camper?
Pulling a 30-foot camper is not necessarily hard, but it depends on the vehicle you're using and the camper's weight. A truck or SUV with a strong towing capacity will handle it more efficiently than a smaller vehicle. Always ensure your vehicle can handle the camper's total weight, including the additional load inside (like gear, water, and food).
How much does a 30 ft travel trailer weigh?
The weight of a 30-foot travel trailer can vary widely based on its construction, layout, and included amenities. On average, a 30-foot travel trailer weighs between 5,000 to 7,000 pounds when empty (also known as dry weight). Remember that this weight will increase when you add personal belongings, water, and other necessities for your trip.
How big of a travel trailer can a half-ton truck pull?
The towing capacity of a half-ton truck, like the popular Ford F-150, Chevrolet Silverado 1500, or RAM 1500, typically ranges from 5,000 to 13,000 pounds. This range depends on the engine, the rear-axle ratio, whether it's 2WD or 4WD, and other factors. It's important to consult your vehicle's owner manual or contact the manufacturer for the most accurate information.
What size truck is best for towing a travel trailer?
The ideal size of the truck for towing a travel trailer will depend on the weight of the trailer. Typically, half-ton trucks like Ford F-150, Chevrolet Silverado 1500, and RAM 1500 can handle most travel trailers. For larger or heavier trailers, a three-quarter ton truck like the Ford F-250 or Chevrolet Silverado 2500 might be more suitable. Always refer to your vehicle's towing capacity as listed in the owner's manual to ensure it can safely tow your trailer.
What size truck do I need to pull a 10,000 lb travel trailer?
Pulling a 10,000 lb travel trailer requires a three-quarter ton truck, such as a Ford F-250, Chevrolet Silverado 2500, or RAM 2500. Depending on the specific configuration and options, these trucks can typically tow between 12,000 to 15,000 pounds or even more. Always verify with the truck's owner manual or manufacturer to ensure it has sufficient towing capacity.