Can A Chevy Colorado Pull A Camper?
This post may contain affiliate links. As an Amazon affiliate, I earn from qualifying purchases.
The Chevy Colorado is a pickup truck that has become popular among people who are looking for a vehicle that isn't quite as big as some of the heavy-duty rigs that are out there on the marketplace.
It's a midsize truck that has a lot to offer to those who want some nice performance without the heavy price tags included on heavy-duty trucks.
They're strong, tough, and they can handle a lot of different kinds of terrain. This makes them a great choice for those who are looking for a steady sense of adventure.
Can a Chevy Colorado Pull A Camper?
Can a Chevy Colorado pull a camper? Yes, the Chevy Colorado can pull a camper. Because of their toughness and their ability to tow some high weight packages, the Chevy Colorado is a nice choice for pulling all kinds of different kinds of campers behind them. They can handle fifth wheels, airstreams, and some other various trailers and campers.
There are different versions of the Chevy Colorado that have different capacities when it comes to their ability to tow. The main item that will determine whether you can tow a heavier capacity trailer is based on the engine power.
With the Chevy Colorado, you essentially have three engine options. The base engine is a 2.5L 4-Cylinder model that actually does a pretty good job for day-to-day activities. However, the towing capacity of the baseline model is okay but not great. It comes in at roughly 3,500 pounds.
The next step up is a 3.6L V6 engine that also starts out with a towing capacity of 3,500 pounds. While this doesn't seem like an upgrade, it should be noted that if you upgrade your Colorado to include the optional towing package; you will be able to reach a whopping amount of 7,000 pounds. That can get a lot of work done and will be a great option for many people who are looking to do some serious towing.
The third and final option that the Colorado offers is a Duramax 2.8L Turbo Diesel 4-Cylinder. This model is the best one that Chevy offers and can give you up to 7,700 pounds of towing capacity. That increased number is great for people who want to have a little more leeway in what they can tow.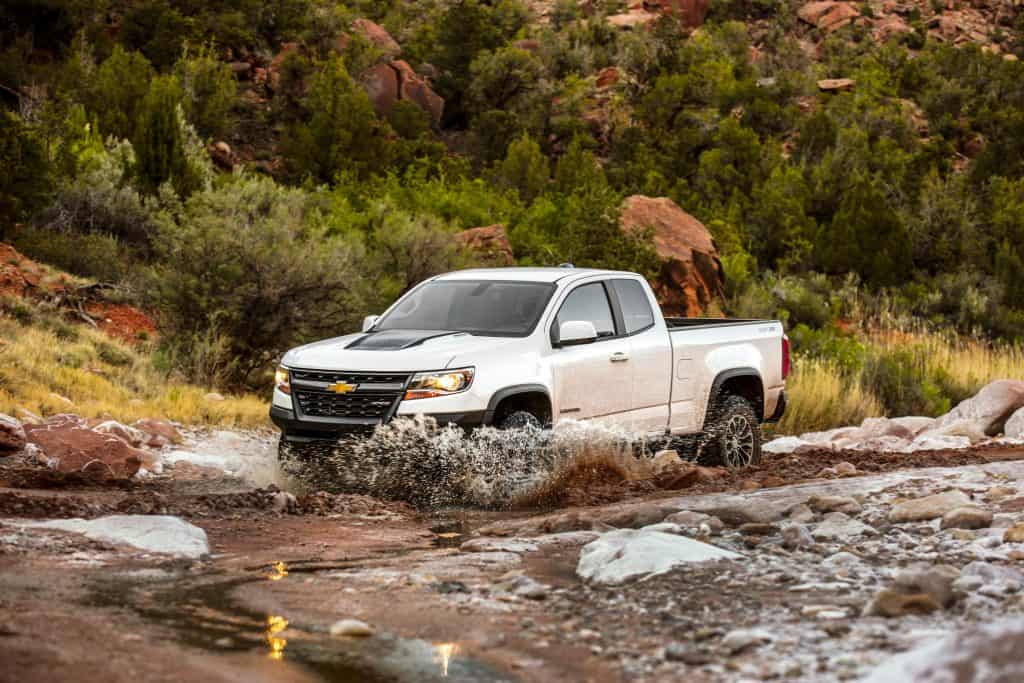 From these numbers, you should understand the Chevy Colorado has a ton of power and can really handle their own when towing or doing work on off-road terrain.
They have the ability to handle a lot of weight and therefore they have a lot of flexibility when it comes to what camper you are looking to tow.
Teardrop trailers are typically the lightest campers that are found on the road. Weighing in at 500 to 2,000 pounds, these represent no problem for the Chevy Colorado at even the heaviest numbers in their range and should be easy for you to tow, even with the base engine set up. That's nice for people who are looking to bring something lightweight at a small notice.
Pop-up trailers come in next at anywhere from 1,000 to 4,000 pounds.
These pop-up trailers are a bit heavier and some of the heaviest pop-up trailers may give you cause for concern if you have the base engine package; however most of them can be handled with the Colorado with ease. That's good because again it gives individuals an option that they can handle without much thought.
Next in line are airstream trailers. These unique trailers are usually in the 2,000 to 4,000 pound range and therefore most of them are going to be able to be handled fairly easily by the Colorado.
Again, the upper range will start to give you problems if you are on the base engine, so you should be careful about what you tow and keep in mind that you will be adding additional weight when you add cargo and other supplies for your trip.
Up next we have classic travel trailers, these are the models that you probably think of first when you think about hauling a trailer. The range here can be quite wide, trailers are usually anywhere from 2,000 to 8,000 pounds.
This means that your top-of-the-line Chevy Colorado is still going to handle most of these models, depending on how many supplies you pack on to them.
This is a pretty wide range so it would be wise to pay attention to your individual set up and make sure that you are not towing something that would be dangerous to yourself or your vehicle.
Finally, we have fifth wheel trailers which have the most variety of any model. These trailers can weight anywhere between 2,500 and 20,000 pounds. That's quite a spread, and it means that you simply need to pay attention to individual models as well as floor plans to figure out if you are going to be able to tow them successfully.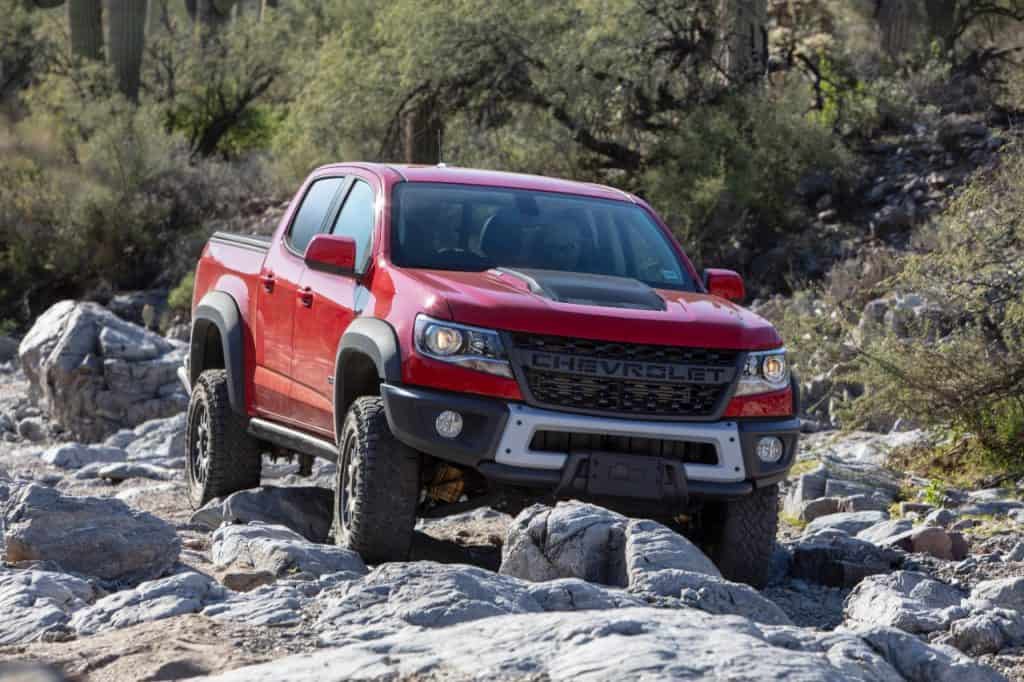 You should also keep in mind your rig's towing capacity whether you have the 3,500 baseline package or you have a more robust 7,700 pounds available. Of course, there will always be some higher end fifth wheels that you cannot tow simply due to their incredible weight.
Your Chevy Colorado has no business going anywhere near a fifth wheel that weighs in at 12,000 pounds.
Teardrop Trailers
As mentioned, teardrop trailers are one of the best options for people who are looking for a trailer with a smaller towing capacity number. They are mini travel trailers that are very easy to tow and most vehicles can handle them.
The baseline Chevy Colorado engine should be able to handle a teardrop with ease. On top of that, they are quite aerodynamic so they make great campers for beginners who may be nervous about navigating with a larger camper.
However, when it comes to usability, the teardrop campers do quite well. There's some different kinds of teardrop trailers, but most of them extend or fold-out to give you more function with less weight.
They're great for those who want to get away for a short period of time and some of them can actually offer more sleeping space than you would think.
The reason that teardrop trailers make a good fit with beginners is because they are so light and so easy to adapt to whatever situation you need. The Colorado won't give you any problems with this one and you won't have any payload concerns because the weight does not sit on the truck bed at all.
If you want to know which teardrop trailer will be a good fit for you, you should focus on the benefits that each camper gives you. Of course, to be completely safe you should think about their dry weight and the materials that you will be putting into the trailer, however it shouldn't be hard to make this equation work with the power of the Chevy Colorado.
If you are looking for something that is going to give you the least amount of problems, then teardrop trailers are a great option for you. You may not have the trailer that features the most options or the most function ability, but these campers can help you get outdoors and do have things that will help you have a successful trip.
You should also check out the manufacturers information to make sure you are buying from a brand that has been around for awhile and is well respected.
Pop-Up Trailers
The pop-up is another great option for Colorado owners. These are a great option for Chevy Colorado truck campers and almost any model you find will be able to be pulled by your vehicle.
The hitches are easy to use because they are simple ball hitches that attach onto the bumper of their tow vehicle, but may feature a weight distributing hitch if the camper is heavy enough.
These models are usually much lighter than their luxury counterparts as they mix the feeling of a trailer and a tent. This isn't a knock on their design, they can actually be quite cozy as well as functional for their owners.
The "pop up" design helps them fold up into an easy shape for driving when it comes to aerodynamics and then fold out to give you more space once you park. The extensions will generally feature more sleeping space and can give you more room when you are parked at your camp site.
The fold outs usually get covered up by some sort of fabric which helps them keep their flexible nature. It can also be a great camper to take into warm climates because of the airflow you can get when using these models. They really give you an interesting mixture of the traditional tent camping experience and being in a more luxurious camper.
Obviously, you should measure the towing capacity of your Colorado to see if a pop-up trailer works for you. If you have the baseline engine and you are looking at a heavier pop-up trailer, you may run into some trouble.
There are a lot of great options for a Chevy Colorado pop up camper, so if you are interested you should probably start your search with these models.
If you are concerned about weight, you should start by looking at the dry weight of your pop-up model and add on whatever you are packing into the camper.
That should give you the number that should be lower than your towing capacity, however you do not want to get yourself into a situation where the weight of the trailer is 3,499 and your towing capacity is 3,500.
You should give yourself some leeway, at least 15-20% of that number to make sure that you are being completely safe when you tow.
Airstreams
The airstream trailer is a form of a regular classic travel trailer. You will be able to tell you're looking at an airstream by the interesting design of the camper.
Airstream trailers are usually rounded and usually have shiny metallic coats. They do range in size, however the exterior almost always look like this so if you suspect that it is an airstream trailer, it probably is. It is pretty easy to see an airstream trailer.
Generally speaking, you won't find many airstream trailers being made today. There are not many retailers who sell new airstream trailers, but they can be found from individual sellers who have used models. You may be able to find some new ones though, so if your heart is set on this kind of camper, don't give up your search so easily.
Airstream trailers are usually a bit smaller than their counterparts because they don't have extensions that allow them to generate more space after being parked.
The only space you get is the space you see which means that you will have considerably less living space than some other models on this list. That being said, they can have a surprising amount of space inside of them and some of the models are actually quite impressive when you look at their specs.
Airstreams range in size and can be anywhere from 15 to 30 feet in length which gives you a variety of options to pick from. The towing capacity on some of the stronger Chevy Colorado models should give you a lot of choices when choosing an airstream camper.
Just because their space can be a hypothetical problem, you should not ignore the smallest options because they truly do have a lot to offer and you should see how the space fits you and your family's needs before turning them down.
Classic Travel Trailers
Classic travel trailers are probably the ones that you think of when you hear somebody say the word "trailer" or "camper".
This is a broad category that has a lot of different sizes and weights. You should also be sure to look at different floor models as they can give you a lot of different options even within specific models.
These are different from pop-up trailers and teardrop trailers because they are much larger and give you a bigger and more comfortable living space that is more luxurious when you are on an adventure.
These models will often include a bathroom, a kitchen, and multiple bedrooms along with places to eat food and relax. If you have a family, taking a classic trailer is one of your best options because you will probably all need space to feel comfortable when on the road.
One thing to watch out for with all of these different models is the fact that you need to make sure that you have the towing capacity to handle the job.
If you don't have one of the upgraded towing packages, it is going to be extremely hard to find a travel trailer that you can pull with a Colorado, and it really isn't recommended at all.
There are some smaller models, but if you are going with a model like that it would probably be wiser to pick one that is seen earlier on this list.
Fifth Wheels
Fifth wheels are usually pretty heavy models which can mean a complicated package when trying to haul them. You will need to have some serious towing capacity because some of them can weigh up to 20,000 pounds.
Obviously, you would not try to tow a fifth wheel that weighed that much with a Chevy Colorado, but you should be aware of what you are pulling so that you can be sure to be safe at all times. They also have a unique hitching system so that they need to be pulled in the back of a truck bed.
It can be hard to find a match for your Colorado because there are so many different varieties of fifth wheel trailers with different floor plans, but it can be done. You should understand that you will not be able to pull the most luxurious models because those just have so much weight to them.
You also have to watch your payload capacity carefully with your Colorado. Fifth wheel trailers add weight to the back of your truck, so you don't only need to look at your towing capacity, payload starts to be an issue as well.
The Colorado can handle a decent amount of weight in its payload limit, however it can limit your options when looking at various fifth wheel trailers.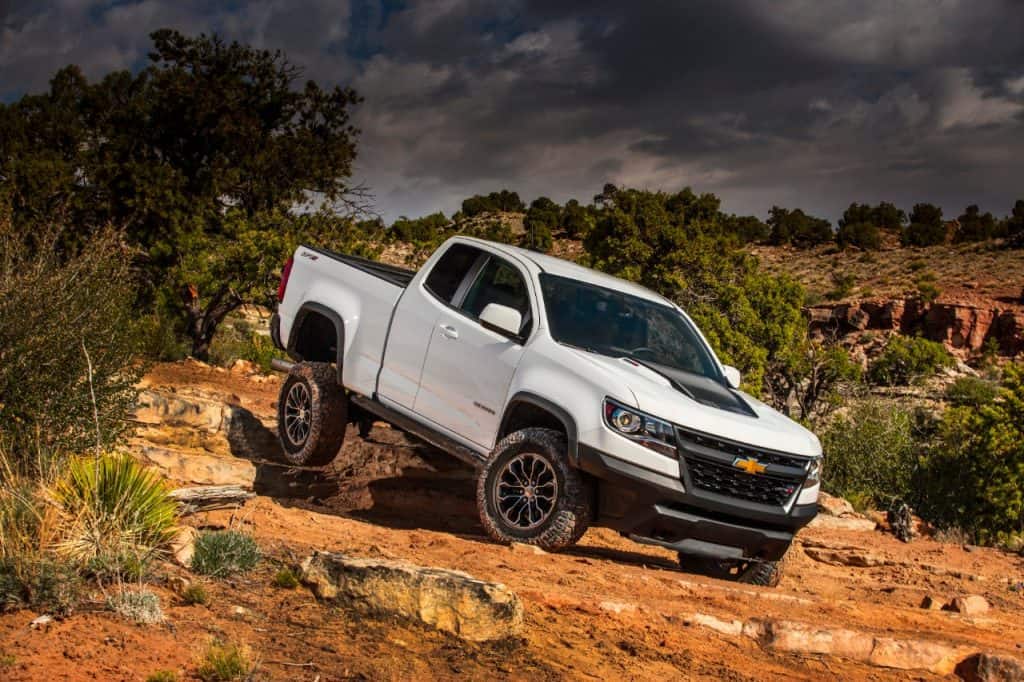 Conclusion
At the end of the day, you need to find a trailer that works for you. The Chevy Colorado should give you plenty of options, so if you are looking for a trailer that comes with some of the nicest options that a manufacturer can offer, you probably want to opt for a pop-up trailer or a teardrop trailer.
If you are okay with making some sacrifices, you may want to look into classic travel trailers or the larger fifth-wheel trailers. Make sure that your towing capacity numbers keep you safe when traveling so that your adventure does not turn into a situation that you do not want to be in.