This page is a collection of photos and information about my first Grand Wagoneer and the original inspiration to start this website.
Early on I created a lot of bad "today I installed the overhead light" and "changed the oil" type posts. I truly had no idea how to build a blog for others to enjoy. I was making it up along the way and it was bad. I just didn't know it at the time.
When changing over from MyJeepandme.com to FourWheelTrends.com in 2020, I decided to remove those older posts and consolidate many of the photos and information here in this post.
This way you can still get a feel for my 1987 Jeep Grand Wagoneer that got this blog started, but not have to read through all of those horrible posts.
My Earliest Jeep Grand Wagoneer Memory
When I was a kid, my Grandfather owned a Jeep Grand Wagoneer that we used to drive up to the mountains on family vacations.
I have one vivid memory of taking the Jeep up to the North Carolina mountains on a family ski trip when I was five years old.
For those who have ever owned a Grand Wagoneer, you know the challenges of dealing with the tailgate window. Well that's what made this trip so memorable.
We were driving up to the top of Beech Mountain in 5-degree white-out conditions. The Jeep was doing great in the heavy snow, but Dad was having a hard time seeing out of the windows.
He toggled the back window trying to clear it of snow (not an 89-91 with a wiper) and when the window was halfway down it either froze or broke. Maybe both!
We still had quite a way to go and we were freezing. No amount of Jeep heat could keep us comfortable, but it also the experience that made that trip memorable… plus I remember the condo we rented had these very cool built-in bunk beds. (the things you remember as a 5-year-old)
That Jeep Grand Wagoneer is what started my passion, and it's the reason I purchased my first Grand Wagoneer — a 1987 in Midnight Blue over tan interior.
Popular Photos of the 87 Grand Wagoneer
Photos From Purchasing the Grand Wagoneer
These photos are pictures I took when I drove 1.5 hours to see this 1987 Jeep Grand Wagoneer for the very first time.
The listing on craigslist had zero photos and I almost did not call, but something spoke to me and said I needed to learn more.
The Grand Wagoneer in the NC Mountains and on the Blue Ridge Parkway in North Carolina
This was a true Griswold's Christmas trip. We took the whole family to the mountains for Thanksgiving and purchased a Christmas tree from a choose and cut farm in the mountains.
This was a family tradition of mine growing up and I wanted my kids to have the experience.
It turned into a complete failure. Notice the size of the tree on top of the Jeep. Especially note the size of the tree trunk.
I wanted a BIG tree. We have high ceilings so I wanted a 9 foot tree to fill the space.
Unfortunately, the farm was out of the 8-9 footers, so the owner suggested we go out into the bigger 15′ Christmas tree section and they would simply "top" a tree to fit our size requirements.
This was great and we picked out a beautiful tree.
HOWEVER! I did not think this through all of the way. I should have know when the workers struggled to lift the tree up on top of the Jeep.
Well, the rest of the story is that when I took the tree off of the Jeep, it was not balanced on my shoulder well and it fell snapping off the top.
I trimmed the tree and it looked good now as a 8′ tree vs 9'… "The tree is saved" so I thought.
The bigger issue was that none of my tree stands could hold the weight at width of the tree truck.
I went to 3 hardware stores, I purchased a stand for a 10 foot tree and it too could not hold up the tree.
I even built a tree stand out of 2×4's and even that did not work well. The tree fell yet again.
At this point I was beyond frustrated and called it quits. We pulled the fake tree out of the garage, put it up and called it done.
Thankfully my friend Jamie has a big tree burning party out on his property every January so he was happy to come get the tree to start his stockpile of trees to burn.
As you know, these Christmas trees burn like crazy. It's a good time and for those who are worried he is very careful!
2017 NC Auto Show Classics Exhibit
Every year, usually in February, the North Carolina International Auto Expo is held at the NC State Fair Grounds.
My friend Marshall puts on a fantastic classic auto display. It is not a "car show', meaning there are no prizes or competition.
Rather, this display is designed to show guest vehicles they would not normally see every day on a new car lot.
The classics display offers vehicles from non-running projects to big-money restorations. They've even let me show off a few Jeeps over the years.
My first time putting the Grand Wagoneer on display was the 2017 NC Auto Show. Now I look forward to being there each and every year if possible.
Here are some of the popular photos I took of the 2017 Auto Show.
Getting 14.449 MPG In The Grand Wagoneer!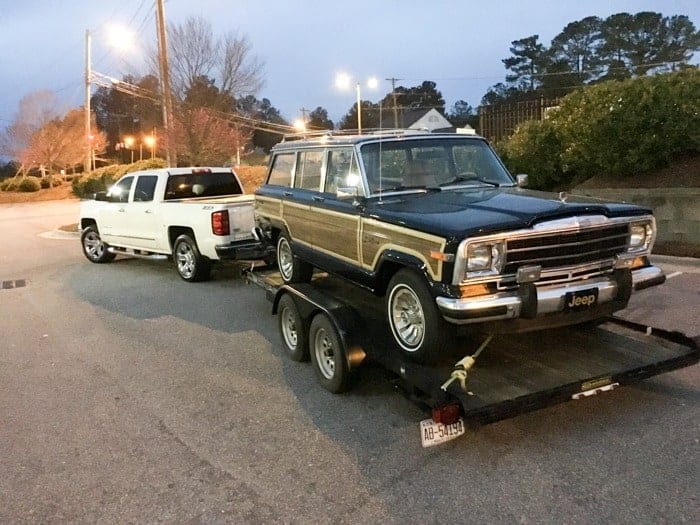 My father and I made a 12-hour road trip to pick up my Jeep from an FSJ specialist who was doing some work for me. We left at 9:30 am and I just got back home at approximately 9:30 pm and have my Jeep Grand Wagoneer safely at home now.
It was a great time spent with my Dad, even if it was a very long period behind the wheel for both of us.
The whole reason for my posting this is that I just sat down and calculated my gas mileage for the last leg of the trip. (I excluded the section coming down the mountains… I figured gravity would be helping me cheat).
The results are in, and I averaged 14.449 miles per gallon on the highway in my Jeep Grand Wagoneer. The average speed was between 65 and 75 mph the entire time. Based on what I had read from many of the Jeep Grand Wagoneer forums, I was very pleased with this result. I was expecting to get around 12mpg, so a 20%+ increase was a pleasant surprise, to say the least.
I will post again soon with more details of the trip… but right now I am going to go to bed!
Oh, I forgot…
Here is a photo from when we stopped for dinner. I have been getting a lot of emails about posting more photos.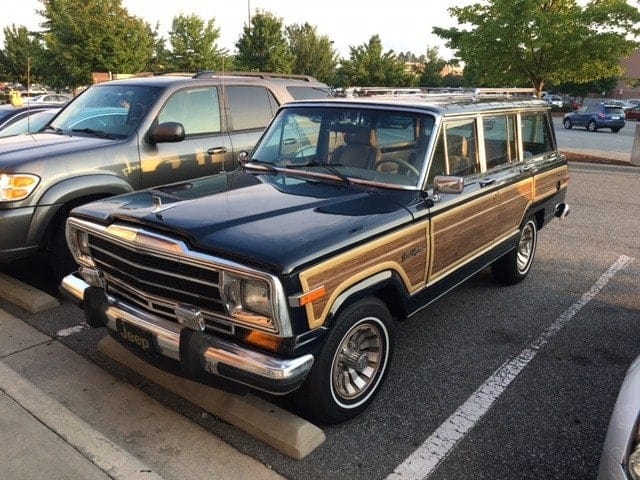 7 Dad's and 11 Daughters Camping Trip
We have a great group of Dads and Daughters who came together through the Y-Guides program from the local YMCA.
It's a great program to encourage and grow the bond between a father and his kids.
The foundation was based on how Native American fathers would teach and pass down life skills to his children.
This was one of our many camping trips where we camped for 3 days and 2 nights at Curtis Creek Campground with no utilities or cell coverage.
The girls got plenty of comments about going to the bathroom in a big hole in the ground.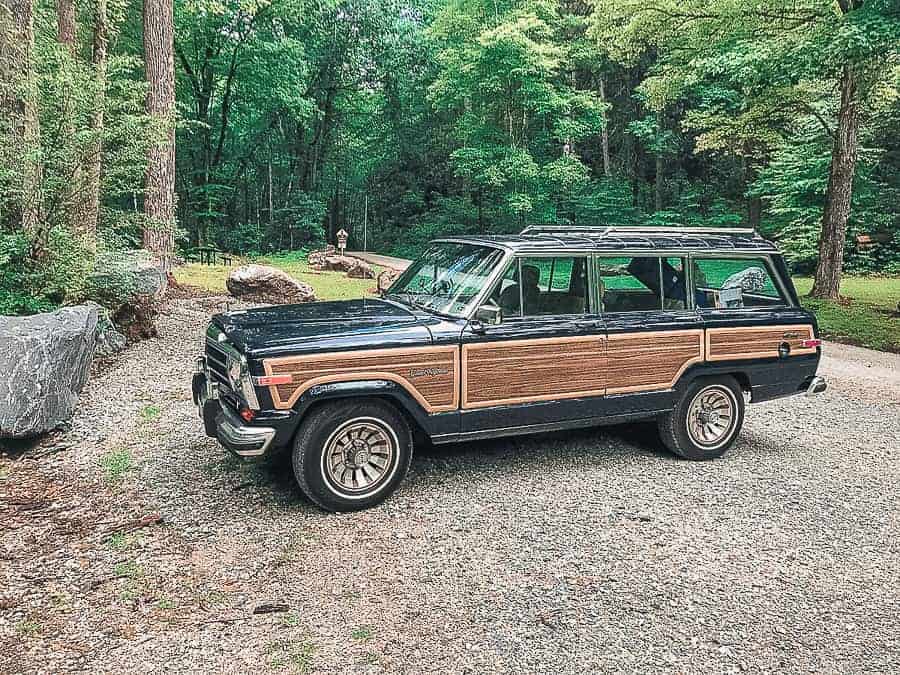 Wagoneer Photo Shoot!
It was a beautiful day here in North Carolina so I decided to just ride around the city looking for places to take photos of the Jeep.
Clearly I am not a car photographer. I still have MUCH to learn, but I had a lot of run trying to be creative (key word trying), and any excuse to drive the Wagoneer is a good one.
Closing Thoughts
I have a ton of photos of my 1987 Jeep Grand Wagoneer.
I have since sold this Jeep. I built it to be a forever Jeep, but I found I enjoyed the process of bringing these Jeeps back to life. Then someone offered me what (at the time) I thought was a fair offer for the Jeep, so I sold.
I thought I was going to be more emotional about selling, but in reality, I was getting excited about the next Jeep and the next Jeep…
I will continue to add more photos to this page over time so you can follow in my Jeep journey.
For now I will leave you with this photo of my newest 1991 Jeep Grand Wagoneer during its restoration phase!