This page is a collection of photos and information about my first Grand Wagoneer and the original inspiration to start this website.
Early on I created a lot of bad "today I installed the overhead light" and "changed the oil" type posts. I truly had no idea how to build a blog for others to enjoy. I was making it up along the way and it was bad. I just didn't know it at the time.
When changing over from MyJeepandme.com to FourWheelTrends.com in 2020, I decided to remove those older posts and consolidate many of the photos and information here in this post.
This way you can still get a feel for my 1987 Jeep Grand Wagoneer that got this blog started, but not have to read through all of those horrible posts.
My Earliest Jeep Grand Wagoneer Memory
When I was a kid, my Grandfather owned a Jeep Grand Wagoneer that we used to drive up to the mountains on family vacations.
I have one vivid memory of taking the Jeep up to the North Carolina mountains on a family ski trip when I was five years old.
For those who have ever owned a Grand Wagoneer, you know the challenges of dealing with the tailgate window. Well that's what made this trip so memorable.
We were driving up to the top of Beech Mountain in 5-degree white-out conditions. The Jeep was doing great in the heavy snow, but Dad was having a hard time seeing out of the windows.
He toggled the back window trying to clear it of snow (not an 89-91 with a wiper) and when the window was halfway down it either froze or broke. Maybe both!
We still had quite a way to go and we were freezing. No amount of Jeep heat could keep us comfortable, but it also the experience that made that trip memorable… plus I remember the condo we rented had these very cool built-in bunk beds. (the things you remember as a 5-year-old)
That Jeep Grand Wagoneer is what started my passion, and it's the reason I purchased my first Grand Wagoneer — a 1987 in Midnight Blue over tan interior.
Popular Photos of the 87 Grand Wagoneer
Getting 14.449 MPG In The Grand Wagoneer!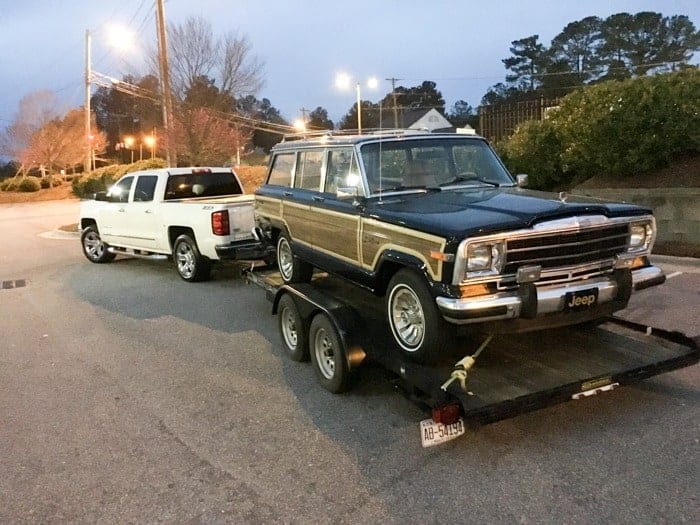 My father and I made a 12-hour road trip to pick up my Jeep from an FSJ specialist who was doing some work for me. We left at 9:30 am and I just got back home at approximately 9:30 pm and have my Jeep Grand Wagoneer safely at home now.
It was a great time spent with my Dad, even if it was a very long period behind the wheel for both of us.
The whole reason for my posting this is that I just sat down and calculated my gas mileage for the last leg of the trip. (I excluded the section coming down the mountains… I figured gravity would be helping me cheat).
The results are in, and I averaged 14.449 miles per gallon on the highway in my Jeep Grand Wagoneer. The average speed was between 65 and 75 mph the entire time. Based on what I had read from many of the Jeep Grand Wagoneer forums, I was very pleased with this result. I was expecting to get around 12mpg, so a 20%+ increase was a pleasant surprise, to say the least.
I will post again soon with more details of the trip… but right now I am going to go to bed!
Oh, I forgot…
Here is a photo from when we stopped for dinner. I have been getting a lot of emails about posting more photos.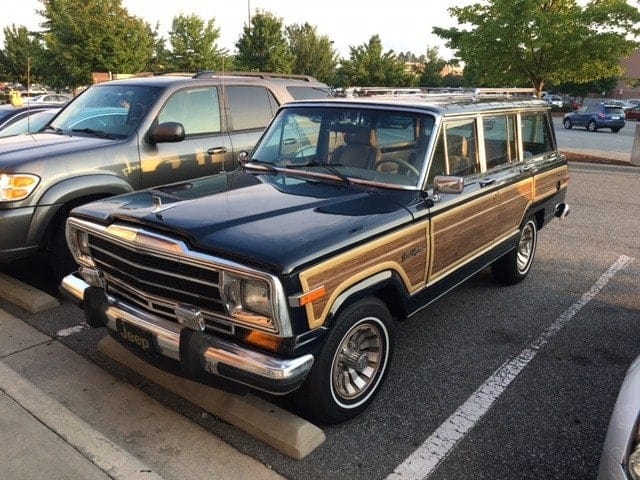 Closing Thoughts
I have a ton of photos of my 1987 Jeep Grand Wagoneer.
I have since sold this Jeep. I built it to be a forever Jeep, but I found I enjoyed the process of bringing these Jeeps back to life. Then someone offered me what (at the time) I thought was a fair offer for the Jeep, so I sold.
I thought I was going to be more emotional about selling, but in reality, I was getting excited about the next Jeep and the next Jeep…
I will continue to add more photos to this page over time so you can follow in my Jeep journey.
For now I will leave you with this photo of my newest 1991 Jeep Grand Wagoneer during its restoration phase!