Teraflex FullFlex vs Old Man Emu: Jeep Wrangler JK Lift Kit Review
Owning a Jeep is an experience that requires quite a bit of long-term investment in both the vehicle and the accessories that you choose to personalize it.
Lift kits are one of the many accessories that basically any experienced Jeep owner looks into at one point or another. The issue is that there are so many different lift kit options on the market for your Jeep that you might be overwhelmed.
When comparing the Teraflex Fullflex lift kit to the Old Man Emu lift kit, you might be wondering which option is the safest bet for your Jeep Wrangler. The answer is going to lie in your personal needs and preferences. Either of these options is a viable choice for the Jeep enthusiast.
Because both of these lift kits are incredibly unique from one another, you need to read about the differences between both. Join us as we dive into the information about both of these wonderful lift kit options.
Tera Flex Full Flex
Most Jeep owners are looking for a small lift that allows them to add some rough terrain tires that are appropriate for off-road experiences. For the most part, it is hard to find tires that will fit on your Jeep Wrangler without a lift kit installed.
The Tera Flex Full Flex lift kit will give your Jeep Wrangler 2.5 height. This is the perfect height to allow you to install your 35-inch tires that will be what you need to experience the outdoor living that a Jeep can offer.
The Tera Flex Full Flex is ready to go and it even comes with everything that you need to include the shock absorption that is required for off-roading experiences. This means that there is no additional purchase required with your initial purchase of the lift kit to begin with.
Many users enjoy the Tera Flex Full Flex because it is an incredibly well-made product that allows users to enjoy the benefits of having a lift kit for a long time.
Additionally, this kit is equipped with a stabilizer for the steering of your Jeep. This helps to prevent that wobbly feeling that can sometimes happen when a user installs large outdoor tires.
This kit is pretty easy to install on your Jeep Wrangler. Although it is one of the best kits on the market, it is not overly complicated and does not even require the assistance of a professional.
There should be no need for drilling or cutting anything, which is great news for the owner who is proud of their Jeep as it is.
You might want to look into your need for an exhaust extension. If you have a Jeep Wrangler that is year 2012 or later, then you might actually need to purchase an additional part to make sure that you can use it properly.
The exhaust extension is not included in the original purchase of the lift kit.
Old Man Emu Review
The Old Man Emu is a coil spring suspension lift kit. This kit typically allows you to have a lift between 2 and 2.5 inches, which is similar to the Tera Flex. By installing this kit, you will be able to install tires between 35 and 37 inches on your Jeep Wrangler.
OME are great for riding off-roading. They have a shock kit that is built with a Nitrogen system. Many users agree that when you are riding with one of these lift kits installed, it almost feels as though you are simply driving the Jeep in its original state. There is no wobble as mentioned with other lift kits, the ride remains really smooth.
One of the unique features of the Old Man Emu brand is that they have a variety of different lift kits that work with a variety of different types of upgrades. It is no secret that Jeep owners tend to slowly build their Jeep into the personalized vehicle that they long for.
So, OME providing lift kits specific to certain upgrades is a major plus. OME even have a terrain kit that is built for Jeep owners who have or are planning to upgrade their bumpers.
Another unique quality about this kit is that it is tested straight in the Australian terrain to make sure that the brand holds up to its promises to customers. Further, this brand proves its worth by building parts that are long-lasting and constructed of durable, trustworthy materials.
How Do I Choose
As we mentioned earlier in this article, both of these lift kits are excellent choices for the Jeep enthusiast. However, there are few different uses for each that might help you make up your mind.
Your lift kit is going to be more than just an aesthetic modification to your prized vehicle. The lift kit that you choose is going to change the way that your Jeep drives.
Further, these kits are expensive, so buying the wrong kit could be a really expensive mistake. You need to think carefully about several different factors when you are choosing which lift kit is right for your situation.
What Size Tires Do You Want
Ultimately, a lift kit is put on a vehicle in order for that owner to also install specialty tires. If you are planning on buying certain tires, then you need to know how high your lift kit needs to go for that particular set of tires.
Further, different types of lifts create different ranges of height. Small lifts typically have a lift height limit of 2 inches. So, if you purchase one of these, then you can only expect to buy a 31 or 33 inch tire.
However, if you are wanting to eventually upgrade to a 35 inch tire, then you need to go ahead and purchase a bigger kit.
For a 35 inch tire, then you will want to make sure that your lift kit is able to provide at least a 2.5 inch lift. Keep in mind that one day you may even want to go ahead and install 37 inch tires, in which case you would need to purchase a 3.5 inch kit for lift of your Jeep.
What Comes With it?
As we mentioned before, some kits come with everything that you will need. Others might require additional purchases to make sure that the Jeep is road-ready.
Most kits will come with shocks, but if your kit does not then this is a purchase that you must make in order for the Jeep to drive properly. Further, you will also need to know what you need in order to finish the installation of the lift kit.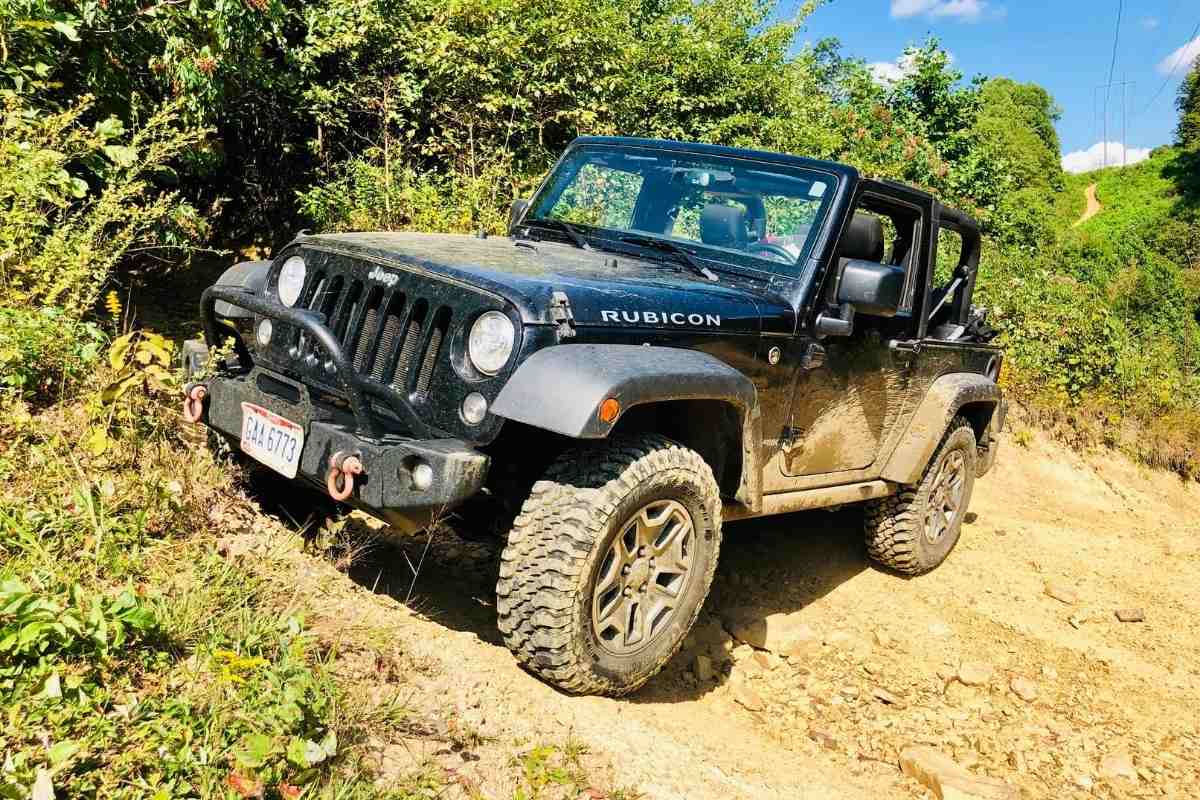 In some cases, you are going to need to buy or borrow special tools. Some kits might even require actual modification to your vehicle. These are all extremely important factors to consider before you purchase your lift kit.
What is Your Budget
There are lift kits that come in a variety of different prices. The price points that are on the higher end of the spectrum tend to have much more valuable life and construction in them.
You should also keep in mind that less expensive kits often require additional purchases. These additional purchases can sometimes add up to be quite expensive in the long run.
While budget should be considered, you should also keep in mind that this is an investment in your Jeep and you need to buy a quality product. Even if that means that you have to continue saving for a while longer than you had planned.
Ease of Instillation
Lastly, if you are planning on installing a lift kit on your own, then you should definitely keep in mind the work that will be involved in installing this lift kit.
Typically, the easier the instillation, the shorter the time that will need to be set aside for this project. However, there are some complex steps to installing your lift kit that could actually make this project take a bit longer than you had initially expected.
The type of kit that you purchase as well as the amount of components that come with the kit will play a large factor in the time that it takes you to finish the job.
While time is important, it is not the most important factor to consider on this list. Be sure to make a decision that saves you time but is also worth the time that you do spend.
Final Thoughts
If you are new to the world of owning a Jeep, then welcome to your new addiction. Upgrading your Jeep with aftermarket parts is one of the most rewarding spare time activities that you will ever come across.
Further, the aesthetic changes are fun to track as you get further and further into your jeep modification.
Just remember that modifying your jeep takes time. The changes will not happen overnight, but the time that you spend working on your jeep will be part of your fond memories forever.